Goat Cheese and Walnut Stuffed Celery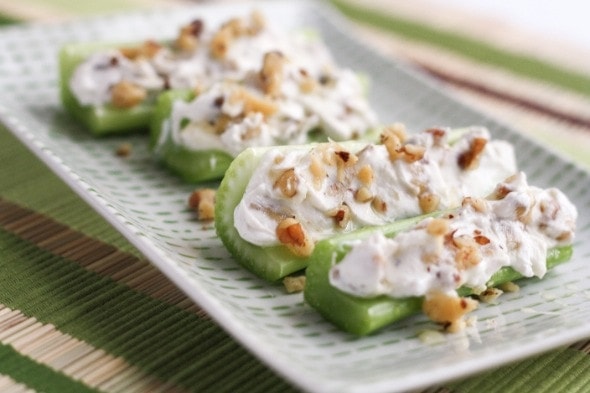 Last month, when I developed a couple of recipes for Duda Farm Fresh Foods, I actually made two celery recipes instead of just one that they asked for. I was actually going to share this recipe as well as the celery & smoked salmon cream cheese dip at the PMA Fresh Summit but it didn't work out to share all three recipes at the event. I'm glad to share this with you during Thanksgiving week because it's such an easy, easy appetizer.
I love the bite of the goat cheese contrasting with the crunchiness of the walnuts and celery along with the sweetness of honey! Enjoy!
Recipe
Yield: 12
Prep Time: 15 min
Total Time: 15 min
A very quick and easy appetizer to serve during the holidays or for any casual get together. If preparing the night before, do every step except for adding the honey.
Goat Cheese and Walnut Stuffed Celery
Ingredients:
4 celery stalks, cut into thirds
5.3 oz. package of spreadable goat cheese, I used Chavrie
1/4 cup of chopped walnuts
raw honey, to drizzle
Directions:
In a medium-sized bowl, mix together spreadable goat cheese and walnuts. Stuff celery boats with a butter knife and drizzle with honey. Serve immediately after adding honey.
Cook's notes:
It's very important to use spreadable goat cheese, otherwise you will not be able to stuff the celery easily.
We love that you love to share our recipes with others. If you have a blog or website and want to repost the recipe, we just ask that you reword the instructions (easy peasy) and link back to give us credit and to use your own images at the same time. Please ask us permission before republishing our recipes and images. And here's a great article on how to properly attribute a recipe.