12 days of giveaways: Day 1 – Fun Foodie Gifts (Closed)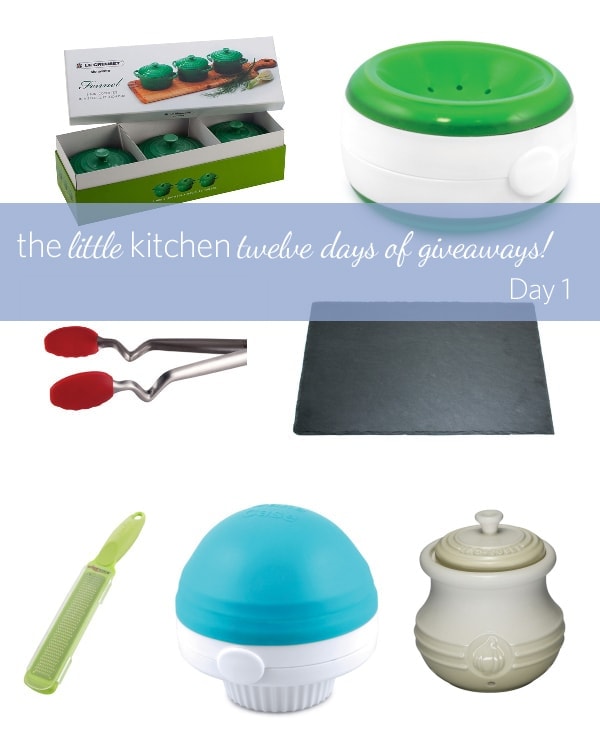 So typically, I do a bunch of giveaways to celebrate The Little Kitchen's birthday/blogiversary and this year is no different except there will be 12 days of giveaways!!
Don't forget, comments don't count for the giveaway – make sure you fill out the form with your name & valid email address.
Le Cresuet Set of 3 Mini Cocottes – I'm obsessed with these. I got them in fennel green, perfect for small casseroles, pot pies and for food photographs too!
Swissmar fruiticase – I love this! It's a collapsible case (it's collapsed in the photo) to protect your fruit. I have been using it to save lemon and lime halves in the fridge.
Dreamfarm Clongs – I love the name of these tongs – clongs. Best thing about them? The bend in the tongs ensure the tips don't sit on the counter…eliminating the need for a spoon rest.
Swissmar Rectangular Slate Board – Write on it with chalk, make it a menu board or a cheese platter. I love this board. It's easy to clean too!
Edgeware Better Zester – this is definitely better! I love the little case it comes with because it has measurements on it!
Swissmar Cake Case – I love this case…it's made to keep your cupcake safe…wouldn't this make a cute party favor? Send your guests home with a cupcake and a cute carrying case for it.
Le Creuset Garlic Keeper – Not only is it so cute it keeps your garlic fresh and tucked away. I keep mine in my spice cabinet and it fits perfectly.
this giveaway includes:
Total Retail Value: $163
Please use the form below (comments will not count toward entry into the giveaway). Good luck!
This giveaway has ended.
Congrats to Amy K! I know you'll love all of these goodies!
Check out our other open giveaways!
Disclosure: I received the same products the winner will receive. Giveaway items sponsored by the various brands – Edgeware, Le Creuset, Swissmar and Dreamfarm. I love sharing my favorites and my own opinions with you. Affiliate links are included in this post.