Fried Donuts (so easy!)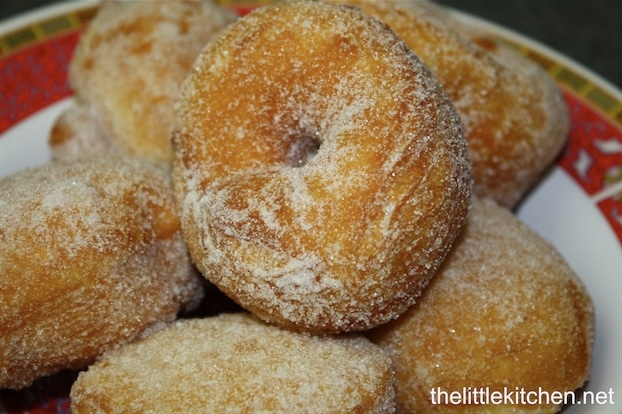 This attempt to make fried donuts was inspired by local Thai and Chinese restaurants. They serve these freshly fried donuts dipped in sugar or sometimes left plain and are served with a sweetened condensed milk and chopped peanuts dipping sauce. My co-worker and friend, Lynn, mentioned seeing them using what looked like biscuits in a can…so I told her I would try them! They turned out great!
Recipe
Fried Donuts Recipe
Ingredients:
Grands Jr. Refrigerated Biscuits, buttermilk, 8 count
1 1/2 cups granulated sugar, in a bowl
vegetable oil for frying
Directions:
Heat the oil at medium heat until it gets very hot.
Open the can of biscuits and separate them out on a plate. (Optional: use a round cookie cutter to cut out center.)
Fry biscuits in batches about 2-3 minutes per side until golden brown.
Remove with slotted spoon and allow to sit on paper towels to drain for about a minute or two.
Place one at a time into bowl with sugar using spoon, cover the donut with sugar.
Repeat steps 3, 4 & 5 until finished.
Serve immediately.
Tips:
If you want more donuts and/or would like them not as thick, you can separate each biscuit (there are layered) in half. Some restaurants even cut them in half so they are half circles or even half moons.
I used a sauce pan to fry these up. I think I had about 1 1/2 to 2 cups of vegetable oil (about a 2 inch layer) and I was able to fry about 2 to 3 donuts at once.
We love that you love to share our recipes with others. If you have a blog or website and want to repost the recipe, we just ask that you reword the instructions (easy peasy) and link back to give us credit and to use your own images at the same time. Please ask us permission before republishing our recipes and images. And here's a great article on how to properly attribute a recipe.