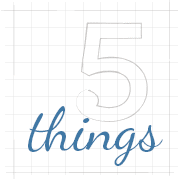 So the hubs (Curtis) is a total Star Wars fan – I mean serious fan whereas I like the movies, k? I can't always name every character (I do get quizzed every so often) and please don't ask me about the expanded universe of Star Wars. When we heard Star Wars Celebration was coming to Central Florida in 2010, Curtis was so excited and I was kinda sorta happy to go with him. I wasn't prepared for how much fun I was going to have. By the way, no, we don't go in costume; for some reason we always get that question. LOL
In June 2011, they announced Star Wars Celebration's return to Orlando and I told him we have to buy 4 day passes (last time we bought one-day passes just for Friday). Almost as soon as tickets went on sale, we bought our tickets and were excited for August to come!
Well here we are and I have enjoyed & am very tired from the first two days of Star Wars Celebration VI and here are my favorites so far.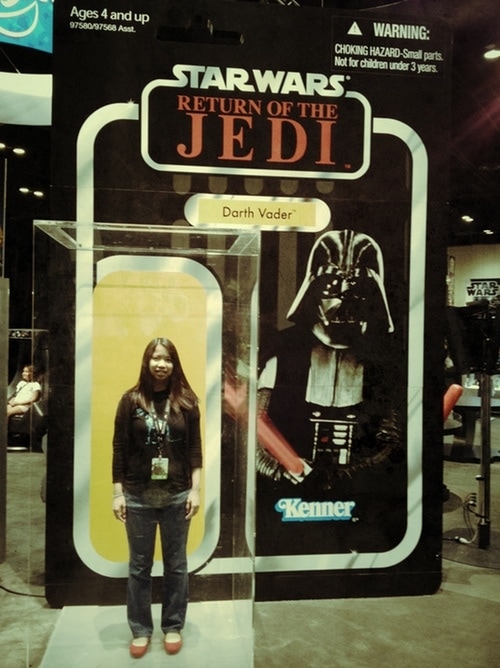 1. I guess I can say I'm an action figure now?
One of my regrets from last time around was not taking a picture in the Kenner action figure card at the Hasbro booth the last time around. The figure was Boba Fett and we walked by that card like 50 times but I never got a shot in it…this time, I told Curtis I have to get a photo in there. After waiting in line a little bit, I got my photo opp. 🙂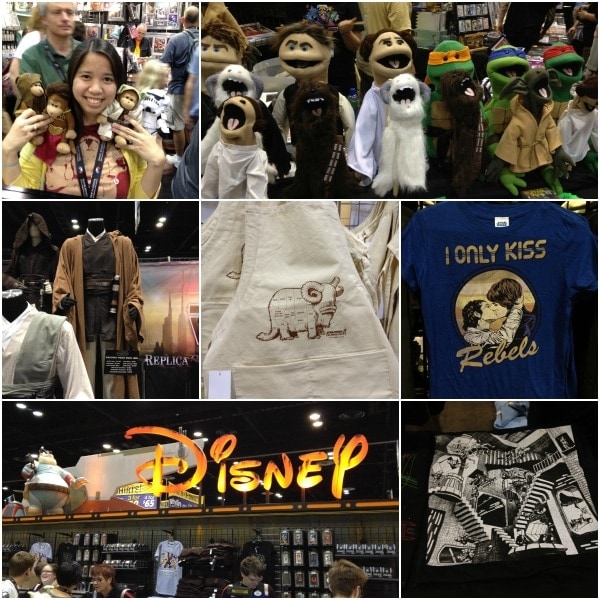 2. the shopping (of course)
top row: That's me with Timmy the ThinkGeek monkey! Enough said. If you're a total nerd, you know what I'm talking about.
Hello- Star Wars muppets, are they not totally cute???
bottom row, right photo – How cool is that Escher-esque Star Wars shirt?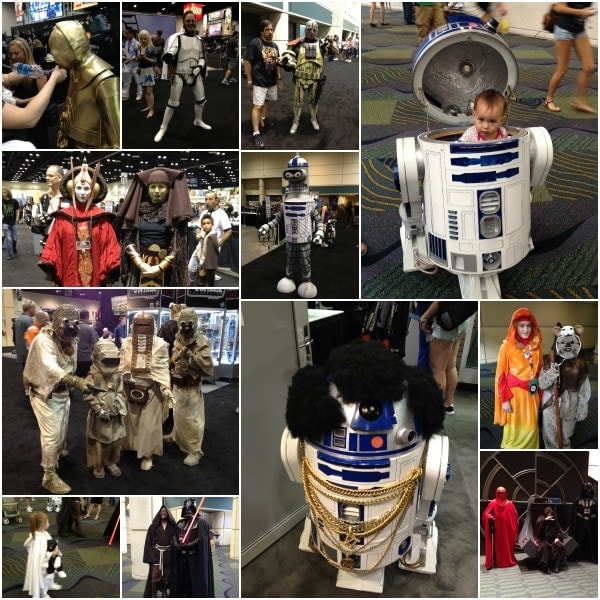 3. the costumes, the costumes!
I love all of the costumes and people watching at Star Wars Celebration. My only words are OMG on the baby in the R2 droid and I was trying not to die laughing when we saw the Mr. T R2D2 at the Rancho Obi Wan exhibit.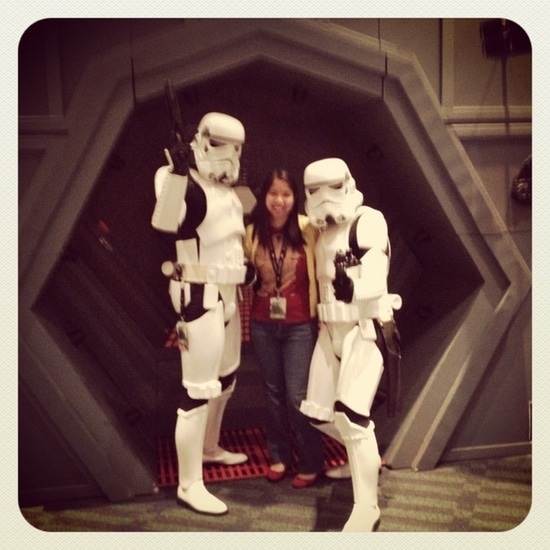 4. the R2 builders room
A can't miss…and every time I see one of these R2D2 droids in action…I want Curtis to build one! Seriously, how cool would it be to have a remote controlled R2 around the house? I took a video of the room and you can see the R2D2s for yourself!

5. Finding a great toy for Angel (of course!)
She loves her new toy and brought it to us tonight when we came home. The toy is actually a kids' toy but it works great for dogs because it's durable and doesn't have beans in it. It's Ahsoka from Star Wars The Clone Wars. If you didn't know she's Anakin's padawan or Jedi apprentice on The Clone Wars, which is a Cartoon Network animated series.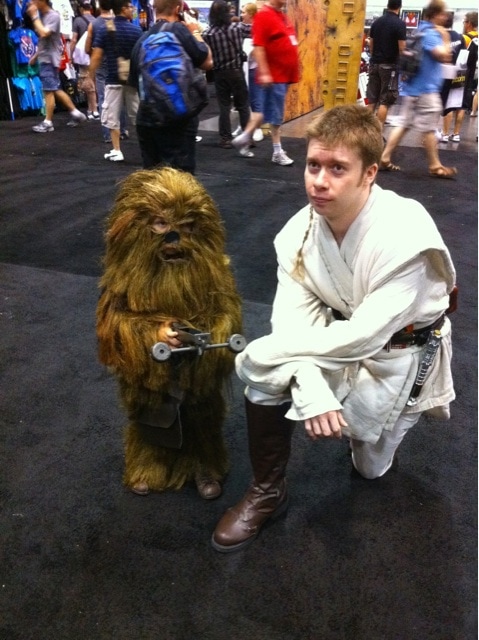 The only thing is I wish I saw this little guy again…I saw him two years ago and while I know he would definitely be bigger…I was looking all over him because he's just so cute, don't you agree?
5 Quick Tips for enjoying Star Wars Celebration or any kind of Con:
Wear comfy shoes – this seems like a given but you will be doing tons of walking!!
Bring phone and camera chargers
Drink plenty of water. You're inside but you do use a lot of energy and you can easily get dehydrated.
Be patient, there are big crowds, tons of people and lots of waiting in lines. Make friends with the people you're in line with. Makes the time go by faster. (Helps for when you have to run to the restroom too, they'll gladly hold your place in line & vouch that you're not a line butter.)
Have fun!
Follow me on twitter & instagram for more photos! I'm @TheLittleKitchn in both places.
Sooo are you a Star Wars fan? Would you attend a con(vention) like this if you had the chance?
*All pictures taken with my iPhone