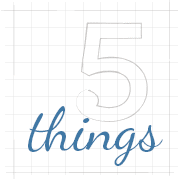 I mentioned before that we adopted a puppy named Angel. She's almost 5 months now and I just wanted to share a little bit about what I love about her…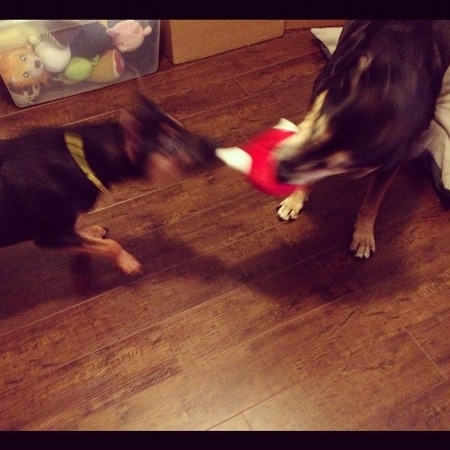 1. She plays hard.
When we were bringing her home in the car, we talked about how Charley might just dislike her. He might not take well to a puppy. We were completely wrong and I'm so glad. Angel plays hard and she loves to play with Charley!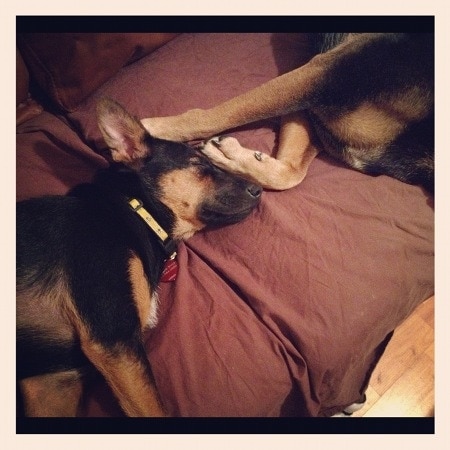 2. She sleeps hard
I don't think I could be that comfortable with a foot in my face. Okay, I definitely know I couldn't be comfortable with a foot in my face! (My friends reading this who know me very well know how much I HATE feet.)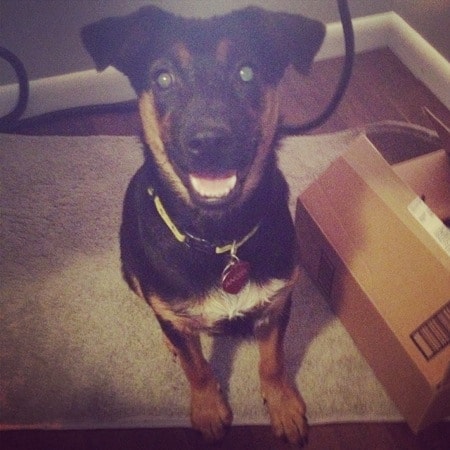 3. She has a big smile
This girl has so much spunk and has lit up all of our lives. She makes Curtis smiles so much and he just adores her. Charley backs her up & loves to play with her. While no dog would ever ever replace another dog,  we lost our Cinder almost 4 years ago and we have been wanting for a little girl dog once again. I love the new dynamic she brings to our lives and I love that both Curtis and Charley are so much happier with her in our lives now.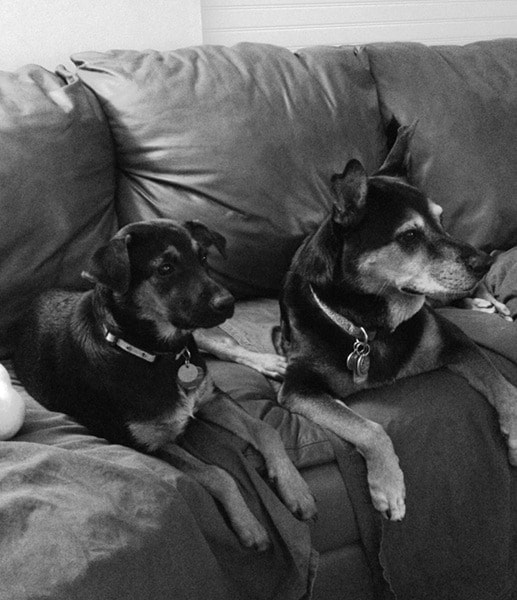 4. She loves Charley so much.
She completely looks up to him like a big brother and it's amazing how well they get along. She does get upset when he steals her puppy bone or her rawhide stick. She jumps up and down as if to say, hey…look, umm, he just stole my bone!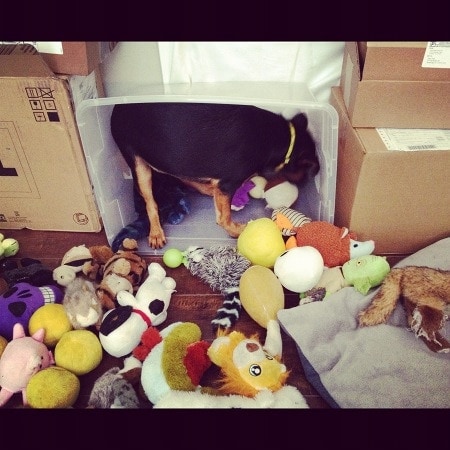 5. She belongs in our family.
I can't tell you that I was completely sure the moment we met her at the adoption site at Petsmart an hour away from where we live. I can tell you about the big smile she brought to Curtis' face when he first held her. With all our craziness and ridiculousness, she completely belongs in our family.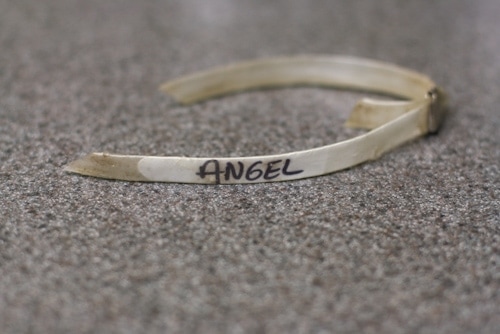 This is the collar she had on when we met her. The name that she came with. I have to admit I was against keeping the name Angel. Why? Because we had a puppy before, his name was Charley. 🙂 And he was no angel. Puppies are NOT angels. Curtis persisted and so I gave in…so she's Charley's Angel. Awww, I know. But it wasn't planned that way.
A little about Angel – she was pulled out of a kill shelter in Tennessee along with her brothers and sisters. She has no tail, our vet said her tail was docked (cut off). Why I wonder…and why dropped off a shelter after going through the trouble of having her tail professionally removed? I still think about her brother at the rescue and I hope he got a good home too. We adopted her from this wonderful group, Save a Life Pet Rescue.
If you're able to, I highly recommend you adopt a dog or a cat from a shelter or a rescue group. You're saving a life. And in some cases, saving many lives because you make room for more animals to be saved when you adopt.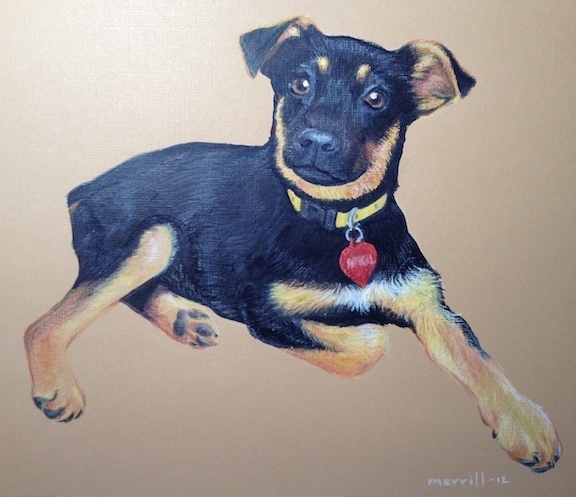 Today is…Curtis' birthday! Happy Birthday, honey! The other day I asked him what he wanted for his birthday and he answered, "a puppy." Well, you got one honey.
We have drawings made by Larry Merrill of Charley when he was a pup and other drawings of Cinder and Charley that hang in our family room…so I thought it was fitting to have him once again draw for us…for Curtis' birthday present. I hope he likes it. 🙂 I'll give it to him when he comes home from work tonight. I might not be able to wait and make him open it up before he leaves for work!
Today is also our 9th wedding anniversary. Nine years ago, we got married in a surprise wedding ceremony in front of our friends and family – it was originally a surprise birthday party for Curtis but he found out…haha long story. Cinder was at our wedding and it was such a special day for us. We still miss her terribly.
I love you, Curtis, more than I can ever express. You're a huge supporter of The Little Kitchen, you ground me and you love me for me. To many more years! I hope we finally get to go on our honeymoon next year! 🙂
Any ideas on where we should go for our 10 year wedding anniversary next year? Do you have dogs and cats? I would love to hear about them. Are they rescues?