I can't believe I have never given you, my friends, a tour of The Little Kitchen before. So here goes…the five things I LOVE about it.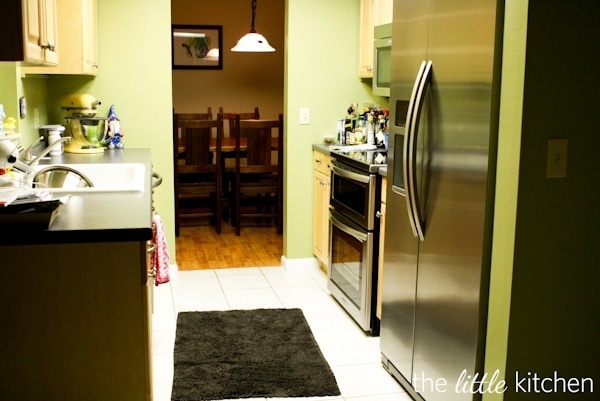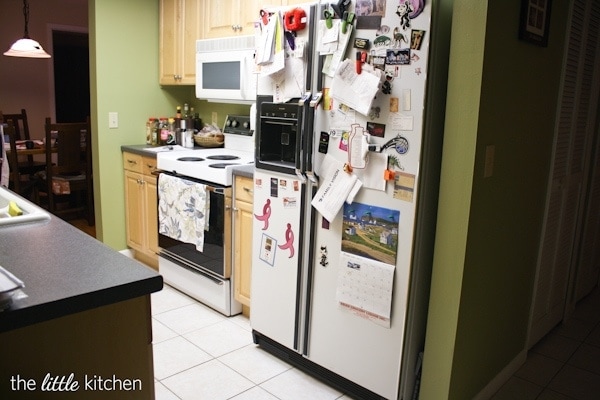 the after is way better than the before

Don't you agree? We moved into this house, more than 8 years ago, less than a year after we got married. Our first home purchase and it was overwhelming. We planned a ton of renovations and the first one was the kitchen. Curtis bought our countertops and the cabinet kits from Home Depot and put them together all by himself. It was a huge improvement from the dark, dingy cabinets the house came with.

With our new appliances from KitchenAid a few months ago, our kitchen got a much, much needed boost. It's pretty amazing, we have burners on the range that actually work, a dishwasher that doesn't sound like it's taking off. True story, our old dishwasher scared the heck out of our puppy when she first heard it. She ran around the house barking when we turned it on.

the kitchen is my space

It's definitely my space and it shows, most of the time it's disorganized. It's where I cook, where I spend a lot of time and where I feed my family. In my family, cooking and feeding is how we show love. The place where I spend the majority of my time these days and I'm loving it.

Even though it's little, it's mine. I truly, truly believe you don't have to have the biggest kitchen to make amazing food. To give you an idea, when the dishwasher is open, there's not much room anyone to stand on the other side of it and a dog or two can just about eek by.

The space is limited so I'm known for throwing people out of the kitchen to get out of my way (most of the time nicely). The only thing I miss is that I don't have enough space to be able to have family and friends join me in the kitchen while I cook or even space for bar stools so people can hang out there.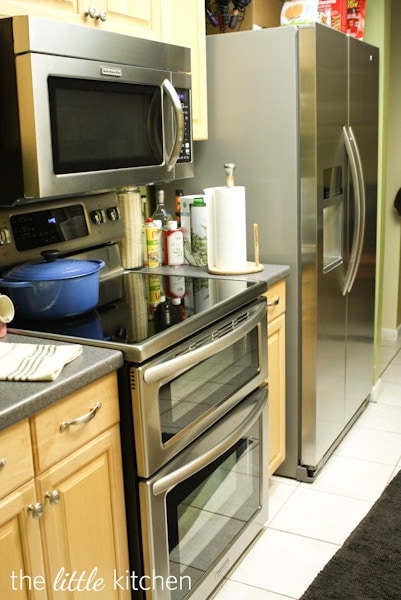 two ovens is better than one

I think you'll agree with me on this one. I love, love having two ovens. I can make 3-4 trays of cupcakes at once. We can make two pizzas at once and I cannot wait until Thanksgiving to give the two ovens a huge workout!

And I love the glass cooktop, way easier to clean and maintain than my older range and I just love the way it looks too!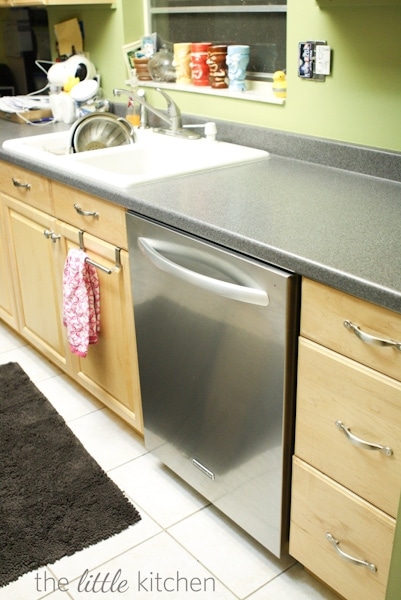 having a wonderful dishwasher

The appliance guy who installed both the dishwasher and the microwave was so excited when he brought in the dishwasher. He proudly said the dishwasher I had picked out was the best dishwasher on the market. I was so excited and really…really you're thinking? Yes, really. Because it was a huge step up from what we had before…it's so quiet, I forget often that I already turned it on. Anyone that does a lot of cooking, knows you need a reliable dishwasher and I'm so darn excited to have this one.

the scary pantry

I'm thankful the pantry is not in the kitchen

And ummm, I'm kinda sorta really embarrassed to show this to you…that's the next thing I need to tackle organizing! The pantry is not directly located inside the kitchen, it's off to the side in a hallway next to the kitchen and I'm totally glad. It's good and bad because I can avoid it.

It's semi-depressing to open this pantry, I can NEVER find anything and that's why I'm so glad it's not a part of the main kitchen. I'm going to have to put some gloves on and dive right in…send help!
Any ideas to help me organize my pantry? And tell me what you love about your kitchen?
Disclosure: My kitchen appliance remodel was sponsored by KitchenAid. I received no compensation and my opinions and the words written on this site are ALWAYS my own. As you know, I only share with you brands I love. The end.