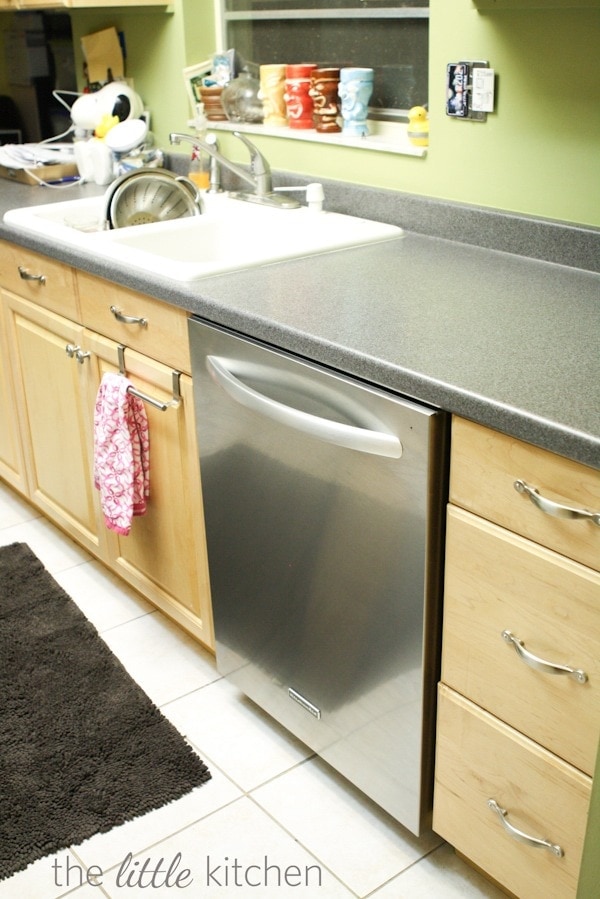 Is it possible to love a dishwasher? I didn't think it was possible until I got this particular dishwasher (similar) last year from KitchenAid. The guy who installed it said that it was the best dishwasher on the market. I asked why he thought that, he said that the owner of the appliance shop he works at just had the same dishwasher installed at his house and declared it was the best one.
1. It's so quiet.
First, let's compare, we got Angel last year before the new appliances arrived and when we turned on our old dishwasher, she jumped wondering what the heck the noise was!?!?!
This KitchenAid dishwasher is sooo quiet, we actually opened it several times to make sure it was still running. One of our friends, who is a homebuilder, said that he had heard they added the little light on the front so that people would know it was on…that's how quiet it is.
I have to admit, I still open it just to check to make sure I didn't forget to turn it on.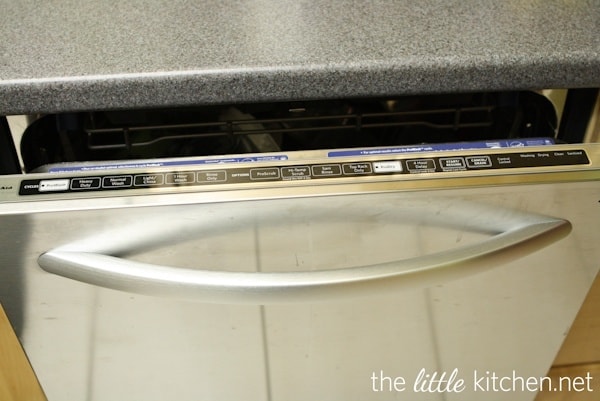 2. I don't bump the buttons anymore.
The dishwasher is located in a spot of the kitchen where I stand the most. It's right below my main work area in the kitchen. I used to bump the controls on the old dishwasher all the time – turning it on, turning it off when it was supposed to be on.
And I love the vents are on the bottom. I don't want to die of heat exhaustion while I'm cooking/prepping/working in the kitchen while the dishwasher is on.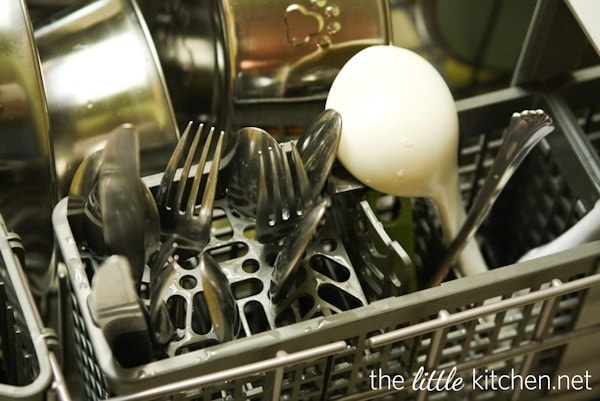 3. I love the adjustable utensil caddy.
I can flip the top down and stand up my utensils to get them cleaner and faster since there's space in between in each one. But you can also load the way you usually do with the utensils face down. Curtis and I can't agree on which way we like better so it's nice that's it's configurable either way.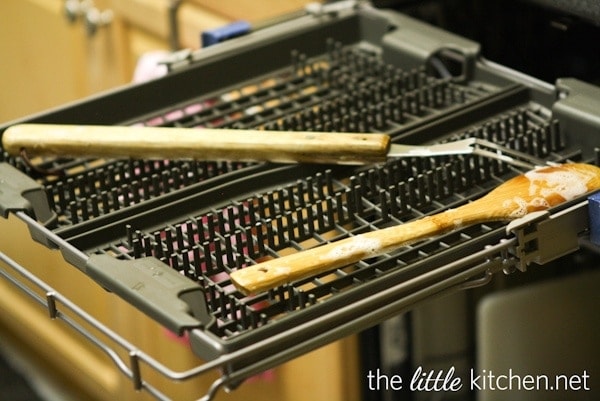 4. It has a third level culinary tool rack.
I put our spatulas, BBQ tools, Curtis' knives and cheese graters, etc. on the top culinary rack. It's pretty sweet. I don't think I can ever have a dishwasher without this third level!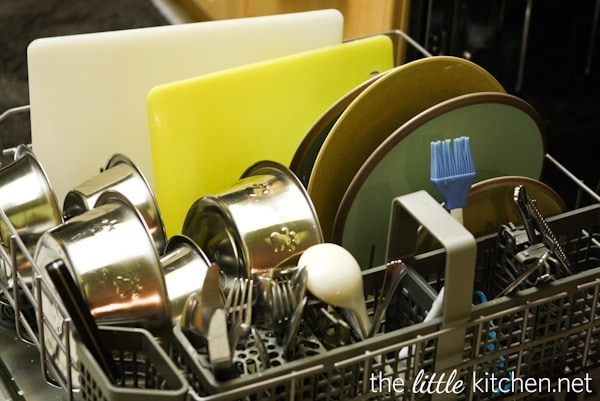 5. It holds a lot of dog food bowls.
We use 6 dog food bowls a day – as they each get three meals a day. I go through a LOT OF DISHES. I love that it holds a lot and although I still have the habit of scrubbing everything before it goes in the to dishes, Curtis doesn't share this habit. This dishwasher is versatile enough to handle different loading styles.
I love love this thing. Sooo tell me what features do you look for when shopping for a dishwasher?
Disclosure: KitchenAid provided me with new appliances for my kitchen last year. I'm happy to share them on my blog along with my own honest opinions. I was not compensated for this campaign and I only share with you brands that I love.