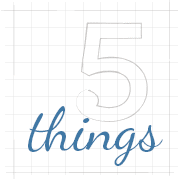 Are you on instagram? It's quite frankly my favorite social networking "site" at the moment. Available for iPhone and Android, it's an app that lets you share photos. I love sharing photos and I love seeing my friends' photos – kind of like I get to share a little in their day.
I actually thought about doing a full-fledged tutorial on how to use instagram…but then decided to share the five things I love about instagram instead.
1. Sharing photos of food & my pets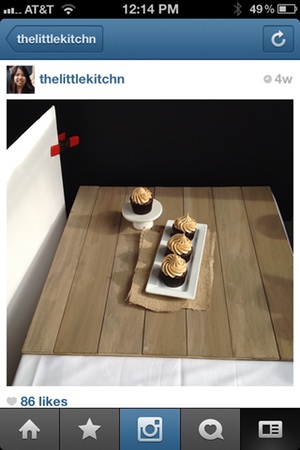 What I call a pull back shot. Not just sharing food I'm eating or cooking but I kind of like to share while I'm photographing for the blog too.
Some notes about this shot: that clamp is holding a piece of foamcore onto an upside down stool & the backdrop I'm using is from a tutorial from Lindsay's site.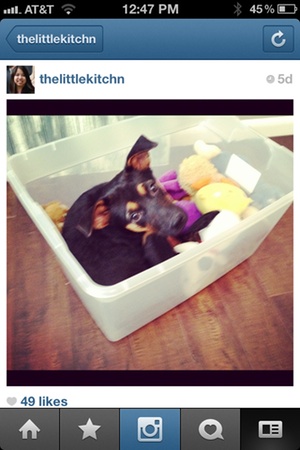 If you follow me on instagram, you have to put up with my pet photos. This is Angel, our puppy. While I was working the other day, she managed to get herself into the toy bucket/box. The things that amuse her!

I would say I mostly post food & pet photos but I have also posted photos of our office remodel, photos during vacations, press trips & conferences too.
2. Following others & seeing a part of their day. I love following my friends and fellow food blogger friends and seeing what they are up to. Two must follows for me are dogandboy and dianecu of White On Rice Couple.
dogandboy is an account that only shares photos of a little boy who lives in Japan and his two dogs, both Shiba Inus. I love seeing the daily photos – the dogs are so cute and so is the little boy.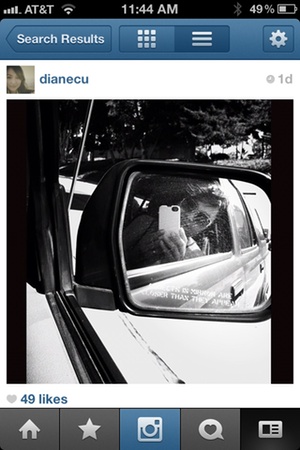 I love Diane's photos. All in black and white – she only shares photos taken & edited with the iPhone. I love the raw emotion and beauty in her photos.
The beauty of instagram is you can follow whomever you want, if their photos interest you.
3. Double tapping a photo with your finger likes it
I was so excited when I learned this from my friend, Angie. I was hanging out with her one day and saw her tapping her phone with finger. Much quicker than looking for the little like button at the bottom of every photo!
4. Easy to use features on instagram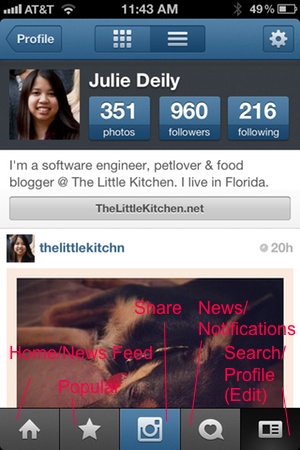 instagram is pretty easy to use.
The Home button is similar to the news feed on facebook. Here you see all of the photos your friends (or whom you follow have posted). Comment or like them right from the Home screen.
I don't use the Popular button that much but you can see what's trending at the moment then. It's usually a lot of food and girls that are popular. 🙂
The middle button is the Share button, this is where you take your photo or share one from your camera roll. I prefer choosing one from my camera roll, it's much easier that way. This is where you can choose those fun vintage filters, add a caption and even share via facebook, twitter & tumblr too.
The News/Notificiation section is where you can see who recently followed you as well as likes and comments on your on photos and any @ mentions you received. You can also check out what your friends are commenting on and what they are liking.
Last but not least, Search & Profile (Edit). This is where you can search for your friends, search hashtags and view & edit your own profile.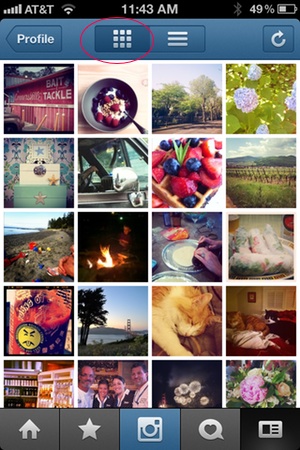 Another feature I love about instagram is the ability to view photos in grid or "list" format. Above is the grid format. If you choose list format, you'll see one image at a time.
5. Being able to find my friends via twitter & facebook…and when my friends have the same username on instagram & twitter.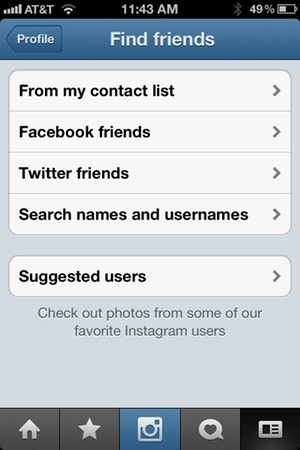 I love that I can find my friends by linking my instagram account to twitter. Most of the time, when posting photos to instagram, I also share them on twitter. I love it when my friends have the same username on both because it makes the @ mentions a lot easier.
If you're on instagram, you have inevitably heard the news that Facebook bought instagram for $1 Billion. We have been hearing that they want to integrate the instagram features into Facebook and now they have just release an app called Facebook Camera.
I just downloaded it today. The app only displays photos and allows you to upload photos – as well as edit them & add filters before uploading. Your news feed looks a lot like instagram but it has more of the timeline feel from facebook. I'm liking it so far – I just wish I could upload an image directly to one of my photo albums already set up on facebook. I think I will be using this app a lot more than the facebook iPhone app. It's a lot faster and I really just like to look at photos anyways.
If you are on instagram, what do you love or hate about it? If you're not, why not? What's keeping you from downloading it (other than not having a smartphone)?