Thanks to Trop 50 for sponsoring my writing about fabulous bloggers. This year Trop50 is granting 50 fabulous wishes. Click here to enter for a chance to win $1,000 to help grant a friend's wish!
I'm excited to share with you five fabulous bloggers. You don't know how hard it was to choose just five…I also follow tons of blogs that are not food-related but for this post, I'm sharing with you some of my favorite food bloggers. I won't even tell you how many blogs I subscribe to via Google Reader and email, it is A LOT!
Why are these bloggers fabulous? I love their blogs, I love their photography and I have some kind of personal connection with them even if I have never met them in person. I have mentioned before how much I love twitter! Most of these connections I have made have been on twitter.
In no particular order, my top 5 Fabulous bloggers are:


Robyn of Earthbound Chronicles is amazing. She blogs about her move from the city to farm life. I love the comfy feel of her blog, the recipes and her photography. She has been an awesome friend and supporter of mine since I started blogging and joined twitter. We also relate to each other because of our love of our pets. I can't wait to meet her in person one day.
Lindsay of Love and Olive Oil, what can I say? She is such a nice person…and she loves cats too! Her site is filled with beautiful photographs and she is so helpful. She is also an amazing graphic designer as well as a web designer. I can't believe we were in the same room last September and never met up in person. This spring though, I hope to get to hang out with her at BlogHer Food!
Marc of No Recipes is an awesome person. I love his blog, the site is clean and minimal and the photography is amazing. I would love to hang with Marc for a day while he cooks and photographs food. He is warm and generous, I have been tweeting with him on photography gear and recently commented on his blog post on food photography and lighting. Literally, within hours, he wrote me back and asked me to send him pictures of my set up and the actual photos I had questions on. We emailed back and forth a few times and he gave me some great advice. One of the photos that I thought wasn't so great, he complimented me on…I submitted it to TasteSpotting and it got accepted! 🙂 It was so nice of him to take the time to answer my questions and give me so much great advice…all while he is traveling through Asia.
Hong and Kim started their blog in 2009 and have been sharing tons of Vietnamese recipes. I don't remember how I found their blog but it's amazing. The photographs are awesome and the food reminds me of the food my Mom cooked while growing up.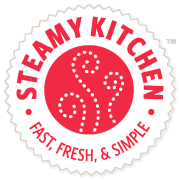 Jaden of Steamy Kitchen is such a nice person. I got to meet her along with Diane and Todd at Food Blog Forum Atlanta last September. She has such a giving spirit and always wants to give back to the food blogging community. Her photographs are beautiful, her cookbook is amazing and her post on photography lights is constantly being shared between food bloggers.
And I'm cheating a little bit because I wanted to list some other amazing bloggers that I love (wish I could list ALL of the ones I follow):
Vanilla Bean Baker: Check out her blog for some amazing decorated cookies and her amazing 365 project called Frosting for the Cause to help bring awareness to women's cancers as well as raise funds.
Melanie's Cake Walk: She is a personal friend and one amazing cake decorator. Follow her because her name is going to be big!
Special Fork Blog: Sandy is awesome and shares some great videos. A twitter friend whom I hope I get to meet soon!
Bunkycooks: Gwen is an amazing person, so giving and helpful. Follow her for wonderful farm visits.
Beantown Baker: I started reading Jen's blog before I even started blogging. She has great photography and wonderful recipes.
Don't forget to enter the 50 Fabulous Wishes contest for a chance to win $1,000 to support a friend's wish. I was selected for this Tropicana Trop50 sponsorship by the Clever Girls Collective, which endorses Blog With Integrity, as I do. I received compensation to use and facilitate my post.