Congratulations to Lynn and Lisa for winning the Wine.com save from Eversave.com!
I don't hide the fact that I love coupons and daily deal sites. And I love Eversave. Ever since I met a couple of the ladies who work for Eversave last year at an event I attended, I have been following the daily saves and have purchased a few, including one for ShoeBuy.com, LugLife and one for a manicure/pedicure recently.
Every day, Eversave puts up a new online save as well as saves in local markets including Orlando, Tampa, Boston and New York City. You can sign up to receive emails so you don't miss out on them. They even offer a way for you to earn save credits by referring your friends and families to deals, when they purchase their first save, you receive a $10 credit.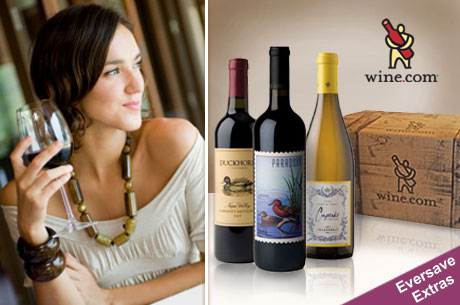 So here's an awesome save Eversave just posted this morning, you can get $70 worth of favorite wines, accessories or gifts for $35 (for new members to Eversave, it's $32). This save is available for purchase until Friday, June 17 at 11:59 PM EST.
Wine.com offers wines from all over the world as well as gifts and accessories. You can search for wines via region, grape, style, price and more. Also, here's an Eversave Extras alert: spend $100 when you redeem your voucher or sign up for Wine.com's Steward-Ship program and earn $10 in Save Rewards.
I did a quick search for my favorite brands, one of them Wine.com does carry and the other they do not, but they did suggest other pinot grigios even though I didn't even include pinot grigio in my search. I'm really excited about stocking up on my favorite red wines for cooking.
Some of the details you need to know about are below and for even more details, be sure to the visit the Wine.com Eversave page.
Coupon code cannot be used toward taxes or shipping; shipping rates vary based on order
Wine.com cannot ship to: OK, GA, IN, KY, MD, ME, TN, or UT
Code available immediately after purchase on Eversave (think Father's Day gift!)
Promotional value expires on Oct 15, 2011
I'm really excited to offer 2 readers a $70 coupon code to Wine.com! This is a quick 48-hour giveaway so please read below carefully and follow the instructions if you would like to enter. After the giveaway ends, I'll try to quickly draw the winners and contact them immediately. I'll email the winners and attempt to contact them via facebook & twitter (if possible).
Update: Want another chance to win? My friend Aggie over at Aggie's Kitchen is running the same giveaway. Hers ends Thursday, June 16th at midnight EST.
Buy It
Purchase the Wine.com save for $35 and you'll get a coupon code for $70 worth of wine from Wine.com. If you're a new to the Everave, you'll also receive a $3 new member credit which would make this deal only $32! AND for everyone, use the promo code DAD and you'll receive $5 off any save between now and Sunday.
Win It
Two winners chosen at random to receive a $70 Wine.com coupon code. (This is a quick giveaway that will only last 48 hours so be sure to enter now!)
Mandatory Entry
Visit the Wine.com and tell me what kind of wine you would like to try or buy if you were to win this giveaway. I'm always looking for new wines to try so please feel free to share a link. (1 entry)
The mandatory entry must be done otherwise the bonus entries will not count.
Bonus Entries
'Like' The Little Kitchen on facebook and leave your first name & last initial in a comment below. (1 entry)
Subscribe to this blog via email and verify the subscription. (2 entries)
Follow The Little Kitchen on twitter and leave your twitter handle. (1 entry)
Click on the facebook like button in this post (below) and leave your first name & last initial. (1 entry)
Tweet about this giveaway w/ link and leave a link to your tweet. Use the sample tweet below or the tweet button at the bottom of this post.
Enter for chance to win $70 worth of wines fr Wine.com via @Eversave http://bit.ly/m6Q7hs ends 6/17 1PM EST @TheLittleKitchn
(1 entry OR tweeps who follow me on twitter can also tweet

four

times a day for extra entries – tweets must be at least 2 hours apart)
Follow Eversave Orlando on twitter and leave your twitter handle. (1 entry)
'Like' Eversave Orlando on facebook and leave your first name & last initial. (1 entry)
Follow Eversave on twitter and leave your twitter handle.
'Like' Eversave on facebook and leave your first name & last initial. (1 entry)
This giveaway is open to U.S. residents only (I'm very sorry to my international readers) who are ages 21 and up.
Leave a separate comment on this post for EACH entry to make all of your entries count. (If you already like on fb or subscribe via email, just leave a comment saying so.)
All entries will be checked and verified. If your entry cannot be verified, it will not count.
You have until 1:00pm EST on Friday, June 17, 2011 to enter.
Two random winners will be chosen via And the Winner is Plugin. Once the winners are chosen, the winners will be contacted via email and if winners do not respond within 24 hours, winner forfeits prize and another winner will be chosen at random.
Some other notes on entering giveaways on The Little Kitchen:
* How to get the URL of your tweets
Disclosure: I received the same save the winners will receive. I did not receive any compensation for hosting this giveaway. Some links are affiliate links. I always give my honest opinion.