Double Chocolate Cupcakes with Salted Caramel Buttercream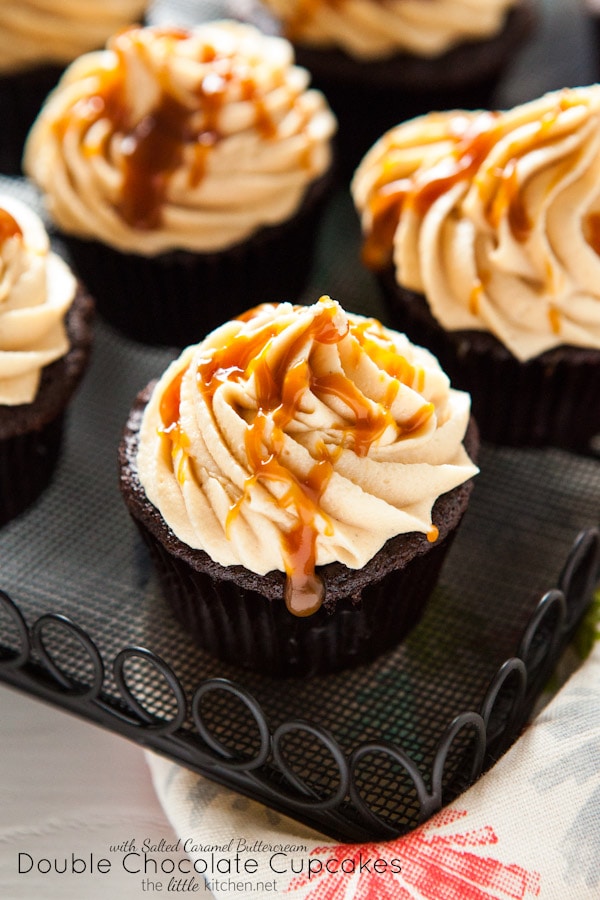 I have a thing for cupcakes. Maybe because they are small? And salted caramel. Well because it's caramel and butter is involved.
I have a good friend, Carrie, who tells me all the time she doesn't like salted caramel. So if you're like her, you can make the caramel without the salt and it would be caramel buttercream!
I'm so glad to be working with Land O'Lakes again to bring you another recipe and because this one's a little special, I consider this a holiday recipe.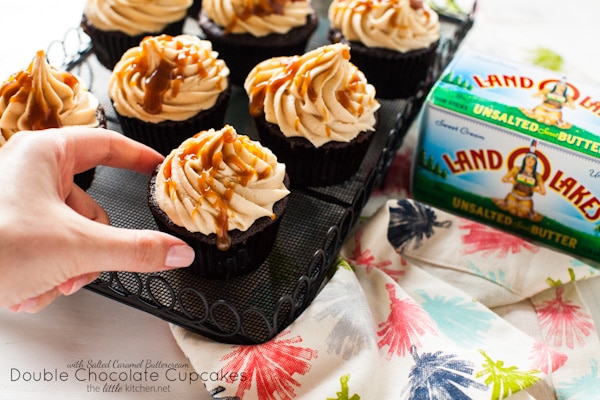 You can make your own caramel sauce or use store bought. If you use regular caramel, you can easily make it salted caramel by adding sea salt (to taste) to it.
Also, when I'm making these cupcakes, I usually put the cupcakes in the oven, make the salted caramel and then the buttercream but you can honestly make the caramel and the buttercream ahead of time, even a couple of days before!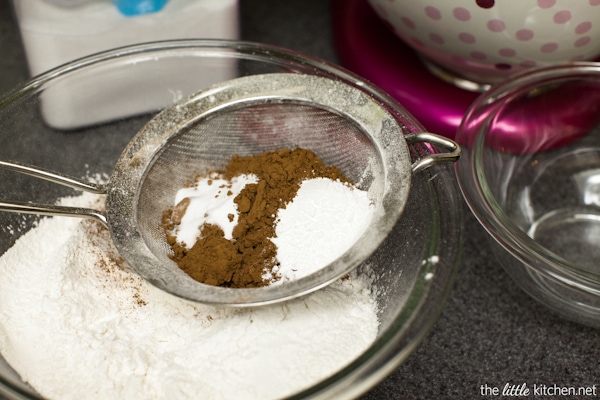 Sift all of the dry ingredients, especially, the cocoa powder because it always has hard bits in it, except the salt. Mix together all of the dry ingredients with the salt.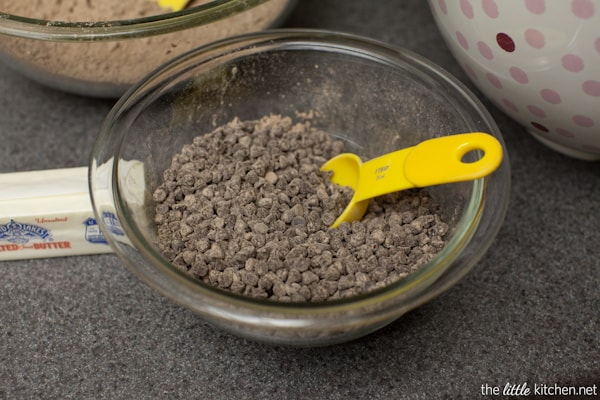 Take two tablespoons of the dry ingredients and mix in with the chocolate chips ahead of time, then set aside. I do this so the chips don't sink…some still will but that's ok. Also, I use the miniature chocolate chips because the big ones…no matter what you do, they sink to the bottom of the cupcake!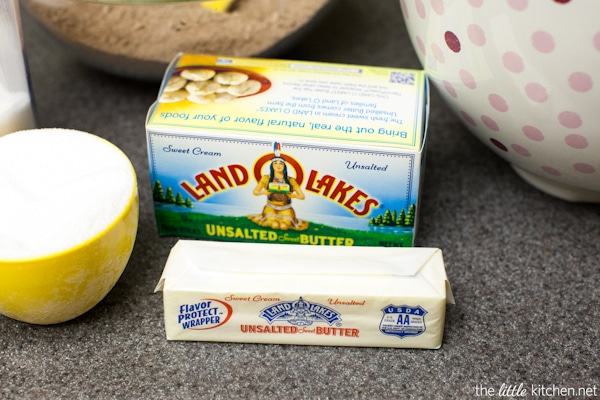 Cream the butter and the sugar together.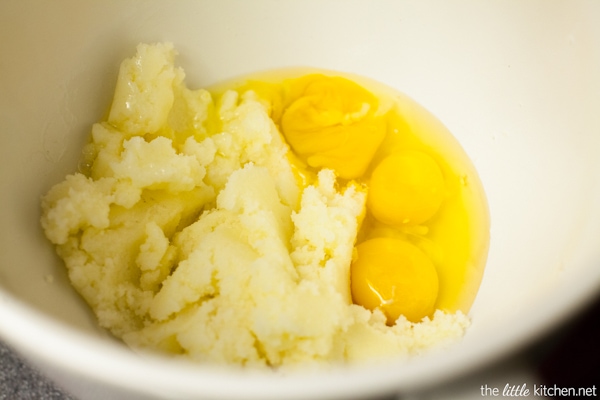 Add eggs and mix.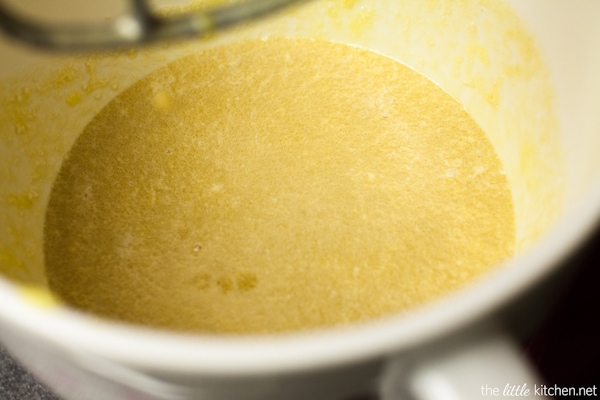 Then, add the coffee, vegetable oil, vanilla extract and the milk. Once you mix it up, it will look curdled.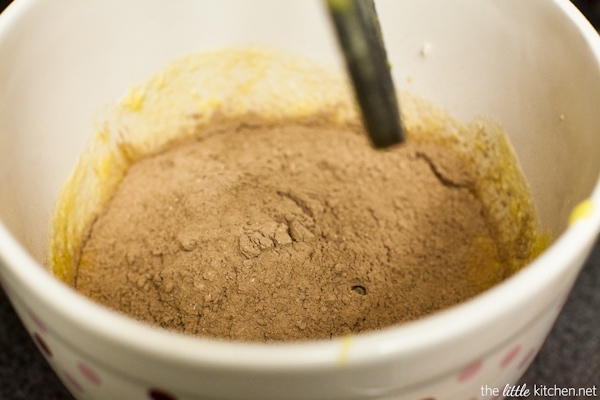 I always carefully add the dry ingredients in two or three batches and mix.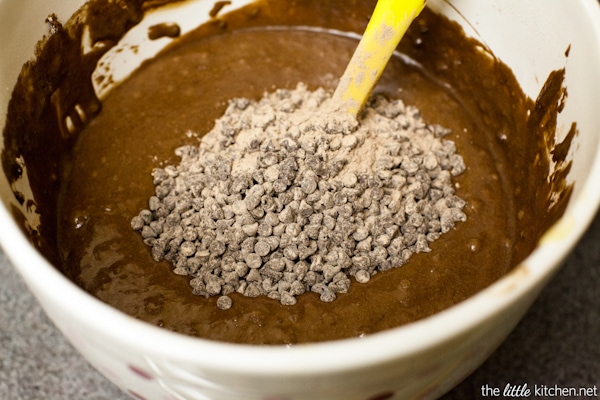 Add the chocolate chips.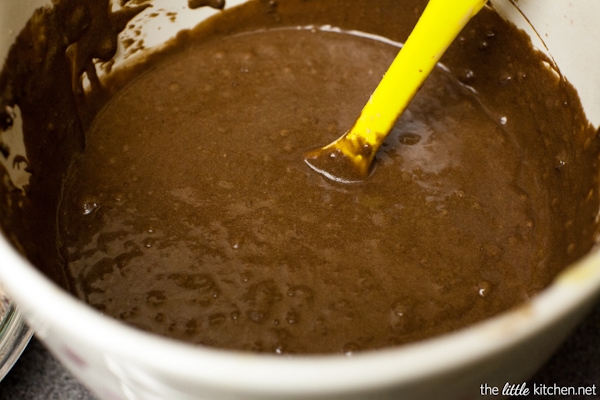 And mix with a rubber spatula.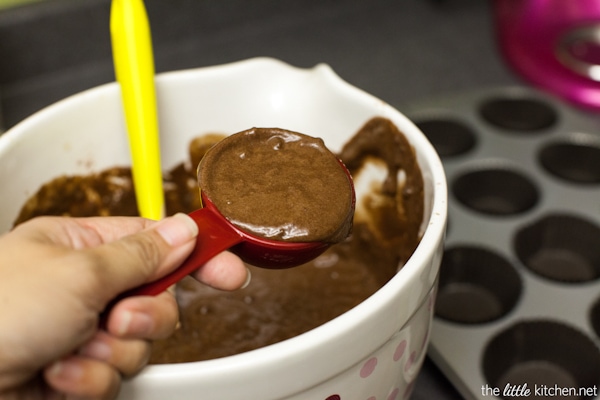 I use a 1/4 cup measuring cup for these cupcakes.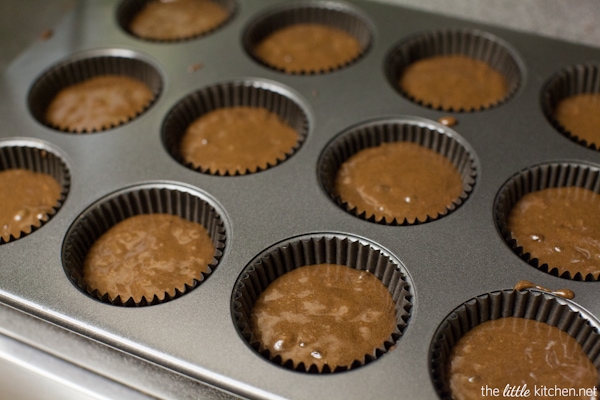 And then bake at 350 degrees F for 16 to 18 minutes.
While those are baking, make your caramel sauce. Don't stir once you turn the heat on. You can pick up the pot and swirl around but don't stir.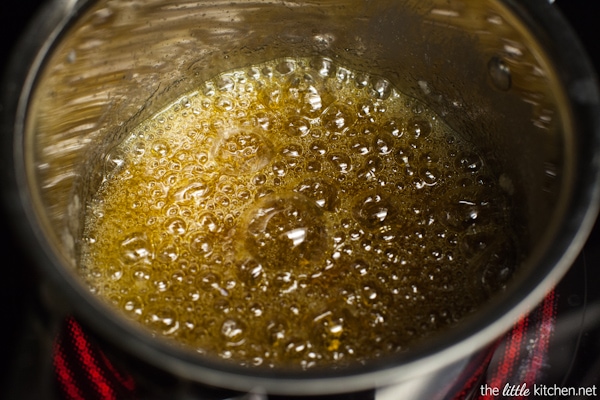 Once they are an amber color…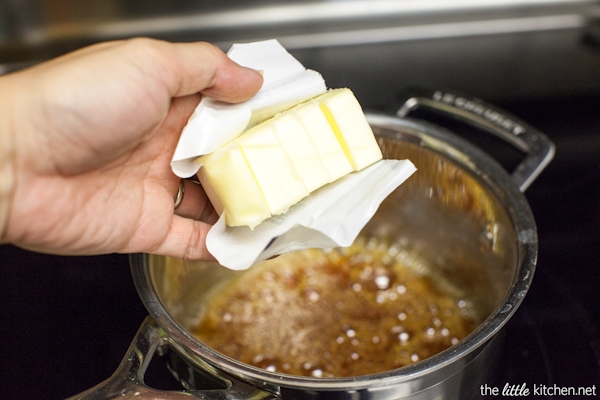 Add the butter and whisk vigorously.
Then, add the heavy cream and whisk vigorously again.
Remove from heat and add vanilla extract and sea salt and mix together.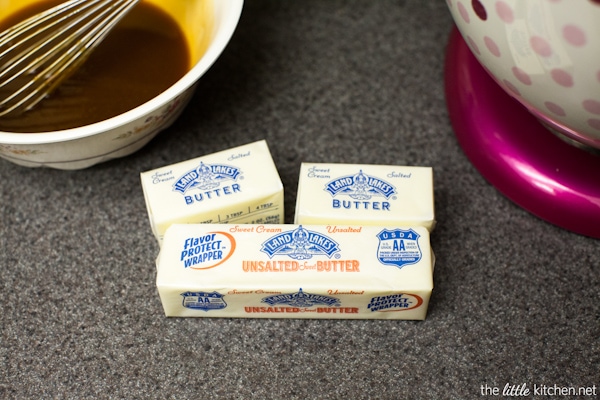 And now for the buttercream! I like to use both salted and unsalted Land O Lakes® butter for buttercream.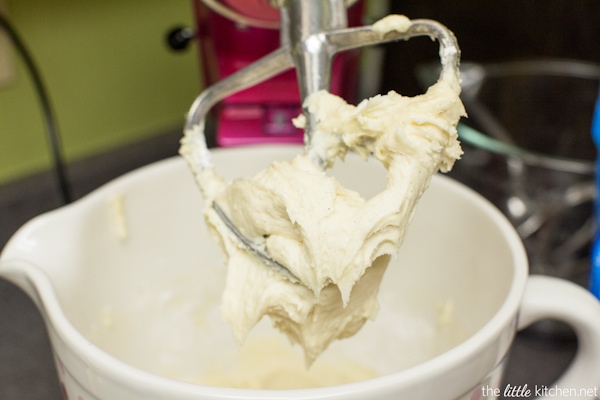 After mixing the butter, vanilla extract and powdered sugar. It's a regular ol' vanilla buttercream…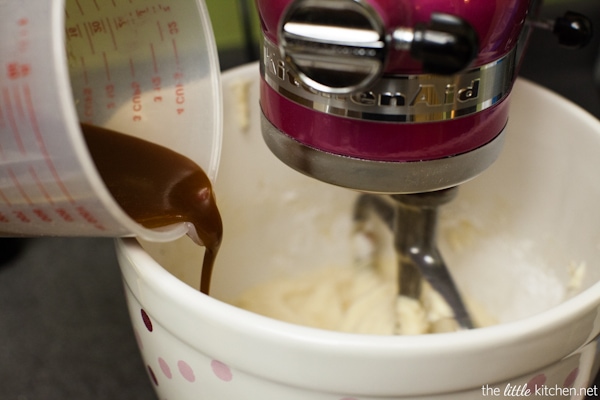 Until you pour in the salted caramel!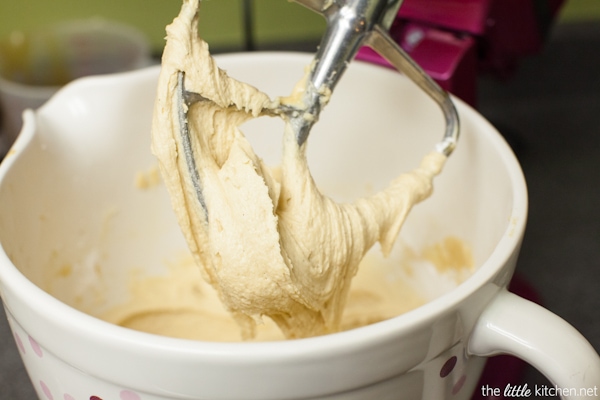 And there you have it!
Check out the short little instagram video I posted of frosting one of these cupcakes…below!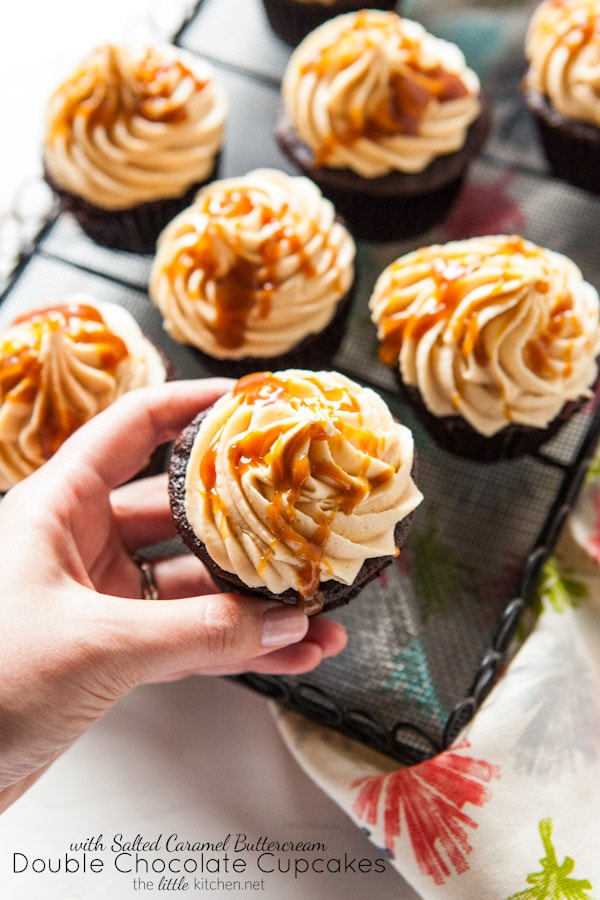 Cupcakes that I KNOW you'll love! A few friends taste tested for me and they really enjoyed them. Now time to make these for your next holiday get together! Stat!
Recipe
Yield: makes 24 to 28 cupcakes
Prep Time: 45 minutes
Cook Time: 30 minutes
Total Time: 1 hour 15 minutes
Double Chocolate Cupcakes with Salted Caramel Buttercream Recipe
Ingredients:
Double Chocolate Cupcakes
2 1/4 cups cake flour
3/4 cup unsweetened cocoa powder
1 Tablespoon baking powder
1 teaspoon baking soda
1/4 teaspoon salt
1 1/4 cups mini semisweet chocolate chips
1 Land O Lakes® Unsalted Butter Stick (1/2 cup), softened
1 3/4 cups granulated sugar
3 large eggs
1 1/2 teaspoons pure vanilla extract
2 Tablespoons vegetable oil
1/2 cup brewed coffee, cooled
3/4 cup milk
Salted Caramel
3/4 cup granulated sugar
2 Tablespoons water
1/2 cup heavy cream, room temperature
1/2 Land O Lakes® Unsalted Butter Stick (1/4 cup), cubed, room temperature
1/4 teaspoon pure vanilla extract
2 teaspoons sea salt
Salted Caramel Buttercream Icing
1 Land O Lakes® Unsalted Butter Stick (1/2 cup), softened
1 Land O Lakes® Salted Butter Stick (1/2 cup), softened
1 Tablespoon pure vanilla extract
6 cups powdered sugar
1/2 cup salted caramel, cooled
Directions:
Double Chocolate Cupcakes
Heat oven to 350 degrees F. Line two muffin tins with cupcake liners.
Sift cake flour, cocoa powder, baking powder, baking soda and salt and mix together with a large spatula in a medium-sized mixing bowl. Measure out mini chocolate chips, place in a small bowl and add 2 Tablespoons of the dry mixture and mix. Set said both bowls.
Cream butter and sugar in the bowl of a stand mixer using the paddle attachment, on medium for 2 minutes, scraping the sides and bottom of the bowl halfway through with a rubber spatula. Add eggs and mix for 2 minutes (scrape the bottoms and sides of the bowl). Add vanilla extract, vegetable oil, coffee and milk. Mix thoroughly for about 1 minute (batter will look curdled).
Add the dry ingredients in two batches and mix together until they are combined (don't over mix and don't forget to scrape the bottoms and sides of the bowl). Add chocolate chip mixture and fold into the batter using a rubber spatula.
Portion out 1/4 cup of cake batter into lined muffin tins. Bake for 16 to 18 minutes on 350 degrees F or when inserting a toothpick in a couple of cupcakes in the center comes out clean. Carefully remove cupcakes from the muffin tin and cool on wire cooling racks.
Salted Caramel
Add 3/4 cup sugar and 2 tablespoons water to a stainless steel pot (that has a heavy bottom and high sides). Mix to combine and then turn heat to medium high.
Lift the pot and swirl but don't stir. Cook until the sugar turns to a caramel color, about 10 to 11 minutes (watch carefully so it doesn't burn).
Turn heat down to low. Add butter (it will be really hot so be careful) and whisk until thoroughly combined. Again, being careful, add heavy cream and whisk thoroughly.
Remove from heat and add vanilla extract and salt (add more if you like it even more salty) and whisk thoroughly. Allow to cool completely before putting into an airtight container and refrigerating.
Salted Caramel Buttercream
In your stand mixer bowl using the paddle attachment, mix thoroughly the softened 1 Land O Lakes® Unsalted Butter Stick and 1 Land O Lakes® Salted Butter Stick on low to medium speed. Add vanilla extract and mix well.
Turn off your mixer and in two batches, add the powdered sugar and mixing until well blended (it will look like a dough). Be careful, the powered sugar can go everywhere!
Add salted caramel sauce and mix for about 3 to 4 minutes. I like to refrigerate my buttercream before using. Refrigerate it for at least 30 minutes (overnight even), just place on the kitchen counter for a little while before icing your cupcakes.
Pipe buttercream over cupcakes using your favorite tip in a decorator/frosting bag. Drizzle leftover caramel sauce on top and serve!
We love that you love to share our recipes with others. If you have a blog or website and want to repost the recipe, we just ask that you reword the instructions (easy peasy) and link back to give us credit and to use your own images at the same time. Please ask us permission before republishing our recipes and images. And here's a great article on how to properly attribute a recipe.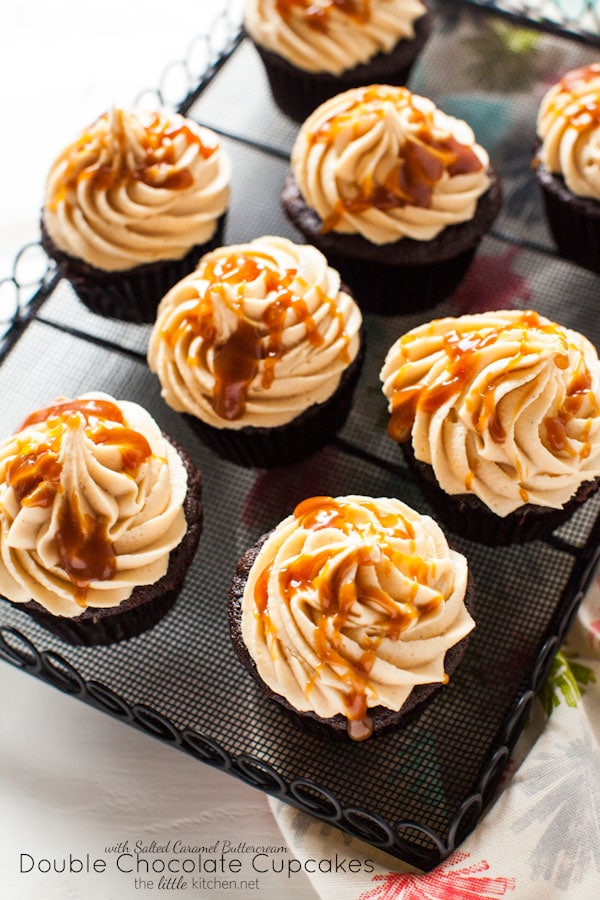 Disclosure: The Little Kitchen has partnered with Land O'Lakes for an exclusive endorsement of Land O Lakes® Butter for their Kitchen Conversation blogger program. This blog post is sponsored by Land O'Lakes.