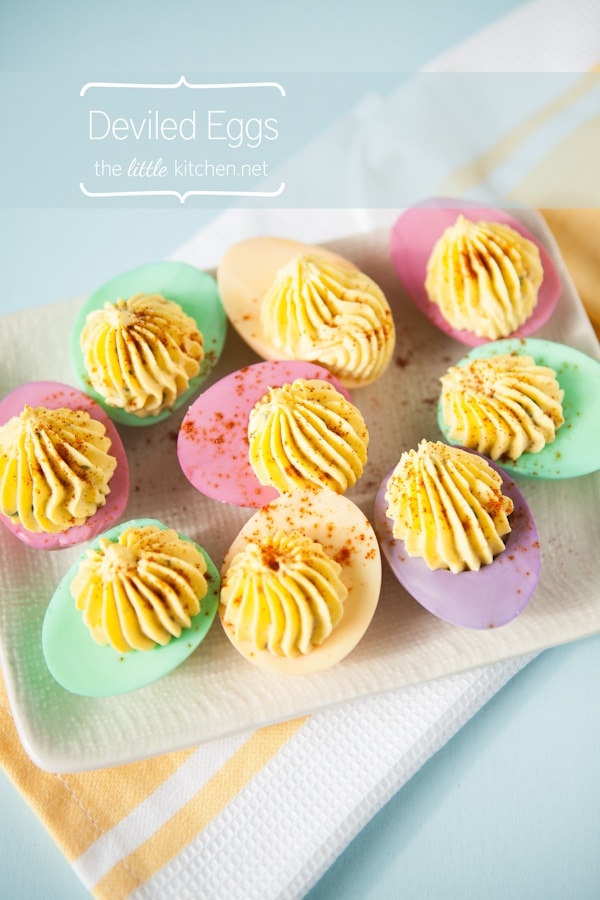 Oh my goodness, it's almost April and this year, that means it's almost Easter! I'm excited to be working with McCormick® this spring to bring you some spring cooking and baking goodness with their products!
I saw these pretty colored deviled eggs on Pinterest and knew I had to share these with you! Do you love deviled eggs as much as I do? I can eat 6 or 12 or 18 or…in one sitting. It's pretty bad. Don't laugh at me okay?
They are my favorite party food every time of year but since at Easter time, a lot of us seem to have an over abundance of boiled eggs, this is the perfect appetizer for a spring get together or a Spring brunch.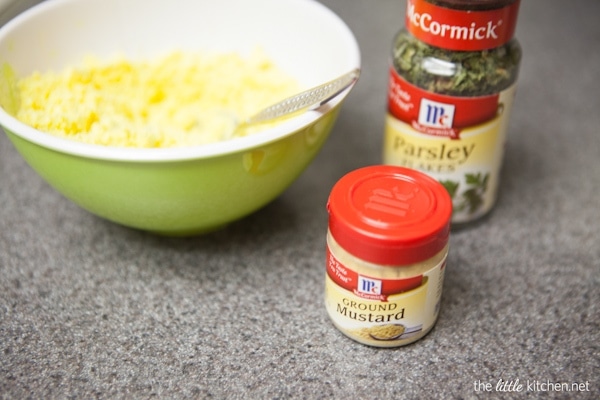 My secret ingredients for the most perfect deviled eggs are McCormick® ground mustard and dijon mustard. I know for some it's pickle relish or even onions but this combination of ground mustard and dijon mustard will make you wanting more.

Tips for peeling boiled eggs:
How to peel boiled eggs, the secret is they need to be cold, it's that simple. Have you tried to peel a warm or hot egg? It looks like you butchered it, right? Either refrigerate them for 30 to 60 minutes after you boil them or put them under running cold water. Crack them all over on your counter using one hand and then shell will come right off. It's that simple!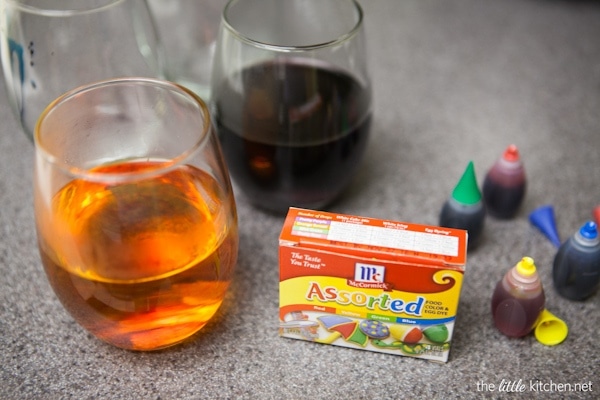 For the colors, I looked on the outside of the box of McCormick® Assorted Food Colors & Egg Dye and saw they had recipes for pastel colors, I tweaked them a little because they are for dyeing eggs with the shell on:
Dusty Rose: 7 drops of red + 3 drops of blue
Orange: 4 to 5 drops of yellow + 1 drop of red
Purple: 6 drops of red + 7 drops of blue
Mint Green: 7 drops of green + 3 drops of yellow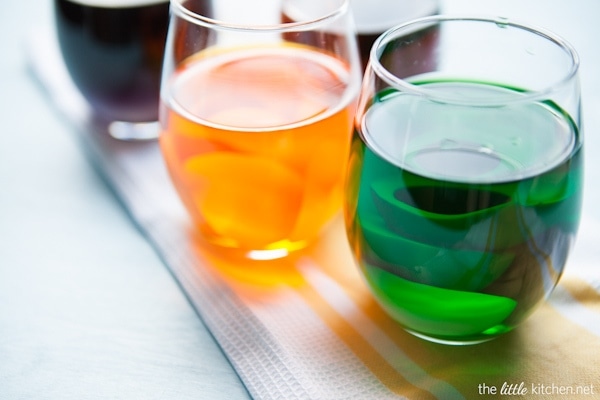 Drop the food color into clear glasses and then add water. Add the egg white halves. The longer you let the eggs sit in the food color, the darker the colors will be.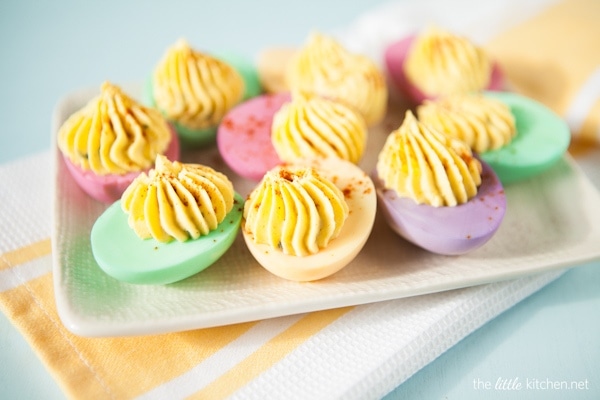 Aren't they cute?
Recipe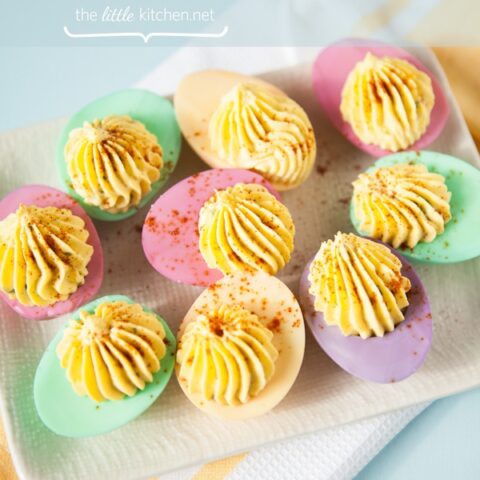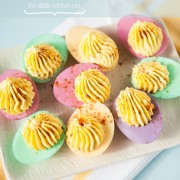 Print
Pin
Deviled Eggs Recipe
Servings
7
(2 halves) servings
Ingredients
7

hard-cooked eggs

,

peeled

1/4

cup

mayonnaise

1

teaspon dijon mustard

1/2

teaspoon

McCormick® Mustard

,

Ground

1/2

teaspoon

McCormick® Parsley Flakes

1/4

teaspoon

seasoned salt

McCormick® Paprika
Instructions
Slice eggs in half lengthwise.

Remove yolks; place in small bowl. Mash yolks with fork or potato masher.

Stir in mayonnaise, dijon and ground mustard, parsley and seasoned salt until smooth and creamy.

Spoon or pipe yolk mixture into egg white halves. Sprinkle with paprika.

Refrigerate 1 hour or until ready to serve.
How to boil eggs for deviled eggs (and egg salad):
Add eggs to an empty saucepan, only put them in in one layer. Cover with water and add a little bit of salt. Bring to a boil and allow to boil for 10 minutes.

Turn off heat and allow to sit on the burner for 15 minutes.

Strain the liquid and run cold water over the eggs. Allow to cool for 15 to 20 minutes before refrigerating for at least 30 to 60 minutes before peeling. This can be done the day before. (If you need to peel the eggs, run the eggs under cold running water until cool to the touch and then peel.)
Disclosure: This post is sponsored by McCormick® and I always share my honest opinions…and would only work with brands that I love.