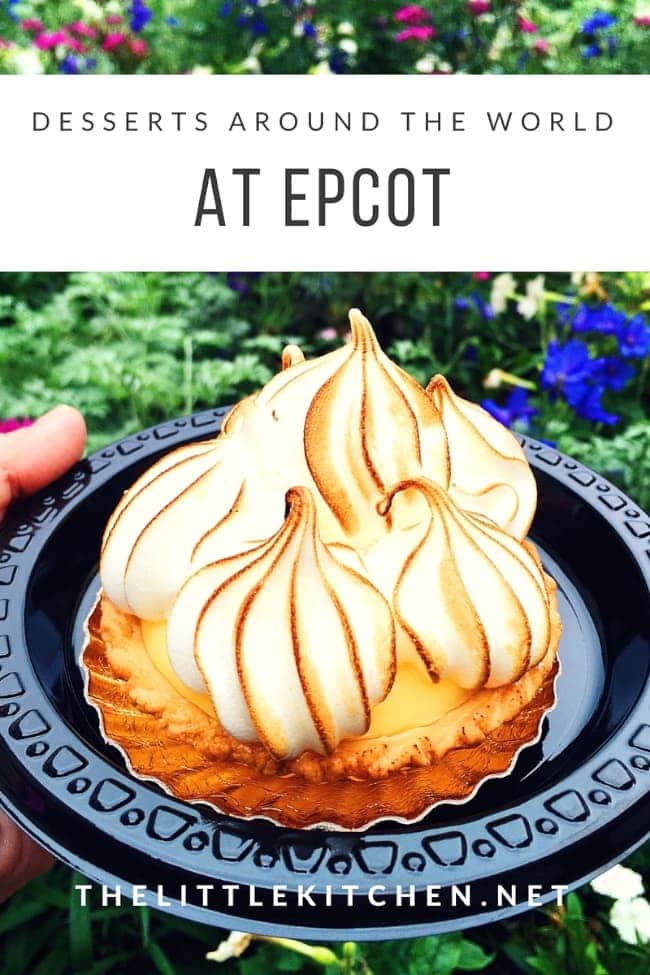 This year for my birthday, I decided I wanted to try to eat desserts around the world at Walt Disney World's EPCOT. I started planning, researching and enlisted my friend, Suzanne, to help me out! While Curtis drank around the world, we enjoyed desserts! It was soooo fun!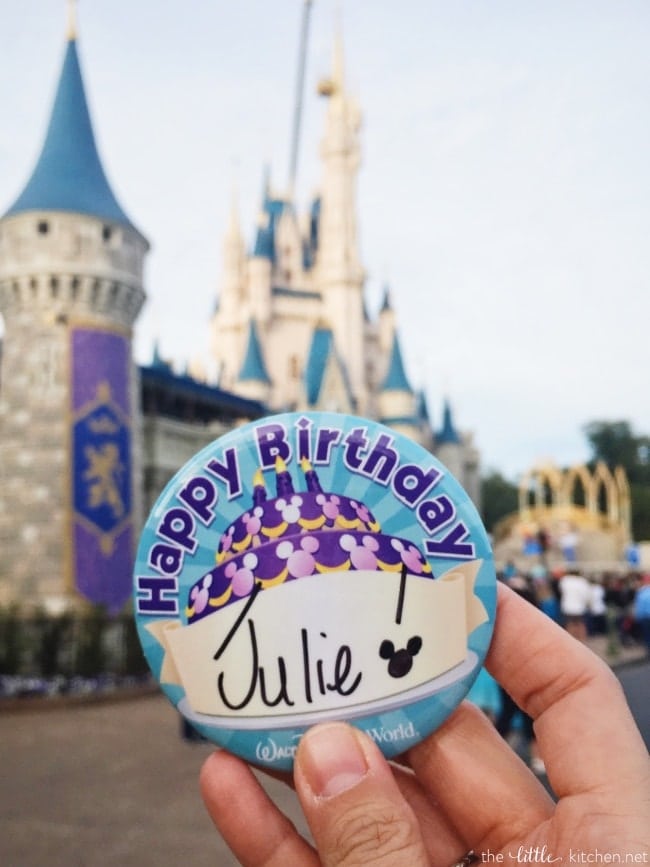 I'm sharing with you the desserts we enjoyed that day!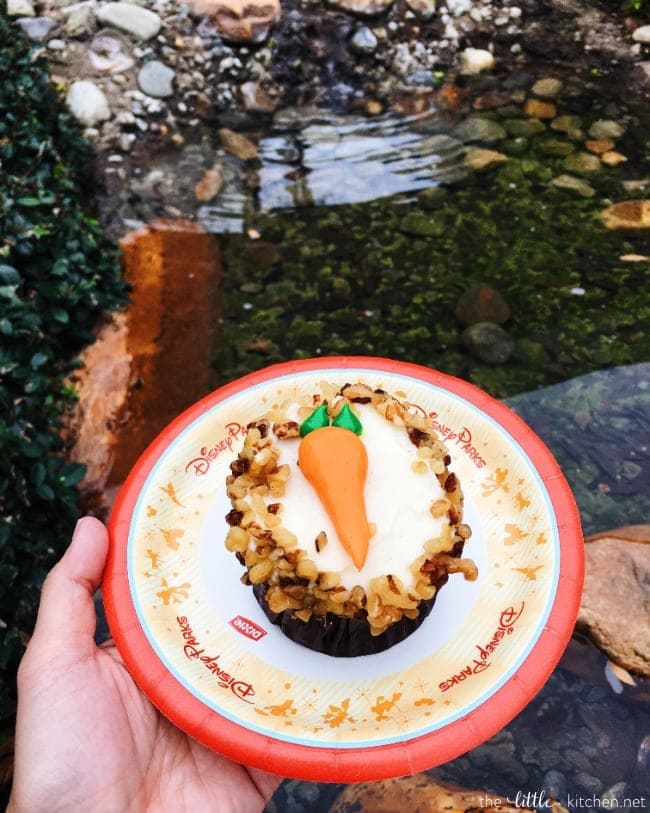 First up, well actually this was the last dessert we had for the day, but it's the closest to the front of the park…so you can have it first or last.
These carrot cake cupcakes are at Sunshine Seasons (food court) which is located in Future World at EPCOT. Loved these!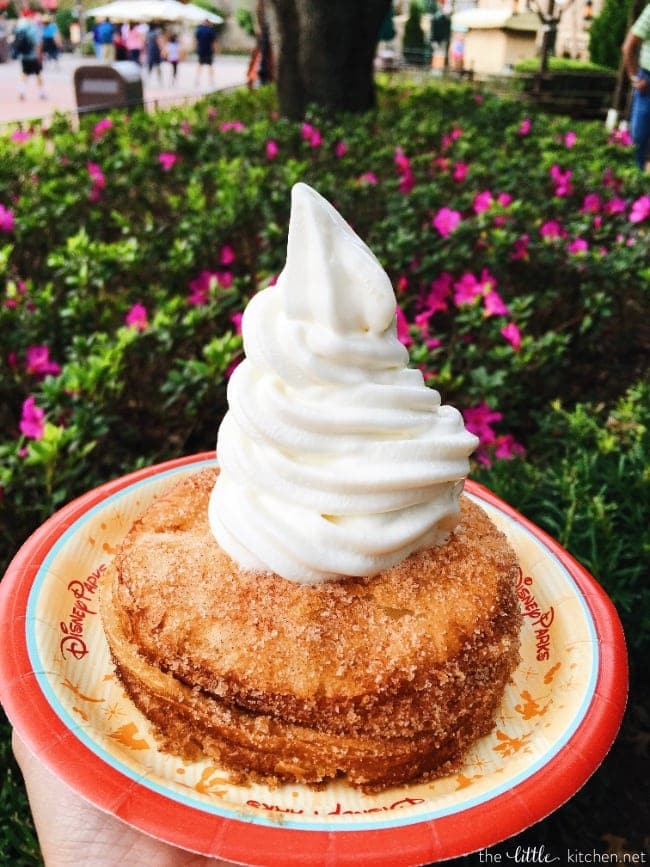 Before you hit the World Showcase, you have to the right and hit up Refreshment Port. Their version of the cronut, a croissant doughnut, is amazing! You can get it with or without the soft serve ice cream…and the soft serve options are vanilla, chocolate or vanilla and chocolate swirl. If you're asking me if you should get it with ice cream, I will say you MUST get the ice cream!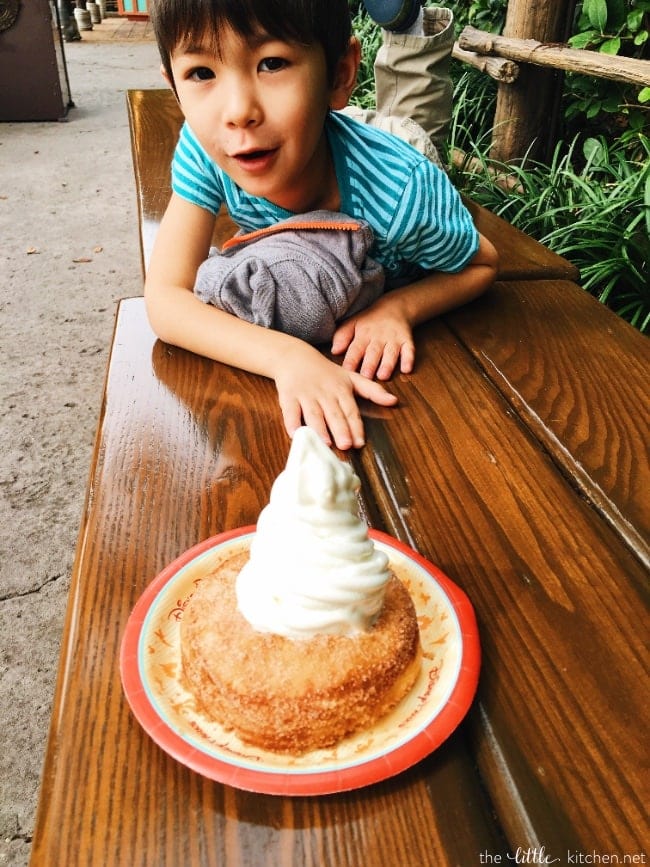 That's Suzanne's son…agreeing with me that you NEED the ice cream! He was a trooper and helped us with the desserts that day!
Pro tip: For some reason, they don't have knives at this kiosk so I always try to bring one from Starbucks from the front of the park or you can grab one in the UK or Mexico…especially if you're sharing this donut with others!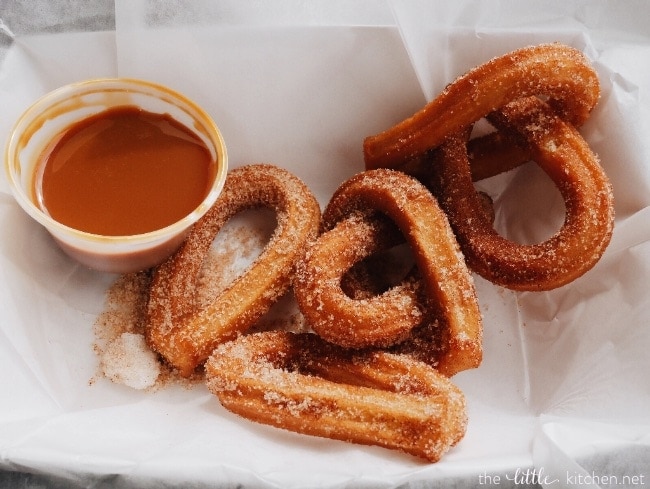 If you look at a map of EPCOT, the World Showcase starts on the left at Mexico or if you're like us, we usually go to the right and start at Canada. For some reason, this day, we started in Mexico.
These churros are served with a caramel sauce and they are just perfect…the perfect amount of crispiness outside and chewiness inside!
By the way, I missed a couple of "countries" (pavilions), such as China and American pavilion, but I'll definitely share with you ones from those areas that I want to try or have tried in the past!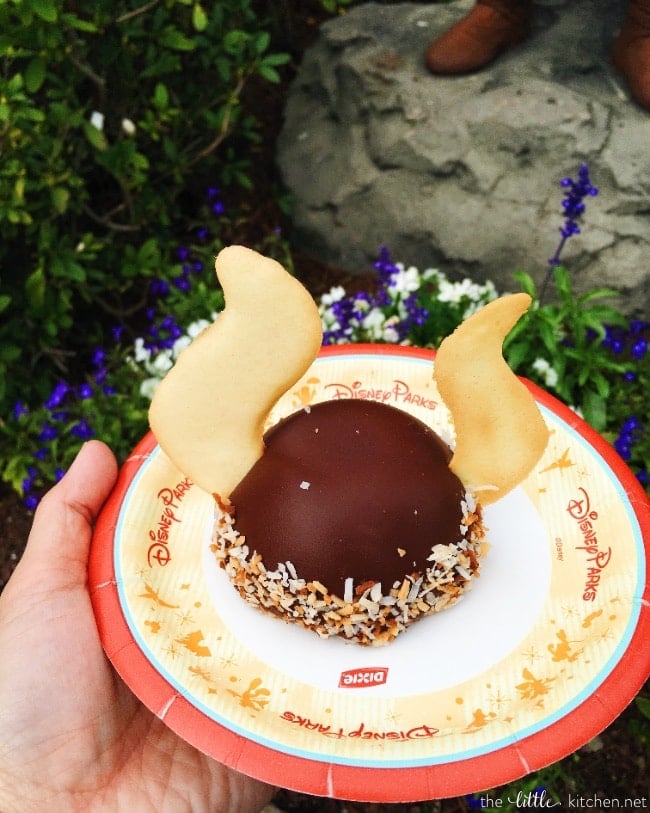 We then made it over to Norway to the Kringla Bakeri Og Kafe where we had the chocolate mousse. I have had the school bread and love it too!
When we went for my birthday, the Frozen Ever After ride wasn't open yet but I have since gone back and rode it, it's lovely! If you love the movie, you'll love it! Be sure to get Fast Passes for it!
We skipped China but next time, I really want to get the caramel ginger ice cream. And we also skipped Germany…I must get the caramel cupcakes from the Karamell-Kuche next time!
We then made it over to Italy and went to the Gelati kiosk where we enjoyed the tiramisu. I love their tiramisu and have been getting it for years. You know when you have good tiramisu and when you have bad, you know what I mean!
I have both the Espresso Gelato "Affogato" and the gelato sandwich on my list!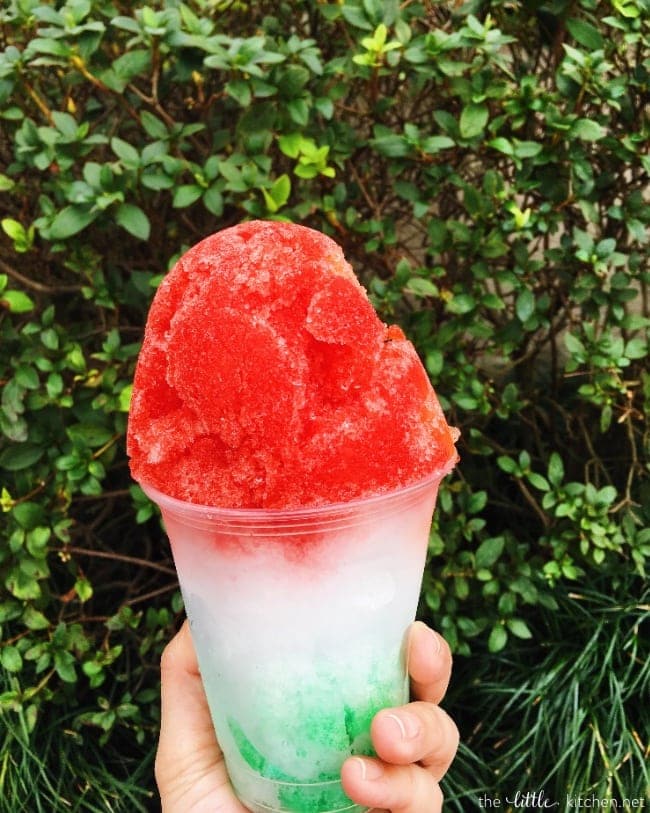 We skipped the American Adventure pavilion but my favorite there is the funnel cake!
This was a perfect "break" for our dessert eating adventure…Kakigori Japanese Shaved Ice, we got the rainbow one (it had four flavors) at the Kabuki Cafe.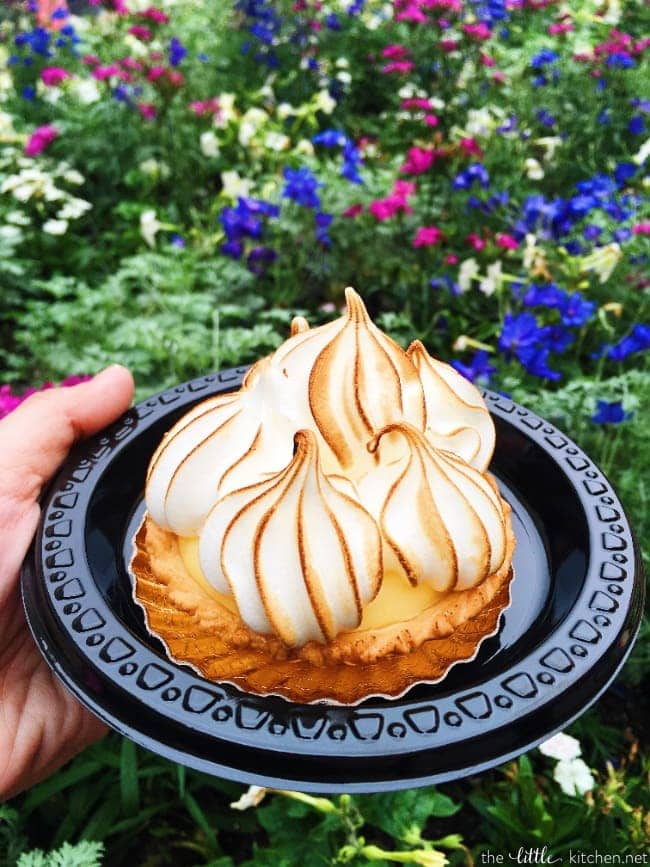 We skipped Morocco…I have had the baklava at the Tangierine Cafe on my list!
In France, at the Les Halles Boulangerie-Patisserie…I couldn't decide so we got two desserts! The lemon tart…oh my, isn't it perfect?
Also, be sure to check out the from scratch ice cream at L'Artisan des Glaces in France. I love the coconut white chocolate ice cream when they have it and their seasonal macaron ice cream sandwiches are amazing!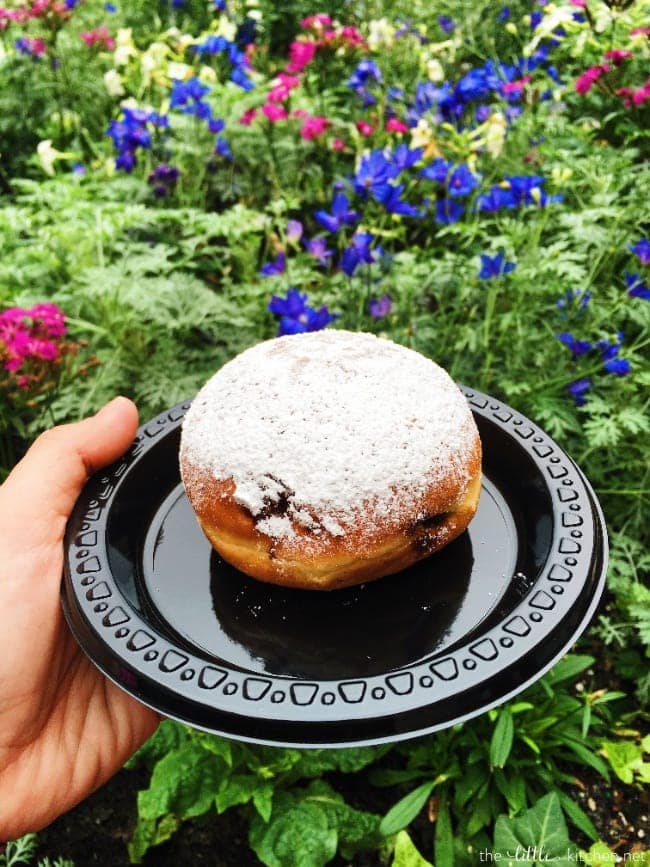 And the nutella beignet…it's so soft and pillowy and perfect! I also love getting their chocolate croissants…getting it to go and having it for breakfast for the next day.
I'd say we did pretty good for a full day! And it's safe to say that I had an amazing birthday!
Notes about the United Kingdom pavilion, we skipped but I kinda want to try the Victoria Sponge Cake at the Yorkshire County Fish Shop which by the way has amazing fish & chips!
And Canada, doesn't have any desserts at any walk up kiosks, sadface!
Okay, so have you eaten desserts around the world at EPCOT or do you have any favorites? I want to hear all about it, share with me in the comments below!
This is not a sponsored post. While I do go to press events at Walt Disney World from time to time, we pay for our own annual passes and I love to share with you the experiences I enjoyed!