Thank you to everyone who entered. Megan from What Megan's Making won the Dean's Dip Giveaway. I sent you an email, Megan, please respond within 48 hours.
I was recently asked to develop a recipe with the new Dean's Pretzel Dip. It comes in two flavors, cheddar cheese and honey mustard. But unfortunately, they are not available in my area yet. I was only able to find the french onion and guacamole dips. I was bummed because I was excited to try the cheddar cheese dip. I love pretzels, especially soft baked pretzels. I decided to try out the french onion dip. I hope to get to try the pretzel dips soon in my area.
I really thought it was going to be an overwhelming onion flavor and it isn't. It has the right amount of onion flavor and I really it for a quick snack in front of the television or an easy appetizer for a casual dinner at home with friends.
So for my recipe, I decided to kick up the french onion dip. This recipe is versatile enough for chips, tortilla chips and even as  a vegetable dip.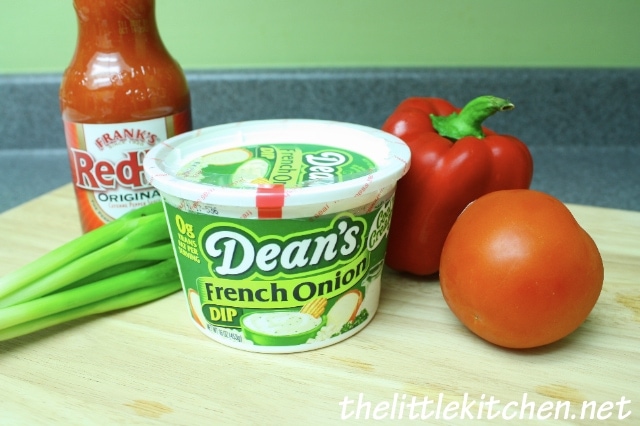 Kicked up Dean's Dip
8 oz. container of Dean's Dip, French Onion flavored, I used half of a 16 oz. container
1/2 medium tomato, diced about 1/4 cup
1/2 red bell pepper, diced about 1/4 cup
2 green onions, sliced thinly
1 tsp of Frank's hot sauce or to taste
First add the Dean's Dip to a small bowl and mix well.
Add tomatoes, bell pepper and green onions and mix well.
Add hot sauce to taste gradually and mix well.
That's it! It's a pretty easy. My husband mentioned how festive it even looks with the red and green colors.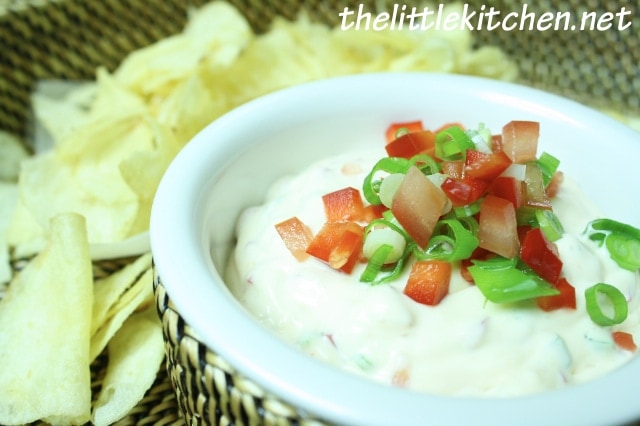 Now on to the giveaway, isn't this a nice chip & dip tray?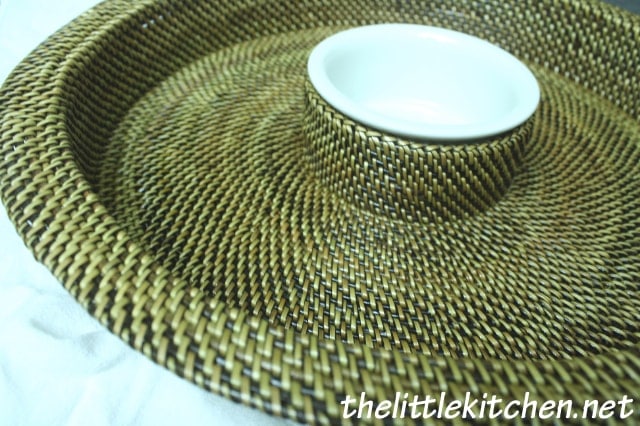 The Prize: A beautiful Williams-Sonoma chip and drip tray (as pictured above, retail value $49), a Dean's Pretzel Dip collector tin that contains pretzels and a bunch of coupons for free Dean's Pretzel Dip. This prize pack is worth over $60!
Mandatory Entry: Leave a comment telling me about your favorite dip (leave a link if applicable – I love to hear about new recipes). (1 entry)
The mandatory entry must be done otherwise the bonus entries will not count.
Bonus Entries (leave a separate comment for each entry, if the entry is worth 2, leave two comments such as follow Dean's Dip on twitter #1, follow Dean's Dip on twitter #2, etc):
Follow Dean's Dip on twitter. (2 entries)
'Like' the little kitchen on facebook and leave your name in your entry. You can leave first name and last initial if you don't want to leave your full name. (4 entries)
Subscribe to this blog via RSS reader. (1 entry)
Subscribe to this blog via email. If email, be sure to fill in the email address you're subscribing with and to confirm the subscription. (3 entries)
Follow me on twitter. Leave your twitter handle in the entry. (2 entries)
Tweet this giveaway, using the retweet link at the top of this post. Be sure to come back here and leave a link to your tweet. (2 entries)
Stumble this post, using the stumble icon at the bottom of this post. Come back and comment saying you stumbled and leave your username. (3 entries)
All entries will be checked and verified. You must enter a valid email address (so I have a way of contacting you), otherwise you forfeit the prize and another winner will be chosen. You have until 11:59pm EST on Tuesday, November 30, 2010 to enter. A random winner will be chosen via And the winner is plugin.
In other news, my one  year blog anniversary (blogiversary) is coming up next month! Keep your eyes peeled for some more great giveaways next month!
Disclosure: Dean's Dip provided me with the same prize pack that's being given away to one of my readers to help facilitate a review and the development of this recipe. They are also providing the items for giveaway. I received no monetary compensation and the views and opinions expressed in this post are my own.