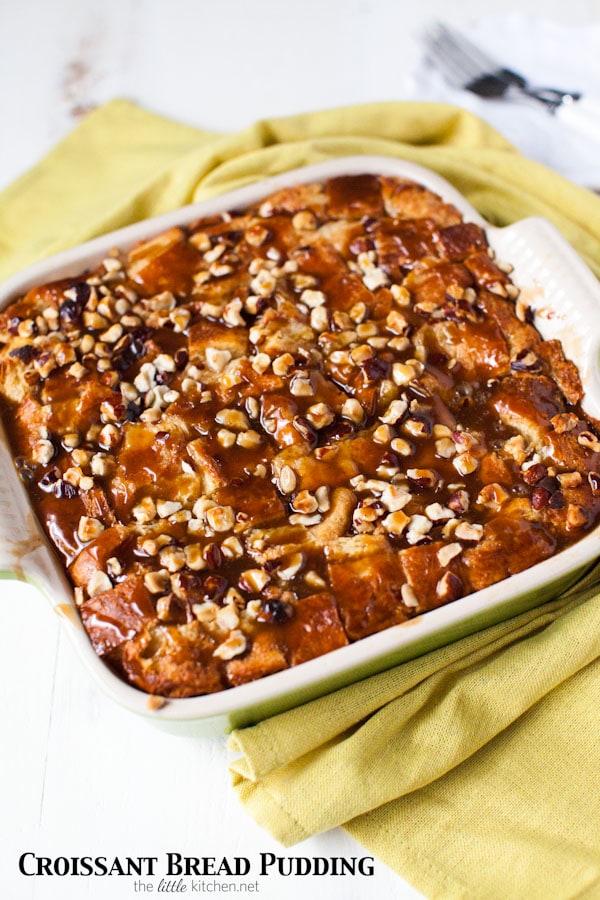 My sweet friend, Kathy from Panini Happy and Burnt Cheese Press (her lovely new company) launched a kickstarter campaign earlier this month…there's 5 days to go…to print this amazing cookbook and to launch Burnt Cheese Press!!!! Go back it!
Here's the video! For more information on the campaign and how to back it, go to the kickstarter website.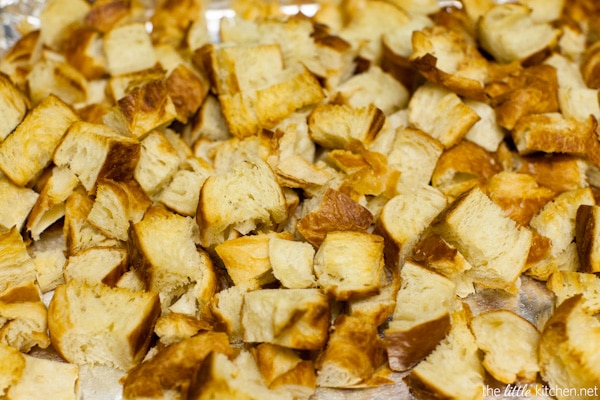 I'm sharing this amazing croissant bread pudding recipe that comes directly from the 8×8 cookbook…it's amazing! So amazing, I had to share it with neighbors or I would have to eat the whole thing. And guess, what they loved it too!
Toast the croissant cubes and place them in an 8×8 baking dish (I used this Le Creuset one) that I buttered.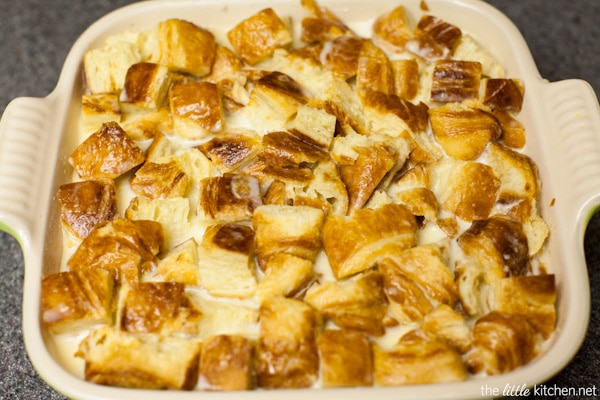 I put together the custard mixture and then let the toasted croissant soak in the custard mixture in the fridge for 30 minutes.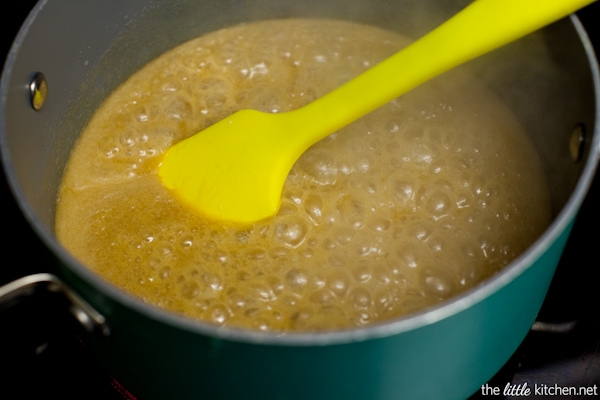 And while the bread pudding baked in the oven…I made the espresso butterscotch sauce. This needs to be a thing…well it's going to become a thing in my house…I can't live without this sauce now! 🙂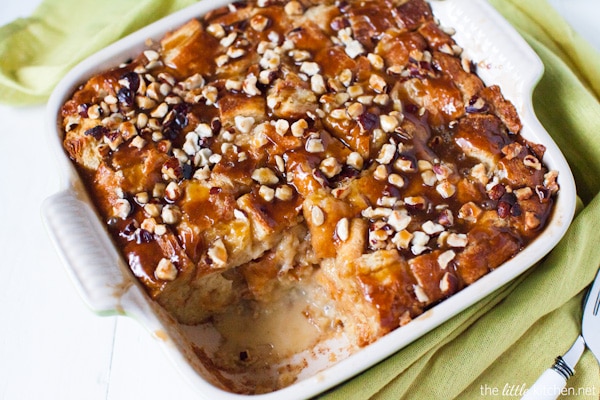 Seriously, amazing bread pudding…so so glad I made it!
Recipe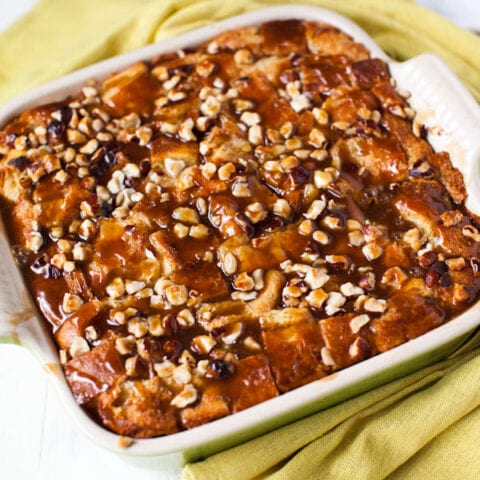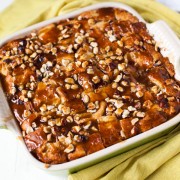 Print
Pin
Save
Croissant Bread Pudding with Espresso Butterscotch Sauce Recipe
Ingredients
Croissant Bread Pudding
6

day-old croissants

,

cut into 1-inch pieces

3

large eggs

2

egg yolks

2

cups

whole milk

1

cup

heavy cream

1

cup

sugar

1

tablespoon

vanilla extract

½

teaspoon

ground cinnamon

¼

teaspoon

coarse salt

¼

cup

hazelnuts

,

roughly chopped
Espresso Butterscotch Sauce
6

tablespoons

unsalted butter

1

cup

firmly packed brown sugar

1

cup

heavy cream

2

tablespoons

light corn syrup

2

tablespoons

vanilla extract

2

teaspoons

instant espresso powder

Pinch

coarse salt
Instructions
Heat the oven to 350°F. Grease an 8x8-inch glass or ceramic baking dish or metal baking pan with butter or baking spray.

Spread out the croissant pieces on a rimmed baking sheet in a single layer. Toast them in the oven until they're crisp and just beginning to brown, 8 to 10 minutes. Transfer the croissants to the prepared dish or pan. (The bread pudding will look prettier if you arrange the pieces so the cut sides face down and the flaky exterior sides are on top.)

In a large bowl, whisk together the eggs, yolks, milk, cream, sugar, vanilla, cinnamon, and salt. Pour the mixture over the croissants, making sure to coat each piece. Some of the croissants may begin to float in the egg mixture—gently press on them to saturate them; they will settle as they absorb the liquid. Cover the dish with foil and refrigerate for 30 minutes.

If you're using a glass or ceramic baking dish, turn down the heat on the oven to 325°F. Keep the heat at 350°F for metal baking pans.

Bake, covered, for 35 minutes. Remove the foil and scatter the hazelnuts over the top. Continue baking, uncovered, until the pudding is puffed, the bread and hazelnuts are toasted on top and a toothpick inserted in the center comes out clean, 30 to 40 minutes more.

While the pudding is baking, prepare the sauce. Melt the butter in a heavy-bottomed medium saucepan over medium heat. Add in the brown sugar, cream, and corn syrup and stir constantly until the mixture comes to a boil. Continue boiling, stirring occasionally, until the syrup is slightly thickened, 5 to 7 minutes. Remove from the heat and whisk in the vanilla, espresso powder and salt. The syrup may seem bit clumpy and separated at this point—don't worry. Set it aside to cool for about 20 minutes and it will thicken further. Whisk it again and it should now come together.

Serve the bread pudding warm or at room temperature, with the espresso

butterscotch sauce spooned over the top.
Make it a decaf
If you're going to serve this to kids and you'd rather not have them wired on caffeine, just omit the espresso powder. The homemade butterscotch sauce on its own is still something special.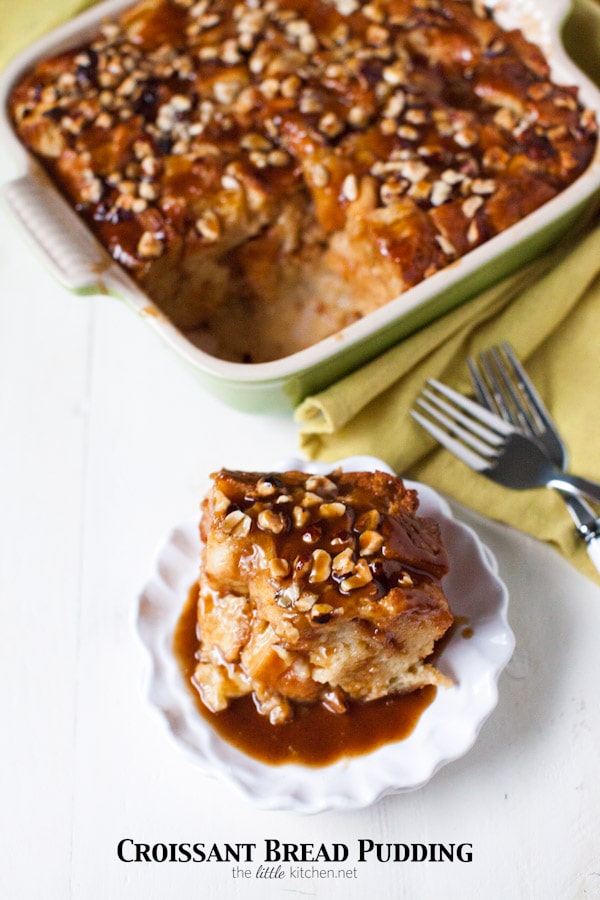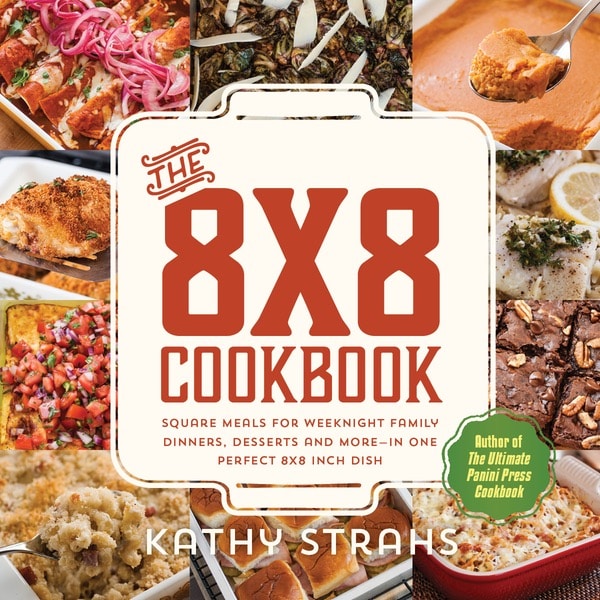 Don't forget to check out Kathy's kickstarter campaign and back it today…she's so close to her goal of raising $20,000!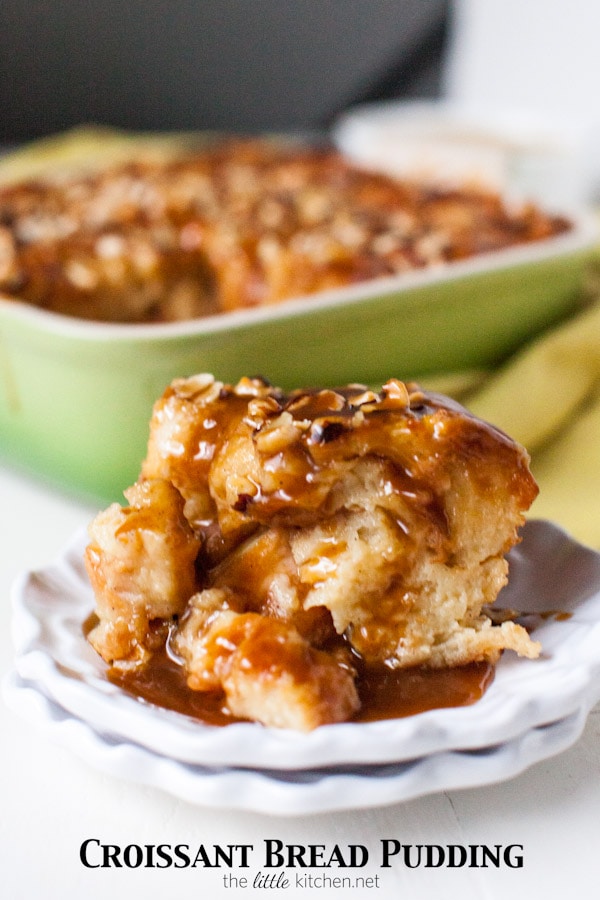 Ummmm, amazing!
Disclosure: Le Creuset sent me the 8×8 baking dish thanks to Kathy! This is not a sponsored post; I just wanted to share with you a great thing a friend is doing! I always only share with you what I love. There's an affiliate link in this post.