Sometimes cooking can be frustrating, right? Or if you're just learning how to cook…here are my ten best cooking tips for the best productivity.
I love cooking but if you don't or if you're just busy, you want to make the most of your time in the kitchen and be productive and efficient. That way you can get onto the next thing you need to get done or so you can spend more time with family and friends!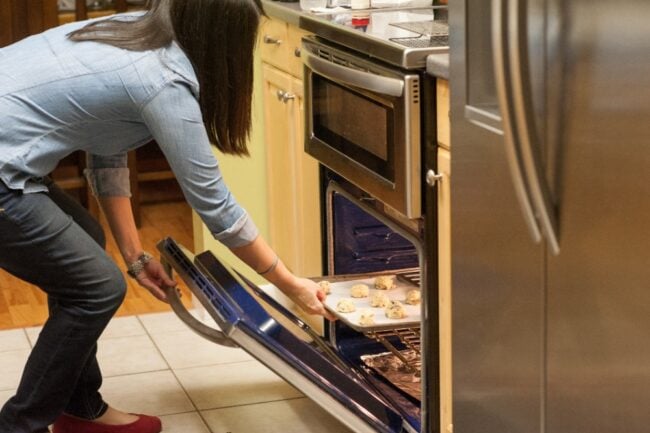 There are affiliate links in this post. I get commissions for purchases made through these types of links in this post. As an Amazon Associate I earn from qualifying purchases.
Be sure to scroll down to the bottom, for instructions on how to win $100!
These cooking tips or kitchen tips don't even have much to do with the tips on cooking itself…these are cooking tips to help you make the most of your time in the kitchen and it's all about the prep before you start cooking!
1. Plan your meals
I know you have heard about meal planning ad nauseam but it really works. Planning your meals is my top cooking tip because it really does save a TON of time and it also saves you money.
Once you figure out what meals you're having for the week, you can plan your grocery store run for the week. Again, this saves you time and money before you start cooking.
Meal planning also helps you decide what's for dinner so you don't waste time each night trying to figure out what you're going to have for dinner!
2. Use a grocery list app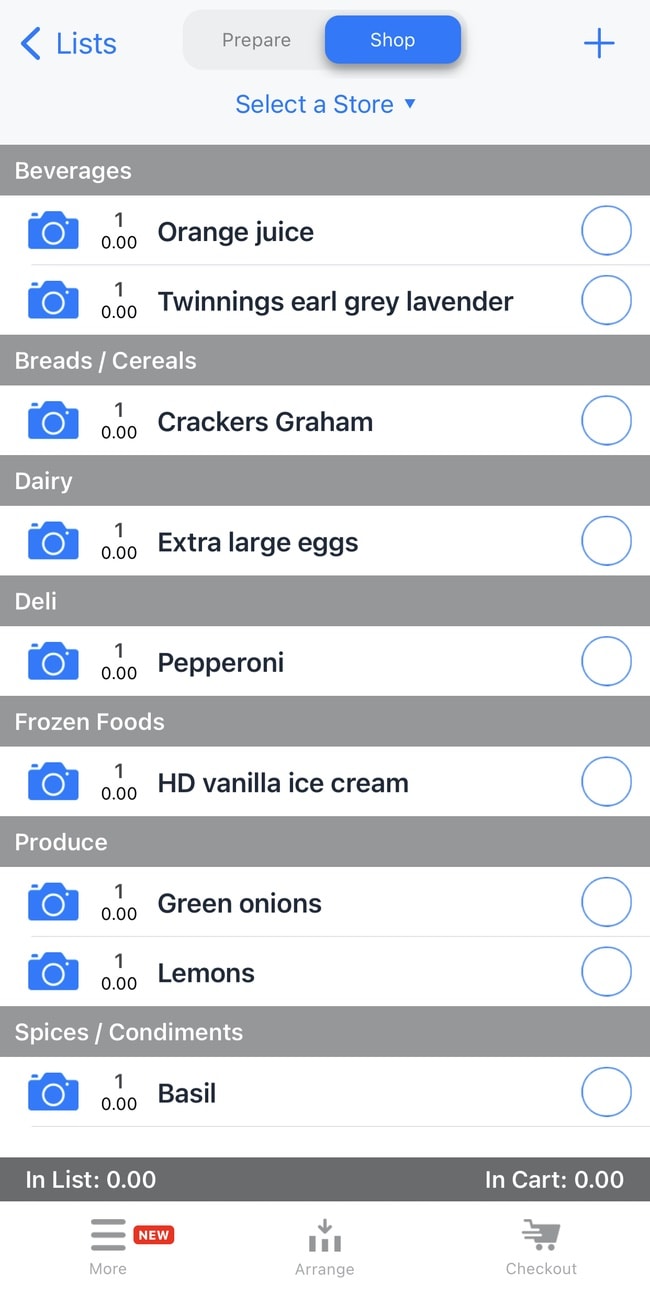 I use an iOS app called Grocery Gadget. A friend shared it with me years ago. I love that my husband can bring up the app on his phone and he can see all of the lists we have. We have a separate list for supplies and a separate one for groceries.
Whenever we run out of something, we add it to the list…if I'm in the middle of prepping, I'll often ask him to add whatever item to the grocery list.
Above is a screenshot of what our grocery list looks like at this moment. Once you add items and put notes on them, it saves it so when you add the item again, the note is right there.
I love that I can add a photo of the item too! In case my husband has a question of what it looks like. We check it off and remove it from the list once it's bought.
There are many other grocery list or list apps that you can use that will sync over multiple devices. This cooking tip is not a direct tip about cooking but using a grocery list app helps your time in the kitchen be more productive but also removes a lot of headaches…
Because how many times have you forgotten an item that you needed?
3. What to put away and what to keep on your counter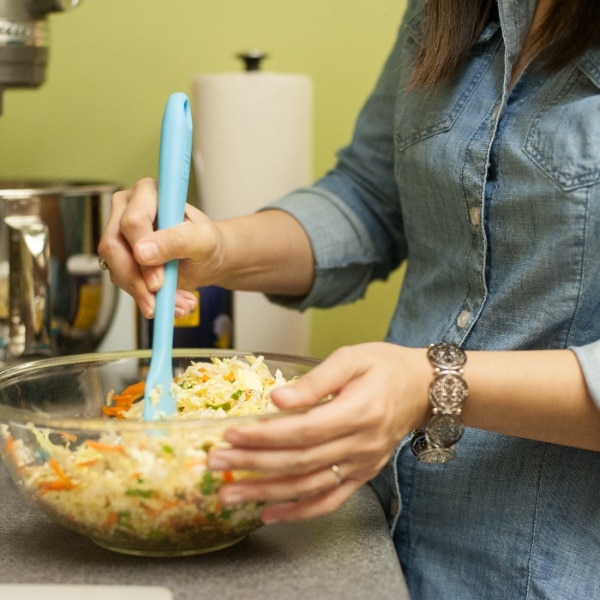 I actually don't have a lot of space in my kitchen…which is why this blog is called The Little Kitchen!
And who has room for clutter? This practical tip is all about minimizing what's on your kitchen counter so you're more efficient AND productive. This is an essential kitchen tip!
Only keep out on the counters, items you use all the time and every day. I keep our coffee maker on one counter along with my electric tea kettle because we use it every day.
I have a small lazy susan with salt and pepper and a couple of spices that I use all the time. The rest of the spices are stored in a cabinet. Our toaster is stored in a closet next to our pantry because we don't use it every day.
It seems like it's common sense but it really does help your productivity to have in reach things you use all the time and to put away the items in your kitchen that you don't use every day.
4. Pre-prep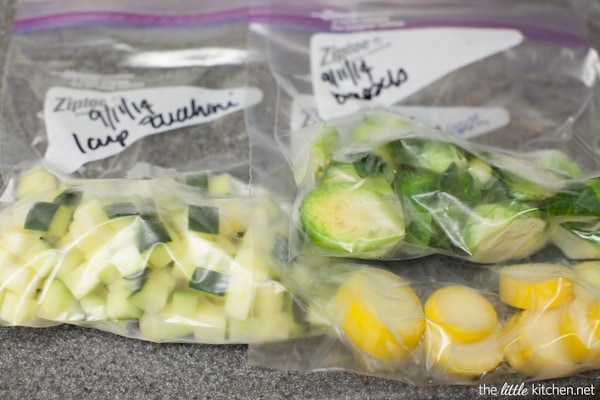 When I can pre-prep I save so much time in the kitchen! Pre-prepping goes along with meal planning. Prep your ingredients ahead of time, portion them out, cut up vegetables, etc. during the weekend so when you're ready to make dinner…
You don't have to do any of the prepping. It helps so much!
Now that we're working from home more and more. Sometimes during the day, I'll take a break and prep the ingredients for dinner that way dinner is a cinch!
5. Make extras and freeze
I love making extras of recipes or putting leftovers in containers and freezing them. Making extras and freezing them does make you more productive in the kitchen.
Why? You're making the recipe once and you're able to enjoy it more than once. For those nights when you don't feel like cooking.
Huge timesaver and you'll thank yourself later!
6. Have a workspace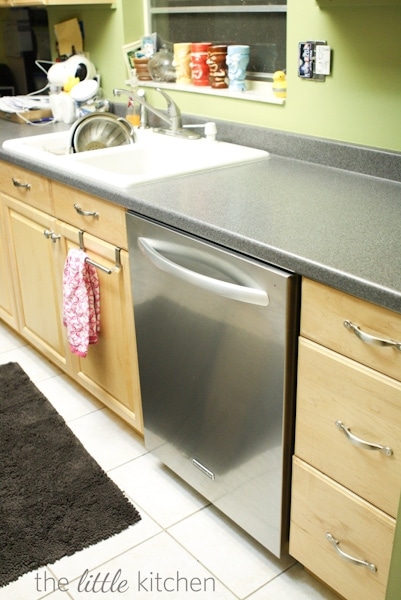 Have a designated workspace. This is so important for productivity in the kitchen! This is another one of my essential cooking tips!
Pick a workspace that you keep clear of clutter so you always have a space to prep and do what you need to do. This is so important for productivity in the kitchen! If you have to clear a space every time you are about to start cooking…
It won't be productive or efficient.
Pick a space preferably near the sink so if you're washing vegetables…this makes it efficient.
My workspace is next to the sink and above the dishwasher. It's nice because I can throw dirty dishes into the sink easily.
7. Garbage bowl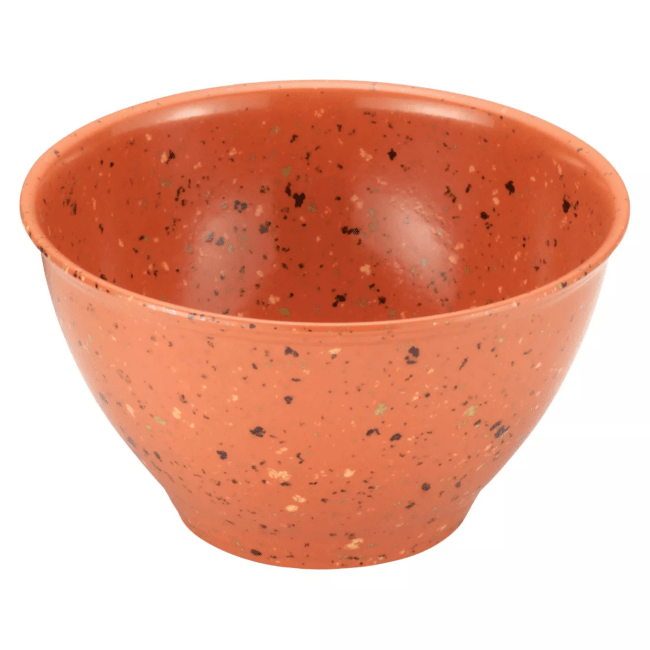 I have a Rachael Ray garbage bowl that's orange. I love the reviews on her garbage bowl that say why do I need to spend money on a bowl to use it for garbage?
Honestly, you don't have to buy a bowl for that purpose. You can use a large mixing bowl that you already have if you want! I just like having a bowl designated for this purpose.
You probably had no idea that using a garbage bowl while you're prepping and cooking is a huge productivity hack, right?
It is! Using a garbage bowl to collect food scraps for your compost bin or for all the garbage/waste while you're prepping and cooking is a huge timesaver. First, it relieves you of cluttering up your countertop.
I try to keep my workspace as neat as possible while I'm cooking so I throw my food and other waste into the garbage bowl.
Second, it saves you time. Think about all of the time it takes you to walk to the garbage can to throw things away. It sounds like a little thing but if you're talking about efficiency and productivity, if you can trim it down to one or two trips to dump out your garbage bowl out in the trash…
this means you will get your meal cooked faster, which means you can get out of the kitchen faster! This is one of my favorite actual tips for cooking!
8. Read your recipe all the way through
I know, I know! Don't roll your eyes at this one. But develop a habit of reading a recipe all the way through. Looking at the list of ingredients (twice!) to make sure you have everything!
This will alleviate any stress and ensure there are no surprises along the way! I get all of my ingredients, utensils and cookware out before I start prepping and cooking. It saves so much time throughout!
9. Sharpen your knives
You can sharpen your own knives, I use a knife sharpener similar to this one. And you can also have them sharpened regularly by a professional.
This is so important. Having knives that are not sharp makes you more likely to accidentally cut yourself. Having sharp knives leaves you with the best tools for prepping ingredients, gives you way less stress in the kitchen and helps you become efficient and productive in the kitchen!
10. Mise en place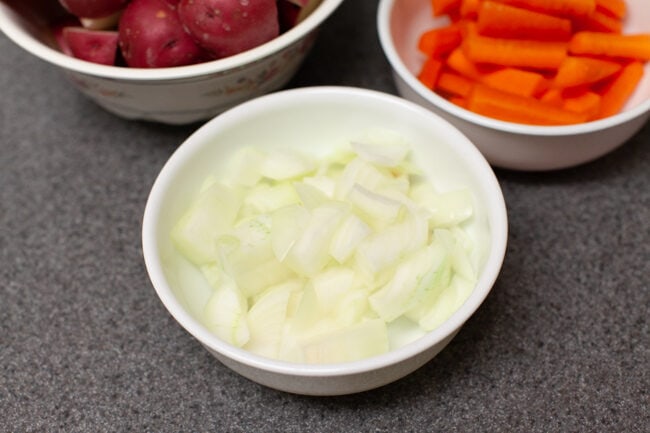 Last but NOT least, mise en place. Mise en place means setting up in French.
It's a mindset to me in cooking. Having all of your ingredients at the ready, prepped and ready to go before you start cooking is the ultimate in productivity and other one of my essential cooking tips!
If along the way of making a recipe, you had to stop and prep another ingredient, grab something out of a cabinet, go look in the pantry for something or dig something out of the refrigerator…this would slow you down.
But what's worse is what if you don't have it or can't find it? It might derail what you're making completely. That's why mise en place is so important and to me an important habit to develop and a mindset to have!
What is your best cooking tip you'd share with a beginner?
Want more productivity tips? Check these tips out!
5 Virtual Learning Tips For Parents
Productivity Tips for Bloggers
5 Unique Productivity Tips
How To Make Keto Meal Prep Easier
How to Have a Productive Week
Productive Parenting
How To "Creative Blog Post Workflow"
4 Small Ways to Be More Productive Throughout the Day!
Winner must be US resident and at least 18 years of age. Giveaway ends March 12, 2021. Giveaway is hosted by me and the bloggers above. Winner will be contacted via email on or about March 13, 2021. This giveaway is not associated with Facebook, Instagram or any other social media company.