This has got to be the best banana bread I have ever had! I was browsing the Frosted Cake 'n Cookie blog when I found the tutorial for the graduation cake I recently made and found this recipe for her Aunt's cinnamon banana bread.  I just had to try!
It's very moist and the cinnamon adds a different taste to your regular banana bread. This recipe says it makes two 8″x4″ loaf pans but I don't own any in that size. I do own a 9″x5″ one. The first time I made this recipe, I made a 9″x5″ loaf pan as well as 7 muffins. If you want all muffins, this recipe makes about 20-24 muffins. Be sure to store in a tightly sealed container to ensure it stays moist. I personally prefer making the loaf as that's how I prefer banana bread but if you want to make the muffins, they taste the best right out of the oven (of course let them cool for a few minutes or you'll burn your mouth!).
I have made this recipe twice and shared with my co-workers…they loved it! Thanks to Julie from the Frosted Cake 'n Cookie for posting this recipe! If you have never visited this blog, you should really check it out. She makes tons of beautiful cupcake toppers complete with tutorials.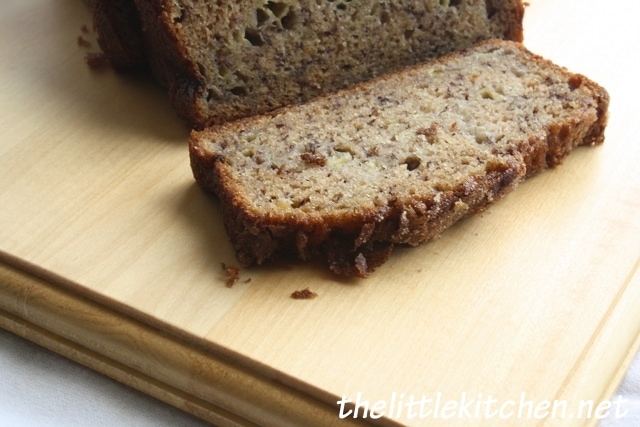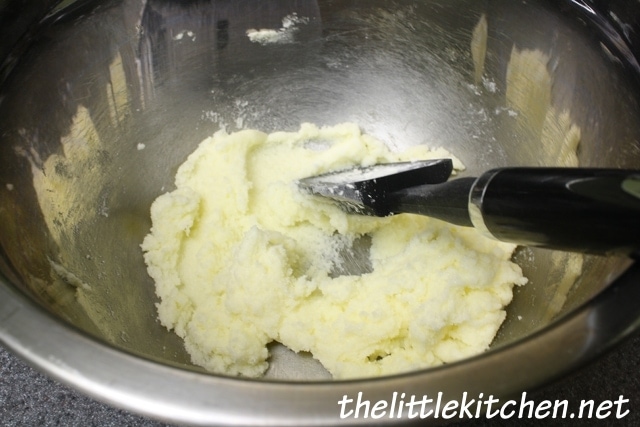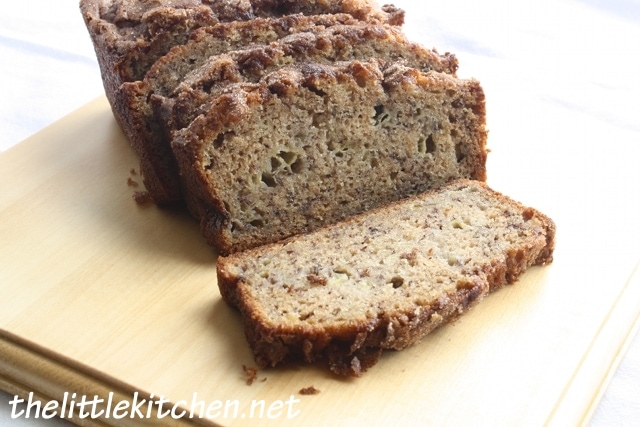 Recipe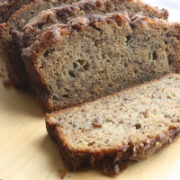 Print
Pin
Save
Cinnamon Banana Bread
Ingredients
1/2

cup

unsalted butter

room temperature

1

cup

sugar

2

eggs

3

medium bananas

mashed

1

tsp

vanilla

2

cup

all purpose

unbleached flour

1

tsp

baking soda

3/4

tsp

salt

1/2

cup

milk + 1/2 tbsp vinegar OR 1/2 cup buttermilk OR buttermilk powder & water

according to instructions on the box

1

tsp

cinnamon
Cinnamon Sugar Topping (optional)
1

tsp

cinnamon

1/4

cup

sugar
Instructions
Preheat oven at 350 degrees.

Spray your loaf pans (I use Baker's Joy) or line your muffin tins with liners.

Mash bananas (I just use the back of a large spoon).

Sift all dry ingredients together (if you're using buttermilk powder like I do, add the powder to the dry ingredients) and mix together.

Cream butter and sugar (with a spatula or using a hand mixer). Be sure the butter is room temperature so it's easier to cream.

Add all wet ingredients except buttermilk to the creamed butter and sugar mixture.

This time mixing with a spatula or large wooden spoon, mix easily together half of the dry ingredients then half of the buttermilk (or water if you're using buttermilk powder). Repeat and do not over mix your batter.

Pour batter into loaf pan and/or muffin tins.

Sprinkle cinnamon and sugar mixture over the top of loaves or muffins before putting into the oven.

Loaves will take around 45-50 minutes and the muffins around 18-25 minutes.
Tips:
Buttermilk is very expensive (and I never use the whole container when I buy) so I buy buttermilk powder. I always mix the powder with the dry ingredients and add the water (amount according to container). Store the container in the refrigerator after opening.
Notes
I said I have a giveaway right? 🙂 I have a favorite vanilla extract and it's the only one I use now. It's called Vanilla Bean Extract 'Crush' and is made by the Sonoma Syrup Co. It's the only vanilla extract I use now for my baking and of course my crepes! (Unless the recipe calls for clear vanilla extract.) You might think it's a little pricey at $20 a bottle but it has 8 ounces in it and lasts quite a while. I don't ever want to run out so I always have another bottle in the pantry ready just in case. I like their vanilla extract so much, I asked Sonoma Syrup Co. to provide a couple of bottles to giveaway. I'm giving two bottles away and I will ship to you!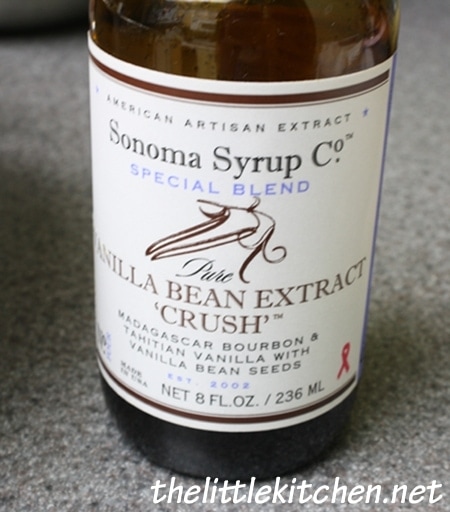 How to enter the giveaway (be sure to leave your email address or twitter handle so I can reach you if you win):
Mandatory first entry – Leave a comment telling me what your favorite dessert is, any dessert that includes vanilla extract in the recipe. (Please include your email address in your comment.)
Visit Sonoma Syrup Co's website and leave a comment below telling me what other product of theirs you would like to try. (Be sure to leave your email address.)
Blog about this giveaway (include a link to this post in your blog post) and leave a comment below with the link to your blog.
Follow me on twitter and tweet about this giveaway with a link to this post (Be sure to include an @thelittlekitchn at the end of the tweet and leave a link to the tweet in a comment below). You can tweet about this giveaway every day during the giveaway period for additional entries, be sure to come back here and leave a comment with the link to your tweet.
Subscribe to the little kitchen RSS feed and comment below saying that you subscribe. (Be sure to include your email address.)
Become a fan of the little kitchen on facebook and leave a comment below saying so. (Please include your email address.)
Any invalid entries will be deleted. You have until Monday, July 12th at 11:59pm EST to enter. I will pick the two winners via random.org and notify the winners (if a valid twitter handle or email address is left.) Thanks for visiting my blog and I hope you enjoy this giveaway!
Disclosure: I received four bottles from Sonoma Syrup Co. Two of their Vanilla Bean Extract 'Crush' and I'm giving those away. I also received two bottles of their Almond Extract – one which I used to review and one I will giveaway at another time. I received no compensation to review these items or to giveaway. I am providing shipping to the winners out of my own pocket.