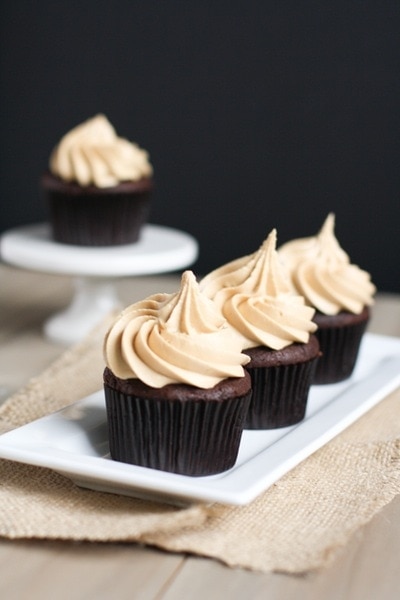 This past weekend we held our 2nd Central Florida Food Blogger Bake Sale (in conjunction with the National Food Blogger Bake Sale organized by Gaby and Bloggers without Borders) and I'm so excited to announce that our local bake sale raised over $1400!! The food bloggers who baked and came out to make the bake sale possible, the wonderful raffle prize donors and the generous customers made it all possible. So thank you, Central Florida, thank you from the bottom of my heart. I had a blast and the event was so full of energy and generosity, it was completely inspiring and energized me.

All of the pictures of the bake sale were taken with my iPhone. I brought my camera but my Canon dSLR camera battery died!
Look at some of the awesome goodies that we had for sale. Thanks to Chris for being our promoter! 🙂 Katie, you're an awesome, co-organizer, thank you! Big thanks to our raffle prize donors including: KitchenAid (they donated a 5-speed hand blender!), Chicago Metallic, Driscoll's and many of the local restaurants and vendors that donated awesome items!
The last but not least thank you goes out to John Rife and the Winter Park Harvest Festival. He allowed us to use the space outside of his building in Winter Park, it proved to be an awesome spot and we're so happy he's willing to let us come back next year! Thank you, John!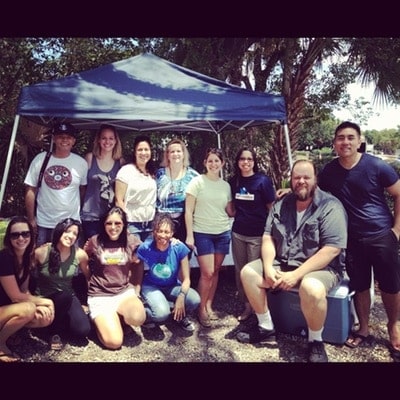 Here's the lovely group of bloggers who baked their hearts out for Share Our Strength. Back row: Julius from Droolius, Angie from Eclectic Recipes, Wanda from My Sweet Zepol, Robin from Simply Southern Baking, Katie from Katie's Cucina, me!, Chris from Eat Local Orlando, Ricky from Tasty Chomps. Front row: Jillian from Stay Calm Have a Cupcake, Marilyn from Forkful, Pearleen from Mega Yummo and Jacqueline from BeyondNFinity.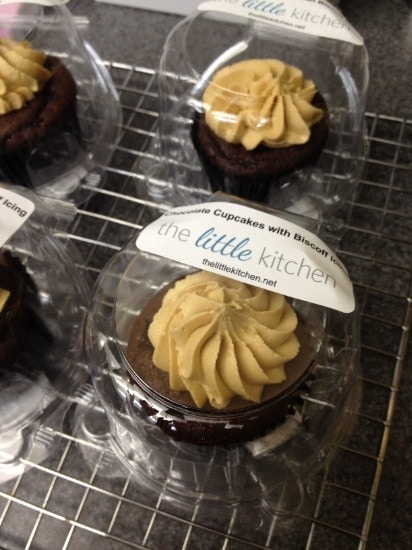 Now onto one of the cupcakes I made for the bake sale. Can we talk about biscoff spread? Oh how I love it!! If you have not tried it before, you are missing out. At my grocery store and at World Market, I have seen it next to the peanut butter.
Another name for it is cookie butter. Doesn't that sound heavenly? It's like the biscoff cookies you get on Delta flights but way better. I think biscoff spread is way better than biscoff cookies even though I LOVE them! It's great on a really good toasted English muffin too, give it a try.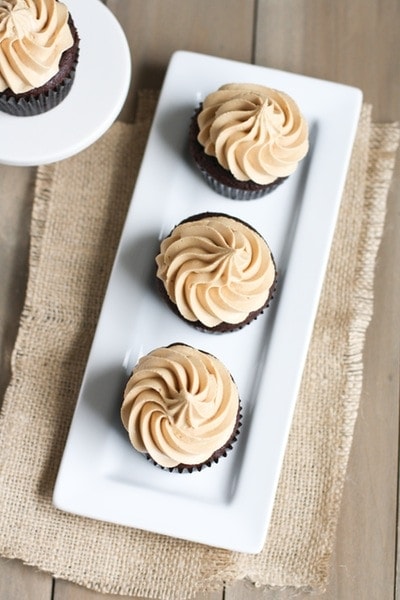 I made this buttercream icing recipe a while ago and tested it on my now former co-workers and they enjoyed it. Not sure why I never blogged it but when I was making these peanut butter cup cupcakes in the middle of the night this past weekend, I thought I need to make another cupcake so it's not the same exact thing I made last year!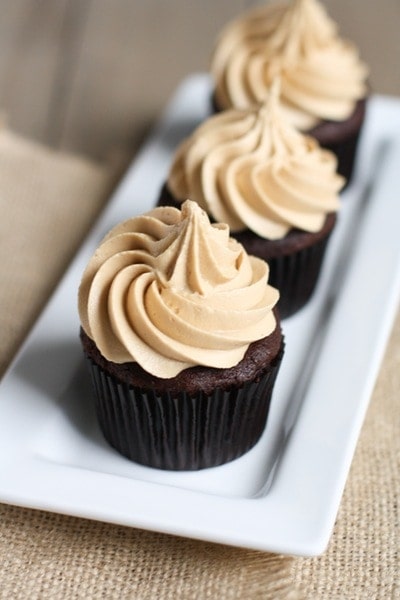 I used the same basic chocolate cupcake recipe from Jamie using Devil's Food cake mix and topped it with this wonderful rich biscoff icing. It's not too sweet and that's one of the things I love about it. The combination of salted and unsalted butter is what does it!
If you don't like cake mixes and have more time, feel free to use your favorite chocolate cupcake recipe including this one.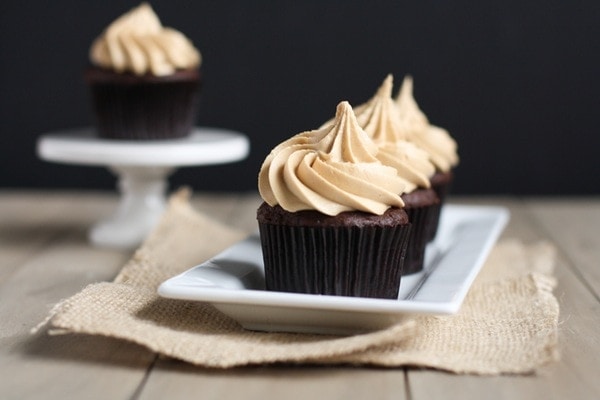 Cupcake Tips:
Use a 3 Tablespoon scoop to fill your cupcakes. The same amount every time! I use the large OXO cookie scoop. (I love OXO products, they really stand behind their products, I had a problem with one of my cookie scoops recently and asked OXO about it, they sent me a new one along with a box with a shipping label so I can ship the cookie scoop back to them. They were going to look at it and investigate what went wrong with it.)
Let your cupcakes completely cool on a cooling rack before frosting them or storing them in a sealed container. If your cupcakes are still warm, they will peel from the liners.
I like to leave them on a cooling rack and I place a potato sack or a thin kitchen towel over them while cooling and even overnight. I usually only frost them the same day they will be eaten. Once you frost them, you can put them in an airtight container.
Cupcakes are made to be eaten and they don't have to look perfect but if you would like to know my favorite tips, from Wilton to Bake It Pretty, those are my favorite!
I buy the liners and individual cupcake holders from Country Kitchen SweetArt. They are a very nice, family run business and have great customer service!
Recipe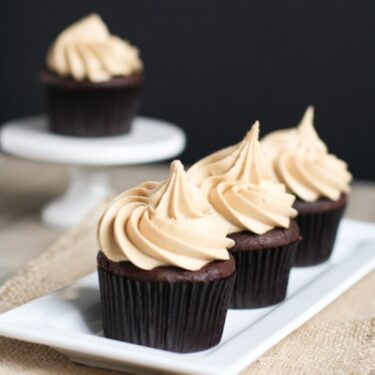 Print
Pin
Save
Chocolate Cupcakes with Biscoff Buttercream Icing
Use this doctored cake mix recipe from My Baking Addiction or your favorite homemade chocolate cupcake recipe and pair it with this amazing biscoff buttercream icing.
Servings
24
cupcakes / 3 cups of icing
Ingredients
Chocolate Cupcakes

1

18.25 oz package devil's food cake mix (I used Duncan Hines)

1

(3.4 oz) package instant chocolate pudding mix

1

cup

sour cream

1

cup

vegetable oil

4

eggs

2

tsp

pure vanilla extract

1

tbsp

instant expresso granules

,

dissolve it in 1/2 cup warm water
Biscoff Buttercream Icing
1/2

cup

unsalted butter, softened

1/2

cup

salted butter, softened

3/4

cup

biscoff spread

1

tbsp

vanilla extract

3

cups

powdered sugar

3-4

tbsps

milk
Instructions
Chocolate Cupcakes
Be sure to preheat your oven to 350 degrees F. Place cupcake liners in your cupcake tin.

In a large mixing bowl with a hand mixer or your stand mixer bowl using the paddle attachment, mix together all of your ingredients for minute or two until well mixed. (Don't overmix.)

Place 3 Tbsp of cake batter in each cupcake liner using a measuring spoon or a cookie scoop.

Bake for 18 to 22 minutes or until several cupcakes pricked with a toothpick come out clean. Allow the cupcakes to cool in the pan for 5 to 10 minutes.

Remove cupcakes from the pans and place them on a cooling rack & let them cool all the way. While the cupcakes are baking you can make the buttercream icing.
Biscoff Buttercream Icing
In your stand mixer bowl using the paddle attachment, mix thoroughly the softened butter and biscoff spread on low to medium speed. Add vanilla extract and mix well. Turn off your mixer and in two batches, add the powdered sugar and mixing until well blended (it will look like a dough). Be careful, the powered sugar can go everywhere!

Add 3 to 4 tablespoons of milk a little bit at a time while blending on low speed. Blend until well combined. You'll start to see the icing pull from the sides of the bowl. Add a little bit more milk to get to the right thinness (to your preference). Keep blending, higher the speed, until nice and fluffy, about 5 to 7 minutes.

Using a big star tip and decorator bag, pipe icing onto cooled cupcakes. Icing can be stored in the fridge for up to a couple of weeks. Allow to sit at room temperature for at least 30 minutes before icing cupcakes.
Disclosure: The only thing I have to disclose is that the biscoff peeps don't know I exist and that there are a few affiliate links in this post.