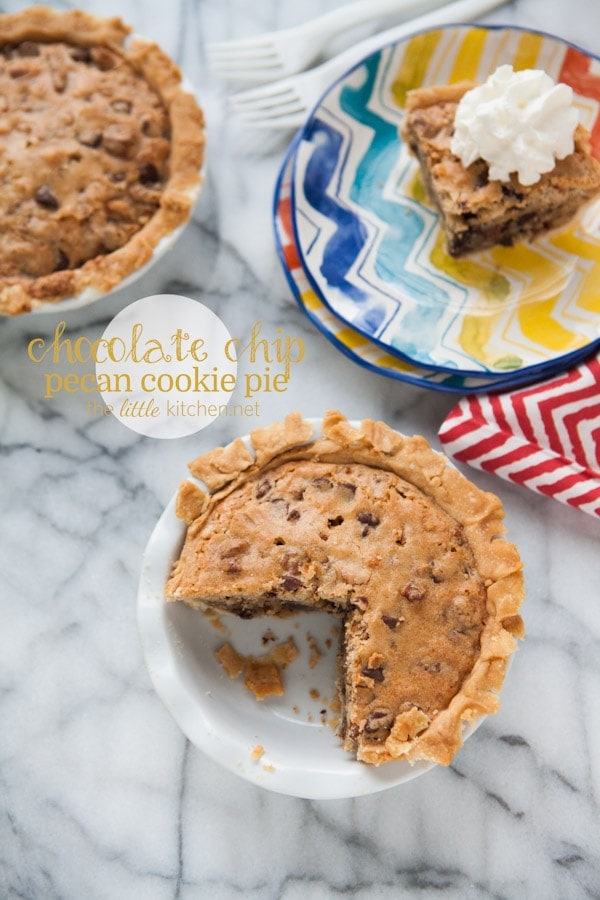 I have mentioned it before but before this year, I didn't make my own pie crust, I always bought it. But ever since my friend, Suzanne, and I cooked & baked together earlier this year, she made me very comfortable with making my own pie crust! I have cooked with several friends this year and I think there's no greater joy. I love cooking with family and friends. I should do it more often.
When it came time to think about making a pie for Thanksgiving for Curtis' family, I knew I wanted to make a spin of a pie my old friend and co-worker, Kathy, used to make all the time and bring into work. She called it Kentucky Derby Pie, I call it heaven in a pie! I modified it slightly to have even more chocolate chips.
And when I served it at Thanksgiving, my mother-in-law declared it chocolate chip cookie pie! I laughed and agreed, what a great name for this pie! When I made it again to shoot it for this post for McCormick, who I love working with, I wanted to try out my mini pie plates. Love them!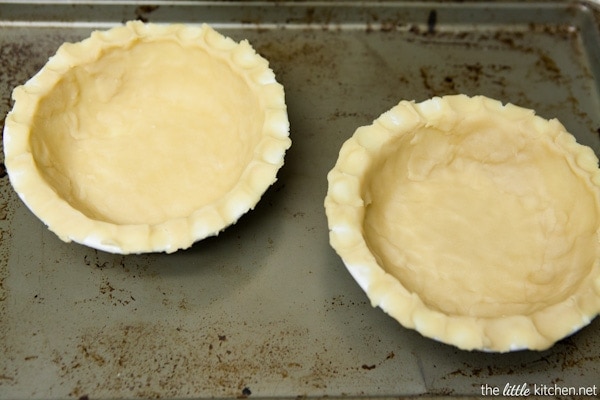 First situate your pie crust into your pie plates. Look how unpretty mine are. They don't have to be perfect and if you overhandle and warm up your pie crusts, throw them in the refrigerator and let them chill for at least 10 to 15 minutes.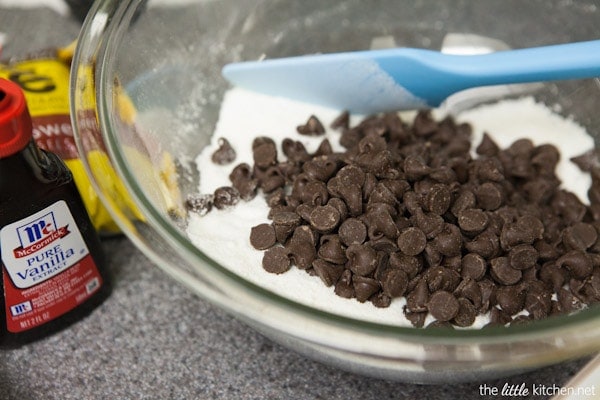 Then, work on the filling. You will not believe how easy this filling is. I mix up the dry ingredients. Lots of chocolate chips and…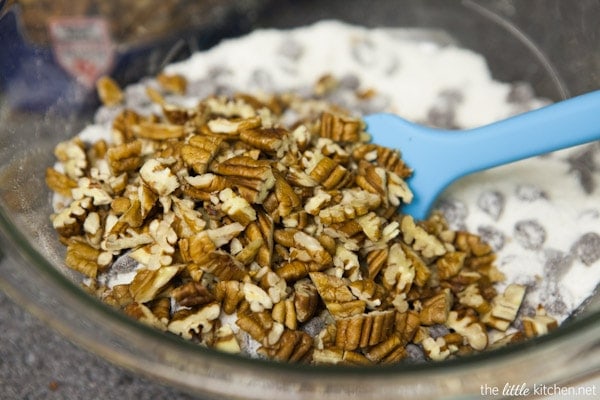 some chopped pecans.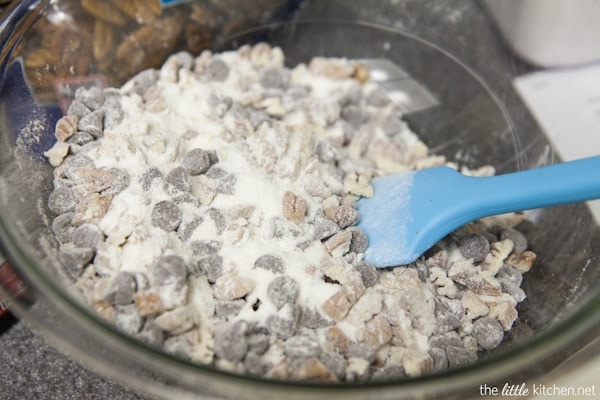 Mix it up really good.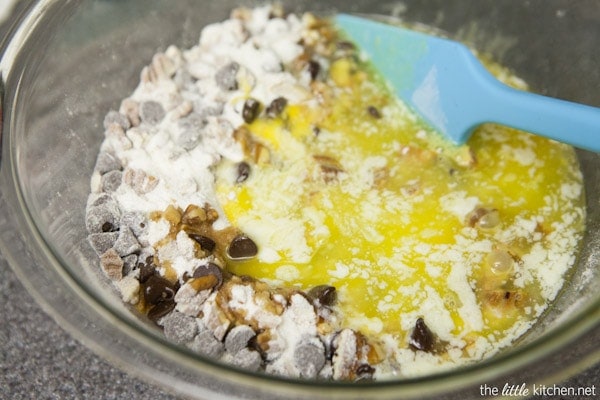 Then, add the McCormick® Pure Vanilla Extract and melted butter.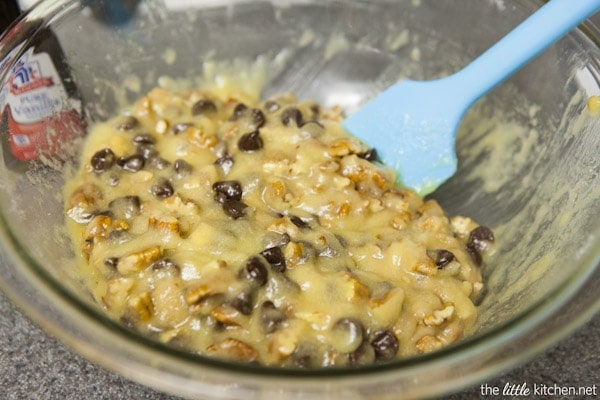 Mix until the filling is completely combined.
Fill up your pie plates and bake for 35 minutes if you're using 5-inch pie plates like I did or about 50 minutes if using a 9-inch pie plate.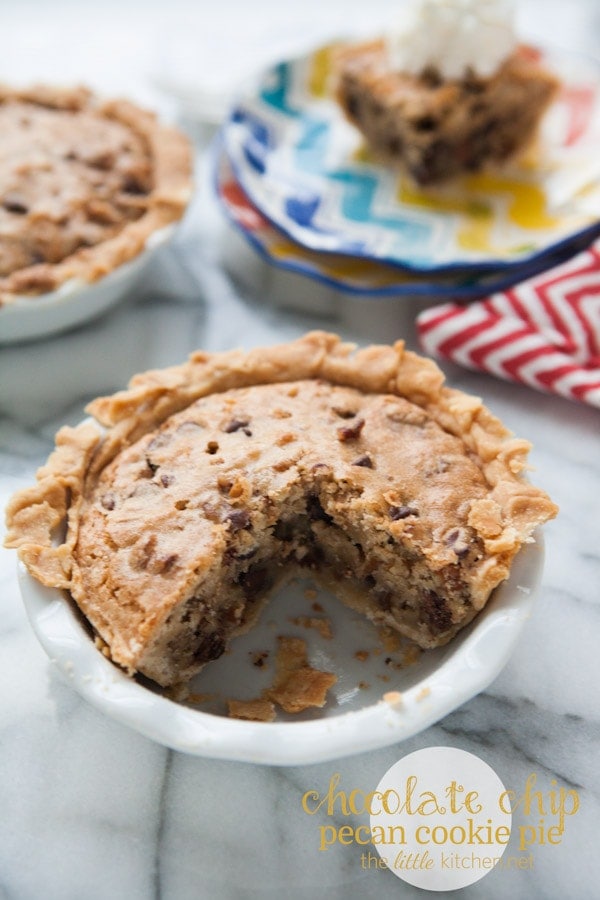 Seriously, it's like a chocolate chip cookie in a pie. Two desserts combined. Done. You know this will be perfect for your holiday party…let's do it! And just FYI, Curtis' family loved this pie so much, they kept all of the leftovers. I made two whole pies and brought it over there…we weren't allowed to even bring a slice home! 🙂
Recipe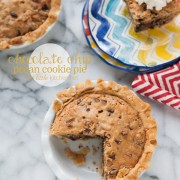 Print
Pin
Save
Chocolate Chip Pecan Cookie Pie Recipe
Servings
3
5-inch Pies or 1 9-inch Pie
Ingredients
Pie Crust (makes enough for 3 5-inch pie crusts or 2 9-inch pie crusts
2 1/4

cups

unbleached all-purpose flour

3/4

teaspoon

salt

1/2

cup

shortening

,

cut into cubes and well-chilled

2

Tablespoons

unsalted butter

,

cut into cubes and well-chilled

4 to 6

Tablespoons

cold water
Pie Filling
1/2

cup

flour

1

cup

sugar

1

cup

plus 2 Tablespoons semisweet chocolate chips

1

cup

pecans

,

chopped

1/2

cup

unsalted butter

,

1 stick, melted and cooled

1

teaspoon

McCormick® Pure Vanilla Extract

2

eggs

,

beaten
Instructions
Add flour and salt to the bowl of your food processor. Pulse to mix it. Add cold shortening and butter to the food processor and pulse for 30 to 60 seconds until pea-sized shapes of butter and flour start to form.

While pulsing, stream in water 1 Tablespoon at a time. Pulse until ingredients are moistened and dough begins to form and pull away from the sides of the food processor. You may not use all of the water. Remove dough from food processor and divide in half or thirds (depending on what type of pie plate you're using. Mold each half into a circle and flatten. Wrap in plastic wrap and chill in the refrigerator for at least 15 minutes.

Working with each divided pie crust at a time, remove the refrigerator and place the pie crust between two pieces of parchment paper. Roll to about a 1/8 inch thickness, using a rolling pin. Place pie crust on pie plate and cut off excess. Using your fingers crimp the top edge of your pie crust. Place pie plate in the refrigerator.

Heat oven to 350 degrees F.

To a medium-sized mixing bowl, add flour and sugar and mix with a rubber spatula. Add chocolate chips and mix until coated in dry mixture. Add pecans and do the same thing. Add melted butter and McCormick® Pure Vanilla Extract and mix to combine. Add eggs and mix just to combine.

Pour pie filling into prepared pie crusts and bake for about 50 minutes if using a 9-inch pie, otherwise if using a 5-inch pie plate, bake for about 35 minutes. Allow to cool for at least 20 to 30 minutes. Serve with whipped cream, optional.
Notes
Pie Crust Dough Recipe from the KitchenAid Best Loved Recipes Cookbook, Pie Filling modified from a friend of a friend's recipe for Kentucky Derby Pie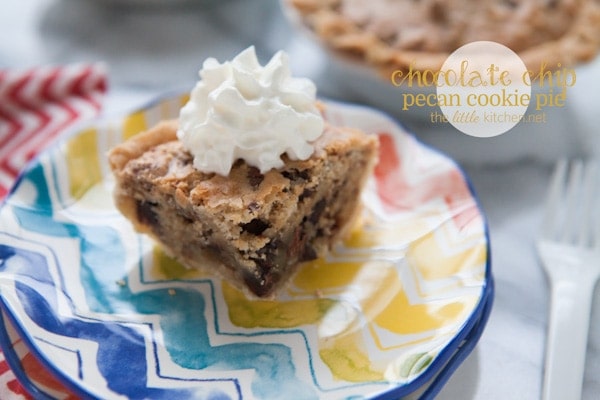 Disclosure: This post is sponsored by McCormick®. All opinions are always my own and I only work with brands that I love.