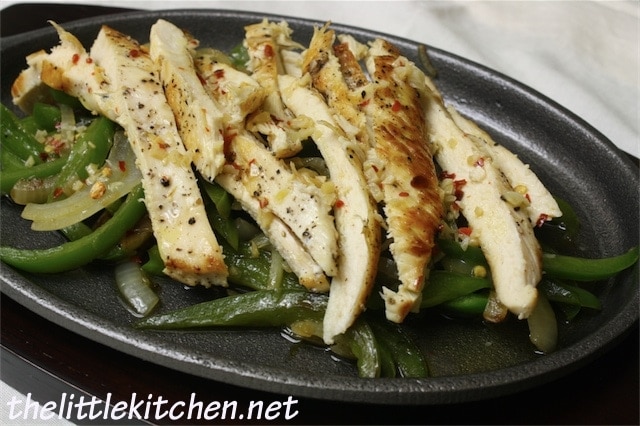 Just in time for Cinco de Mayo. Hope you have a very happy Cinco de Mayo!
Chicken fajitas are so tasty. We love getting them when we go out to eat but I think it's tastier and probably even healthier to make them at home. This recipe is pretty easy and it's all about that cast iron skillet which I love! This recipe comes from Martha Stewart's Everyday Food magazine which I modified slightly because we're white meat chicken fans. Well it's more my husband so I hardly ever (I mean hardly ever) make any dark meat chicken.
Recipe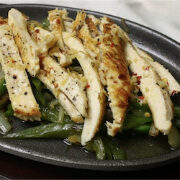 Print
Pin
Chicken Fajitas
Ingredients
Mojo de Ajo (Garlic Sauce)
1/4

cup

extra-virgin olive oil

3

tablespoons

minced garlic

,

4 to 6 cloves

3

tablespoons

fresh lime juice

,

from 2 limes

1

teaspoon

red-pepper flakes

1/2

teaspoon

coarse salt
Fajitas
2

tablespoon

vegetable oil

1/2

large white onion

,

cut into 1/2-inch-thick slices (about 1 cup)

1

large green bell pepper

,

ribs and seeds removed, cut into 1/2-inch-thick slices

Coarse salt and freshly ground pepper

1 to 1 1/2

pound

boneless

,

skinless chicken breast, cut lengthwise into cutlets

flour tortillas

,

about 6 inches, warmed (instructions follow)

Guacamole,

for serving

Chopped tomatoes

,

for serving

Shredded lettuce

,

for serving

Sour cream

,

for serving

Shredded sharp cheddar cheese

,

for serving
Instructions
Mojo de ajo
Add all ingredients for the garlic sauce into a small saucepan at low heat. Heat until garlic has softened which is about 8 minutes. (The original instructions tell you to add lime juice, salt and crushed red pepper afterwards but I accidentally added all at once, the first time I made this recipe, and have made it using the original instructions, I like making it this way better.)
Fajitas
Heat a cast iron skillet at high heat. Add salt and pepper to the chicken breasts. Drizzle one tablespoon of oil over both sides of the breasts. Add the chicken to the skillet, turn heat down to medium high and cook for 3-4 minutes per side. Remove and place on a cutting board and tent with foil. Allow chicken to rest for five minutes.

Add onions and bell peppers to the empty skillet and add 1/4 teaspoon salt. Cook onions and peppers for 5-8 minutes until browned and both are softened. Make sure to stir the onions and peppers to ensure they don't stick to the skillet. Remove skillet from heat when finished.

Slice chicken into strips and add to skillet with onions and peppers. Add the garlic sauce and stir using tongs to evenly distribute the sauce. Season with salt and pepper to taste (if you would like) and serve with tortillas and condiments.

**Warm your tortillas by wrapping them in wax paper and placing them on a plate and microwaving them for about 30 seconds.

Don't forget about the special giveaway that's going on right now!