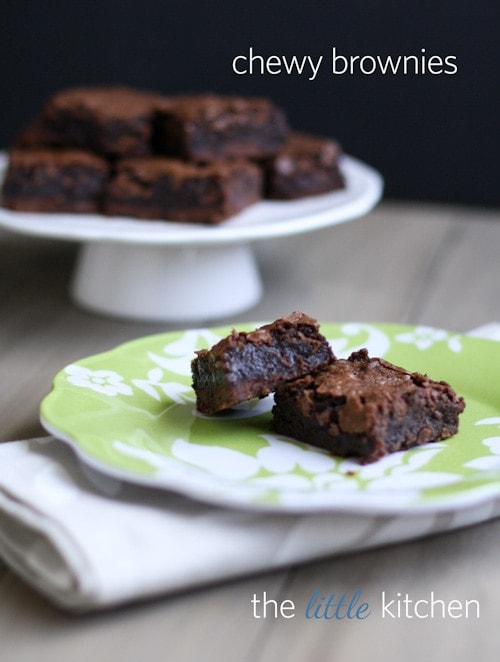 I made these brownies months ago and I can't believe I'm just now sharing them with you. I received the Cook's Illustrated Cookbook to review & am so happy to be sharing it with you. It has five brownie recipes with tons of variations on the five recipes. There are even seven chocolate cakes in this cookbook including one for a flourless chocolate cake that I'm dying to try. There are tons of chicken recipes, any recipe you can think of including two recipes for sangria – I love the drink section! Margaritas too!

Are you sitting down for this? This cookbook has over 2,000 tried, true and tested recipes. It's over 20 years of hard work on the part of America's Test Kitchen – the show, the magazines, which I'm a huge fan of. I love this book and will I get blasted for saying this? I wish this was the book I was given to me when we got married, instead I was given the Joy of Cooking. If I had to do it all over again…well, I would have to get married today since this book in it's form wasn't around when we got married nine years ago.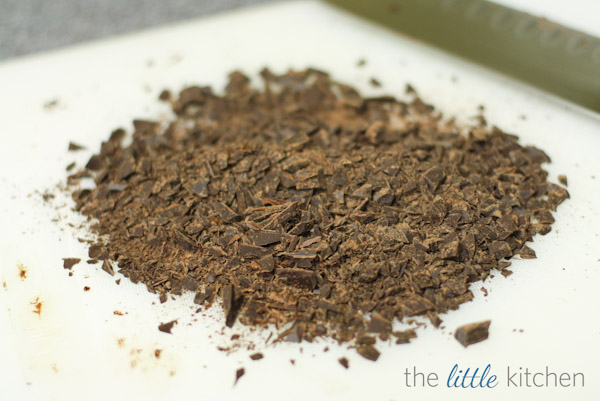 When I got this book in the mail, I went straight for the brownies section – why? Because I love them. My favorite way to have a brownie? Warm and underneath some vanilla ice cream and whipped cream. It's a very simple brownie sundae but my favorite.
Chewy brownies – they call it, I had to try it. With three kinds of chocolate, I definitely had to try it. There's cocoa powder and the unsweetened chocolate is chopped super fine.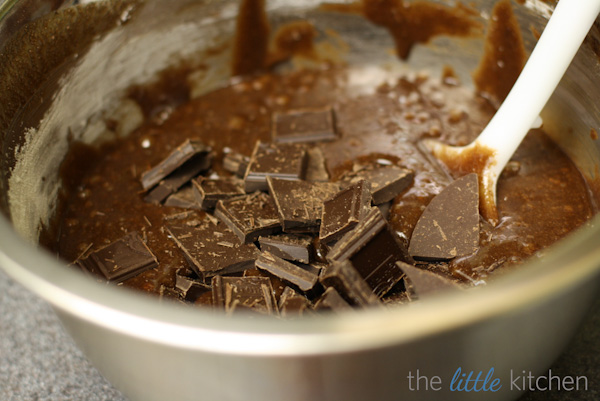 And then when you're almost done with the batter, add 1/2 inch pieces of bittersweet chocolate. I love this…I might have accidentally left them as one inch pieces but who is paying attention anyways?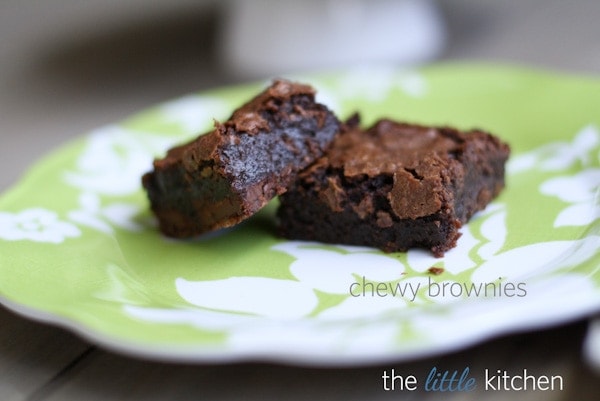 They are called chewy brownies, right? Well they are and they are the most amazing brownies I have ever had. Try them, you'll thank me for it!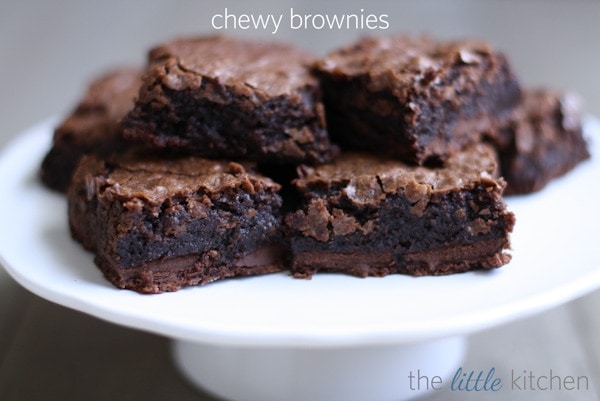 If you'll excuse me, I need to go make a batch of brownies…anyone want some?
Recipe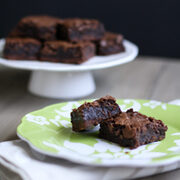 Print
Pin
Save
Chewy Brownies
For an accurate measurement of boiling water, bring a full kettle of water to a boil, then measure out the desired amount. For the chewiest texture, it is important to let the brownies cool thoroughly before cutting. If your baking dish is glass, cool the brownies 10 minutes, then remove them promptly from the pan (otherwise, the superior heat retention of glass can lead to overbaking). Use high-quality chocolate in this recipe.
Ingredients
1/3

cup

1 ounce Dutch-processed cocoa

11/2

teaspoons

instant espresso powder

,

optional

1/2

cup

plus 2 tablespoons boiling water

2

ounces

unsweetened chocolate

,

chopped fine

1/2

cup

plus 2 tablespoons vegetable oil

4

tablespoons

unsalted butter

,

melted

2

large eggs plus 2 large yolks

2

teaspoons

vanilla extract

2 1/2

cups

17 1/2 ounces sugar

1 3/4

cups

8 3/4 ounces all-purpose flour

3/4

teaspoon

salt

6

ounces

bittersweet chocolate

,

cut into 1/2‑inch pieces
Instructions
Adjust oven rack to lowest position and heat oven to 350 degrees. Make foil sling by folding 2 long sheets of aluminum foil so that they are as wide as 13 by 9‑inch baking pan (one 13‑inch sheet and one 9‑inch sheet). Lay sheets of foil in pan perpendicular to one another, with extra foil hanging over edges of pan. Push foil into corners and up sides of pan, smoothing foil flush to pan. Grease foil and set aside.

Whisk cocoa, espresso powder, if using, and boiling water together in large bowl until smooth. Add unsweetened chocolate and whisk until chocolate is melted. Whisk in oil and melted butter. (Mixture may look curdled.) Add eggs, egg yolks, and vanilla and continue to whisk until smooth and homogeneous. Whisk  in sugar until fully incorporated. Whisk together flour and salt in small bowl and then mix into batter with rubber spatula until combined. Fold in bittersweet chocolate pieces.

Transfer batter to prepared pan; spread batter into corners of pan and smooth surface. Bake until toothpick inserted in center of brownies comes out with few moist crumbs attached, 30 to 35 minutes, rotating pan halfway through baking. Transfer pan to wire rack and let cool for 11/2 hours.

Remove brownies from pan using foil. Return brownies to wire rack and let cool completely, about 1 hour. Cut brownies into 2‑inch squares and serve. (Brownies can be stored in airtight container at room temperature for up to 3 days.)
Notes
From Cook's Illustrated Cookbook, reprinted in its entirety with permission
And now for the fun part…thanks to America's Test Kitchen, we're giving away a copy of:
The Cook's Illustrated Cookbook (value $40) – Congrats to Jennifer! Enjoy this awesome cookbook!
How to Enter
Answer any one of these questions: Are you a fan of America's Test Kitchen? Are you a fan of Christopher Kimball's? Tell me why you want to win this book.
Extra Entries
For five more extra chances to win, leave a separate comment for each type, saying you did the following:
Details
U.S. only. One winner will be chosen at random from all of the comments/entries posted here on this post. Be sure to do the mandatory entry and you're entered into the giveaway. The extra entries are optional. Don't cheat & The Little Kitchen or the sponsor has a right to cancel the giveaway at any time. Giveaway ends on Friday, May 25, 2012 at 11:59 PM EST.
Disclosure: I received a copy of the Cook's Illustrated Cookbook for this purpose of a review, I was not compensated. I only share my favorite brands & products on The Little Kitchen and of course the opinions expressed in this post are my own. This post does contain affiliate links.