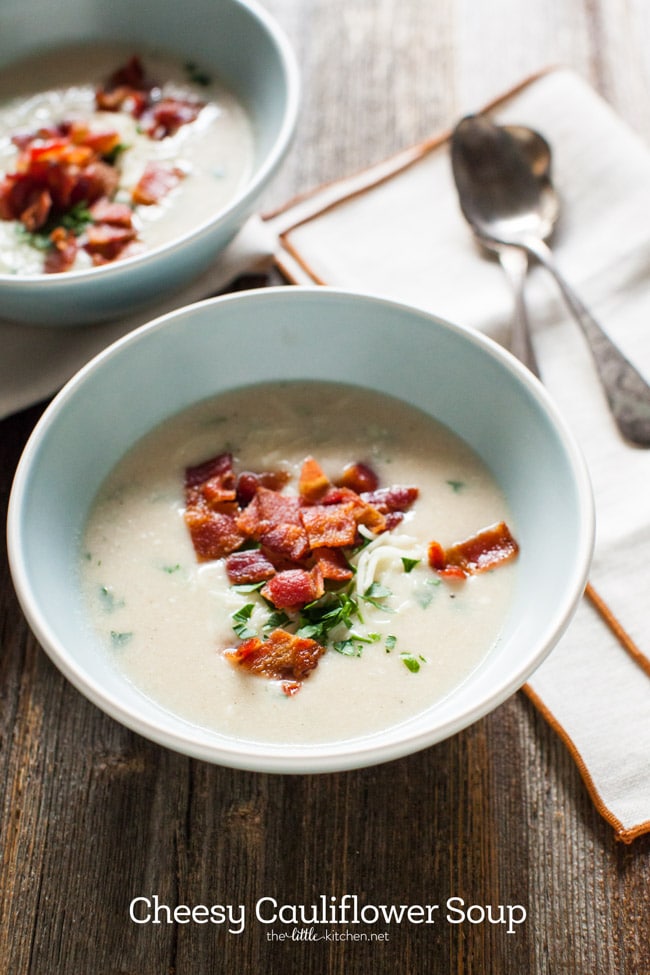 I love cauliflower so much…I'm so obsessed with it. But I haven't blogged many cauliflower recipes…not sure why! At parties, when there's a vegetable tray, I eat all of the cauliflower. I love to roast it and I love to have it in stir fries. Curtis on the other hand, he kind of turns his nose up at it. I don't know why…I can't understand it. He LOVES vegetables but he doesn't get my obsession with cauliflower!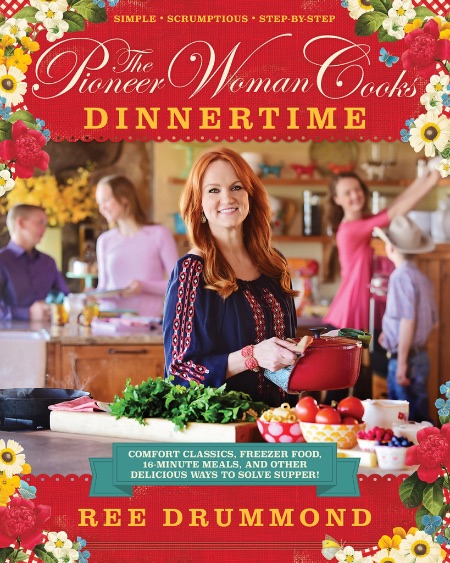 I was so excited to receive a copy of Ree's cookbook…The Pioneer Woman Cooks: Dinnertime: Comfort Classics, Freezer Food, 16-Minute Meals, and Other Delicious Ways to Solve Supper. I actually contribute to her blog too…check out my posts here.
But she didn't ask me to review the cookbook, I requested a copy from her publisher and was thrilled to start making recipes from it!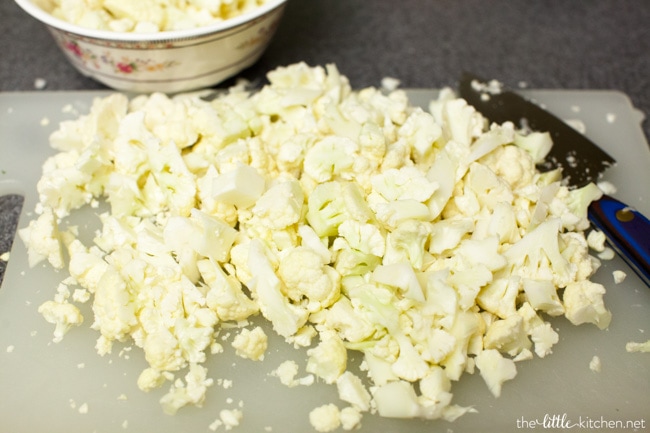 Back to this soup…with tons of cauliflower in it!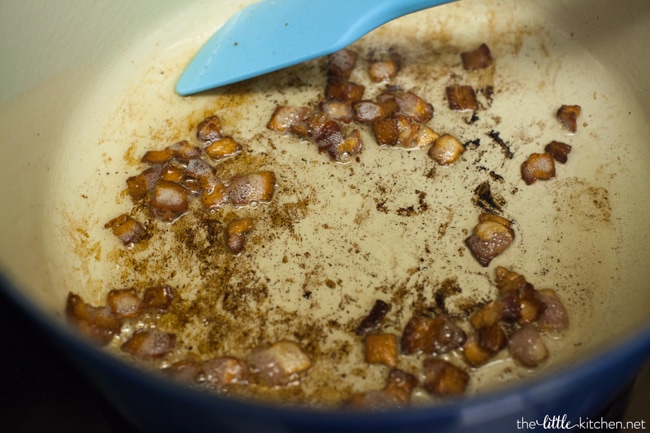 First cook some bacon!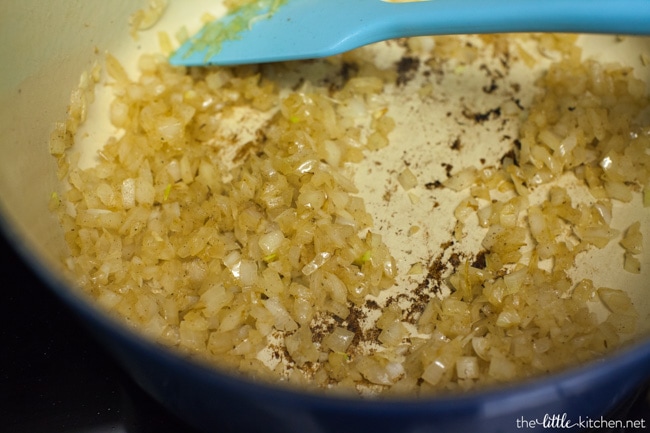 Then, the onions.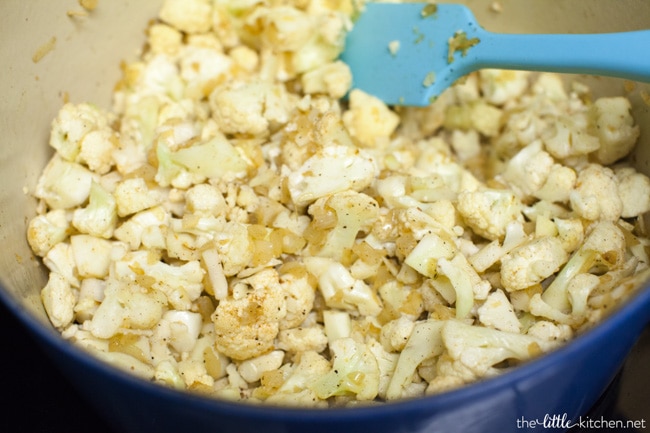 Add the cauliflower.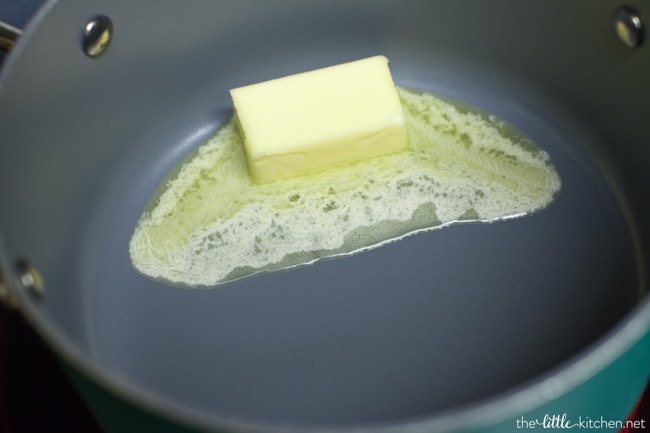 In a separate pot, melt butter.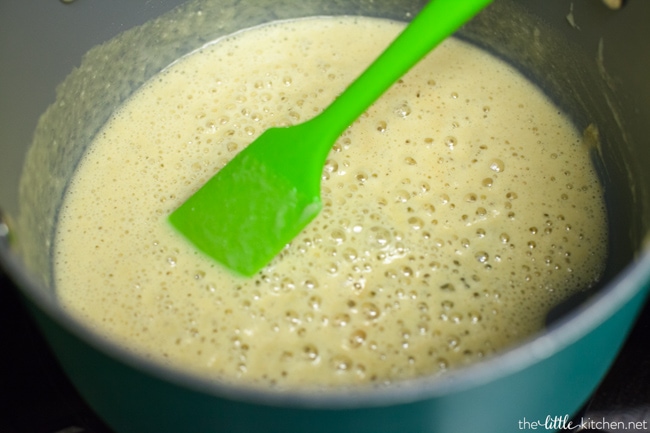 Make a roux.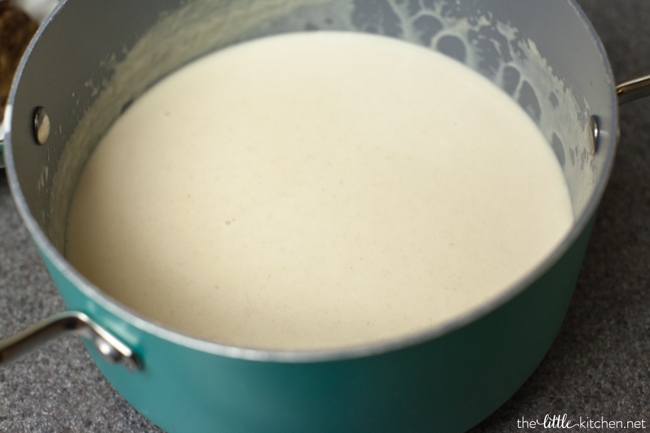 Then add in milk, here's where I changed it up a little bit. I used almond milk instead.
Back in the other pot with the cauliflower.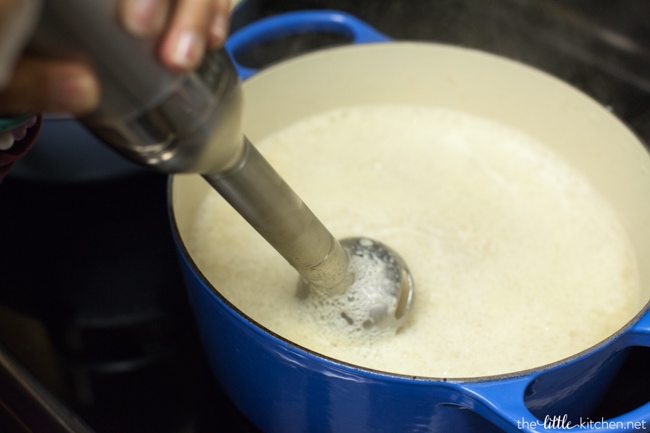 Use an immersion blender to blend the soup.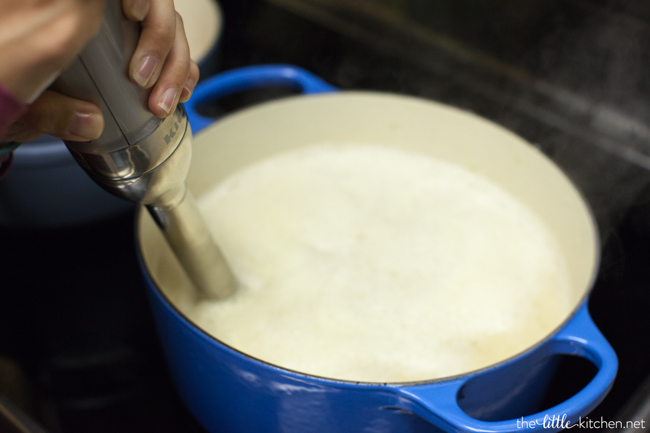 Be careful and don't get soup all over your kitchen! 🙂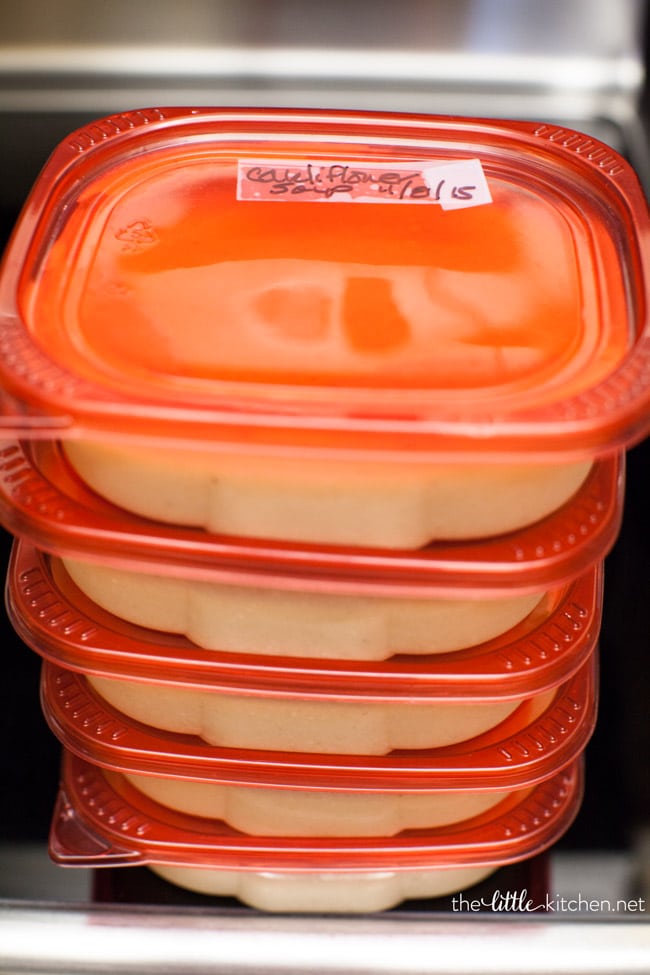 It's just the two of us so whenever I make soup, we have a ton leftover, I always freeze it for quick lunches and dinners!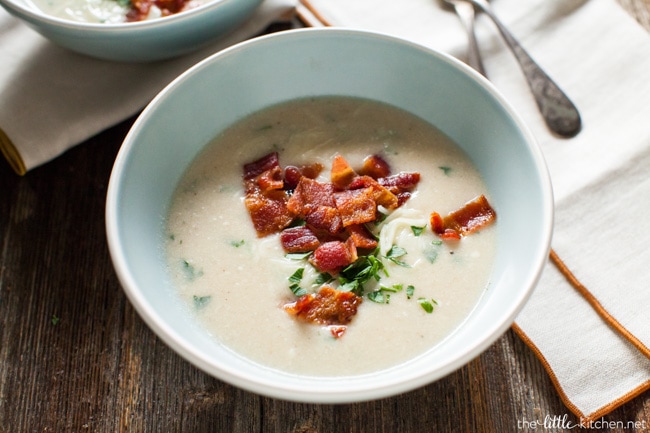 And guess what? I couldn't get over how much Curtis loved this soup! I think he was as surprised as I was! I loved it too. And I love that almond milk works in this soup! I'm going to keep trying to cook and bake more and more with it!
Recipe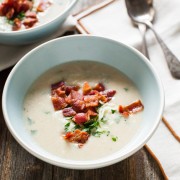 Print
Pin
Save
Cheesy Cauliflower Soup Recipe
Ingredients
4

thin slices bacon

,

cut into small pieces

1

large onion

,

finely diced

1

cauliflower head

,

cut into small florets

1/2

teaspoon

Cajun spice

,

more to taste

1/2

teaspoon

black pepper

,

more to taste

8

cups

low-sodium chicken broth

4

Tablespoons

1/2 stick butter

1/4

cup

flour

2

cups

whole milk

,

I used almond milk!

1

cup

half-and-half

1/4

cup

sour cream

3

cups

grated Monterey Jack cheese

,

more to taste

2

Tablespoons

minced parsley

kosher salt to taste

,

optional
Instructions
In a large pot, fry the bacon pieces over medium-high heat until crisp.

Remove the bits from the pan and drain on a paper towel. Pour off the grease and return the pot to the stove, leaving the bacon bits to the side for now.

Add the onion to the pot and cook over medium-high heat, stirring continuously, for 3 to 4 minutes, or until translucent.

Add the cauliflower, sprinkle with the Cajun spice and pepper...

And cook for 3 to 4 minutes more, or until the cauliflower starts turning golden brown.

Pour in the broth, stir, and reduce the heat to a simmer. Cook for 15 minutes.

Next, use an immersion blender...

To puree the soup slightly, or all the way, if you prefer. (Or use a regular blender and puree the soup in batches; don't fill more than halfway when the soup is hot!)

In a separate saucepan or skillet, melt the butter over medium heat. Sprinkle in the flour...

And whisk to form a roux for about 2 minutes...

Then pour in the milk. Cook, whisking continuously, until the mixture becomes thick, about 4 minutes. Remove from the heat and stir in the half-and-half.

Pour the white sauce into the partially pureed soup.

Turn the heat to medium-high and bring the soup back to a boil for 3 to 5 minutes to thicken it.

Reduce the heat to low and add the sour cream and cheese. Stir until fully melted.

Finally, stir in the parsley. Taste and adjust the seasonings, adding salt if desired.

And serve it piping hot in a bowl!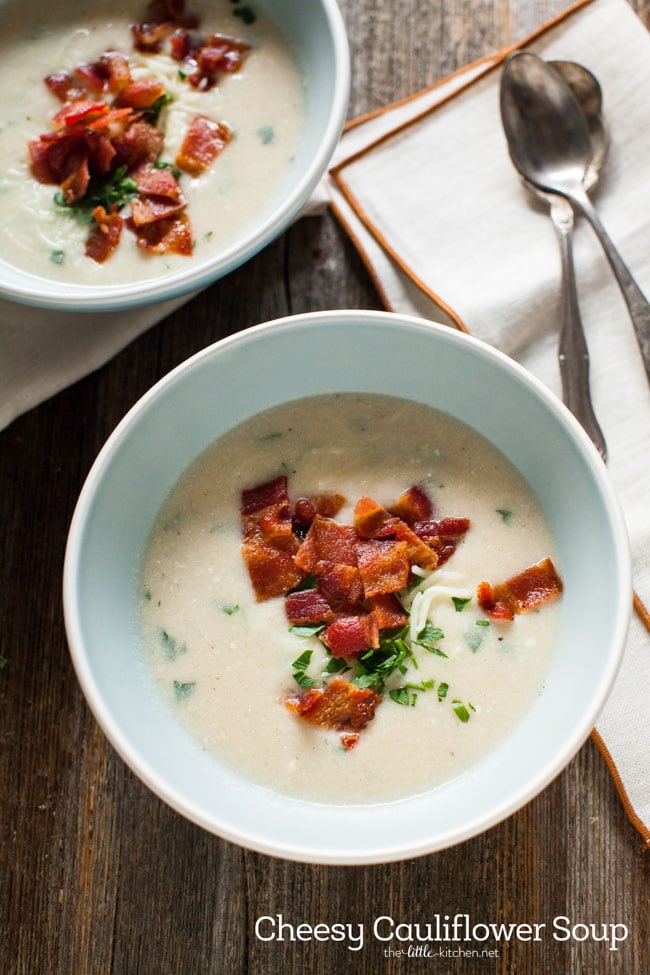 Disclosure: I was sent a review copy of Ree's cookbook for the purpose of review. All opinions are my own and I only share with you what I love. There are affiliate links in this post.