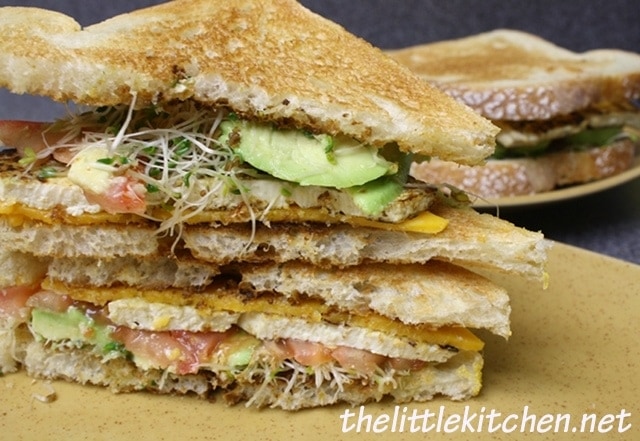 My sister has asked for vegetarian options on my blog and here's another one. I wanted to try to make this sandwich when I had it at place called the Manatee Cafe in St. Augustine. I went there over ten years ago and remembered having this really good grilled cheese-like sandwich with tofu and had to try it again when we returned last this past October.
This visit to the Manatee Cafe was rather disappointing. We were in a rush to return home and after being seated, we got our drinks but then waited at least 20 minutes before deciding to order a to go order. The thing that was really frustrating was that they didn't get that we switched to a to go order because we waited too long for them to take our order. I had to get food because I was really hungry, I ate it in the car. It's too bad the service wasn't that great because my sandwich was amazing!
After having this tasty sandwich at this cafe, I wanted to try it at home. The other night, my husband suggested we have grilled cheese sandwiches for dinner. I remembered this sandwich and decided to try it. So I tried a variation of it and it turned out great. You can make this sandwich vegan by using a cheese substitute. If you do try it that way, please let me know how it goes!
I grew up eating tofu as a kid and I love it. My Mom cooked it all of the time and I will have to share with you soon one of my favorites. If you have never had tofu, I hope you'll try this sandwich. I will definitely be making this sandwich again soon!
Recipe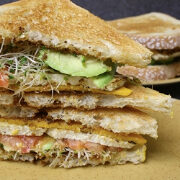 Print
Pin
Save
Cheese, Tomato & Tofu Sandwich with Avocados
Ingredients
4

slices

of your favorite sandwich bread

2

slices

of sharp cheddar cheese

,

or sliced cheese substitute

alfalfa sprouts

4-5

slices

of tomato

4-6

slices

of a ripe avocado

firm tofu

,

sliced 1/4 to 1/2 inch thick slices, about 6-7 slices

vegetable oil

2

Tbsp

olive oil

2 1/2

tsp

lemon juice

salt & pepper to taste
Instructions
Whisk together the olive oil, lemon juice, salt and pepper to make the dressing.

Heat a cast iron skillet on high for about 5-6 minutes. Add about 1/2 to 1 tsp of vegetable oil.

Pat the tofu dry between paper towels and add to the heated skillet.

Heat on high for a few minutes on each side, browned to your liking and heated through.

Toast the slices of bread and arrange your sandwich. Drizzle dressing over the avocado and sprouts on your sandwich.
If you like tofu and avocados, you'll definitely love this sandwich! It's light and fresh and very tasty!