Cheese Ball Recipe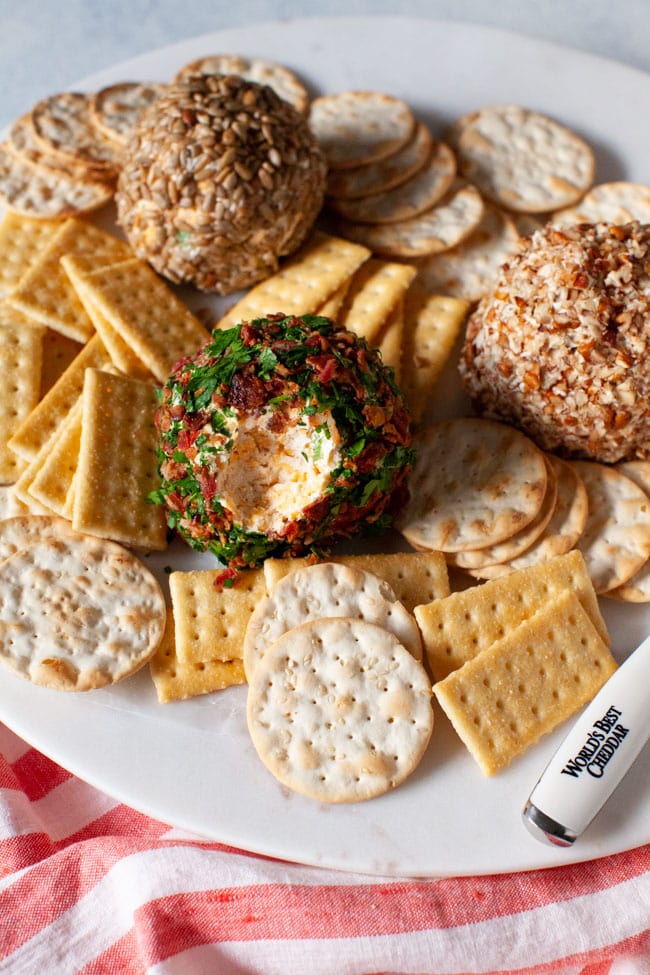 This post is sponsored by Cabot.
I'm sharing with you three different cheese ball recipes including one for a bacon cheese ball. They are so easy to make and everyone, from your family to friends, will be wowed!
Recently, I shared with you how to build a meat and cheese board while working with Cabot Cheese and I'm back to share with you this wonderful recipe! Now you can add this cheese ball recipe to your meat and cheese board!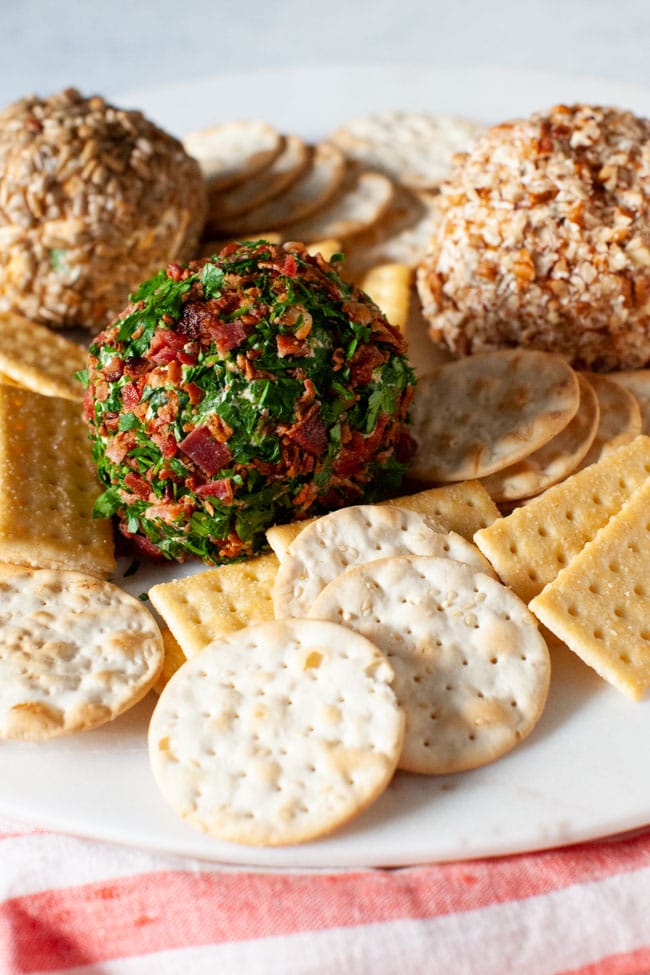 We are huge fans of Cabot cheeses in our house. We always have at least 2-3 blocks of Cabot cheese in our refrigerator and our grater gets a good workout!
First up, the bacon cheese ball is divine. I can't say I have a favorite among the three cheese ball recipes so I won't but you might be able to take a hint which one might be the most popular!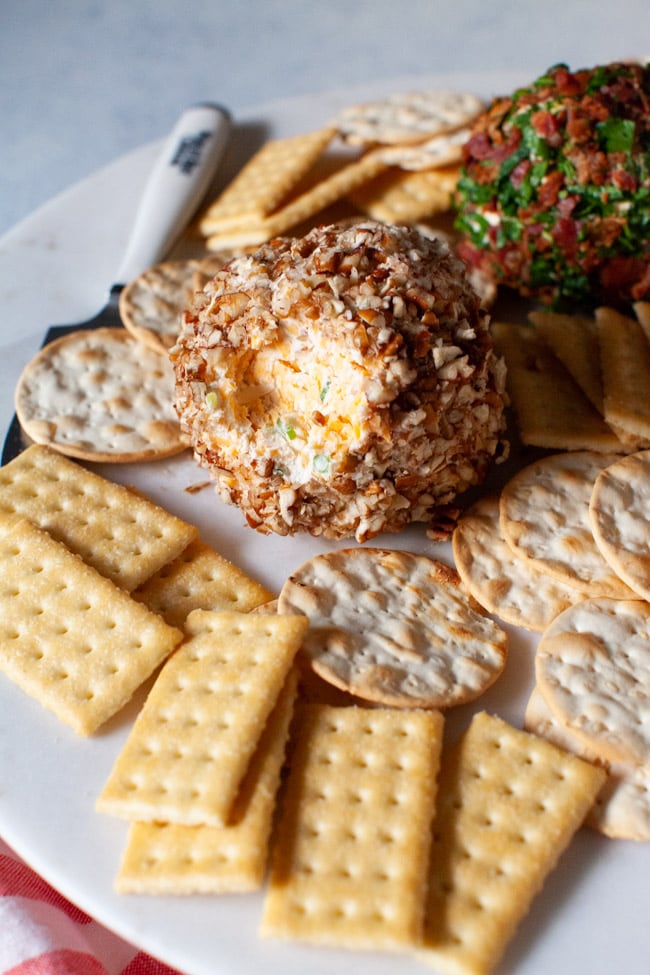 I love nuts and cheese together so this pecan covered cheese ball is really fun!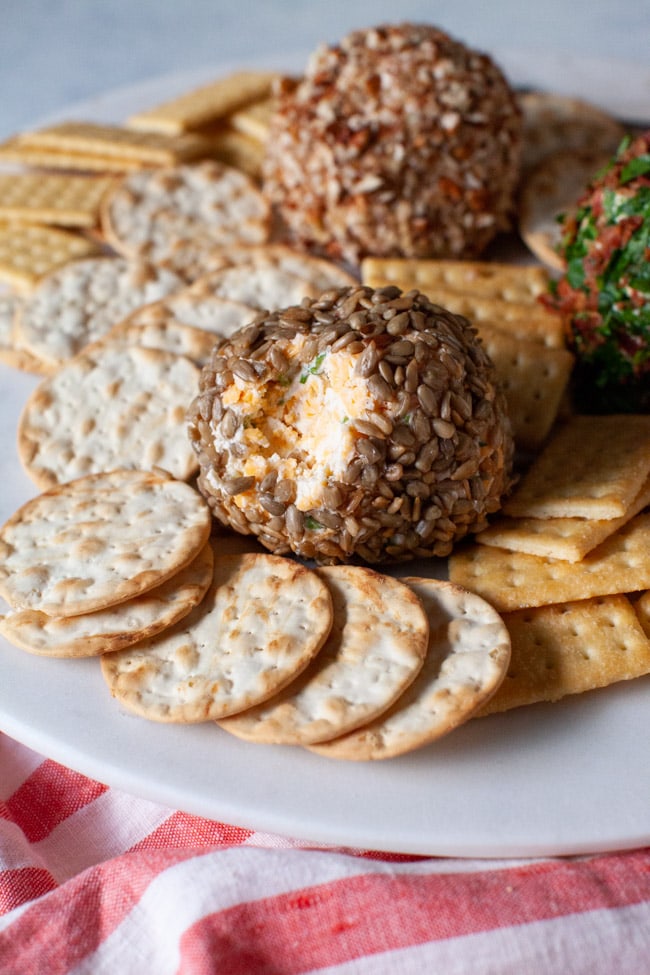 And last but not least, do you have a thing for sunflower seeds like I do? I love this cheese ball recipe with sunflower seeds. It has a nice texture and it's perfect!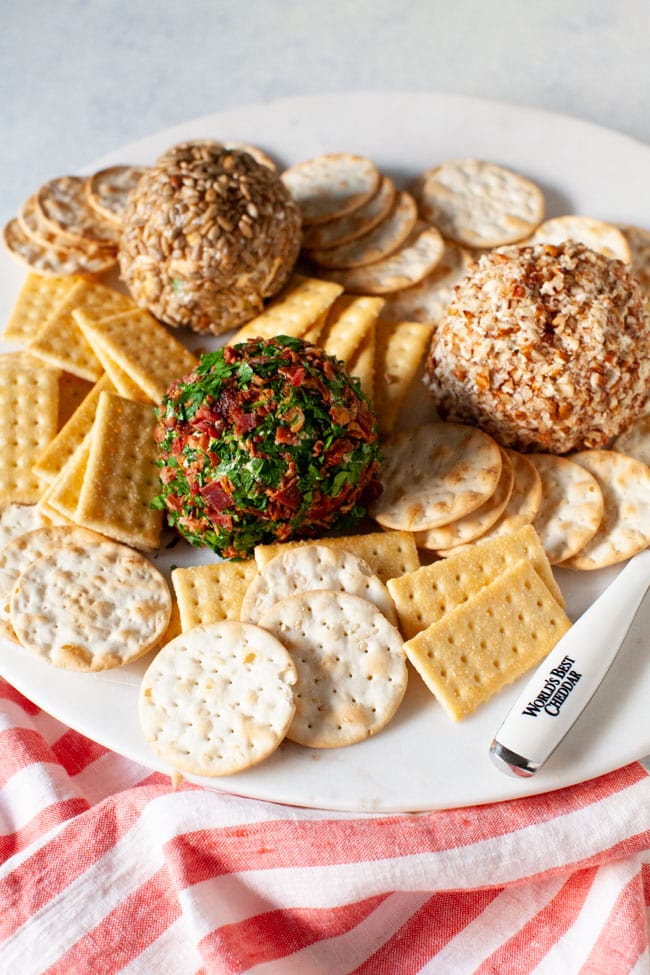 What do you eat cheese balls with?
You can eat cheese balls with anything you like! I love eating them with different types of crackers! Put a little spreader on your plate so you can spread the cheese with.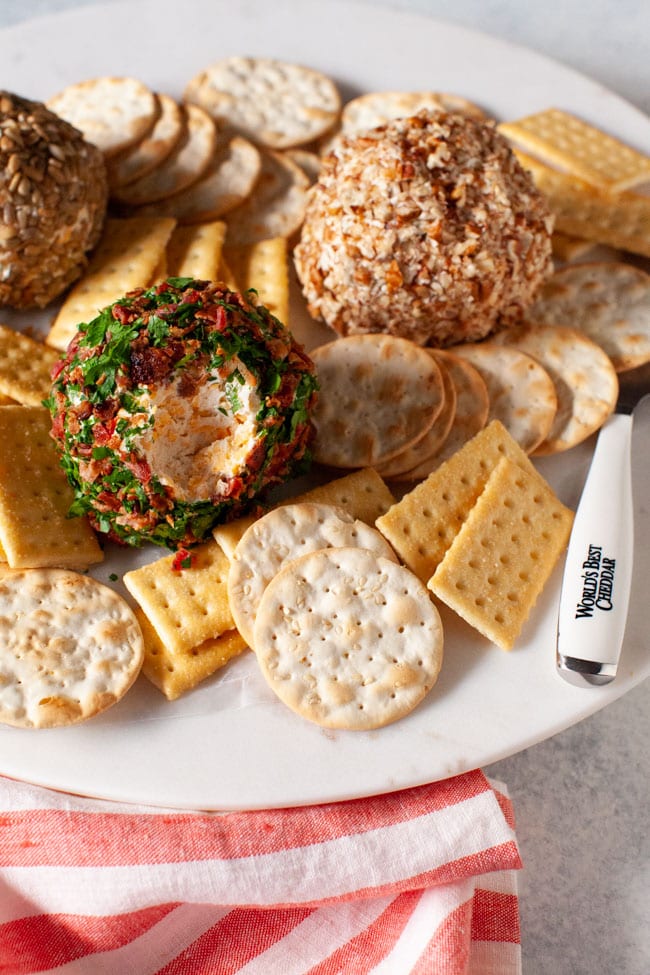 What is a cheese ball made of?
cream cheese
ground cayenne pepper
garlic powder
black pepper
soy sauce
green onions
Cabot Seriously Sharp Cheddar Cheese
chopped pecans
flat leaf parsley
cooked bacon
sunflower seeds
How long does a cheese ball last before it goes bad?
You can make your cheese ball recipe a day or two before you're going to serve it. Mine lasted about a week in the refrigerator and it tasted great. Once you refrigerate it, just let it sit on the counter for a few minutes and then it will be easier to spread on crackers.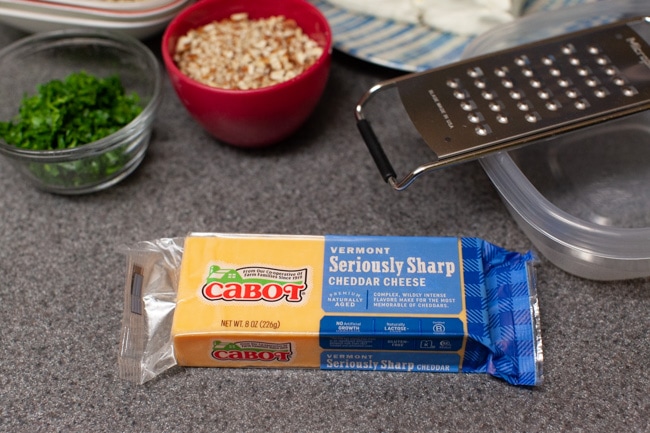 I used Cabot Seriously Sharp Cheddar Cheese for this recipe, you can totally use any of your favorite Cabot Cheddar Cheeses!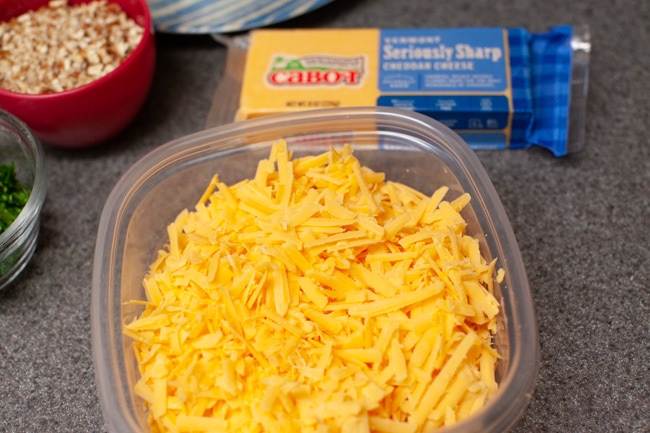 First, grate your Cabot Cheddar Cheese.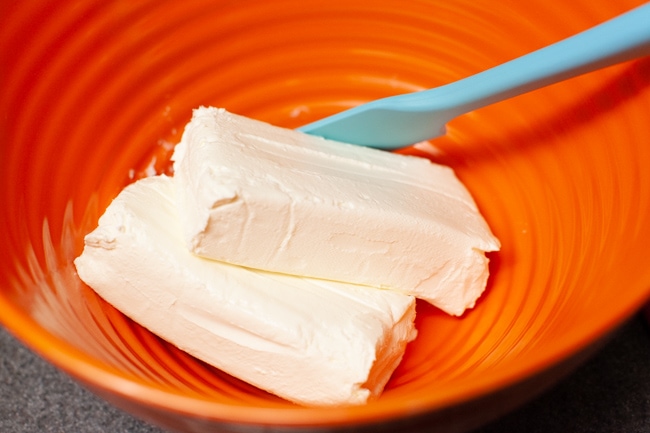 Add softened cream cheese to a mixing bowl.
Add cayenne pepper, garlic powder, pepper, soy sauce and green onions.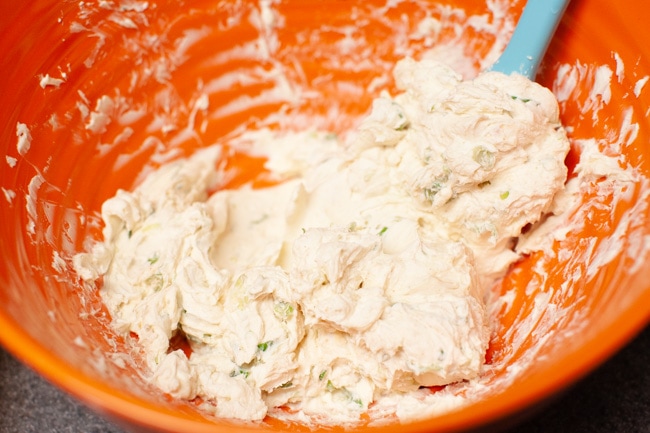 And then mix with a rubber spatula.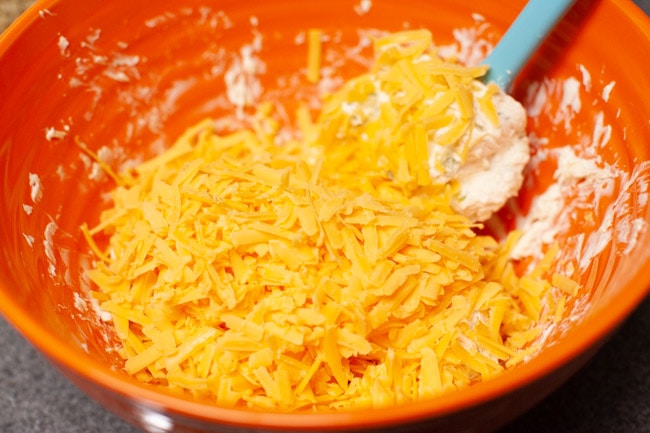 Add the grated Cabot cheddar cheese to the bowl.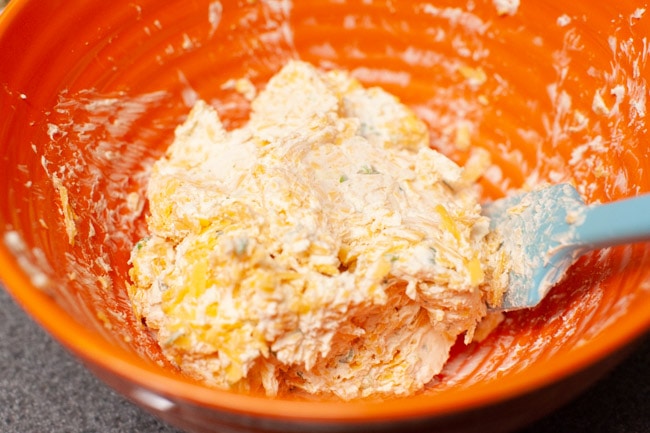 Mix together.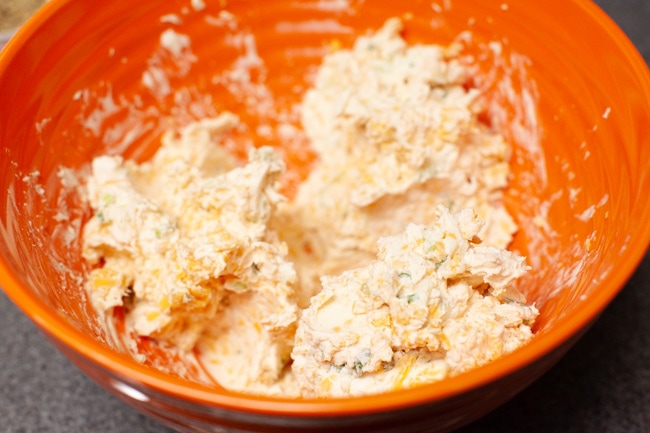 Then divide the cheese mixture into three.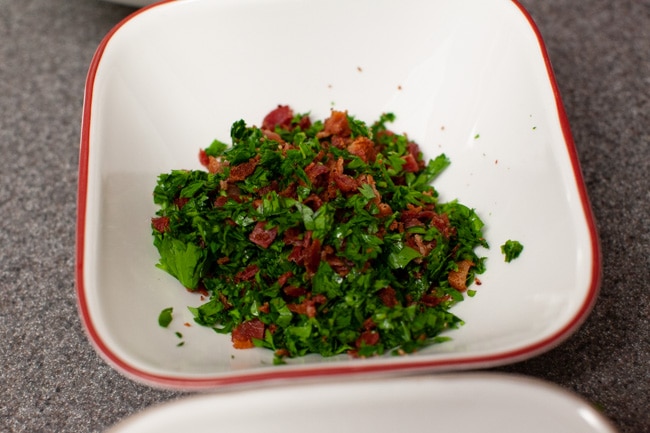 I put parsley and bacon into a smaller bowl and mix together.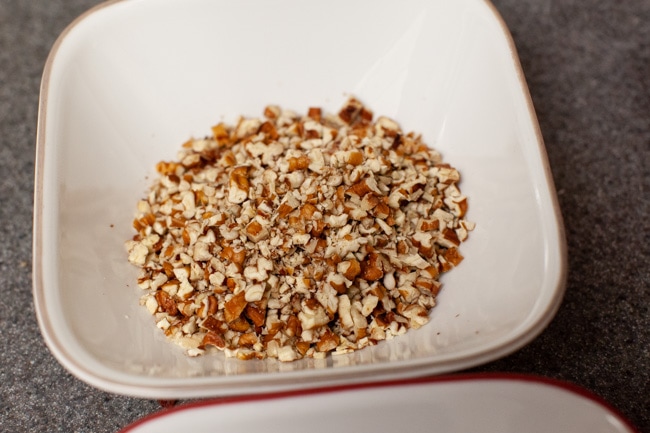 Then, I added the chopped pecans into another bowl.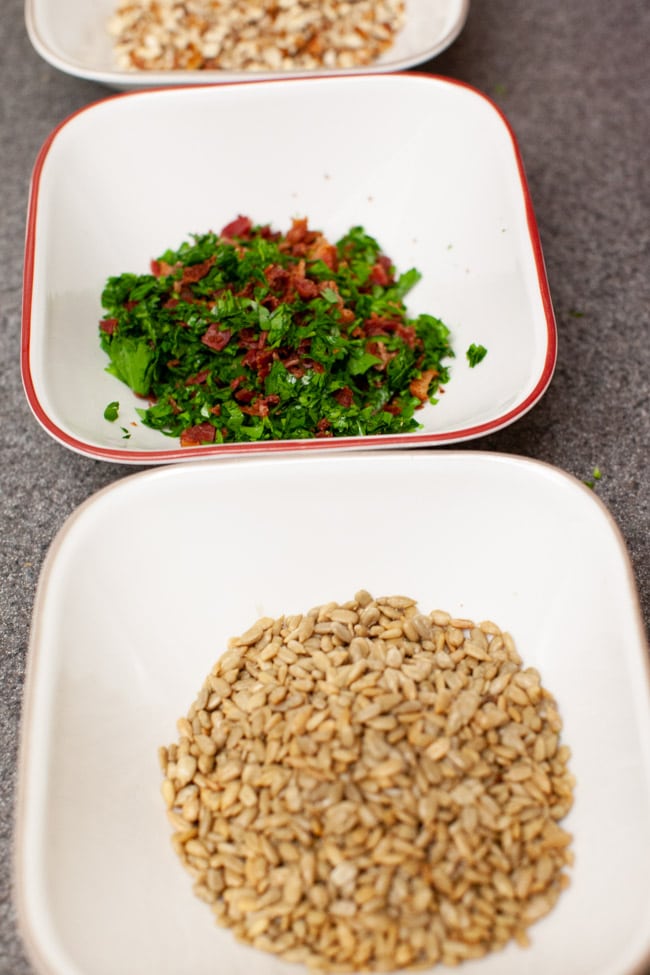 And then the sunflower seeds in another bowl.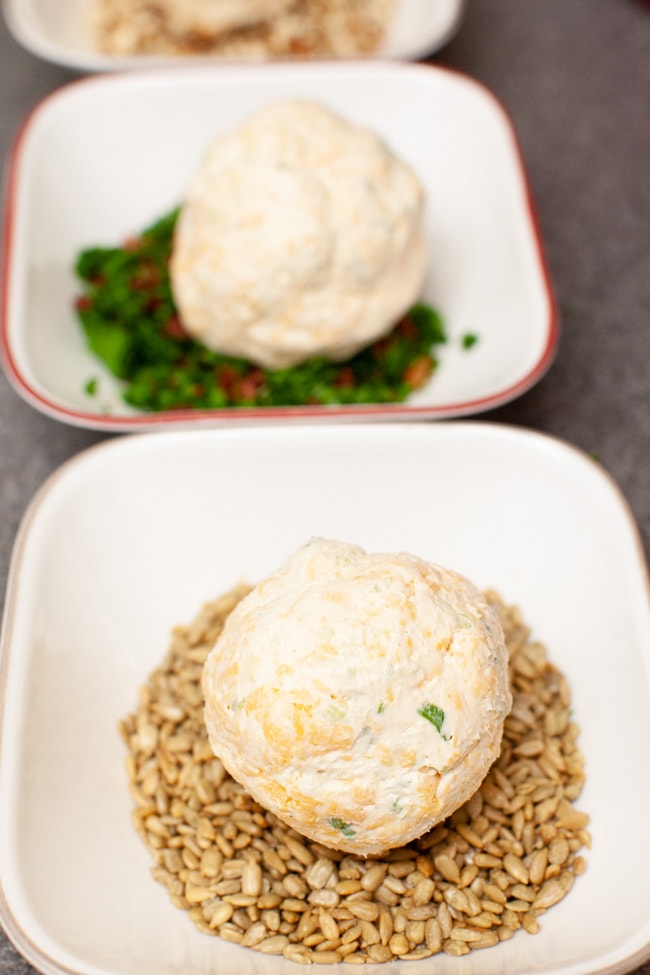 Roll in each 1/3 of the cheese mixture into a ball.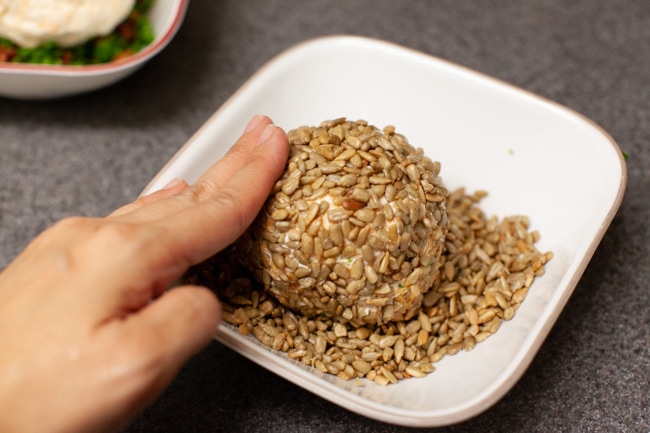 Then, place in the bowls. And the cheese ball in sunflower seeds.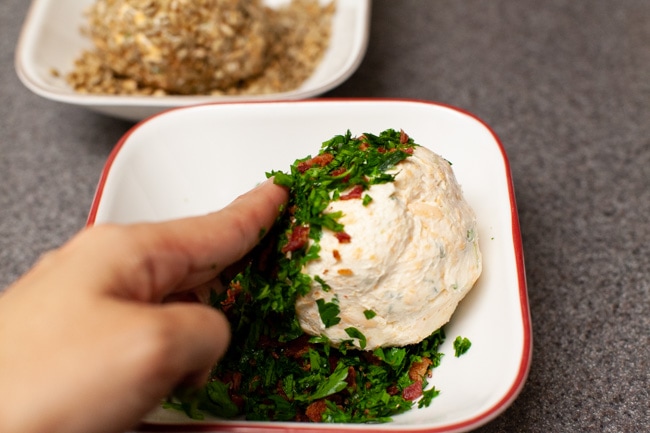 Roll another cheese ball in the bacon and parsley.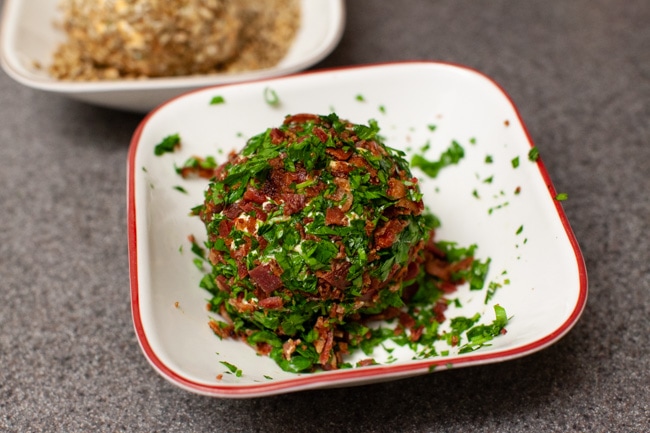 Looks so good, doesn't it?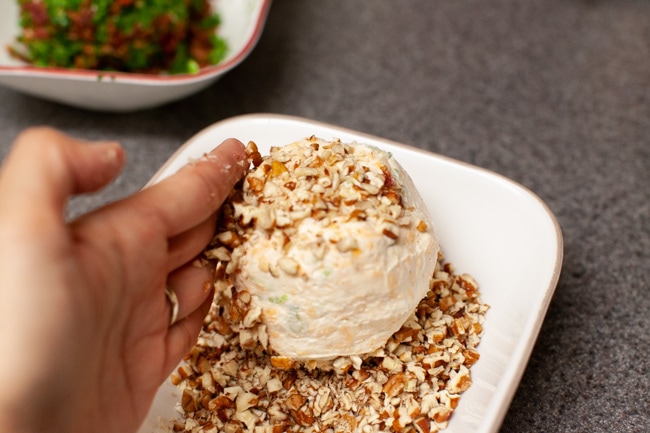 And then roll the last cheese ball in chopped pecans.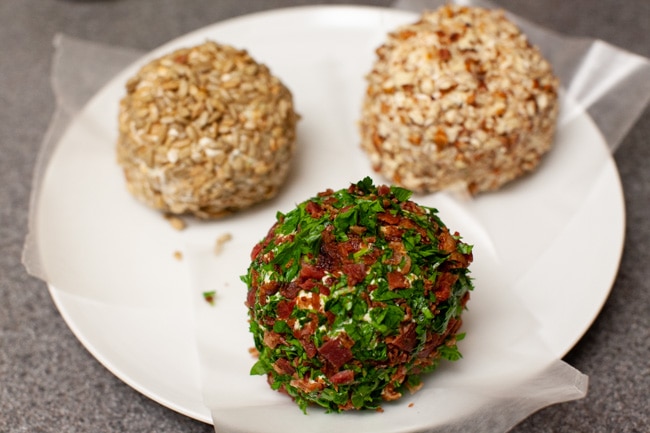 I put them on squares of wax paper on a plate and then covered them. Place in the refrigerator at least one hour before serving.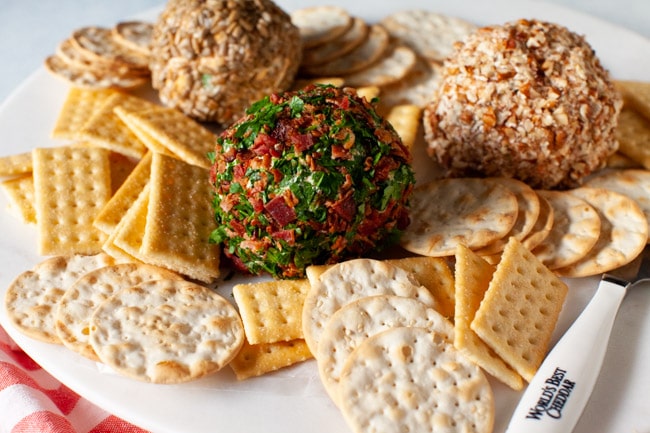 This cheese ball recipe is so easy to make! I know you'll love it with Cabot Cheddar Cheese.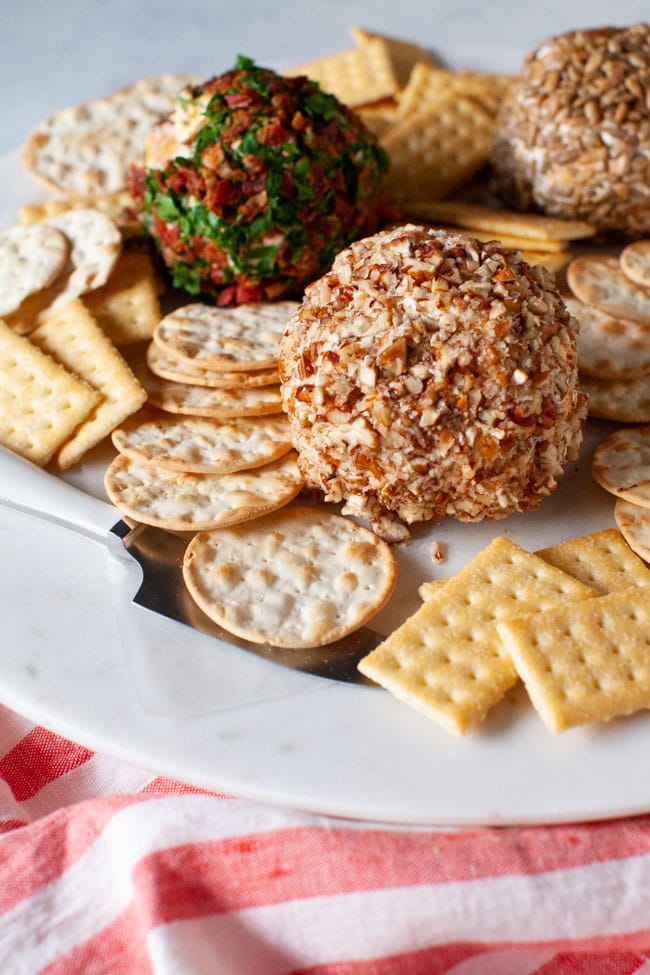 It's perfect for snacking or as an appetizer to serve your family before dinner.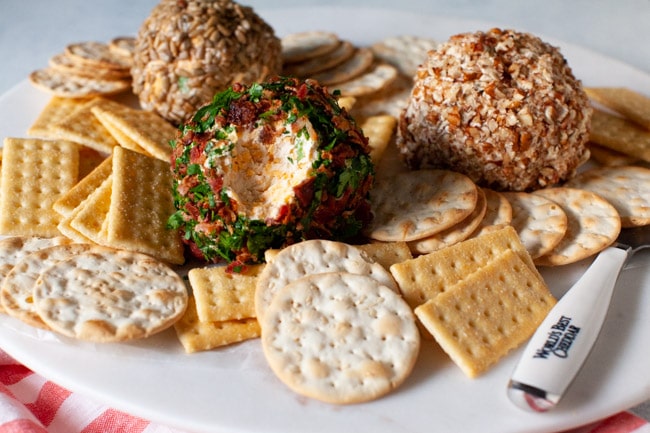 Looking for another wonderful recipe to add on to your list to make this summer? You should definitely try my beer cheese fondue, it's always a hit with my family as well!
Recipe
Cheese Ball Recipe
Yield: 3 cheese ball appetizers
Prep Time: 10 minutes (plus 30 minutes chill time)
Cook Time: 10 minutes
Total Time: 50 minutes
Ingredients:
2 packages (8 ounces each) cream cheese, softened
1/8 teaspoon ground cayenne pepper
1/2 teaspoon garlic powder
1/8 teaspoon black pepper
1/4 teaspoon soy sauce
2 green onions, sliced
1 package (8 ounces) Cabot Seriously Sharp Cheddar Cheese, grated
for the outside
1/2 cup chopped pecans
3 Tablespoons chopped flat leaf parsley
4 slices bacon, cooked
1/2 cup sunflower seeds (I used salted ones)
Directions:
In a medium sized mixing bowl, add softened cream cheese, cayenne pepper, garlic powder, pepper and soy sauce. Mix thoroughly with a rubber spatula.
Add green onions and the grated Cabot cheddar cheese and mix.
Divide the cheese mixture into three.
Roll each one into a ball.
Roll one cheese ball in chopped pecans.
Mix parsley and bacon in a small bowl. Roll the next cheese ball in parsley and bacon.
Roll the last cheese ball in sunflower seeds.
Cover and refrigerate at least one hour. (Can be made a few days ahead of time and stored in the refrigerator.)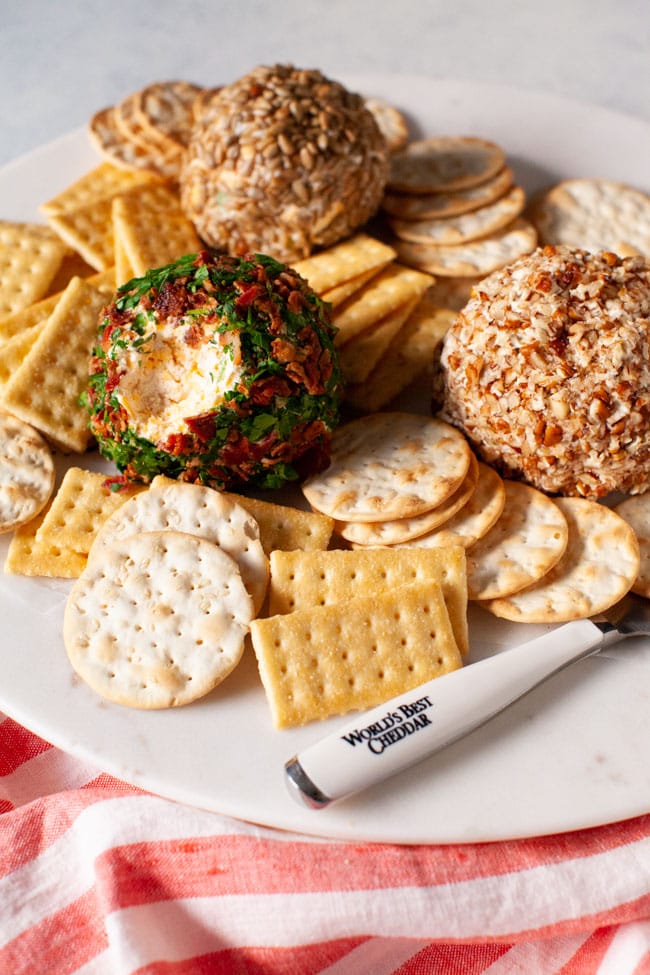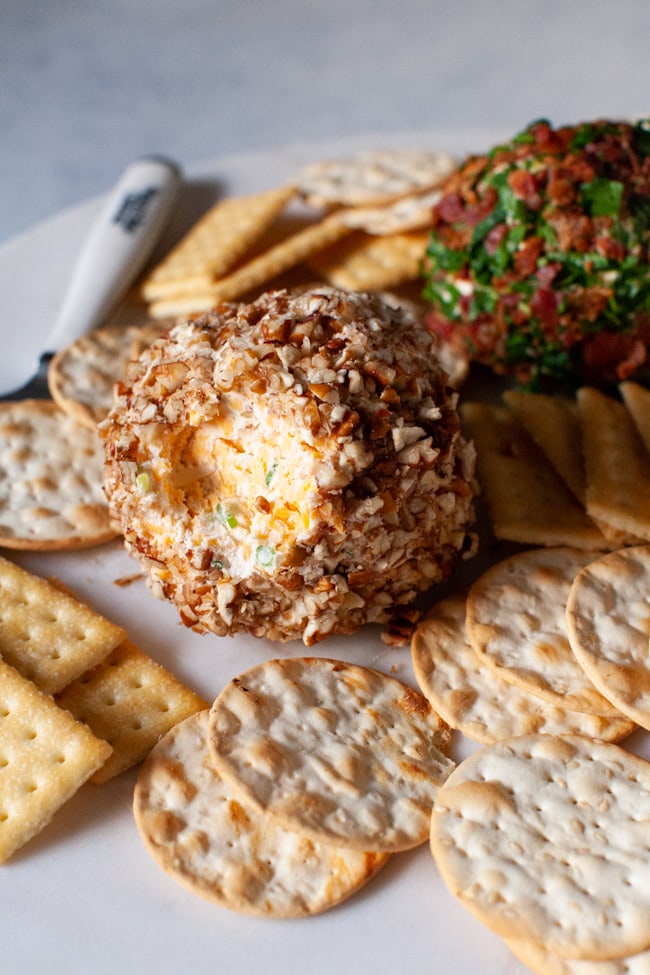 Other recipes using cheddar cheese:
Cheddar Cheese Cloverleaf Rolls
Two Ingredient Cheese Crisps
Easy Stovetop Mac and Cheese
Broccoli Cheddar Cheese Soup
Three Cheese Mac and Cheese
Disclosure: This post is sponsored by Cabot. I only work with brands that I love and I always share with you my own opinions.