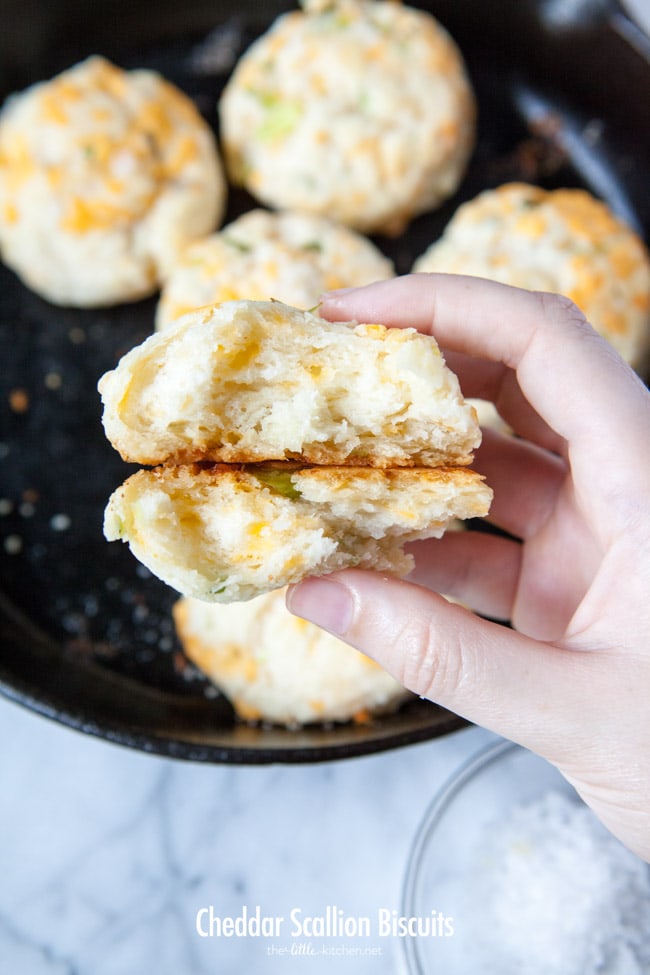 This post is sponsored by While Lily.
True story: I love biscuits. I love making them. I love eating them. I have been making them for a while. But Curtis' notion of biscuits is that they are dry. He would just say they are okay.
So it was a quest for me to make a nice and fluffy and non-dry biscuit. The key is really good flour, I love the self-rising flour that White Lily makes. It's so light and it's perfect for biscuits!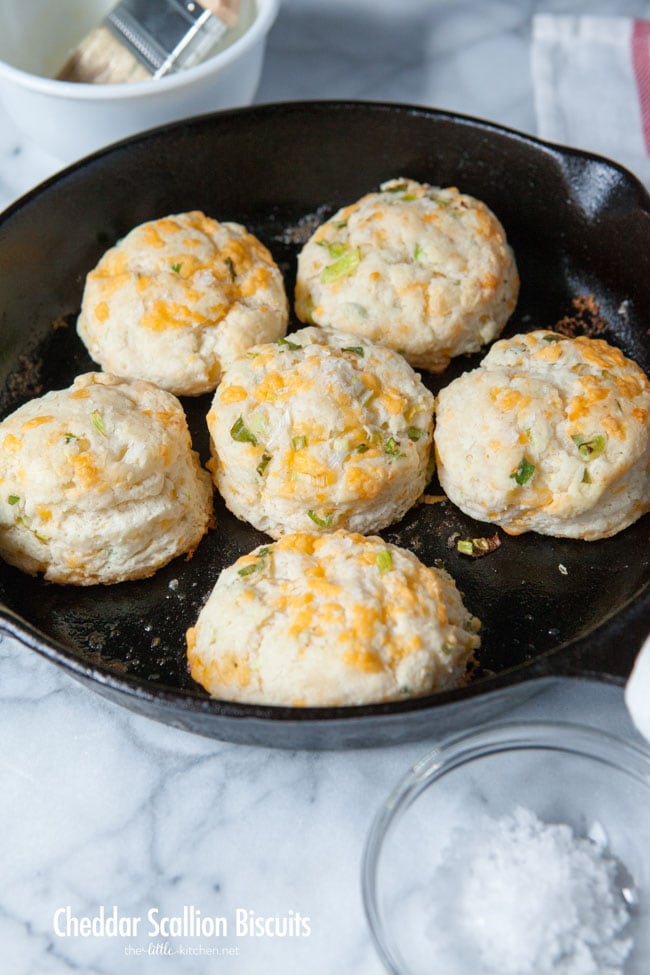 The other keys are butter and buttermilk. And Linda from the test kitchens at White Lily told me that I needed more buttermilk than I was using.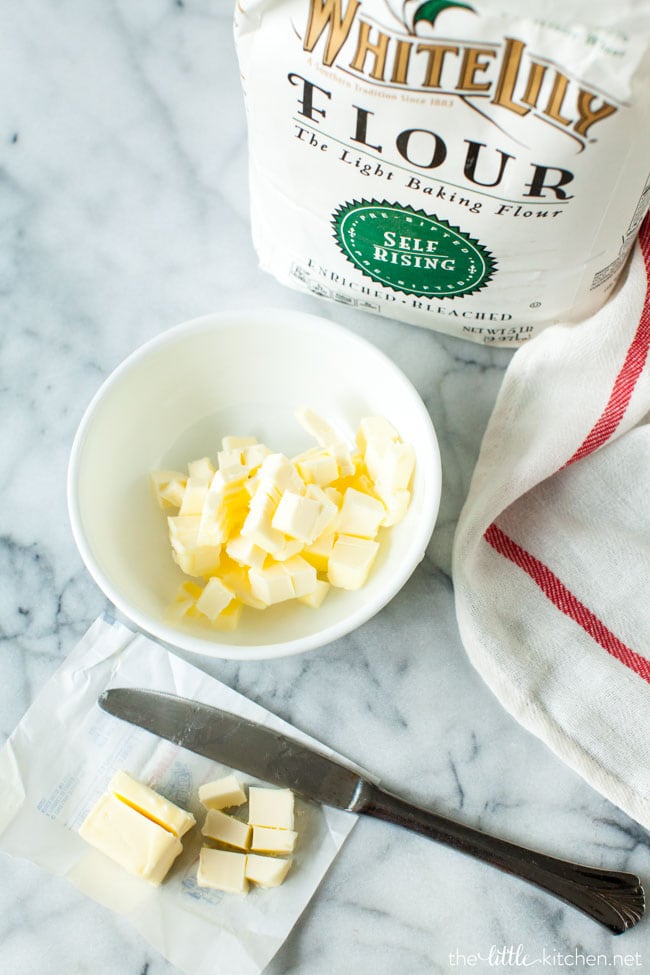 The first thing I do is cut the butter into cubes…and then put the butter back into the refrigerator. Then, I turn on the oven and put my cast iron skillet into the oven to heat up.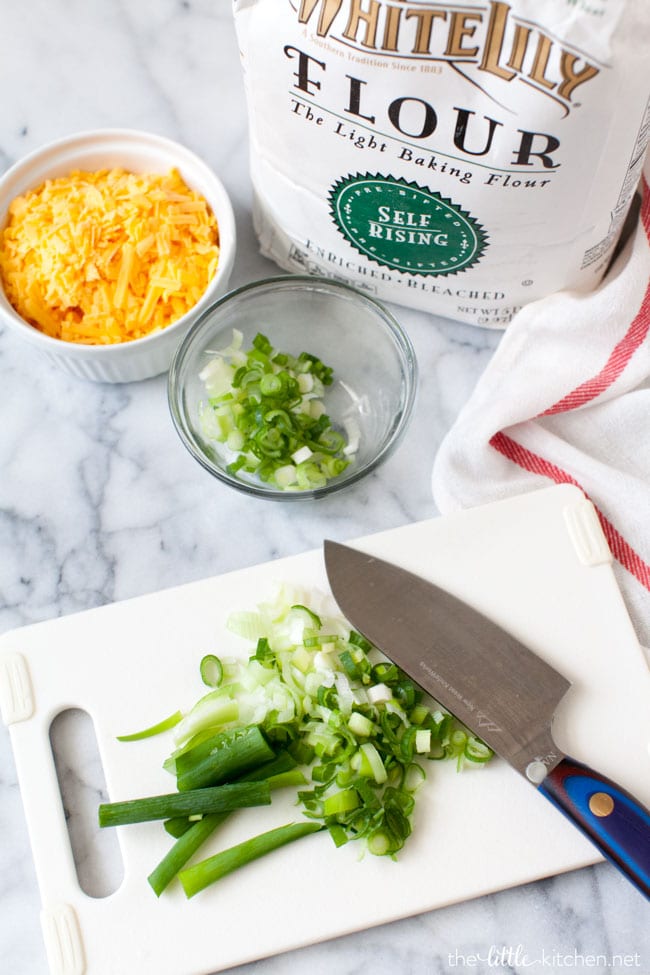 Prep the cheese and the scallions.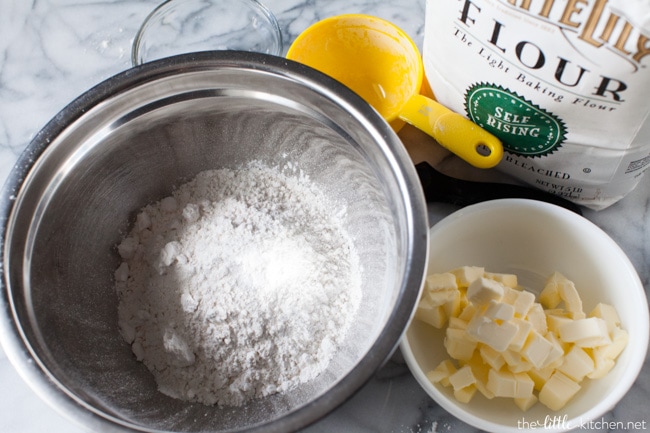 Measure the flour (I use this technique to measure flour).
Using forks or a pastry blender, cut the butter into the flour.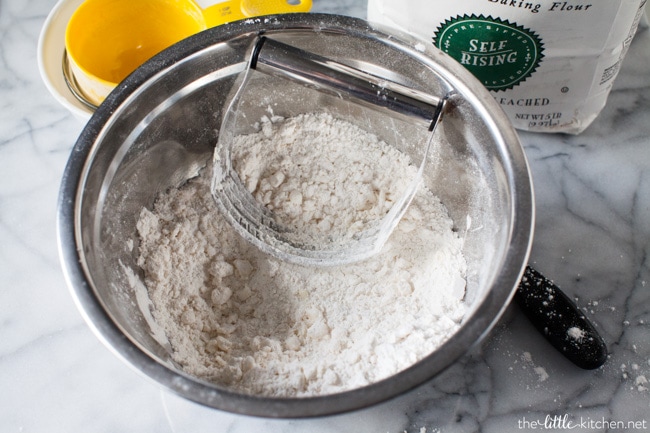 That looks perfect.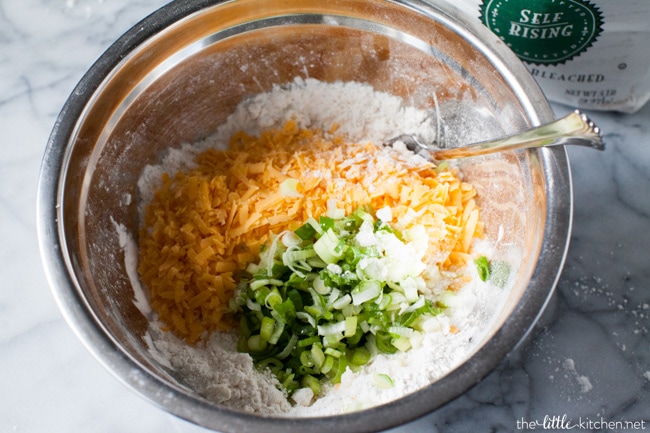 Then, mix in the cheddar cheese and green onions.
Perfectly mixed.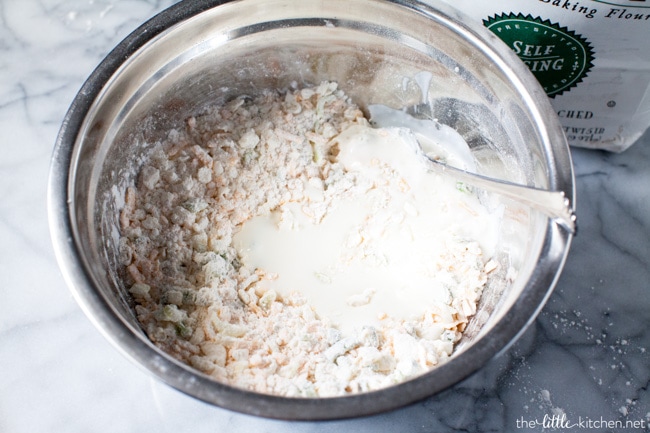 Add buttermilk.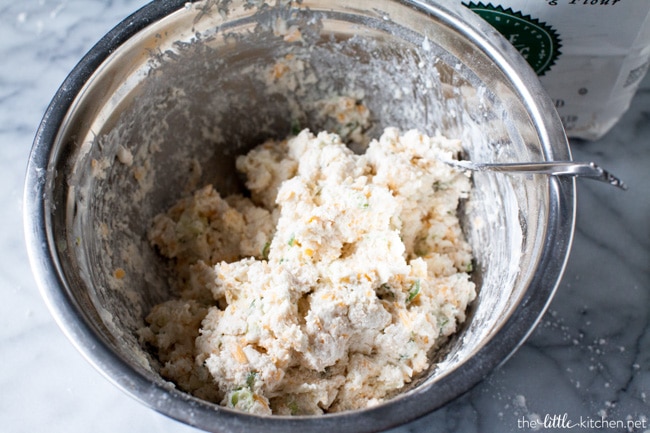 And you'll have a dough.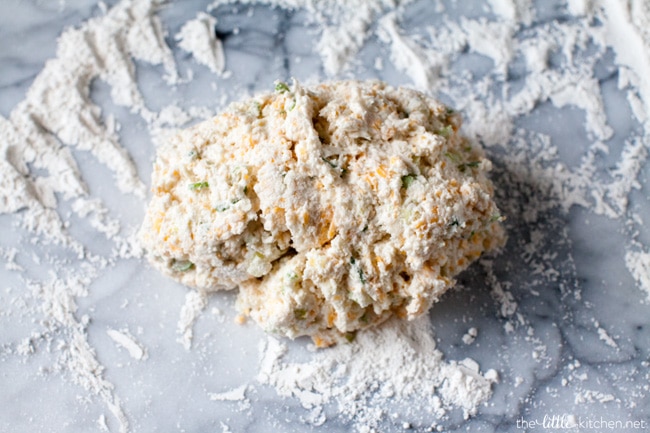 Place it on a floured surface. Then, knead it.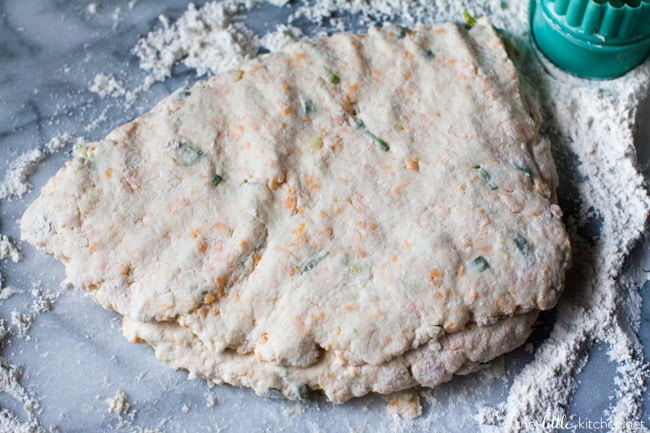 Flatten it out.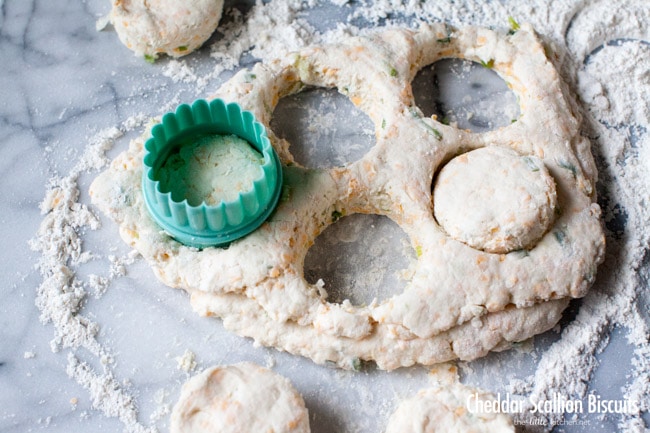 And use a biscuit cutter to cut out rounds.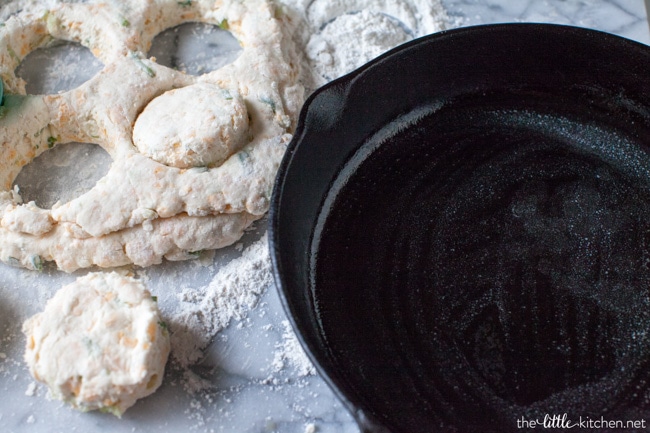 Add melted butter to the cast iron skillet.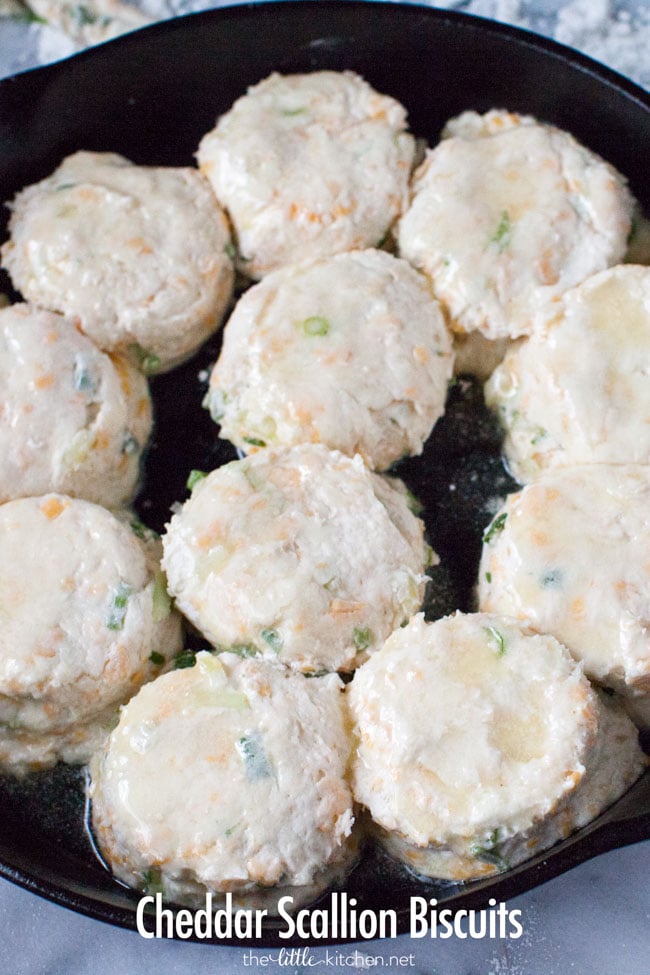 And add the cut out biscuits.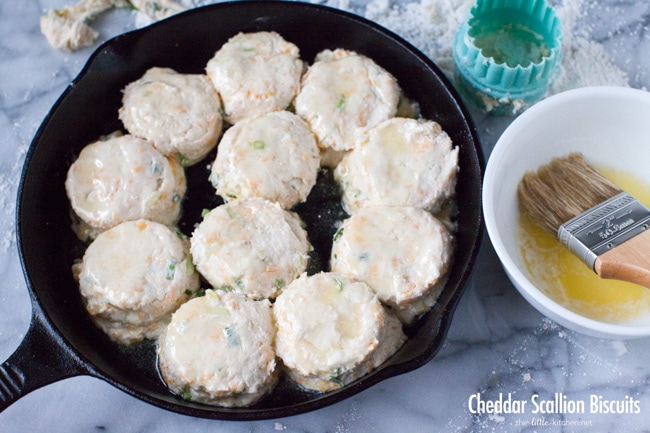 Brush the tops with melted butter.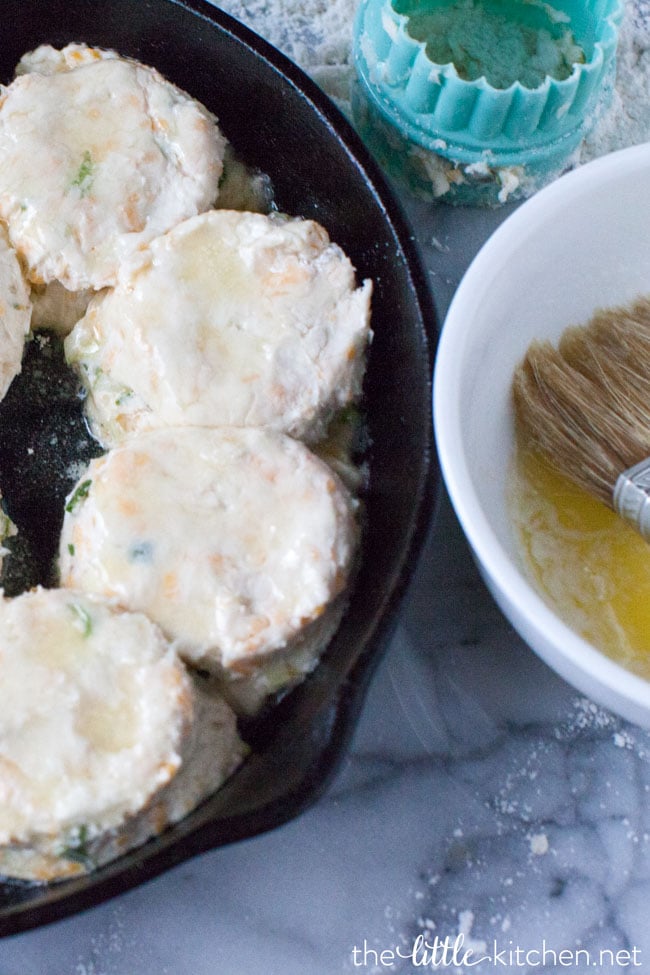 Amazing, right?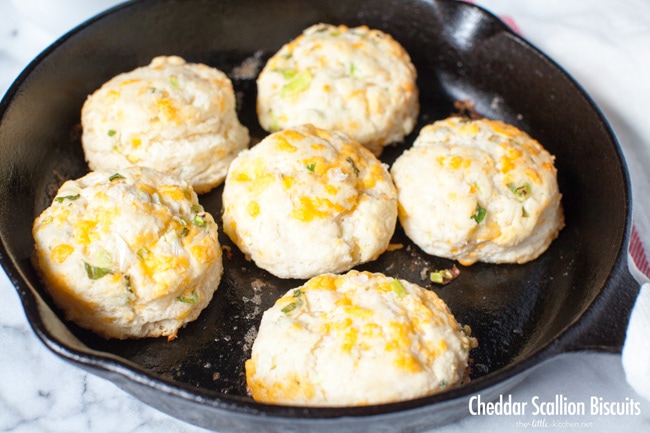 After they come out of the oven, they are just perfection.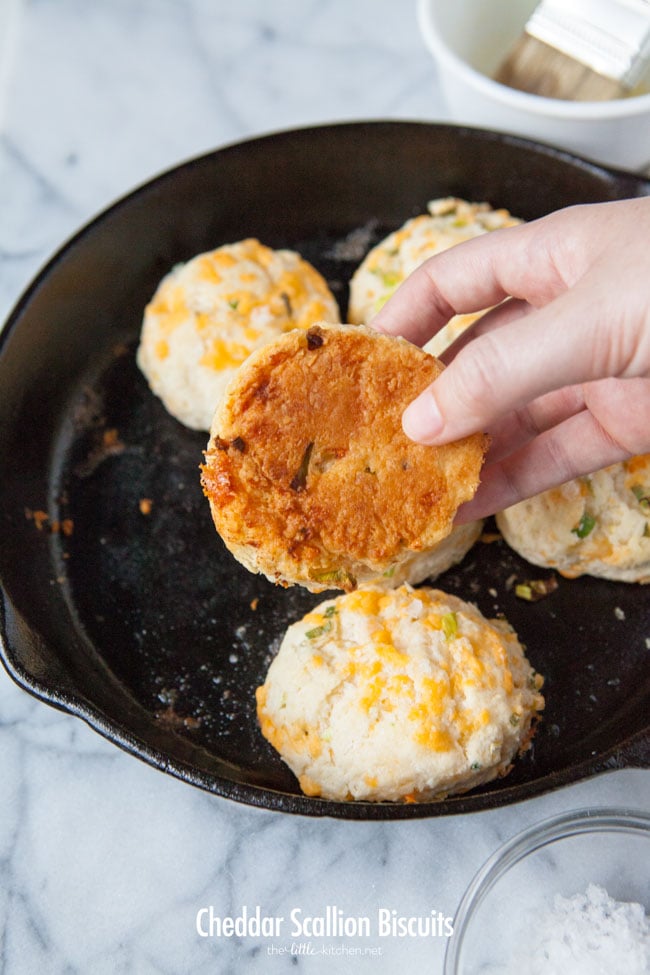 See how the bottoms are crispy?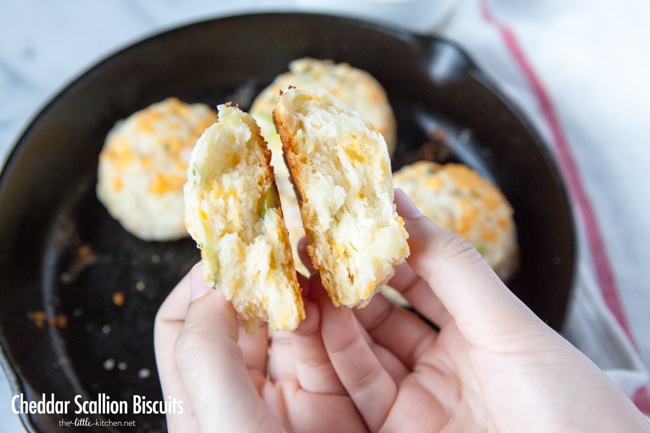 And the insides of the biscuit is soft and fluffy…and NOT dry. They are so buttery and the salt on top, makes them perfect!
Recipe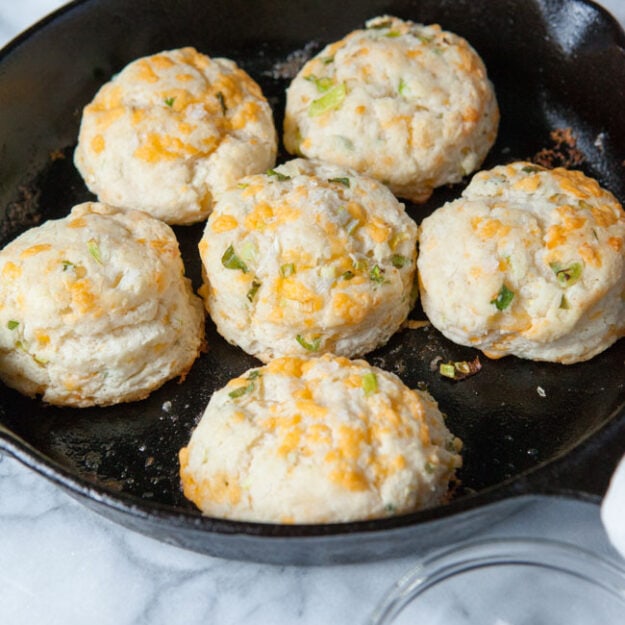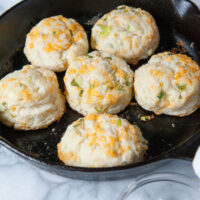 Print
Pin
Save
Cheddar Scallion Biscuits Recipe
Servings
10
to 12 biscuits
Ingredients
2

cups

White Lily® Enriched Bleached Self-Rising Flour

1/4

teaspoon

salt

1/2

cup

1 stick unsalted butter, cut into cubes (cold)

2/3

cup

grated sharp cheddar cheese

,

cold

2

green onions

,

sliced thin

3/4

cup

cold buttermilk

4

Tablespoons

salted butter

,

melted, divided

flaked sea salt

,

for topping
Instructions
Heat oven to 425°F. Add seasoned cast iron skillet to the oven while it's heating up.

Prep the butter, cut into cubes. Grate the cheese. Add both back to the refrigerator.

Measure flour into a large mixing bowl. Add butter and cut it into the flour with a pastry blender or 2 forks until crumbs are the size of peas.

Add cheddar cheese and sliced green onions. (Reserve some cheese and green onions for the tops of the biscuits, if desired).

Add buttermilk, stirring with a fork just until flour is moistened.

Remove dough from the bowl and place on a lightly floured surface. Knead the dough 5 to 6 times. Pat the dough until it's about 3/4- to 1-inch thick. Cut out 2 1/4 inch biscuits with a cutter. Pat the dough together and flatten out again and cut biscuits until there's no dough left, about 10 to 11 biscuits.

Melt 4 tablespoons of butter in the microwave. Remove cast iron carefully from the oven and add about 1 tablespoon of melted butter, tilting the pan to distribute the butter.

Add 5 to 6 biscuits evenly spaced and brush melted butter on top of the biscuits. Bake for about 8 to 9 minutes. Remove the cast iron skillet, brush more butter on top and add flaked sea salt. Bake for another 2 to 4 minutes. (You can bake them all at once if you can fit them in the cast iron skillet, just know that they won't maintain their round shape. If you're okay with that, they will course taste the same!)
Notes:
If not using a cast iron skillet, bake them about 1/2 inch apart on a foiled lined baking sheet for the same amount of time. You can freeze them too! Just reheat in the oven and enjoy!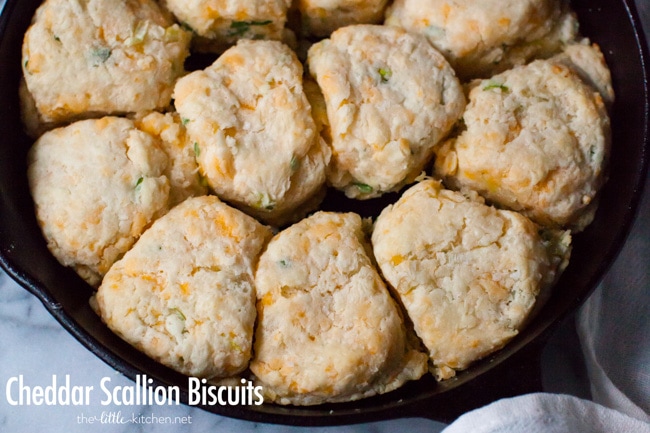 If you bake all of the biscuits at once, this is how they look. They aren't perfectly round but they are still perfectly delicious.
Disclosure: This post is sponsored by White Lily. All opinions are my own. Thank you for supporting brands that I work with, it allows me to keep doing what I love; sharing on The Little Kitchen.