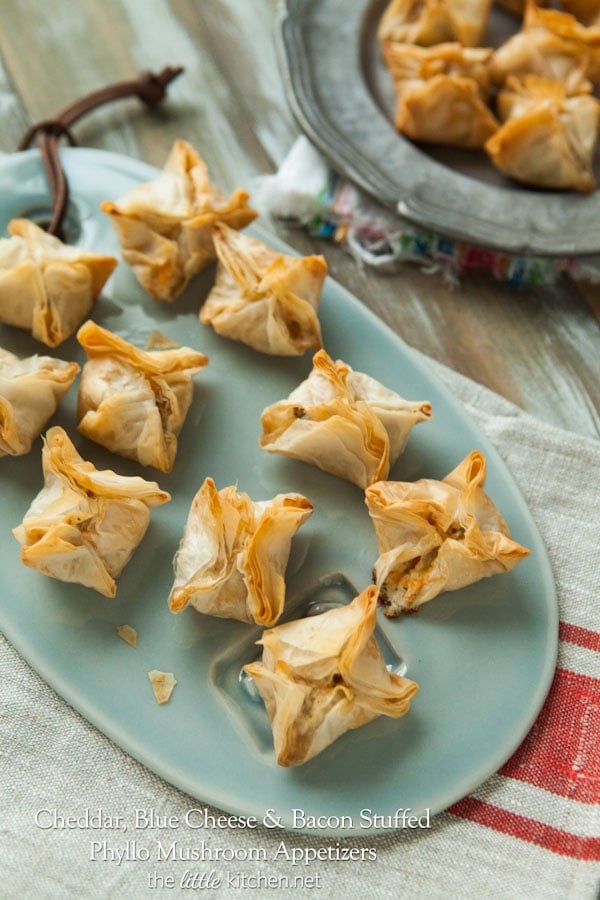 I'm full on party mode, you guys! These appetizers are so fun. I have to make a confession, this is only the second time I worked with phyllo dough and I'm totally addicted! I only recently started eating pork again last month and this is my first recipe with Bacon in it! 🙂 It's so good! But for vegetarians, this recipe is super good without the bacon, so you can leave them out too.
Do you like stuffed mushrooms? These are a different spin on those stuffed mushroom appetizers because they are stuffed and then stuffed inside phyllo dough. Let me take you through the steps.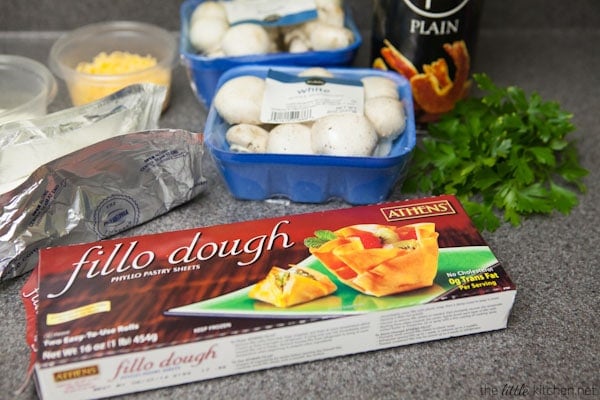 Always, gather your ingredients.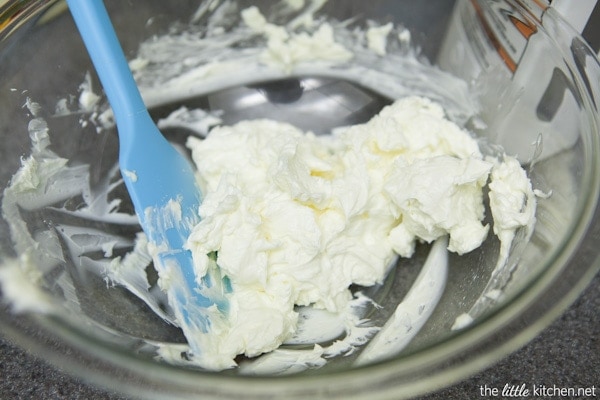 Using an electric hand mixer, mix the cream cheese and mayo. You need a hand mixer for this, trust me.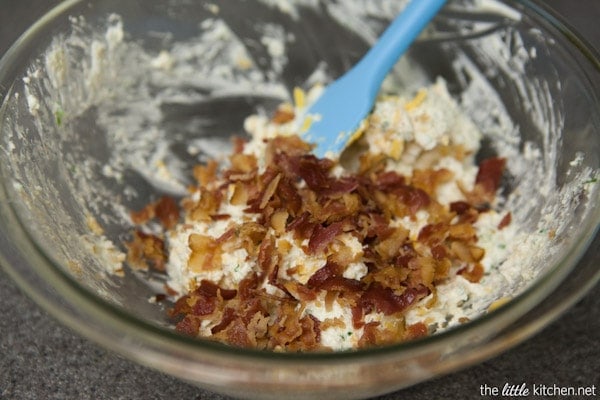 Mix all of the ingredients together.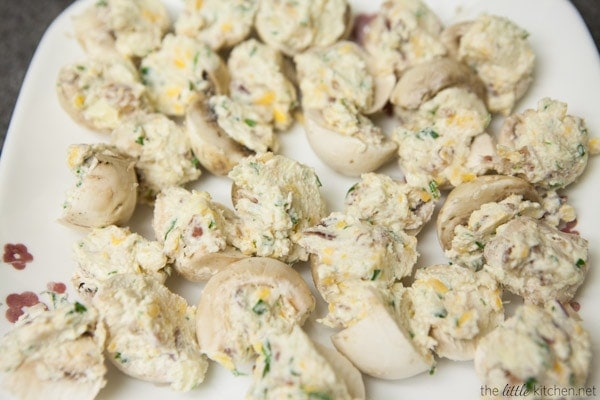 Then, stuff the mushrooms. If you have any large ones, you want to halve or quarter them. You want these appetizers to go in one or two bites and some of the mushrooms were way too big.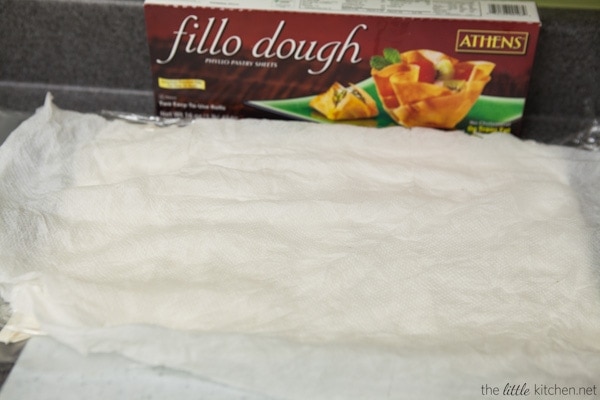 Next open your phyllo dough. You either want to thaw it on the counter for two hours or overnight in the fridge. Open the package and put the other package back into the fridge. Phyllo dough dries out fast so cover it was plastic wrap and a damp paper towel.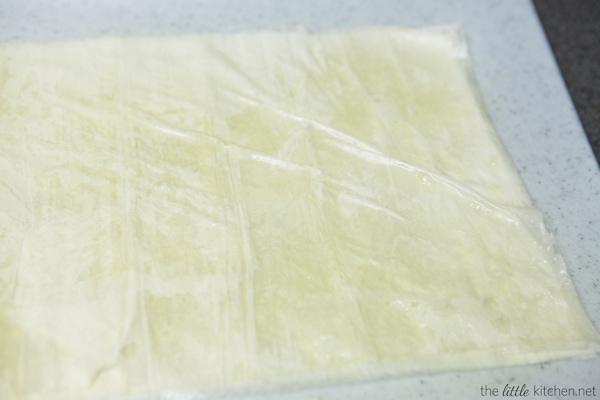 On a clean surface (like a cutting board), lay the first sheet down. Spray non-stick cooking spray lightly. Do this for five sheets total.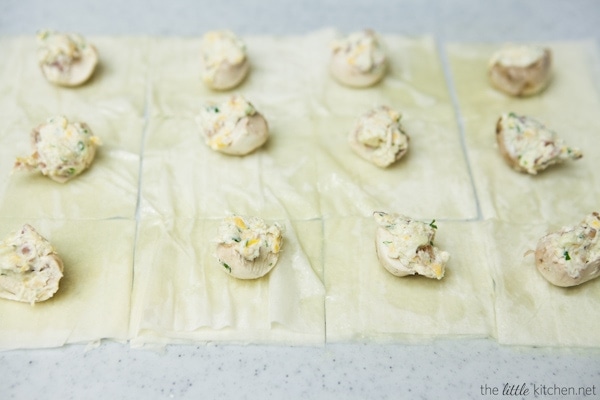 Then, put your stuffed mushrooms on top. I did 12 per 5 layer sheet set. Cut your pieces with a sharp knife.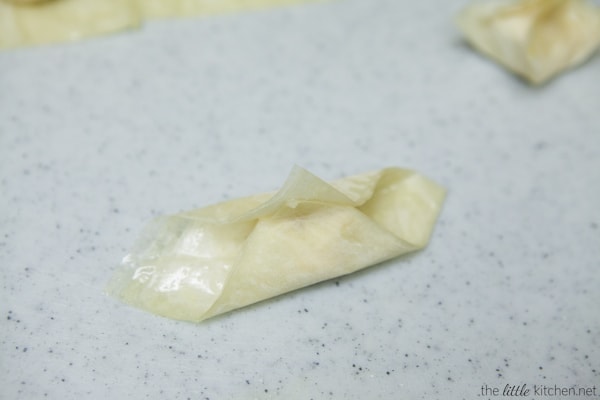 Fold up nice and pretty. Start with opposite corners and then do the other corners.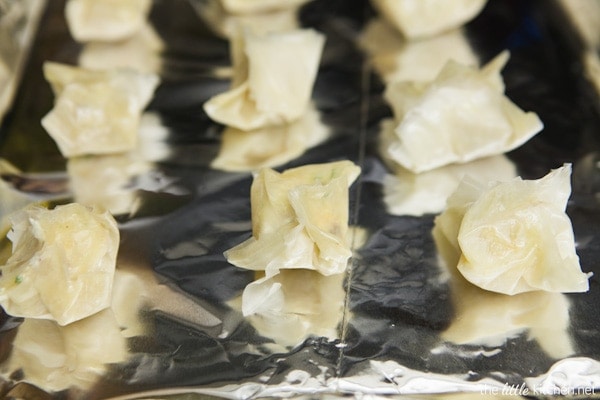 Bake them for about 20 minutes.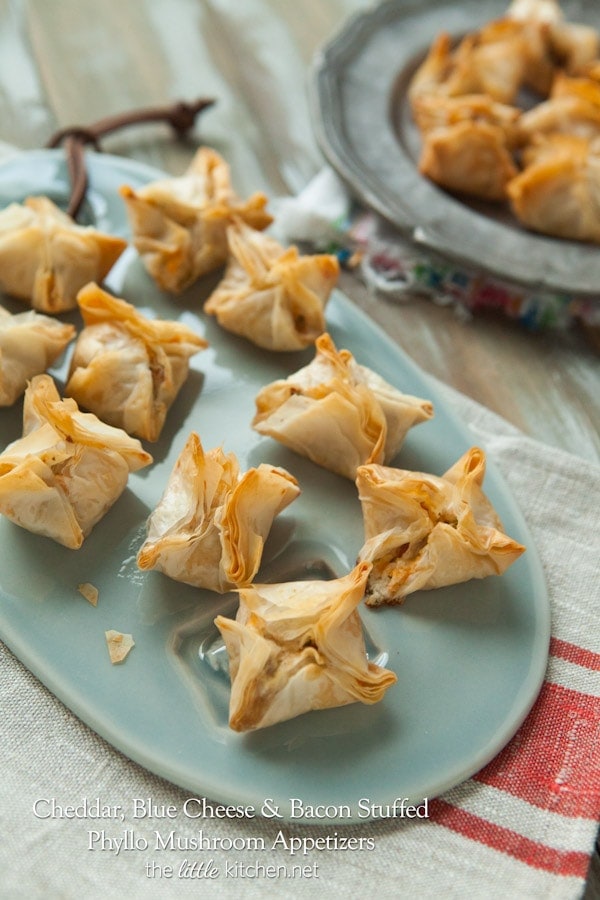 And you're golden! These take a little bit of prep but they are so worth it. Even better, you can put these together the day before. Put them in a container or on a plate lined with paper towels, wrap them up tight and refrigerate them overnight…so when guests come over, all you have to do is bake them!
They are super easy to make even if it takes a little bit of time to do. I know you and your guests will love these cheesy, lovely mushroom appetizers!
Recipe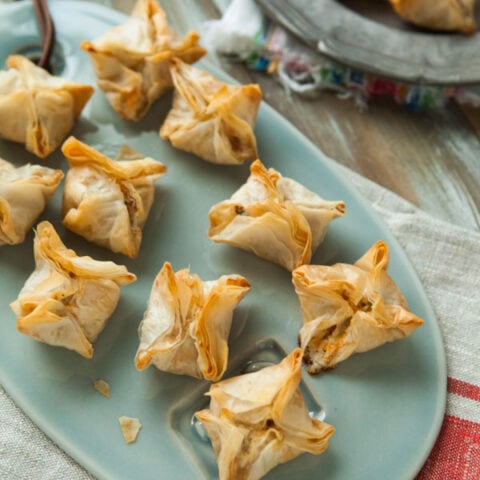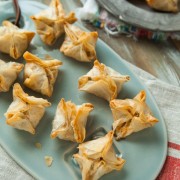 Print
Pin
Save
Cheddar, Blue Cheese and Bacon Stuffed Phyllo Mushroom Appetizers
Ingredients
Cheese & Bacon Filling
8

ounces

cream cheese

,

room temperature

3

Tablespoons

mayonnaise

2

Tablespoons

chopped fresh parsley

2

Tablespoons

plain breadcrumbs

2 to 3

ounces

blue cheese

,

room temperature

1/2

cup

sharp cheddar cheese

1/4

pound

bacon

,

about 5 slices, cooked and crumbled or chopped

salt & pepper

non-stick cooking spray

1/2

package of Athens Foods Phyllo Dough

,

thawed

1

pound

white button mushrooms

,

cleaned and stems removed

2 to 3

Tablespoons

butter

,

melted
Instructions
Heat oven to 375 degrees and line two baking sheets with foil.

Mix cream cheese and mayonnaise in a medium-sized bowl with an electric hand mixer for about 30 to 60 seconds. Add parsley and breadcrumbs and mix thoroughly with a rubber spatula. Add blue cheese and mix. Add cheddar cheese and mix. Add bacon and combine. Season to taste with salt and pepper. Fill each mushroom cap with the filling and set aside. Large mushrooms should be quartered or halved.

On a clean and dry cutting board or surface, lay out one sheet of phyllo dough. Be sure to cover the remaining phyllo dough with plastic wrap and a damp paper towel or they will dry out. Lightly sheet with non-stick cooking spray and lay the next sheet on top. Stack 5 sheets this way and spray the top sheet. Place twelve stuffed mushrooms evenly spaced out on the phyllo sheets. Cut even squares. Grab two opposite corners of one square and pull up, pushing up against the top of the mushroom. Grab the other two corners and tuck in to wrap up the mushroom. Brush each stuffed mushroom wrapped in phyllo with melted butter.

Bake for 18 to 20 minutes on 375 degrees. Remove using tongs or a spatula, place appetizers on a paper-towel lined plate. Allow to cool for at least 5 to 6 minutes before serving.
You can also get the recipe on Phyllo.com!
Disclosure: I partnered with Athens Foods for this post. I love working with them and always share with you only my personal opinions.