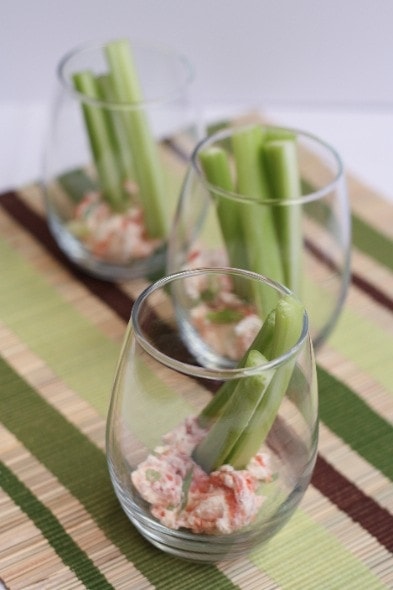 Last week, I shared with you the Meyer Lemon Mojitos recipe I developed for Duda Farm Fresh Foods for the PMA Fresh Summit Convention & Expo. Today, I'm sharing with you the other recipe I made for them.
I love easy appetizers for parties and for entertaining friends. I love Duda's Dandy Farm Fresh celery and I also love smoked salmon. This is completely inspired by cream cheese stuffed celery with smoked paprika. Have you ever had this appetizer?
It's really easy to make, just stuff celery "boats" with cream cheese and sprinkle with smoked paprika. My mother-in-law makes it all the time for the holidays as a quick & easy appetizer and my husband loves it. We like to make it and have it while we're cooking dinner.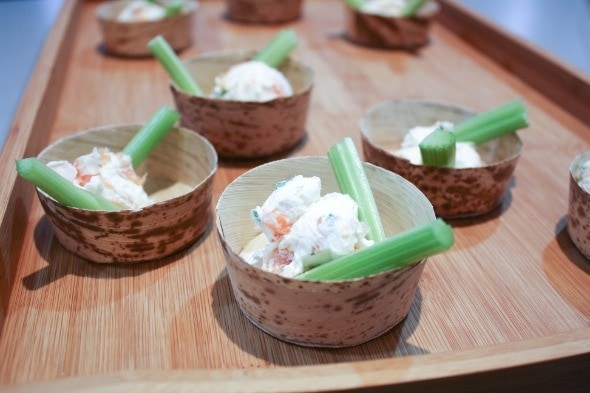 So why not kick up the smoked flavor and add smoked salmon? This is how we served them at the PMA Fresh Summit. You can serve them in individual cups…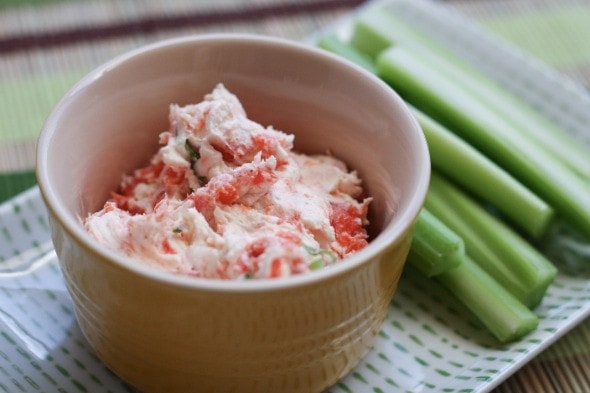 or as a dip with some celery sticks.
Another way to serve them is as a stuffed celery appetizer. Cut the celery stalks in thirds but don't cut them a second time (into sticks), keep them as celery boats. Stuff the celery using a butter knife or spoon. This can be done a few hours before your party. Put them back in the fridge when you're done but don't forget to remove them or the dip at least 10-15 minutes before serving. This ensures the cream cheese isn't too hard for dipping.
Just a note, the smoked salmon cream cheese dip looks a little different than the little individual cups we served at Fresh Summit because I made it with wild sockeye smoked salmon when I photographed the pictures. I actually prefer them with regular smoked salmon. The flavor is much better for this type of appetizer.
I'm definitely making these for a Thanksgiving appetizer for my family when we all meet up, I know they will love this! Do you have a favorite quick and easy appetizer? Does it involve fresh vegetables? I would love to hear all about it!
Recipe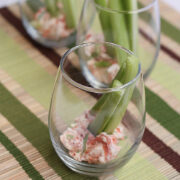 Print
Pin
Save
Celery and Smoked Salmon Cream Cheese Dip
An easy dip that you can serve with celery for a party or a quick get-together. The smoked salmon cream cheese is great on other things too!
Ingredients
8

oz.

package of cream cheese

,

allow to sit on the counter for at least 20 minutes

4

oz.

package of refrigerated smoked salmon

,

chopped

2

green onions

,

sliced thinly

pepper to taste

1/2

lemon

8

celery stalks

,

cut into thirds and cut into thirds long ways into sticks
Instructions
Add cream cheese, smoked salmon and green onions to a medium-sized mixing bowl. Mix together using a metal or wooden spoon ensuring the smoked salmon is evenly distributed throughout the cream cheese.

Add pepper to taste. Take the 1/2 lemon and squeeze twice over the mixture (making sure to not allow lemon seeds to fall in) and mix again.

Serve as a dip. Dip can be prepared the night before.
Cook's Notes:
This can also be served as stuffed celery. Do not cut into sticks and stuff the celery using a butter knife.

For this recipe, I prefer the plain smoked salmon you find in your grocer's refrigerated seafood section. I think it tasted much better than sockeye wild (smoked) salmon. Do not use the non-refrigerated smoked salmon products for this recipe.
Disclosure:  This is a sponsored post. You all know that my opinions expressed on The Little Kitchen are always my own!