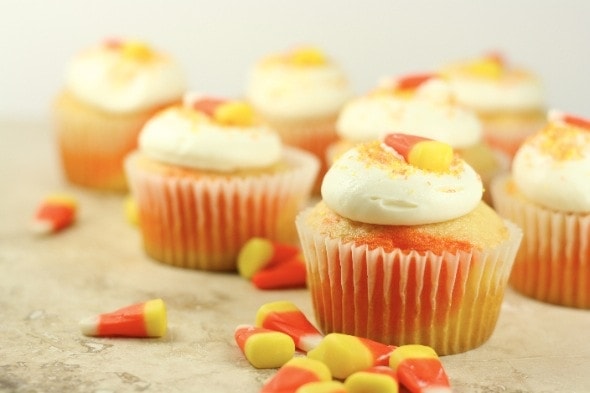 As I kid, I loved candy corn. Besides my favorite chocolate candies, candy corns that came in those small clear bags being dropped into my trick-or-treat bag was a huge treat. I saw a mini cupcake version of these Candy Corn Cupcakes in Pillsbury's latest magazine called Easy Halloween. I told Curtis, I have to make these!
I actually made these a few weeks ago when I made the Halloween Tombstone Cupcakes and couldn't wait to share these with you! I used McCormick's orange and yellow food color and it worked just fine.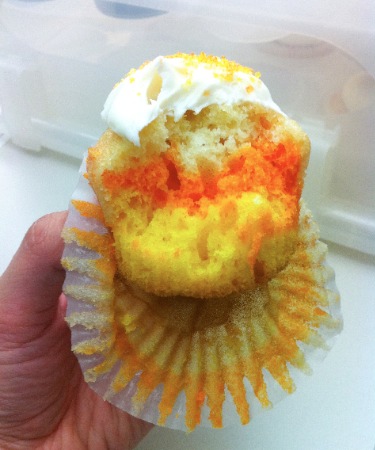 That's me eating one of these yummy cupcakes! If you have a favorite white cupcake recipe, feel free to use that. I went the easy route and used a cake mix which I do not have a problem doing whatsoever!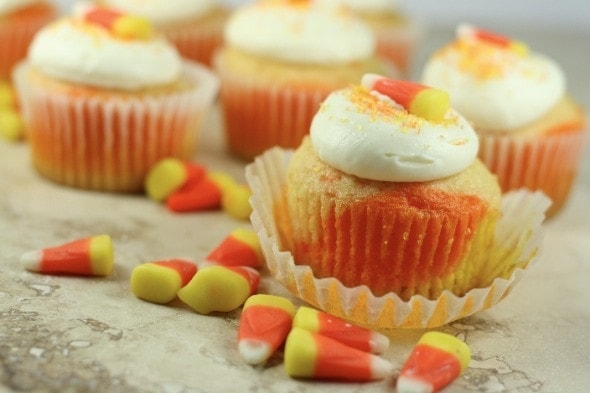 Looks kind of like a candy corn, doesn't it? Next time, I would use the instructions on the box that uses egg whites instead of whole eggs. I think I'll get a more pure white cake batter that way.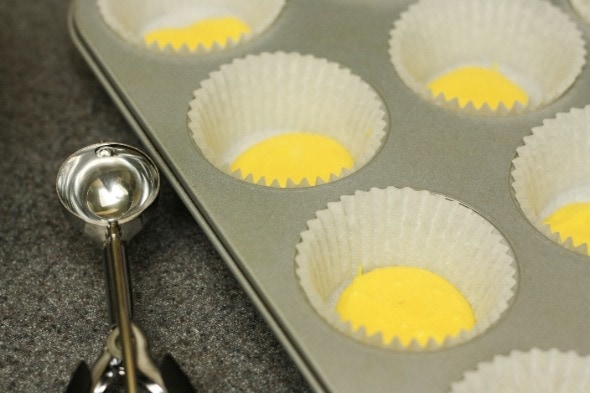 Using a 2 tsp (small) OXO cookie scoop, I first add the yellow cake batter to all of the cupcake liners first.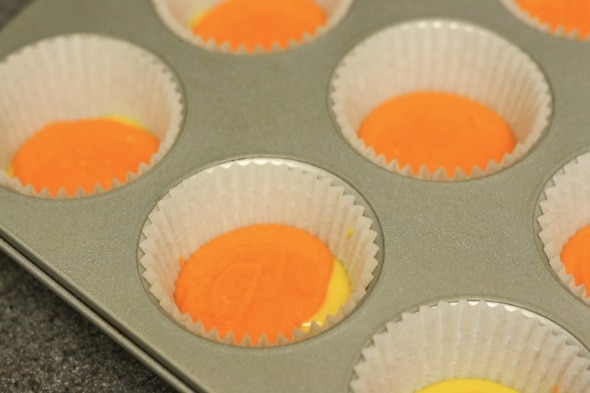 I rinse the cookie scoop and then add the orange cake batter to all of the cupcake liners.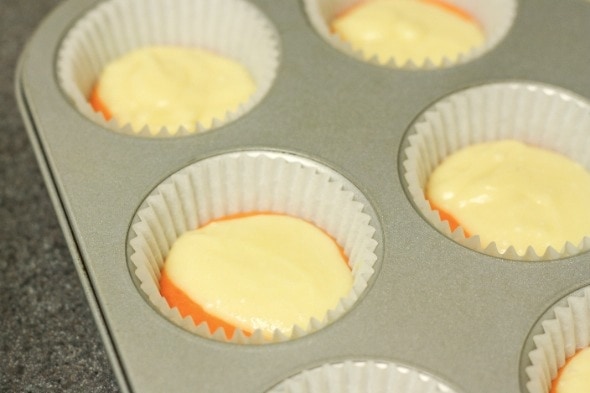 Rinse the cookie scoop again and then add the white cake mix on top, into all of the cupcake liners. It's that simple!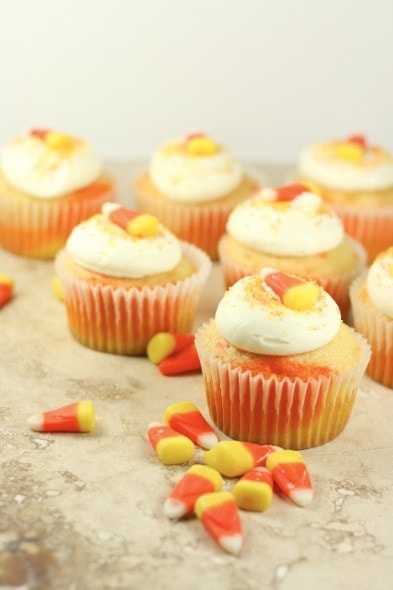 Recipe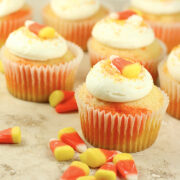 Print
Pin
Save
Candy Corn Cupcakes
This recipe is slightly adapted from Pillsbury's Easy Halloween magazine. The recipe was for mini cupcakes, making them regular sized gives you a bigger treat. So easy and wonderful for a Halloween get together.
Ingredients
1

box white cake mix with pudding

,

including ingredients for the cake mix

McCormick orange food color

McCormick yellow food color

24

white cupcake liners

2

containers

,

1 lb each creamy white ready-to-spread frosting

orange and yellow coarse sugar

24

pieces

of candy corn
Instructions
Preheat oven to 350 degrees and prepare cupcake pan with cupcake liners. Prepare white cake mix as instructed on the box.

Take 3 small mixing bowls and divide the cake batter between the three bowls, about 1 1/2 cups in each bowl. In one bowl, drop 3-4 drops of yellow food color and fold in. Add more drops and mix if needed. In a second bowl, drop 3-4 drops of orange food color and fold in. Add more drops and mix if needed.

Add 2 tsp of cupcake batter of each other color at a time to cupcake liners, layering in this order, yellow, orange then white.

Bake for 15-18 minutes or according to the directions on the box. After removing the cupcakes from the oven, allow cupcakes to cool in the cupcake pan for 5 minutes before removing and placing on a cooling rack. Allow cupcakes to further cool for at least 15 minutes before frosting.

Using a large tip and decorator bag, pipe frosting onto cupcakes. Mix together 2 Tbsp each of orange and yellow coarse sugar together and sprinkle on top of each cupcake along with 1 candy corn each.
Notes
Cook's Notes:
Next time, I will use the instructions on the box that says to use egg whites, this will ensure the white part is more of a pure white.
Be careful, when folding in the color, do not overmix the cake batter.
To make it easier, scoop each color at a time into all of the cupcake liners.
from Pillsbury's Easy Halloween magazine book