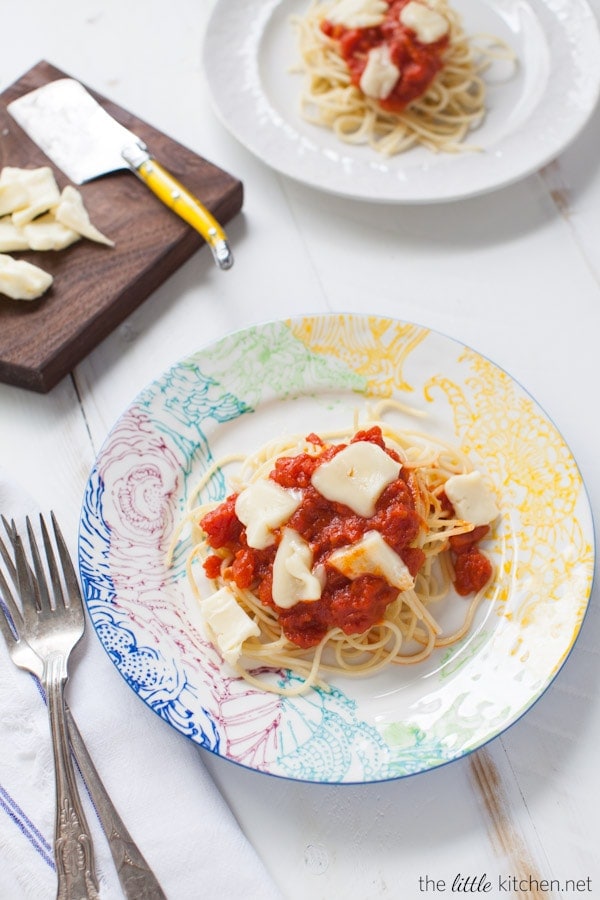 A while back I saw this recipe for a tomato sauce with butter and onion. Butter in a tomato sauce? I was intrigued and I had to try it. It's Marcella Hazan's tomato sauce recipe and it's pretty well known. If you don't know it, you need to know it now.
I have made it so many times since then. Because butter, k? I used to top it with parmesan cheese. A couple of months of I had tons of brie cheese leftover from a project and thought about adding to my spaghetti. Before you think I'm crazy, humor me for a few minutes. It's amazingly creamy when it melts and it's absolutely luxurious. I kept thinking to myself why hadn't I thought of this before?
I'm sure someone else has, I have no idea. If you like brie, you need to try this!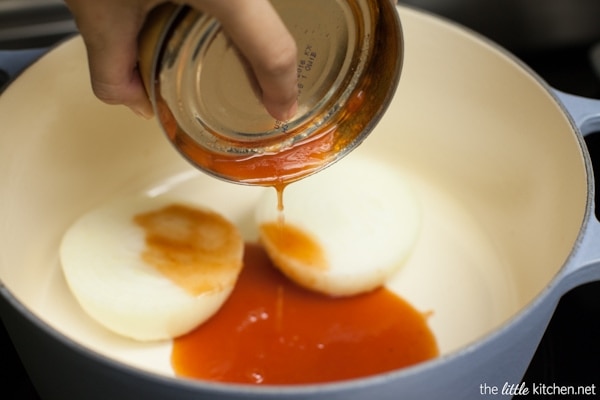 Place a peeled and halved onion into a French oven and pour the juices of your canned plum tomatoes.
Speaking of French ovens, I use my Le Creuset 5.5 Quart one at least five times a week. It lives on my stove because there's no reason to put it away because then I have to get it back out again! I love that there's even heating with the cast iron and since it's enamel, it's easy to clean.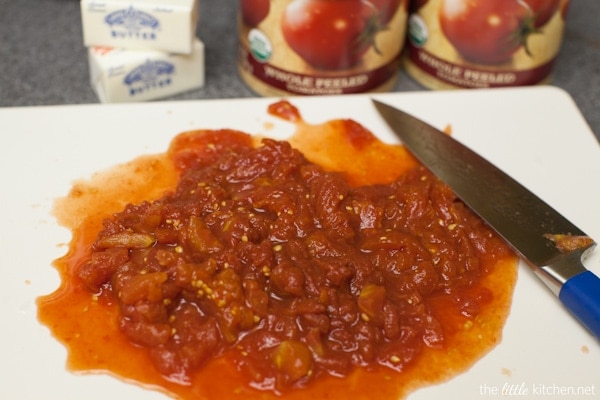 I chop up the tomatoes pretty small.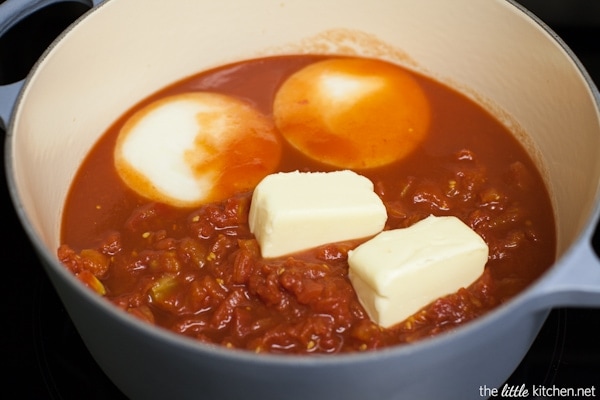 Add it all to the French oven along with the butter! Salted butter is really important, that way you don't even have to add salt to the sauce.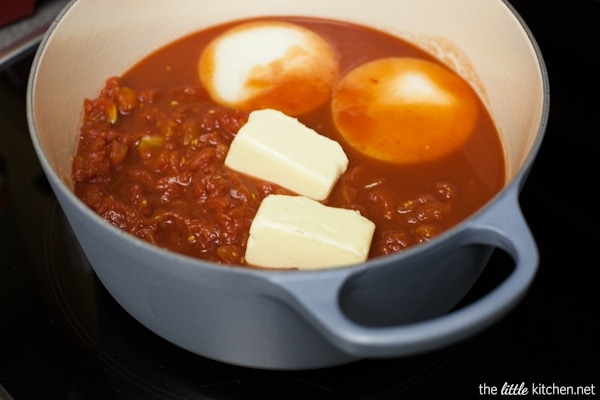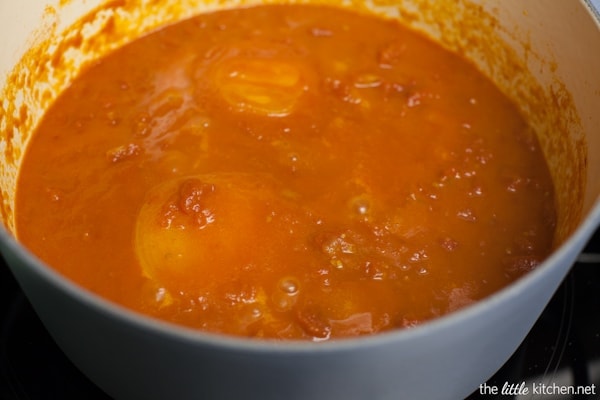 Cook it for 35 to 40 minutes.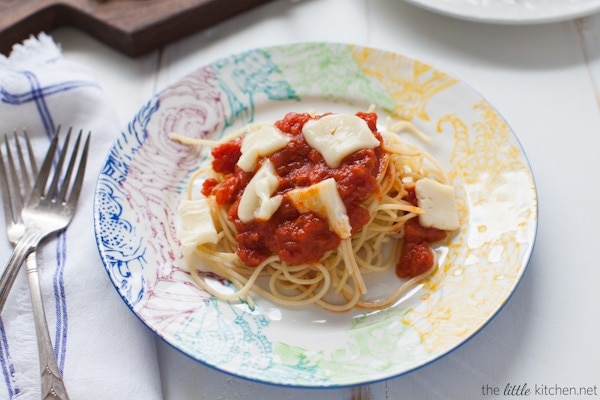 Serve with spaghetti or your favorite pasta and then top with brie…or if you're not feeling that brave, parmesan cheese. You'll love this sauce…it's really heaven!
Recipe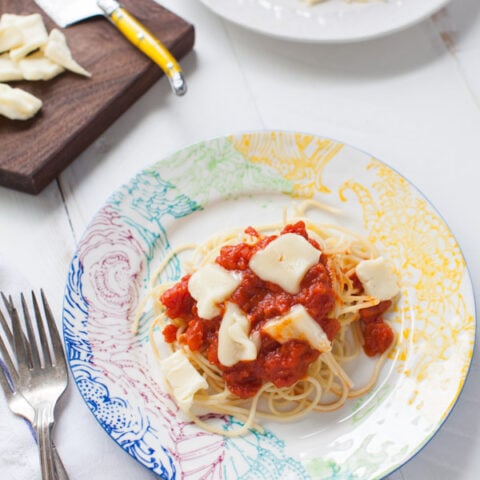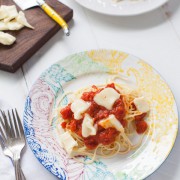 Print
Pin
Save
Butter & Onion Tomato Sauce Pasta with Brie Recipe
Ingredients
2 28-ounce cans whole peeled tomatoes, tomatoes roughly chopped with their juices

1/2

cup

salted butter

,

1 stick

1

large yellow onion

,

peeled and halved

1

pound

pasta

,

uncooked

brie cheese

,

rind removed and chopped
Instructions
Add chopped tomatoes, butter and onion to a large French oven. Turn heat to medium high and bring to a boil. Once it's boiling, reduce heat to low to medium low and simmer for 35 to 40 minutes, until there is no more flat floating (the butter is fully cooked into the tomatoes). Stir occasionally. Serve on top of al dente cooked pasta and brie cheese.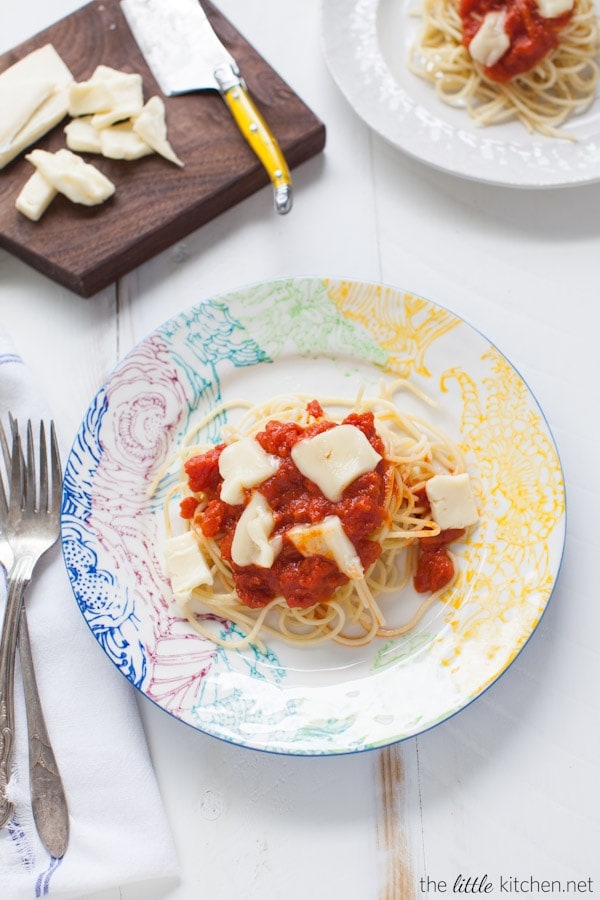 Disclosure: Le Creuset sent me a French oven for the purpose of review. I love their products and all opinions expressed in this post are my own. The links in this post contain affiliate links and I will receive a small commission if you make a purchase after clicking on my link. Thanks for your support!