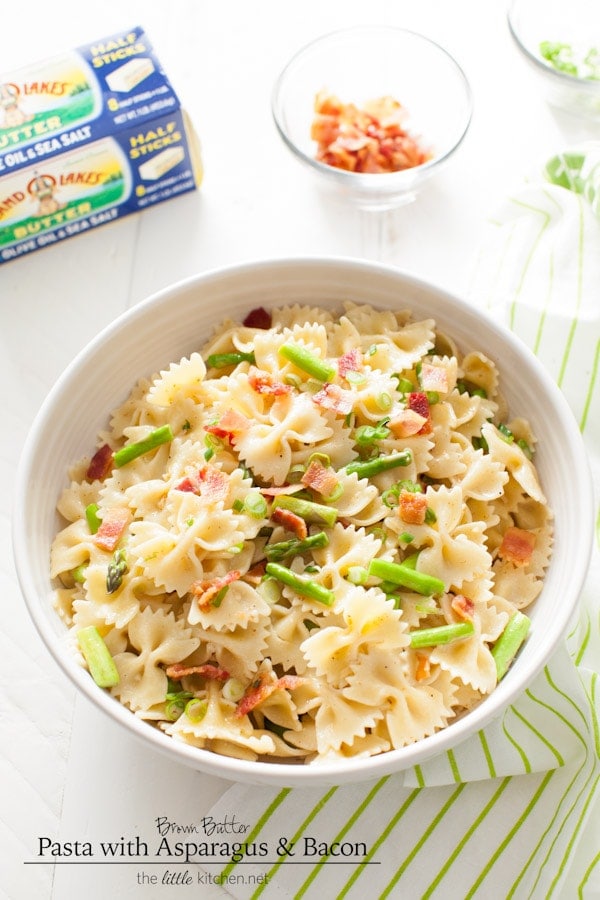 I'm so excited to be partnering with Land O Lakes for the third year in a row, as a Kitchen Conversations panelist. And even more excited to share with you their annual Pin a Meal. Give a Meal. program. The goal is to pin this recipe or other Land O'Lakes recipes from here. Each pin means 10 meals will be donated to Feeding America®. Their goal is to donate 3.5 million meals this year!
Be sure to check out the other Kitchen Conversations panelists recipes and pin theirs as well!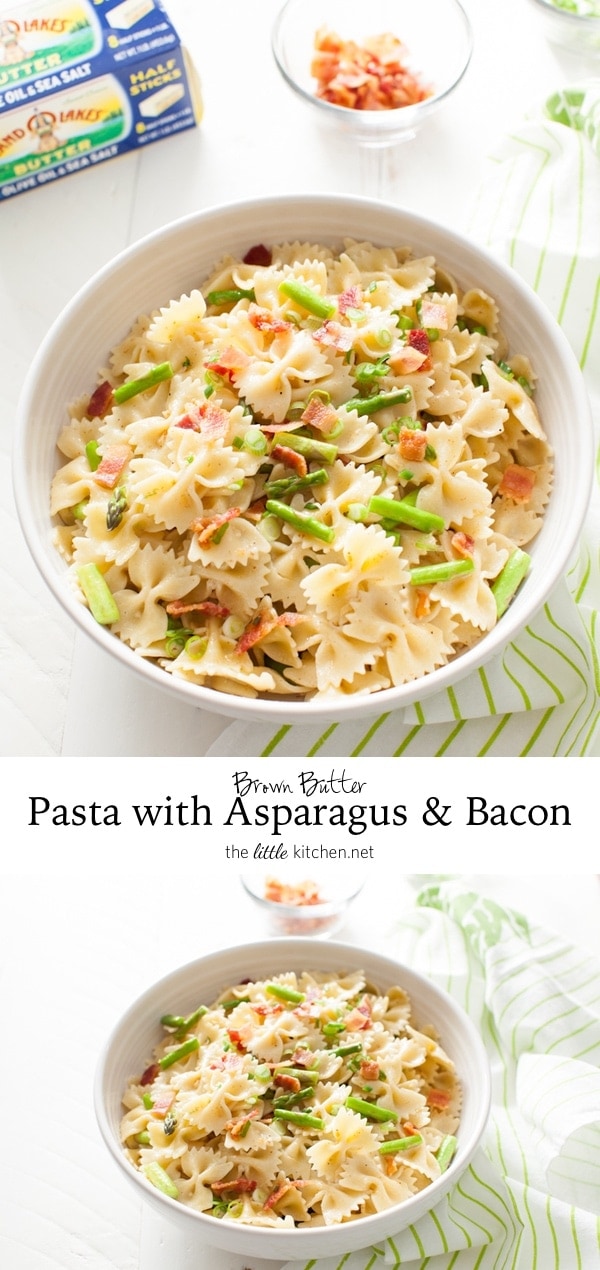 Last year, I had the wonderful opportunity to visit the Land O'Lakes headquarters and wrote about my experience. I learned that Land O'Lakes employees are passionate about what they do. I love working with them and am even more thrilled that they support Feeding America (helping to bring awareness to hunger in America and helping by donating meals). Please take one minute to pin this recipe on pinterest using the button below. If you don't have an account, you can sign up for a free account, it takes just a minute!



This year, Land O'Lakes is offering another fun way to support Pin A Meal. Give a Meal. — A live online cooking event with Ree, The Pioneer Woman, and Becky from the Land O'Lakes Test Kitchen. The event takes place on Wednesday, April 1 at 12pm, Eastern Time. Ree and Becky will be cooking their signature Feeding America® recipes live through an online video stream from Ree's ranch and answering your spring cooking and baking questions.
The best part? All day on April 1, for each recipe pinned from the Land O'Lakes Pin A Meal. Give A Meal board Land O'Lakes will double their Feeding America® donation from 10 meals per pin to 20 meals per pin. That's amazing!
Participating in the event is simple!
RSVP by clicking the link here: landolakes.com/livecookingevent. A reminder will be automatically added to your calendar and you'll be sent a confirmation email recapping all the event details.
At noon on April 1, return to the same link where you RSVP'd and tune in for the live cooking event.
Share your questions for Ree and Becky on Twitter using #PinAMeal and they may answer them live during the event.
All day on April 1, pin recipes included in the Land O'Lakes Pin A Meal. Give a Meal program to help double the amount of meal donations.
I'll be participating along with my fellow Kitchen Conversation panelists! We hope you will join us!
For this recipe, I was coming up with a fun spring side dish…and who doesn't love pasta right? And brown butter? I'm totally obsessed. Seriously. With asparagus and green onions, this feels like spring! You can sub out any vegetables too. To make this a complete meal, serve this pasta with some grilled chicken.
The bacon is totally optional. Of course to make this dish vegetarian, just omit the bacon.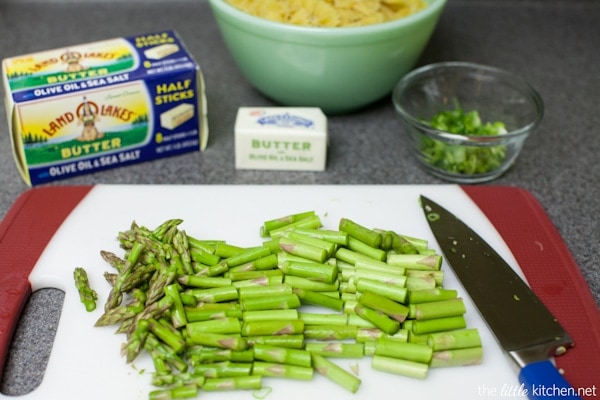 The first thing I do for this recipe is cook the bacon in the microwave and start a pot of salted water and bring it to a boil.
Prep the garlic, green onions and asparagus.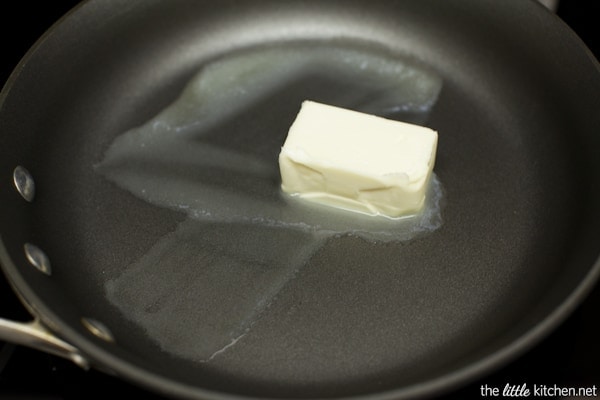 Melt one Land O Lakes® Butter with Olive Oil & Sea Salt in a nonstick skillet. Once it melts, set your timer for 5 minutes. That's about the amount of time it takes to brown the butter.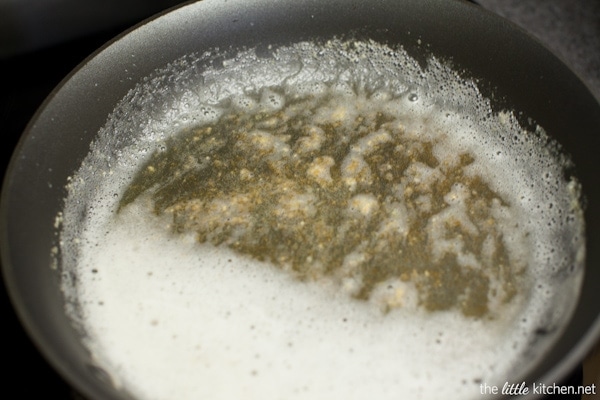 Once you see brown particles of butter in your pan, you have brown butter! Turn the heat off and add garlic and mix. Cook for about 30 seconds (you don't want to burn the garlic!).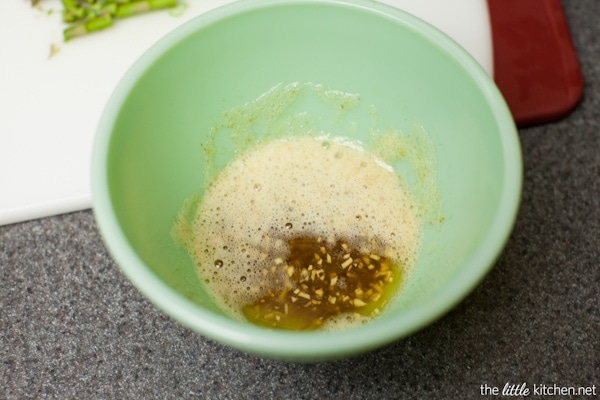 There's the garlic brown butter all done.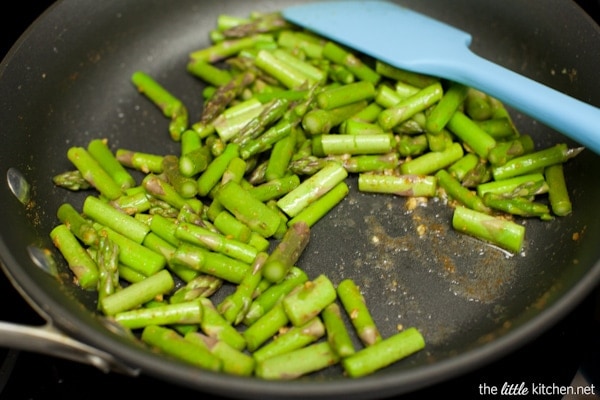 Add back 1 Tablespoon of brown butter to the pan and cook the asparagus for 2 minutes.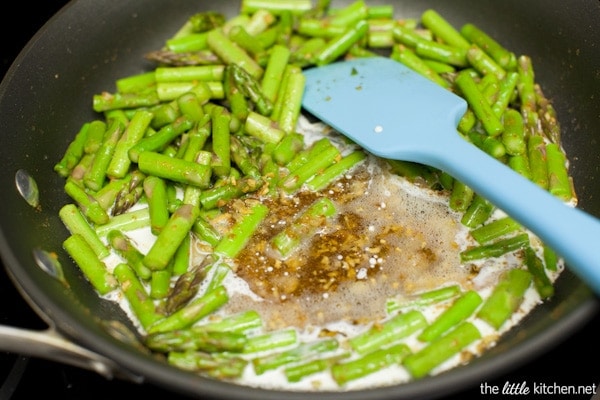 Add back the rest of the brown butter and add heavy cream. You need just a little bit for this recipe.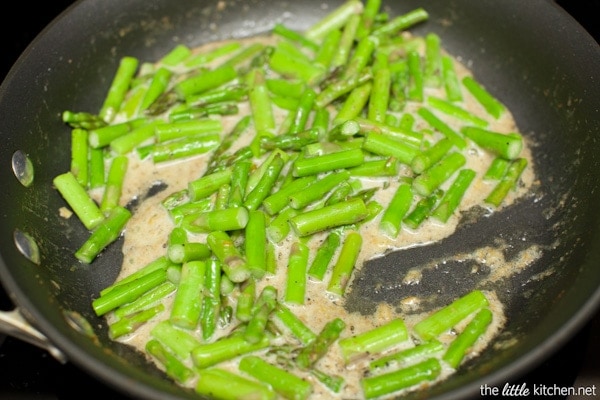 All ready to go into the pasta.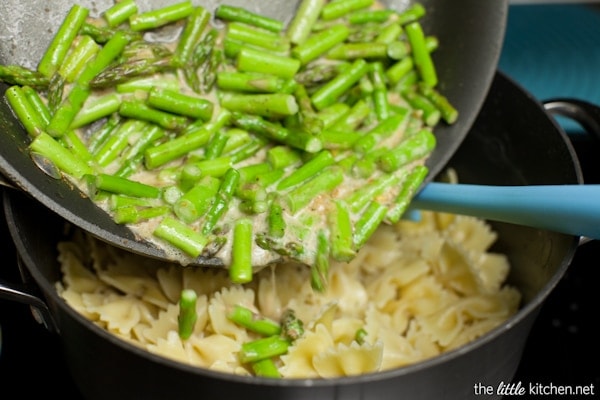 Mix really well. And serve with green onions and bacon.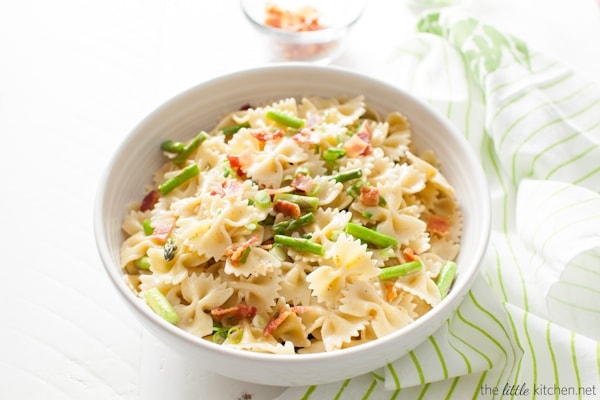 It's such a simple side dish and tastes amazing! I can't wait to make this for my Bunko friends soon. I hope you'll try this recipe soon and take a moment to help us below…
Pin a Meal. Give a Meal.
Every hungry family has a story to share. You can help change how those stories turn out.
Help us reach our goal of donating 3.5 million meals to Feeding America. You can pin this Brown Butter Pasta recipe or select your own to contribute 10 meals to Feeding America. You can pin this recipe or other recipes from Land O'Lakes to contribute even more meals. To learn more visit, www.landolakes.com/Pinameal.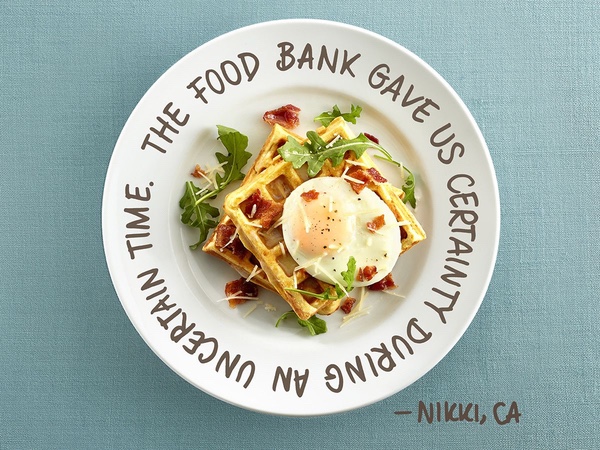 Don't forget to pin! You have until April 30, 2015. Help us reach the goal of 3.5 million meals.
Recipe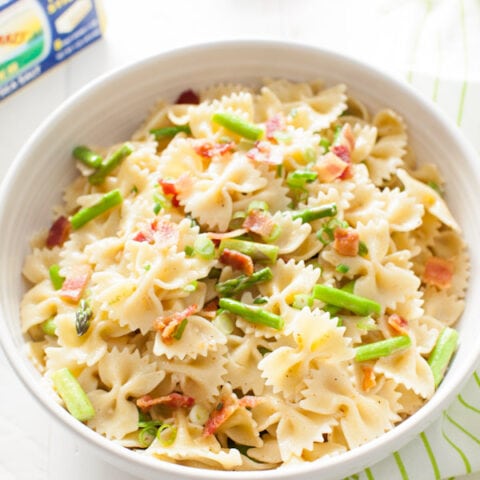 Print
Pin
Brown Butter Pasta with Asparagus & Bacon Recipe
Ingredients
4

slices

cooked bacon

,

chopped (optional)

12

ounces

uncooked bowtie pasta

1

Land O Lakes® Butter with Olive Oil & Sea Salt ,

1/4 cup

2

garlic cloves

,

minced

1/2

pound

asparagus

,

washed, trimmed and cut into bite-sized pieces

1

Tablespoon

heavy cream

2

green onions

,

sliced
Instructions
Cook bacon and chop up, if using.

Bring a pot of water with plenty of salt to a boil. Cook pasta according to instructions on the package. Drain pasta and add back to pot.

While the water is boiling, add butter to a nonstick skillet and cook on medium heat until browned, about 5 to 6 minutes. Once the butter is brown, working quickly, turn heat off and add garlic. Cook for 30 seconds. Remove butter and garlic and place in a clean bowl. Set aside.

Add 1 Tablespoon browned butter back to the skillet and turn heat to medium. Add asparagus and cook for 2 minutes. Add heavy cream to pan along with remaining brown butter. Cook for 2 more minutes. Season with salt and pepper. Pour asparagus and butter mixture over pasta in large pot.

Mix pasta together. Serve with green onions and bacon (optional).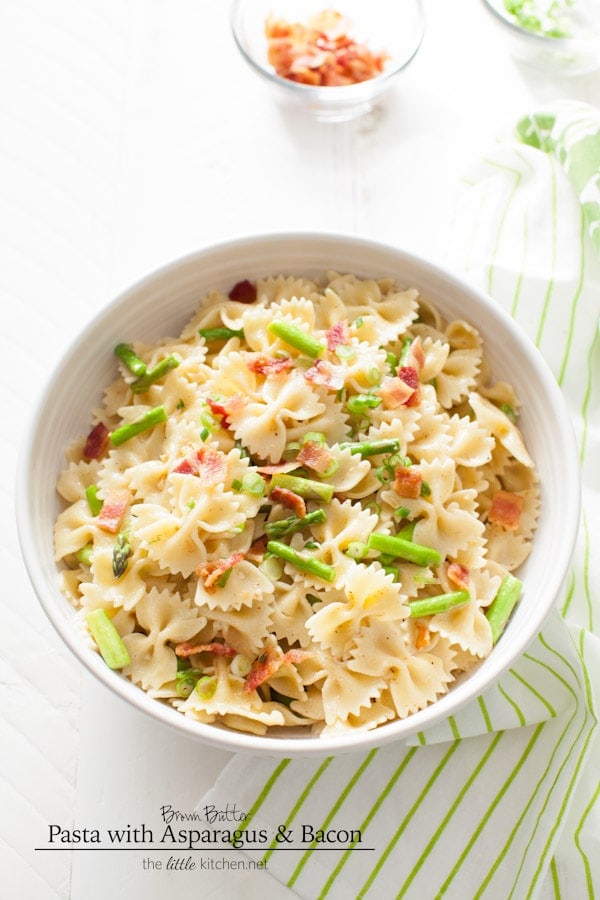 The Land O'Lakes Foundation will donate $1 to Feeding America® for every recipe pinned or repinned between March 2, 2015 and April 30, 2015. (Pin any Land O'Lakes recipe or submit any recipe pin at LandOLakes.com/pinameal). $1 helps provide 10 meals secured by Feeding America® on behalf of local member food banks. Land O'Lakes guarantees a minimum of 3.5 million meals (monetary equivalent of $350,000).

Disclosure: The Little Kitchen has partnered with Land O'Lakes for an exclusive endorsement of Land O Lakes® Butter for their Kitchen Conversation blogger program. This blog post is sponsored by Land O'Lakes.