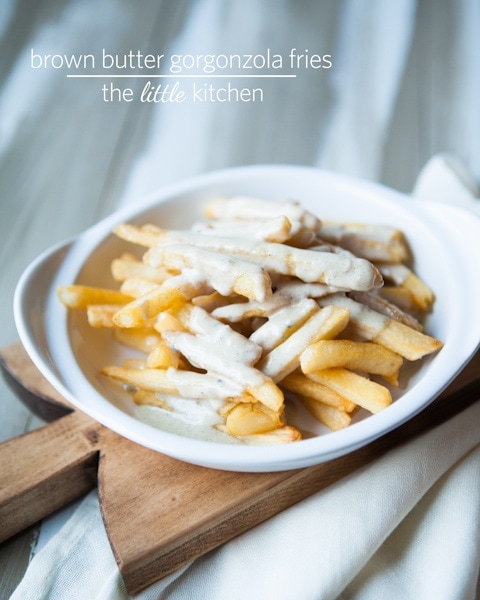 I had Gorgonzola Fries at Henry's Tavern in Portland, Oregon and these are my version of those fries and recently talked about them in my five things post about Portland eats. And someone asked for the recipe so I thought I would try my hand at it. I wasn't trying to make Henry's fries exactly but I think I came pretty close.
And you know about my obsession with brown butter…right? So let's go there.
It only takes a few minutes to get the brown butter gorgonzola sauce done…first brown the butter. Basically, melt it and allow it to brown just a little bit. You'll smell the nutty flavor but be careful not to burn it!
I used heavy cream and 2% milk so that the sauce wouldn't separate. With the gorgonzola and the addition of ground sage and cayenne, it's the perfect blend. You'll love these fries!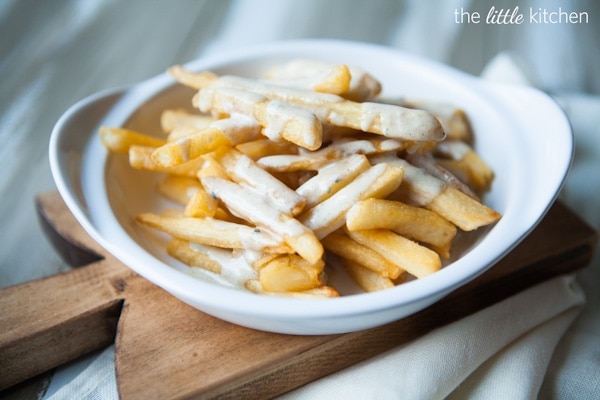 I'm excited to announce that I'm working with McCormick once again this season to share with you the Seasonal Seven Flavors, cinnamon, nutmeg, poultry seasoning, ginger, sage, vanilla, and peppermint, and most specifically I will be sharing recipes with sage in them.
Recipe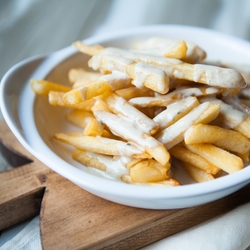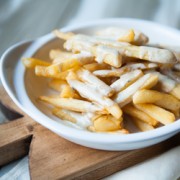 Print
Pin
Save
Brown Butter Gorgonzola Fries Recipe
I had Gorgonzola Fries at Henry's Tavern in Portland, Oregon and these are my version. The sauce is easy to make and once you have the fries baked or fried up, sit back and enjoy!
Ingredients
1

pound

frozen fries or homemade

,

prepared according to directions

1

Tablespoon

unsalted butter

1/4

cup

heavy cream

1/4

cup

2% milk

salt & pepper

1.5-2

ounces

gorgonzola cheese

1/8

teaspoon

ground sage

pinch

cayenne pepper
Instructions
how to brown butter
Add butter to a saucepan and heat at medium. Don't let it burn. Continually stir with a wooden spoon and remove from heat when butter particles start to brown, about 5-8 minutes.

Add heavy cream and continually stir, it may bubble a little. Allow to reduce for about 2-3 minutes. Add milk and also stir continuously. Add salt and pepper and cook for about 1-3 minutes. Add cheese and stir. Allow cheese to melt. Then, add sage and cayenne. Mix thoroughly, add salt and pepper if necessary.

Pour over fries and serve immediately.

Note: I like to bake my fries for this recipe. I put a little bit of vegetable oil on the foil before adding the fries and make sure to start the fries before starting the brown butter gorgonzola cream sauce.
Do you have a favorite recipe that includes sage? I would love to hear about it! If you have a linke, please share it!
Disclosure: This post is sponsored by McCormick. I love working with them and as always opinions are my own!