I love Boston. That is a town I love and I would love to move to. I love the food and I love visiting my sister, Connie. She is living in Boston while she attends law school and I have been meaning to visit her all year. When I found out that TECHmunch was coming to Boston, I scheduled my trip the same weekend.
First thing I did when I arrived was rush over to the offices of America's Test Kitchen where I met Steph, someone I have been tweeting with for a while now.


Beautiful, huh? They have tons of props, backgrounds and plates and bowls! It's a food stylists', food blogger's and food photographer's dream come true. Can I move in?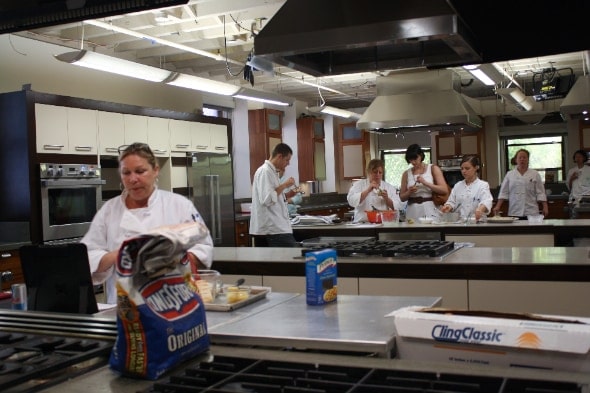 I learned so much about America's Test Kitchen. When they test out a new recipe, the first thing they do is try 5 different recipes and then merge or tweak from there. Each recipe is thoroughly tested by the test kitchen chefs and then tested at home by a panel of recipe testers. The panel of recipe testers must rate a recipe at a certain level before the recipe is even published in any of their publications. Do you watch America's Test Kitchen on PBS? Does this scene look familiar?
I loved learning all about ATK and seeing their kitchens. Tons of ovens and workspace but still it's a tight space they have but they manage to develop tons of recipes for their tv shows, books, magazines and websites.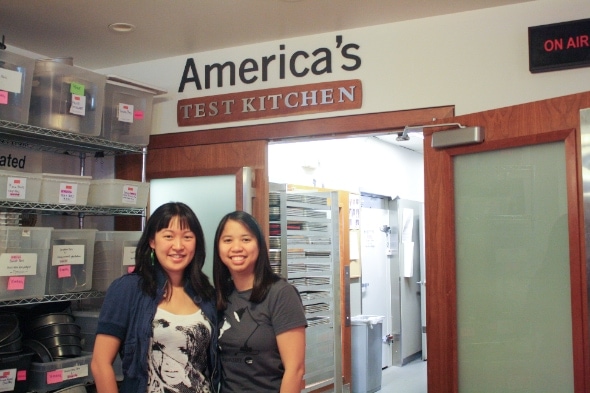 Thanks for the tour, Steph! And thank you to everyone at ATK who answered our questions and didn't mind us getting in their way while they were working hard.

After the tour, my sister and I were starving so we hopped over to Orinoco, a completely unassuming Venezuelan casual restaurant in Brookline, Mass. It was awesome. I love the salad with manchego cheese and empanadas made out of plaintain dough…genius! The empanadas were filled with mushrooms and manchego cheese. I wish I had some right now. My sister had an awesome steak sandwich, I had a taste. I love that bread! We had lunch for around $20, the food was great, the service was awesome and I wish I had an Orinoco location in Florida.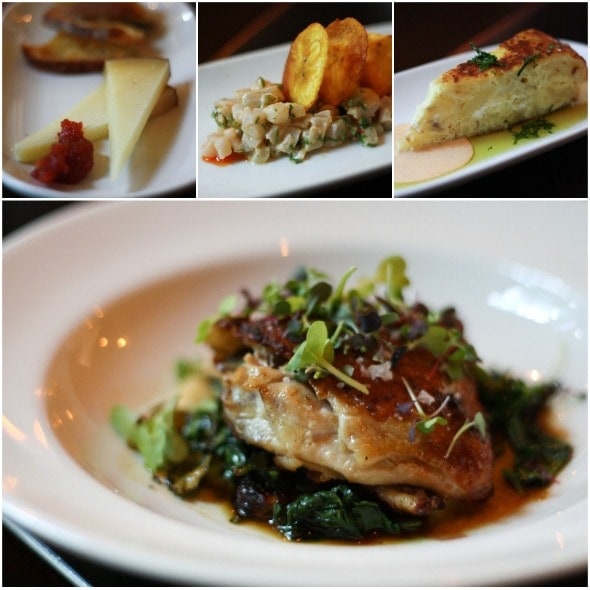 Dinner Friday night was at Tres Gatos (a tapas bar). I need to explain, my sister had planned to go to a southern-style restaurant but when we got off of the bus and she saw Tres Gatos, she said let's go here instead, it's really good. Me being the big planner and liking to stick to a plan and schedule was kind of hesitant. But I said oh alright. Later on, I gave my sister a hard time for not planning to go here initially.
We had the manchego cheese to start with, it came with this wonderful chutney. We had ceviche, P.E.I. mussels (which I didn't read correctly because it had chorizo in it), tortilla Espanola and a crispy confit of chicken thigh. The tortilla Espanola was amazing, a perfect medley of eggs and Yukon gold potatoes. It was a served with olive oil and an awesome pimento cheese ailoi. I must try to make this dish soon! The chicken was awesome, I told my sister, there's your veggies for tonight. 🙂 They even deboned the chicken which made it really easy to eat.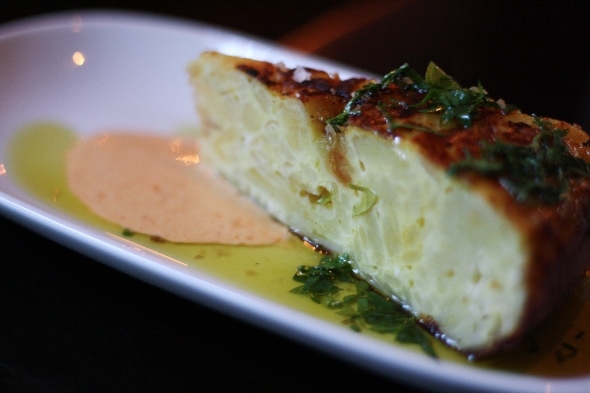 We ordered a second tortilla Espanola and savored it! Look at those potatoes and look how creamy it looks. I wish I had the courage to ask to talk to the chef and even ask for the recipe.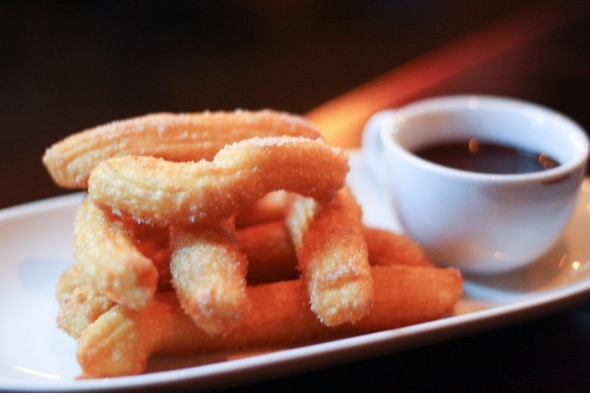 Then we had churros with chocolate sauce. These were amazingly fluffly and light, not too heavy and not greasy at all.
I'm a little embarrassed to say that we cursed while eating this food, cursed how good it was. I even told one of the managers roaming around how ******* good it was. I wish I could say I will return this weekend but if I'm ever in Jamaica Plain, Mass again, I'm there. The food was wonderful, my sister loved her sangria and for the amount of food and the quality, the price was great.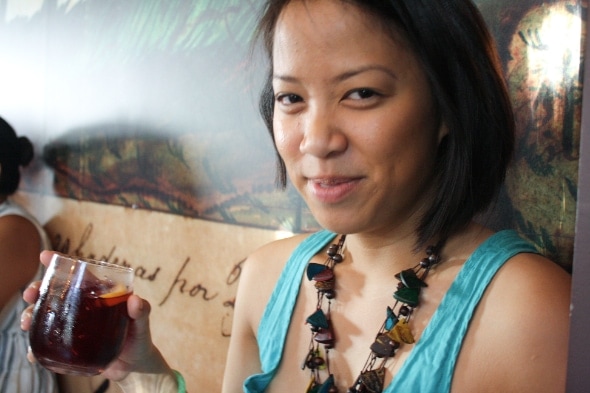 This is my baby sister, Connie. I love her beyond words, y'all. She is so awesome and is going to do amazing things after she graduates from law school. I hope she knows how proud of her I am.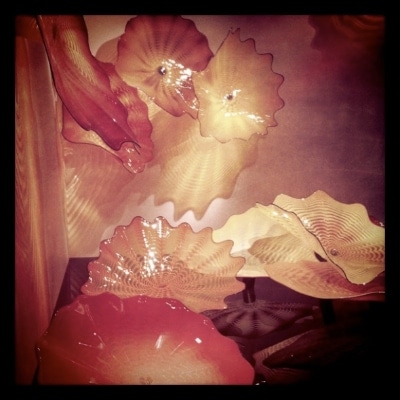 After dinner, we met up with my sister's friends at the Museum of Fine Arts and we viewed the Chihuly exhibit called Through the Looking Glass. What an amazing and inspiring exhibit, if it travels near you, please go and see it. Only thing for me was, I wish my husband was there to share the experience with me. I know he would have loved to see it too.
The next day, I made tiramisu and we got ready for a potluck with my sister's friends.


Can I say I love her friends? They are so sweet!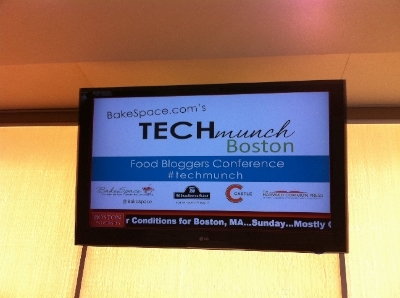 And the other reason I flew to Boston, another food blog conference. This has the been the year of the food blog conference for me, attending three and a fourth conference that was for all types of bloggers. Each one, I have had a blast. I really, really love meeting other food bloggers. Our passion for food and community is our common ground and I especially love meeting food bloggers I have been following online and on twitter.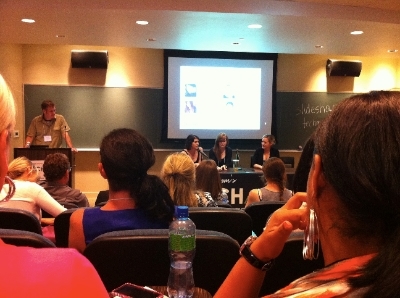 It was awesome to meet up with Jessica again (thanks for putting me on the spot 😀 ), meeting Jen (whom I have been following before I even started my own blog), Rachel, Nicole, Janice, Jacqueline and many others. It was cool to see Adam again and was so happy to get to meet Brian in person. I loved meeting Sally, I met her at Panera before TECHmunch even started by accident. She saw my camera and asked if I was attending the food blog conference, it was awesome to talk to her and I hope we stay in touch! Huge thanks to Babette and her crew for organizing a fun and informative event.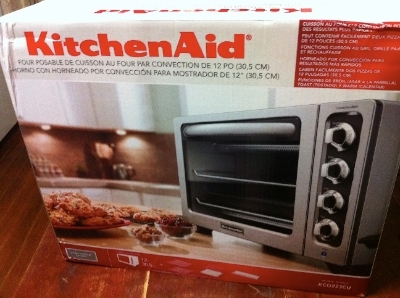 And I won, I won! I was so excited to win this convection countertop oven from KitchenAid, one of TECHmunch Boston's sponsors. I also won the Ultimate Rice Cooker cookbook from Harvard Common Press. I can't wait to have fun with the oven and the cookbook. 😀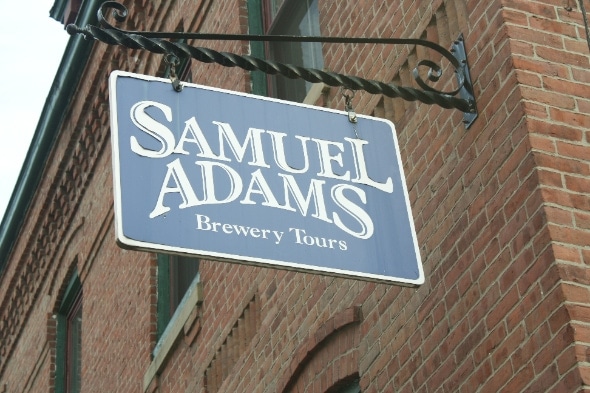 Last but not least, I trekked over to the brewery because the deal was I needed to replace Curtis' Boston Lager glass (his old one, the paint is fading on it). I think that's a fair trade!
I had a blast in Boston and I heard TECHmunch is returning to Boston next year. I would love to attend again if my sister is still in town.
On another note, I haven't posted in over a week, work has been a little busy and we have been preparing and reorganizing the little kitchen and the whole house for our first garage sale. I have been stressing and stressing and then this morning, I heard the news that one of my food blogger friends, Jennie, lost her husband tragically and suddenly this past Sunday. I stopped in my tracks, not knowing what to say or do and feeling helpless. There has been an outpouring of love for her on twitter because she is such a caring and loving person herself. I remembered being so excited to meet her in person just a few months ago and her telling these hilarious stories of her daughters.
Her husband was so young and they have two young daughters. Her words (on twitter or facebook) that 16 years spent together felt like 16 seconds really resonated with me. I immediately wanted to hug my husband and my pets. I can't imagine what she is going through and it gives me pause. I hugged my husband tonight. Hard. I didn't want to let go and I cried. I cried for Jennie, I cried for her daughters and I cried for all of the little girls and boys who lose their parents at too young of an age. All of the stress I was feeling and all of the things I was worrying about seemed to be so little, so inconsequential.
Disclosure: This trip wasn't sponsored and no one asked me to blog about it. 🙂 Excuse some of the iPhone photos and there's at least one affiliate link in this post.