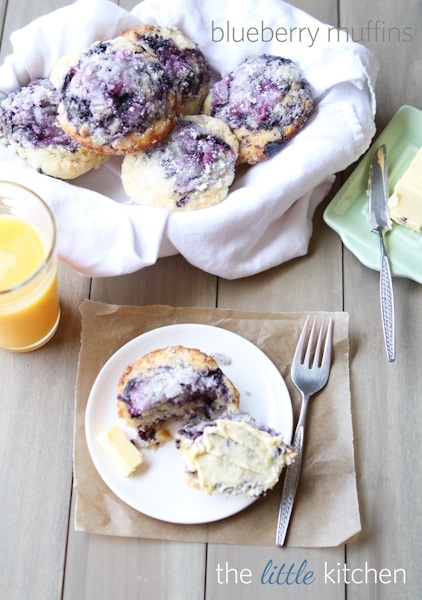 This past week was so crazy. I actually even decided I wasn't even going to post this week. It was my last week at my job, I recently got laid off. And with the 4th of July smack dab in the middle of the week (which means I ate why too much smoked beef brisket), I was going to give up on blogging for the week.
On Tuesday, I joined Katie and Christine for a chat about blueberries. It was really fun but I noticed my face was a little swollen. Stress? Not enough sleep? Not sure, I kind of ignored it. But my ears were getting itchy and my face too. Okay, you might be thinking TMI right about now. Well, on Thursday, I woke up and my face was splotchy. I started freaking out. I thought I was having an allergic reaction to some kind of food. I was thinking about how many of the blueberry muffins I had eaten (I swear I will not tell) and how much brisket I had eaten on Wednesday.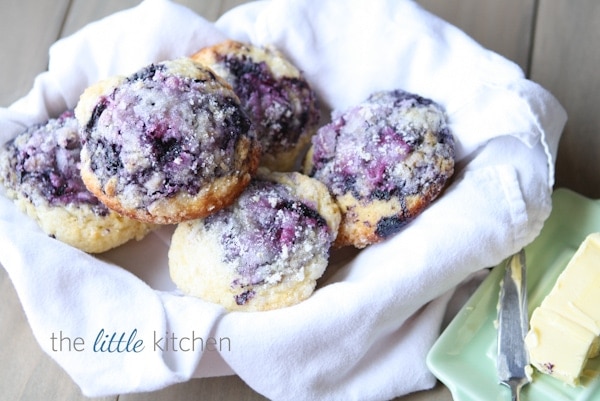 Food allergy? I was going through the scenarios and was thinking of all of the foods I would hate to be allergic of. All the while, Curtis kept telling me to call the allergy doctor and I promptly ignored him. I have so much to do, it's the end of the week and I have to pack for a trip. When I told my friend, Naomi, about my puffy face and itchy ears and she said she knew those symptoms all too well and then she promptly said she wouldn't respond to my emails or texts until I called the doctor. I started googling my symptoms and going crazy and then called the doctor.
So here comes the embarrassing part. After freaking out about the possibility of being allergic to wheat or eggs or even butter (is there such a thing as an allergy to butter), I finally make it to the doctor's office. I was holding my face while talking to the nurse in the exam room because if I didn't hold my face, I was going to scratch it off. It was so unbearable. The embarrassing part and good news is that I don't have a food allergy, I'm allergic to my acne cream! Whew! I have prescription oils and creams to use for the next two weeks and I have to now find sensitive face wash and moisturizers. Please recommend your favorites, I need help!
(In case the video, doesn't load for you, here's the link for Katie & Christine's show.)
Thank you to Katie and Christine for inviting me. Hope you enjoy our little conversation about blueberries and please ignore the puffy face and how I stumble all over myself introducing myself. And all of the recipes we talked about, the links are at the bottom of this post.
Have you ever done a Google+ hangout before? It's pretty neat and I have used it to video conference with several family members. Pretty cool thing that Katie and Christine are doing, utilizing tools on Google+ to create a video from a hangout. For more info about hangouts, visit Google+. Last week, they did a video on beer and the week before on bacon.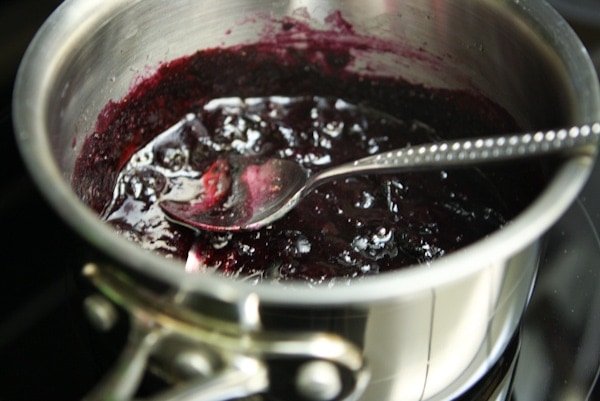 Let's talk about these blueberry muffins, as I mentioned in the video, I have been wanting to try this recipe for a couple of years ever since I saw it on America's Test Kitchen on PBS. I love that you make a blueberry jam with half of the blueberries.

Spray your muffin tin with nonstick cooking spray or a baking spray, I like Baker's Joy. Whisk the dry ingredients and when adding the wet ingredients, just fold them in to combine. As the instructions say, the batter will be lumpy and that's fine. Don't overmix.

I used my cookie scoop to put the batter in the muffin tins and then you scoop 1 tsp of the blueberry jam into the muffins and swirl them. Add the sugar and lemon zest topping and pop them into the oven.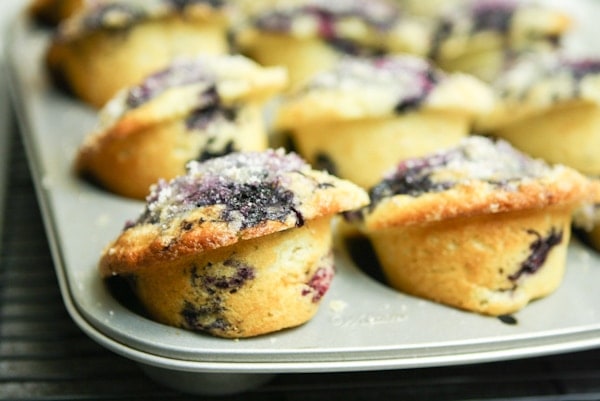 I let the muffins sit in the muffin tin for a few minutes and then I use a butter knife or offset spatula to remove them halfway, as pictured above, and cool a little bit longer.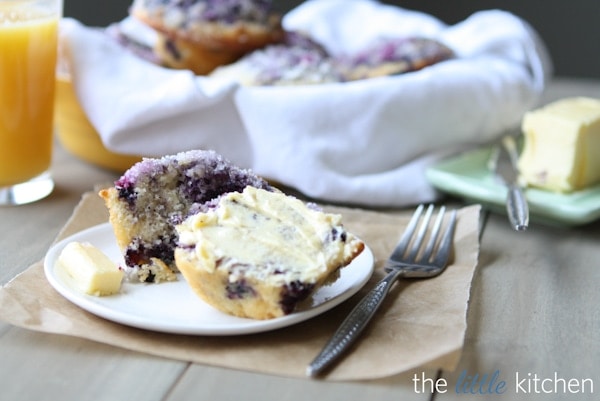 Serve them with softened butter and you're good to go. These are my new go-to blueberry muffin recipe, so good! The lemon zest on top along with the sugar tops off a great muffin recipe!
Recipe
Print
Pin
Save
Blueberry Muffins
Ingredients
Lemon Sugar Topping
1/3

cup

sugar

,

2 1/3 ounces

1 1/2

tsp

finely grated zest from 1 lemon
Muffins
Non-stick cooking or baking spray

,

I used Baker's Joy

2

cups

fresh blueberries

,

about 10 ounces, picked over

1 1/8

cups

sugar

,

8 ounces plus 1 tsp

2 1/2

cups

unbleached all-purpose flour

,

12 1/2 ounces

2 1/2

tsp

baking powder

1

tsp

table salt

2

large eggs

4

Tbsp

1/2 stick unsalted butter, melted and cooled slightly

1/4

cup

vegetable oil

1

cup

buttermilk

1 1/2

tsp

vanilla extract
Instructions
For the Topping:
Combine sugar and lemon zest in a small bowl and stir. Set aside.
For the Muffins:
If not already done, move oven rack to upper-middle position and heat oven to 425 degrees. Spray muffin tin with baking spray.

Add 1 cup blueberries and 1 teaspoon sugar to a small saucepan at medium heat. Allow to simmer and cook, mash the berries with the back of a spoon until all of the berries are broken down. Stir frequently and cook until mixture is thickened and reduced to about ¼ cup, about 6 minutes. Set aside and allow to cool to room temperature, about 15 to 20 minutes.

Add flour, baking powder, and salt to a large bowl and whisk.

To another bowl, add 1 1/8 cups sugar and eggs and whisk until thick, about 45 seconds. Whisk in butter and oil slowly, until combined. Then, whisk buttermilk and vanilla in, until combined.

Using rubber spatula or a wooden spoon, fold in egg mixture and remaining cup blueberries into flour mixture until just moistened. (Do not overmix. The batter will be lumpy and that's fine.)

Using an ice cream scoop or cookie scoop, add batter evenly to each of the muffin cups. The muffin cups will be full. Take one teaspoon of the cooled blueberry jam and add to the top of each mound of batter. Using a chopstick or skewer, swirl the jam into the batter a few times. (Cook's Illustrated says to use figure eight motions.)

Add the lemon-sugar topping evenly over all of the muffins.

Bake the muffins until they are just about gold on top, about 17-19 minutes. Halfway through the baking time, be sure to rotate the muffin tin. Allow muffins to cool in the muffin tin for about 2-3 minutes. Using a butter knife or offset spatula, remove the muffins from the tin and allow them to rest at an angle. Cool for another 5 minutes and place on a cooling rack. Serve with softened butter.

These muffins can be stored in a zippered plastic bag for 2-3 days.
Fun fact about blueberries I rattled off near the end of the video are from Sunnyridge Farms.
Here are the recipes we mentioned in the video:
Blueberry Hand Pies
Blueberry Frozen Yogurt
Blueberry Granola Cereal
Coconut Lime Berry Cake
White Chocolate Bark with Blueberries
Blueberry Pancake Oatmeal
Blueberry Slushy with Mango Wine
Triple Berry Kale Salad
Blueberry Balsamic Pork Chops
Blueberry Breakfast Smoothie
Blueberry Corn Muffins
Pork Tenderloin with Blueberry Bacon BBQ Sauce
Other blueberry recipes:
Blueberry Basil Preserves
Lemon-Blueberry Pancakes
Frost Bite Mocktail
Do you have any blueberry recipe favorites? I would love to hear about them.