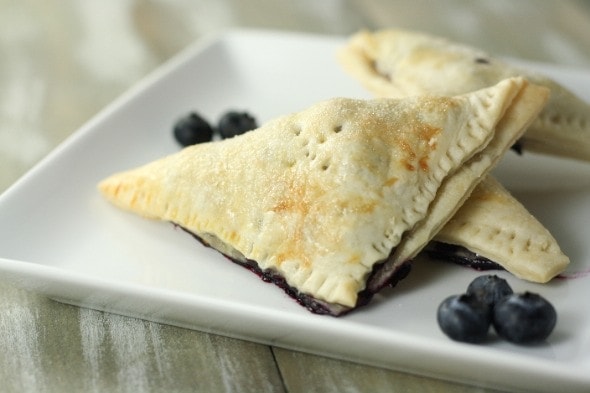 I'm a huge creature of habit so there's a sequence of events that happen in my kitchen. When I make the whole chicken in a slow cooker recipe, I use the leftover chicken within a week to make chicken pot pies and then the leftover pie dough to make these wonderfully simple blueberry hand pies. You can't get any simpler than this and I love that I'm not wasting anything!
I love having them as a dessert or even for a breakfast snack.
You can make these without using leftover pie dough but when using a full box of pie dough, use 1 1/2 cups of blueberries (fresh or frozen) with 2 Tbsp of sugar for your filling. Also, I found that if you aren't using re-rolled pie dough, I would roll out the fresh dough out a few times before using it to make your hand pies, otherwise the pies will be translucent.

On the left, is what the dough looks like after I cut out the chicken pot pie crusts. I cut out a 4-5 inch square. Fill them with the blueberry mixture. Be sure to prick holes on top before doing an egg wash and topping with sugar.

I love when the blueberries burst and leak out a little. Looks yummy. I don't think these need to look the least bit perfect. Sometimes I will put some egg on the dough before sealing, sometimes I don't. Competely up to you.
Serve them a few minutes out of the oven or the next morning for breakfast. They taste great either way. I store them in zippered plastic bags and they are good for a couple of days.
Recipe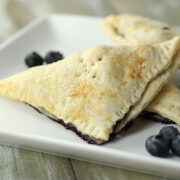 Print
Pin
Save
(Quick) Blueberry Hand Pies
Ingredients
Leftover pie dough or 1 pie crust package

,

2 pie crusts

3/4

cup

fresh or frozen blueberries (or 1 1/2 cup blueberries if using 2 whole pie crusts)

1

Tbsp

sugar

,

or 2 Tbsp sugar, more sugar to top the pies

1

egg

,

beaten
Instructions
Preheat oven to 350 degrees. Prepare a baking sheet with foil on it, be sure to spray the foil with baking spray.

Mix blueberries together with sugar (look at measurement in the ingredient listing) in a small or medium sized bowl. Set aside.

Whether the pie dough is leftover or packaged pie crust, mold the dough into a square shape and roll out to about 1/8 inch think.

Cut into 4 or 5 inch squares. Add a little bit of the blueberry sugar mixture into the middle of the squares. Be careful not to overfill them!

If you choose, add egg wash to the edges of two adjacent sides. Then, take one corner and fold over to meet the other corner, creating a triangle. Using the tines of a fork, push down on the edges to create a crease. Using the fork, prick holes on top of the hand pie, twice. Brush an egg wash over it and sprinkle sugar on top.

Reroll leftover dough from cutting and/or 2nd pie crust until you have used up your dough and blueberries and repeat the above steps for each pie.

Bake for 15-18 minutes or until golden brown.