Note: I recently put together a video on how to do these beautiful swirled cupcakes. Check it out!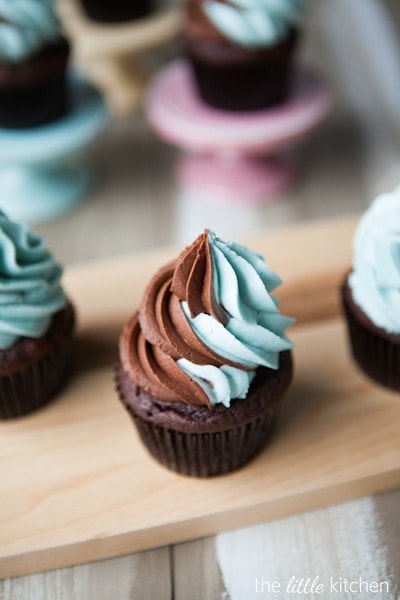 Recently, I traveled to Detroit, Michigan to learn all about the new Buick Encore. It's a brand new model that Buick is releasing in 2013 and as part of the promotion, they invited 10 bloggers from different genres to participate in the Buick Encore's Pinboard to Dashboard program.
Basically, we create a Pinterest pinboard to inspire the look of an actual Buick Encore – from the interior and exterior colors and even show where we would take the car, what we would listen to while driving it and who we would bring with us.
I was thrilled to be asked and of course had a blast! I met some great bloggers, Michael, Shannon and Katie (I love their blogs!). We learned all about the Buick Encore and we had amazing BBQ.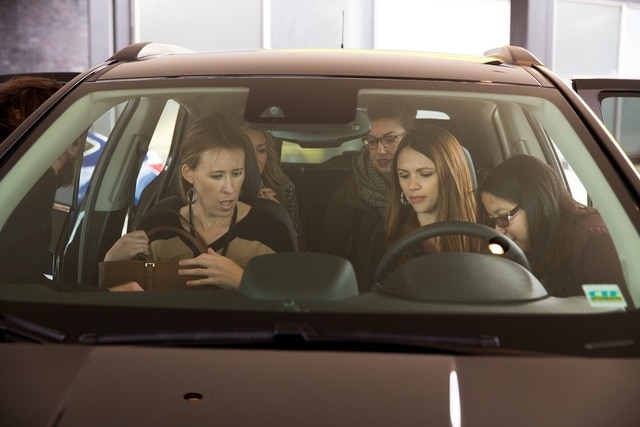 I learned a lot about Buick and the new Encore and even got to see it!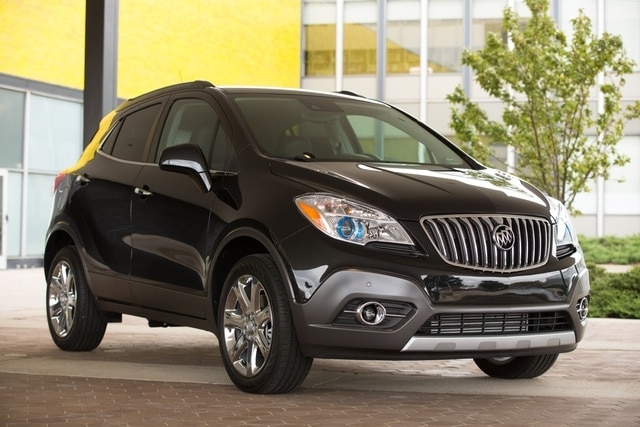 The Buick Encore is a crossover SUV, smaller than the Enclave and fits 5 passengers comfortably. When it's released, it will be the smallest crossover and I call it affordable luxury. Buick is not your grandparents' car, they have come a long way in the last 10 years. Their cars are comfortable, full of quality and even style.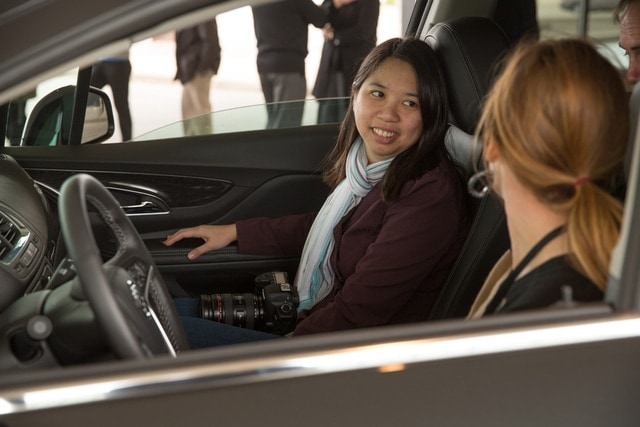 It was really cold so a few of us piled into the cars and took advantage of the seat warmers! We were one of the few to actually get to see the actual Buick Encore…it's actually not in production yet.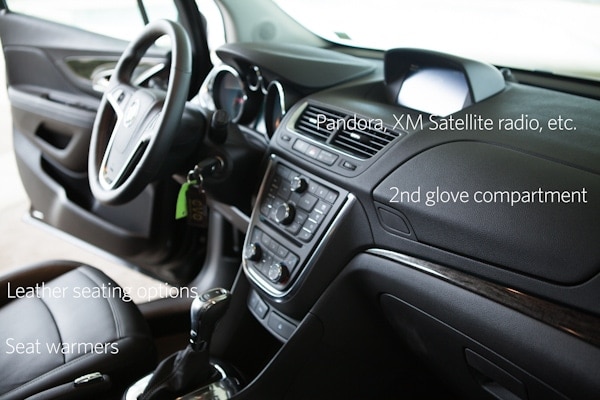 Some of my favorite features of the Buick Encore…I love the second glove compartment. I love the music choices and the little screen. You can control the radio on the steering wheel too.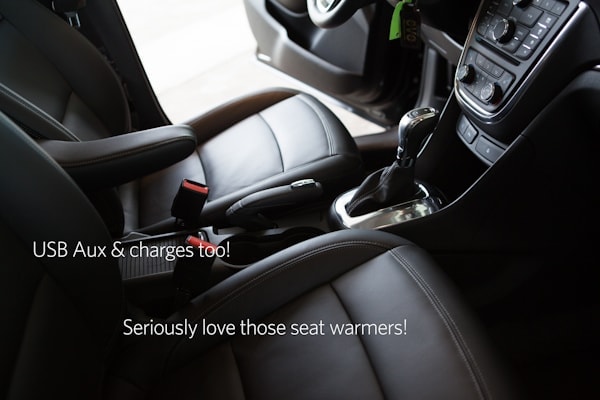 There's a center console where you can plug in your iPhone to connect it to the audio in the car and even charge it. Of course, other phones not just iPhones, it's a USB connector.
I also learned that every Buick has IntelliLink features to let you connect to your phone via Bluetooth…talk and make calls hands-free. And connect more than one phone to your Buick too!
So when thinking about how I would like my dream Buick Encore to look like…of course I found inspiration in food. And destinations that I want to take it to…all has to do with food.

I really really love blue, as you know from visiting my site. I also love the combination of chocolate espresso colors with blue. It's a really popular wedding cake color combination.
How to make Blue and Chocolate Swirl Cupcakes
I used Wilton's chocolate buttercream icing recipe and my favorite buttercream icing recipe. First add 12-inch decorator (piping) bags into two cups. This makes it easier to get the icing into them. Measure out 1 cup of each frosting and add to the bags using an offset spatula.
Remove the icing bags from the cups and squeeze the icing all the way to the small end of the bag. Tie off the bags with rubber bands and snip the ends – be sure to cut them both the same size.
Then, set up your large 16-inch decorator bag with a large cupcake tip and add both bags to it. Make sure both bags are lined up and to the frosting tip. And pipe as you usually would, be sure to squeeze icing down to the opening from the top and apply even pressure to both frostings.
You can do this with chocolate and any other color such as pink or two completely different colors…the sky's the limit!
Updated: Here's a video, I later made that has pink & chocolate swirled frosting!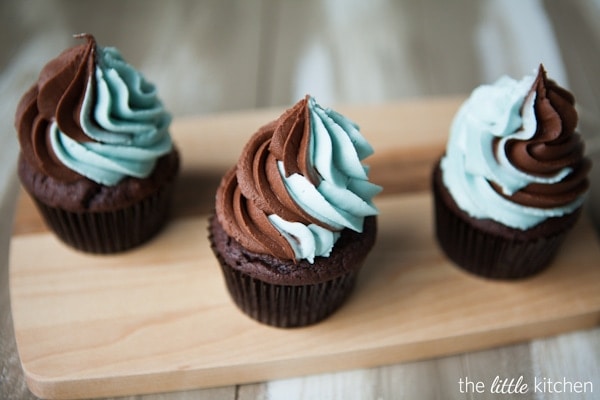 So there's my inspiration and color combination for my dream Buick Encore. Blue and Chocolate! I would love this wood for a trim inside the car. Chocolate leather seats would be perfect…since we will be taking the dogs along with us, it'll be easier to clean the dog hair.
My ultimate feature would be to able to control the reusable shopping bags we all have and they just take up the whole trunk! For the exterior, I would love to have a light blue color.
As to who would I take with me in my Buick Encore? I would take my husband and my dogs for a long road trip. Our dream has always been to drive down the Pacific Coast Highway in California and to see the Grand Canyon. These cupcakes would make a great snack as well as these and these.
Check out my Pinboard to Dashboard pinterest board, I would love for you to like or repin anything you find interesting!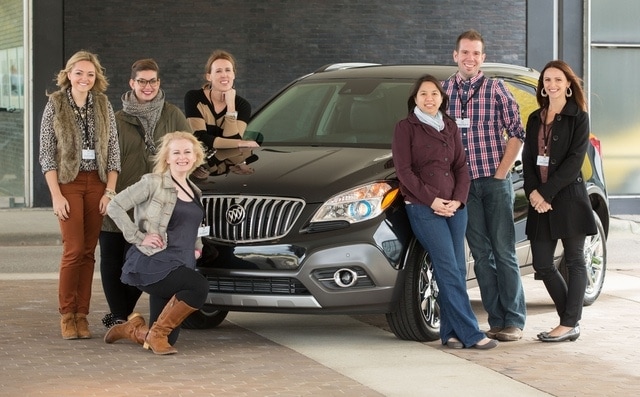 A huge thank you to the entire Buick Encore team (including Molly, Phil, Jeanne, Lloyd, Craig and Erin) for this great opportunity. Five finalists will be chosen out of the 10 pinterest boards and their boards will be sent to fashion & lifestyle magazine editors. The winning blogger will see their Buick Encore come to life as the Buick team will build it!
Follow Buick on facebook and twitter and be sure to follow the #PinMyEncore hashtag on twitter to see the latest!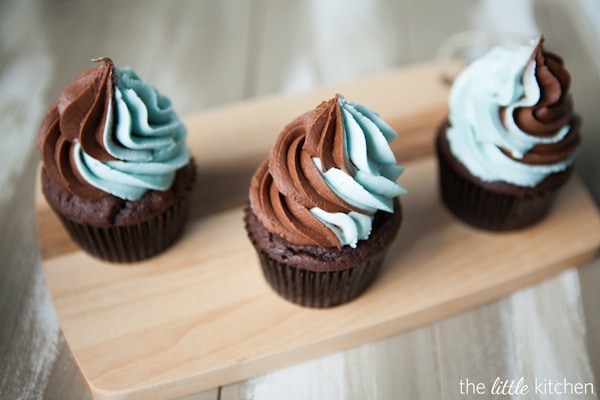 Now tell me, what features would you like to see in your dream car? What's your favorite colors and where would you take your dream car?
Disclosure: Though this post is sponsored by Buick Encore, the opinions shared in this post are 100% my own. And there are a couple of affiliate links in this post.