Note: Be sure to enter in the other giveaways going on for the one year blogiversary celebration going on throughout the month of December! Also, please vote for my comfort foods recipe at Good Life Eats, I'm #5. I won! Thanks!
Congratulations, Greta! You should have already received your prize by now. Thank you for all of your entries!

I recently went to a cookie exchange for my cake club and I brought these blondies…they are sooo good! I have been making this recipe for several years now, ever since it landed in my inbox one year from Food Network's 12 Days of Cookies emails. I finally feel like I have this recipe down pat now…you have to use a hand mixer when creaming the egg and brown sugar. It's a must…it's comes out much better that way versus using a rubber spatula and your arm. Also, using the best vanilla extract and butter you can find as well as the best tasting white chocolate chips out there makes a huge difference. I hope you try them and enjoy!
Recipe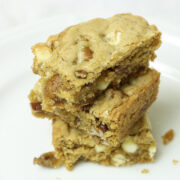 Print
Pin
Save
Platinum Blondies
Ingredients
3/4

cup

plus 2 Tbsp packed light brown sugar

1

large egg

2

teaspoons

vanilla extract

I used Sonoma Syrup Co. vanilla extract crush

8

Tbsp

1 stick unsalted butter, melted, I used Kerrygold unsalted butter

1 1/2

cups

all-purpose flour

1/2

tsp

baking soda

1/8

tsp

salt

3/4

cup

chopped pecans

4

oz.

white chocolate

chopped or 3/4 cup white chocolate chips, I used Hershey's premier white chips
Instructions
Preheat oven to 325 degrees.

Take an 8-inch square pan and cover in foil and spray with baking spray.

Using an electric mixer, cream brown sugar and egg until it's light and fluffy. Add vanilla extract and melted butter, mix well with electric mixer.

In a separate bowl, mix together with a rubber spatula the flour, baking soda and salt.

Add the dry ingredients to the wet mixture in batches and incorporate with a rubber spatula. Be careful not to over mix your batter.

Stir in pecans and white chocolate, using rubber spatula. Again do not over mix.

Add batter to the square pan. Spray an angled spatula with baking spray and use it to smooth over the top.

Bake for about 25-28 minutes. The top will be dry and flaky and a toothpick test should come out clean with a few crumbs attached.

Allow to cool for about 10 minutes on a wire rack. Hold using foil sides and remove from square pan. Makes 16-20 blondie squares.
I love cookie exchanges and I just recently was fortunate enough to interview Linda Stahl, baking authority for Hershey's Kitchens, about cookie exchanges. See the video below. She has some great tips for cookie exchanges. I love her tip about finding out what cookie recipes guests plan to bring so you can avoid duplicates.

If the video doesn't show up here, here' s a direct link to the video.
My friend, Melanie, also conducted an interview with Linda, you should check it out at her blog, Mel's Cake Walk. She provides some lessons she has learned after planning cookies exchanges for six years and will also hold a giveaway in the next couple of days.
And now for the giveaway…I was excited about this giveaway and opportunity because I'm a huge fan of their premier white chips…they taste good enough to pop in your mouth as a sweet treat let alone baking with!
The Prize: A Hershey's prize pack containing a Hershey's apron, 2 bags of Hershey's kisses, 3 bags of assorted Hershey's baking chips and 1 canister of Hershey's cocoa.
Mandatory Entry: Leave a comment telling me what your favorite cookie or bar recipe is. Please include links if you have them! (1 entry)
The mandatory entry must be done otherwise the bonus entries will not count.
Bonus Entries (leave a separate comment for each entry, if the entry is worth 2, leave two comments such as follow TLK on fb #1, follow TLK on fb #2, etc. If you're already a fan or follower, just say so in your comment):
'Like' Hershey's Kitchens on facebook and leave your name in your comment. You can leave first name & last initial. (2 entries)
'Like' the little kitchen on facebook and leave your name in your comment. You can leave first name and last initial if you don't want to leave your full name. (4 entries)
Subscribe to this blog via email. If email, be sure to fill in the email address you're subscribing with and to confirm the subscription. (3 entries)
Follow me on twitter. Leave your twitter handle in the entry. (1 entry)
Tweet this giveaway, using the retweet link at the top of this post or tweet the phrase below. Be sure to come back here and leave a link to your tweet. You can tweet once per day. (2 entries)
'I just entered in a Hershey's Kitchens #Giveaway from @thelittlekitchn and @hersheys http://bit.ly/fSGOaO'
Vote for my recipe in the Good Life Eats and My Baking Addiction Recipe Exchange here. I'm #5 and voting ends on Dec. 19. Voting is only allowed once per IP address. This entry type will only be valid until the end of Dec 19. Thank you for your votes! (2 entries)
All entries will be checked and verified. You must enter a valid email address (so I have a way of contacting you), otherwise you forfeit the prize and another winner will be chosen. You have until 11:59pm EST on Sunday, December 26, 2010 to enter. A random winner will be chosen via 'And the winner is' plugin.
Disclosure: I was provided with the same kit the winner will be getting. I received no monetary compensation and the views and opinions expressed in this post are my own.