I'm really excited, December 7, 2010 is my official one year blogiversary! I can't believe that it's been almost a year since I started the little kitchen. I want to thank you if you have been reading since the beginning or even if this is your first visit to the little kitchen. This whole blog started as an idea during a conversation with my sister, Connie. I think I have come a little ways since December 7, 2009! We won't talk about the first pictures I posted. Hehe.
Along the way, I have met so many awesome food bloggers in person as well as on twitter and facebook. I never knew that once I started blogging, I would get to be a part of such a wonderful community of amazing, helpful and talented food bloggers. I'm in awe of the recipes shared and the photographs that are so mouthwatering. I'm humbled by the talents and it's been an amazing experience.
Since it's a blogiversary and the one year mark only comes around once, I'm going to celebrate all month. We're going to have some awesome giveaways and some fun recipes. I hope you'll stay tuned.
I did want to kick off this month's celebration to tell you about an awesome project started by Paula of Vanilla Bean Baker. She is a super talented cookie decorator and an awesome person. I have never met her in person but I have tweeted with her many times and can just tell she is a very caring person.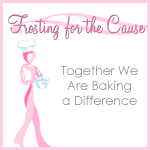 She has this wonderful project that is starting on January 1, 2011 and ends on December 31, 2011 called Frosting for the Cause. That's right, 365 days! It'll be 365 days of handmade and decorated cookies or cupcakes and goal is to garner donations for cancer organizations and raise awareness.
It's very simple:
As a baker or blogger, you can sign up and you will be assigned a day (I think all of January is filled up now).
Bake your favorite sugar cookie recipe or cupcakes, photograph them, decorate them & photograph them while you're decorating them.
Write a post about them including any steps or a tutorial.
Include a story about a woman you know who has been affected by cancer.
You will also commit to donate at least $25 to a cancer organization (there is a listing here) as well as donate your baked goods to your local women's cancer hospice.
And that's it.
With 365 bakers and/or bloggers, this will raise over $9,000 for cancer! How awesome! It's important to remember that, the money will be donated from bakers like me will go directly to the chosen organizations. Frosting for the Cause is not collecting any donations as participants will donate directly to the women's cancer organization.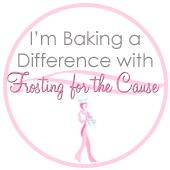 I'm excited about participating, I'm posting on January 3, 2011, as I was one of the first people to sign up! As some of you already know, I have written about my grandmother and how she is a breast cancer survivor. I have also participated in the Susan G. Komen 3-Day for the Cure and have written all about it. It's a cause that's very important to me so when I heard Paula tweeting about this, I had to join. I will be making my monetary donation to the Central Florida Affiliate of Susan G. Komen for the Cure. If you participate, you get to pick the organization you donate to. I hope you'll join Paula and other bakers/bloggers and be one of the 365 participants.
Are you interested in joining? Exact details of the program as well as instructions on how to join are posted here. I emailed Paula recently asking her some details about the program and why she started this project, here's what she shared with me.
You asked if I was personally affected by cancer. I myself, thank God and knock on wood have not as yet had to face that…yet. I say yet because there is a history of cancer in my family. My father had cancer in his jaw bone, underwent debilitating and disfiguring surgery as a result. Five years into his recovery, he was diagnosed with lung cancer and passed away nine months later. My mother died from pancreatic cancer. My younger sister was diagnosed with breast cancer a few years ago and will be in her third year of recovery this spring. This past month my oldest sister had cancerous tumors removed from her bowels.

My motivation for doing this? All that is mentioned in the above paragraph in addition to the fact that I feel it is important to give back. There are almost a countless number of bakers who have wonderful blogs. There are also so many wonderful causes currently running to support and raise awareness for cancer. I am not aware however of any such cause that is bringing together bakers/bloggers from Canada and the United States to not only share their skills with others but in doing so, raise funds and awareness for cancers affecting women only. Not to mention paying it forward in their own local areas by donating their baked goods that they created for their guest post. 365 donations of cookies and/or cupcakes to different women's hospices, cancer wards and/or cancer organizations across Canada and the U.S. It is my hope that by creating Frosting for the Cause, collectively we could achieve some good for others.
I just can't believe the prevalence of cancer in her family. I agree with her sentiment of giving back and doing something about women's cancers. If you're going to join (which I hope you do), I would love to know. Go over to Frosting for the Cause and sign up. Come back here and leave me a comment below. I just want to hear about what you're going to do. Are you going to decorate cookies or are you going to make some really cute cupcakes? I can't wait to see what 365 bakers/bloggers come up with! I hope you'll join and help Paula fill up the whole year!
Follow Frosting for the Cause on twitter.