Black Tea Lavender Shortbread Cookies Recipe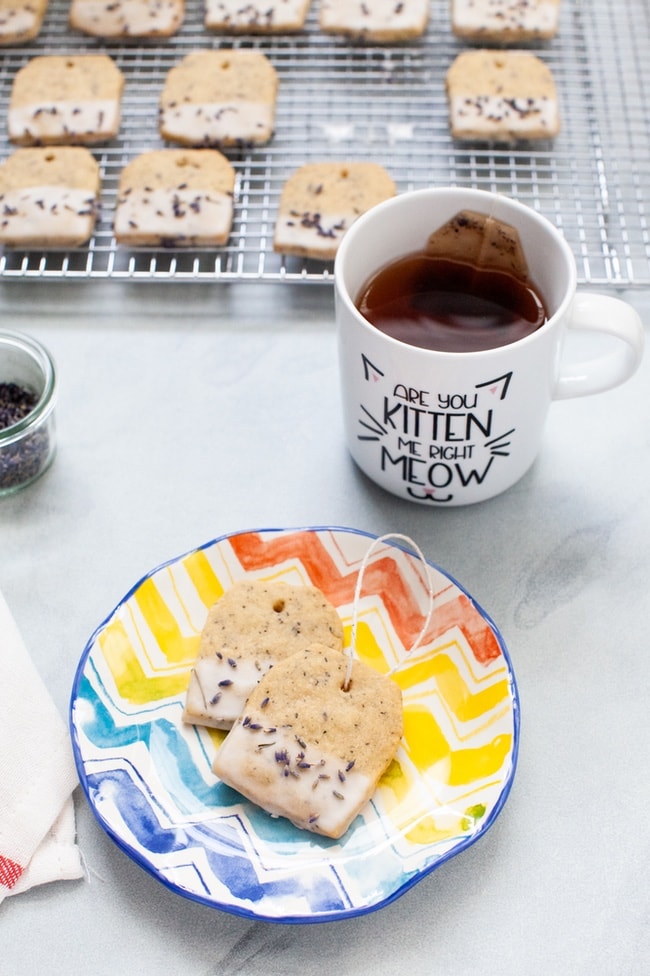 Recipe
Black Tea Lavender Shortbread Cookies Recipe
Yield: 32 to 36 cookies (2 x 2.5 inch cutter)
Ingredients:
2 1/4 cups unbleached all-purpose flour
1 Tablespoon cornstarch
1/8 teaspoon salt
2 teaspoons black tea leaves, grounded
1 Tablespoon culinary lavender
2 sticks (1 cup) unsalted butter, softened
1/2 cup packed light brown sugar
2 teaspoons pure vanilla extract
Glaze
4 cups powdered sugar
3/4 cup milk
about 1 Tablespoon culinary lavender, for topping
Directions:
Mix flour, cornstarch and salt with a whisk in a small mixing bowl
In a medium-sized mixing bowl, mix butter and sugar together using an electric hand mixer until creamy, about 1 to 2 minutes. Add vanilla extract and mix thoroughly.
Add dry ingredients in two to three batches to the wet ingredients. Mix until just combined with your hand mixer, being careful not to over mix.
Split cookie dough in half. Form into round discs and wrap in plastic wrap. Refrigerate for at least 60 minutes.
Prep a couple of cookie sheets with a silicon baking mat or parchment paper. Heat oven to 350 degrees F.
Remove cookie dough discs one at a time and flour a marble surface, I recommend using a marble rolling pin. Flour the rolling pin and roll the dough out to about 1/4 inch thick. Use teabag shaped cookie cutter to cut out shapes. Place cut out cookies on one cookie sheet. Once it's filled, add the cookie sheet to the refrigerator for at least 10 minutes.
Roll out the rest of the cookie dough until finished.
Remove one cookie sheet at a time from the refrigerator and use a chopstick to punch a hole for the string.
Bake one cookie sheet at a time, for 9 to 10 minutes at 350 degrees F. Remove from oven and place cookies on a cooling rack. (After it cools, you might need to use a toothpick to make sure the hole you created before baking is open enough for the string. I also use the toothpick to help guide the string through.)
Make the glaze
Add powdered sugar and milk to a large mixing bowl. Using a whisk, whisk until thoroughly mixed and no lumps appear. Dip cookies in the glaze and top with lavender. Allow glaze to dry before storing in sealed container.
Note: You can totally just slice and bake the cookies too. Shape the dough into logs and cover in plastic wrap. Refrigerate for at least 60 minutes. Slice and bake the cookies according to above instructions.
Have you tried this recipe?