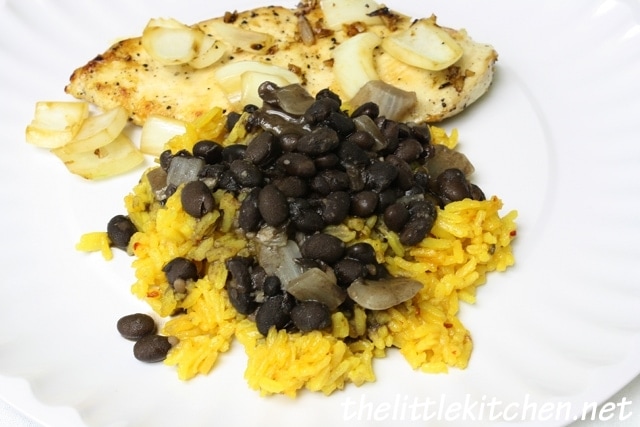 As you can see, it's been way too long since I have posted! I have been really, really busy, so busy that sometimes we eat dinner at 9:30 at night! Even though I'm so busy, I really, really try to make dinner most nights but it's been getting harder and harder lately. Our 14 or 15 year old kitty, Roswell, recently passed away and I was shell-shocked. I wrote about it on my other blog, www.whateverjulie.com, and was so humbled by the support I received there as well as on facebook and twitter. We were expecting it but even though we were expecting it, it still hurt terribly. If you're a petlover and have experienced a loss of your pet, you know what I mean.
I'm also trying to balance training for the Susan G. Komen Tampa 3-Day for the Cure®, work and my volunteering for Komen Central Florida. It's been tough but completely worth it. Training has helped to focus on a goal throughout all that's happened. You can follow my training on www.whateverjulie.com and if you're so inclined to donate :), please submit a donation online here.
So I was talking about getting dinners on the table! This is a really, really easy dinner that you can get on the table in under 50 minutes (I think). This has got to be one of my husband's favorite dinners right now. We had it for dinner tonight and he paid me the hugest complement…he said, "if I had a restaurant, this would be on the menu." Awww, sometimes he really knows how to make a girl blush. 🙂
The black beans recipe was inspired by a recipe I found on Cooks.com. I use yellow rice from bag, my favorite brand right now is Vigo and I don't follow the instructions exactly.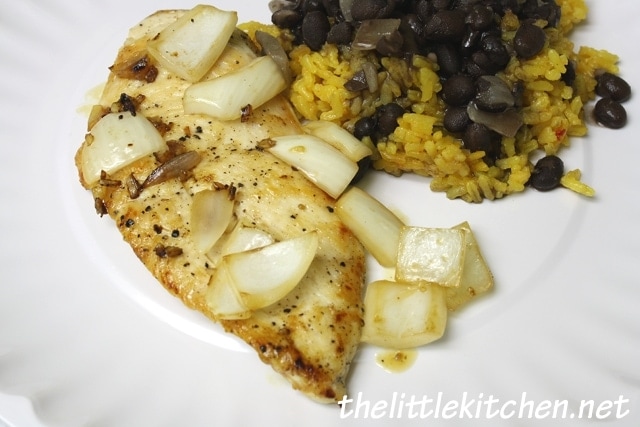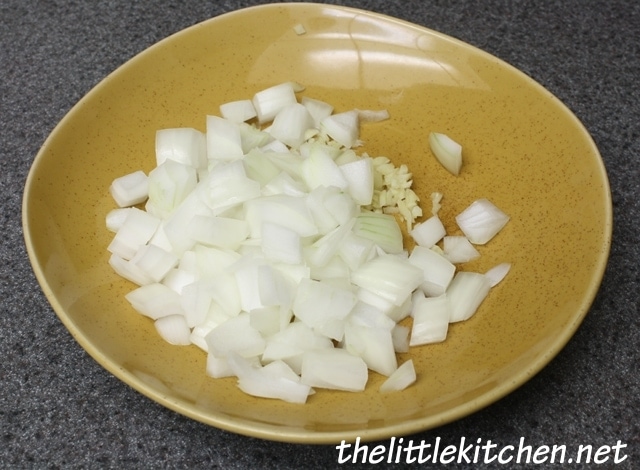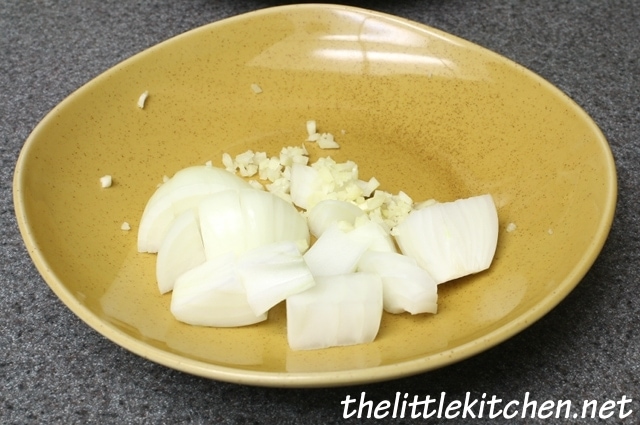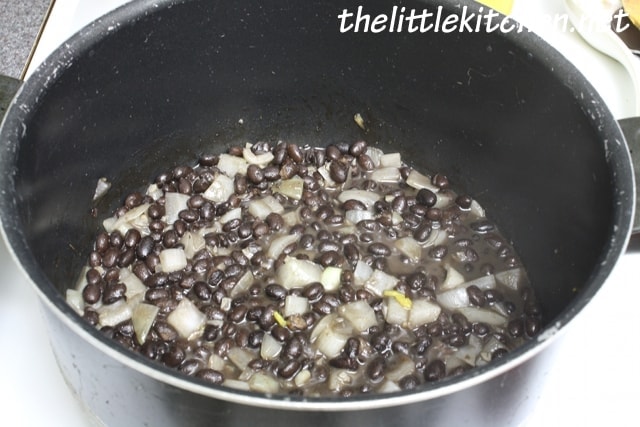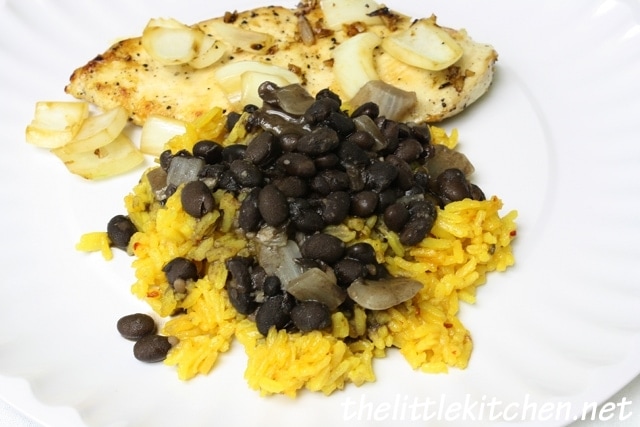 Join Aggie's Kitchen and Real Mom Kitchen and share a family favorite Winter Comfort Food recipe for the Bush's Beans Recipe Exchange!
Recipe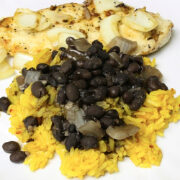 Print
Pin
Save
Black Beans and Rice con Pollo
Ingredients
Rice
10

oz.

bag of Vigo

,

saffron yellow rice

2 1/4 to 2/12

cups

of water

2

Tbsp

olive oil
Beans
1

Tbsp

olive oil

1

medium onion

,

roughly chopped

2

cloves

of garlic

,

minced

2

14.5 oz cans of Bush's black beans, undrained

1/2

tsp

cumin

1

bay leaf
Chicken
2

cloves

of garlic

,

minced

1/2

medium or 1 small onion

,

roughly chopped, chopped larger than the onion for the black beans

1 to 2

pounds

boneless

,

skinless chicken breasts, cut into cutlets

salt and pepper

2-3

tsp

olive oil
Instructions
First, chop onions and garlic. Separate out onto two different plates.

Start water boiling for the rice. Boil 2 cups of water. Once boiling, add rice and follow instructions on the bag. As you're cooking beans and chicken, check the rice and mix as needed as well as add more water along the way...a couple of times. I add 1/4 cup to 1/2 cup depending on how much I need. If I add all of the water the bag calls for, it seems to come out too mushy for me.

Heat 1 Tbsp of olive oil at medium high heat. Add chopped onion and garlic to large sauce pan or dutch oven. Cook until translucent (don't burn the garlic) for about 5 minutes.

Lower to medium heat and drop in 1 can of undrained black beans along with bay leaf and 1/2 tsp of cumin. Cook for 5-7 minutes. Use a potato masher to mash the beans.

While the beans are cooking, prepare the chicken and add salt and pepper to taste as well as drizzle olive oil over chicken.

Heat a seasoned cast iron skillet (or non-stick skillet, be sure to add a little olive oil and heat for only 1-2 minutes) on medium to medium high heat (for the chicken) for about 3-4 minutes.

Add the 2nd can of beans and heat on low for about 10 minutes.

Add chicken to cast iron skillet and cook for about 4 minutes on each side on medium heat.

When the chicken is about ready to come off the skillet, add the raw onions and garlic chopped for the chicken. Using tongs, move the chicken to one side of the skillet and mix the onions around to get cooked. Be sure not to burn the garlic.

Remove chicken, onions and garlic after about 2 minutes and allow chicken to rest for at least 5 minutes.
Notes
I hope you enjoy the dish like my husband did! 🙂 By the way, he likes to add diced tomatoes and a little bit of hot habanero cheddar cheese on top of the black beans and rice.
I did want to mention one other thing, a fellow blogger, Erika of the Ivory Hut, recently lost her house to a fire and almost lost a family member as well. Her son is a hero, carrying his grandmother out of the house just in time. I don't know Erika personally and have visited her blog several times but I was moved to donate when I read the posts on twitter about her ordeal. In a little over a week, her friends and fellow bloggers have raised over $10,000! While insurance will cover a lot of her losses, it will not cover the immediate expenses, for example, Erika was the only in her household wearing shoes when they escaped from her burning house. Insurance will not replace her lost wages or pictures on hard drives. Read her firsthand account of what happened and visit the site set up by Maggy and Alice to read more updates as well as donate. Erika's resolve and bright positivity has motivated so many and inspired me. I hope you'll visit the blogs to read on.