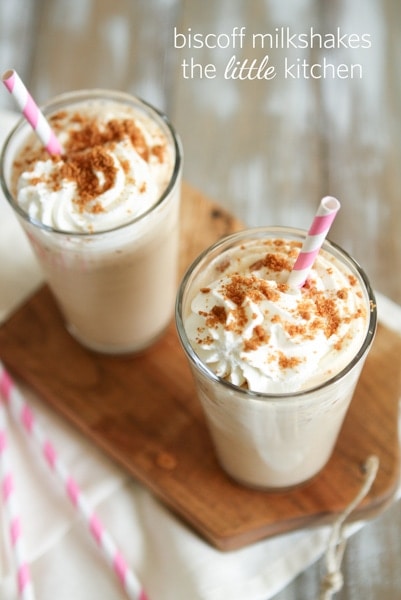 It's another biscoff spread recipe for biscoff week! What can I tell you about these milkshakes? Once again I used skim milk and low fat frozen yogurt but then I undid all of that goodness by using whipped cream in this recipe. I want you to know I'm not trying to make these shakes healthy…I don't want to hear it, I'm just loving making milkshakes with frozen yogurt. You can definitely try them with vanilla ice cream too!
I recently made nutella milkshakes and Naomi told me that I need to make biscoff milkshakes when we talked about this wonderful week of just biscoff recipes. And I have to say, credit also has to go to a reader (she rocks – you have to read her caption on that pin).
**Thank you to everyone for your support, I am so appreciative of the support and words of encouragement from your comments and your emails. It means so much to me!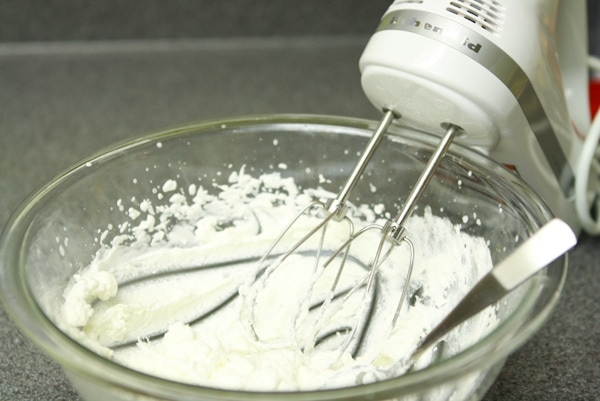 First, I make the whipped cream, using heavy whipping cream and my favorite hand mixer. Curtis bought this 5-speed mixer for me for Christmas when my old one or was it his – died an ugly death. I like to use the hand mixer for making whipped cream when I start out with less than 1 cup of heavy cream, anything more than that, I use the stand mixer. When you've got it at stiff peaks, add in the pinch of cinnamon.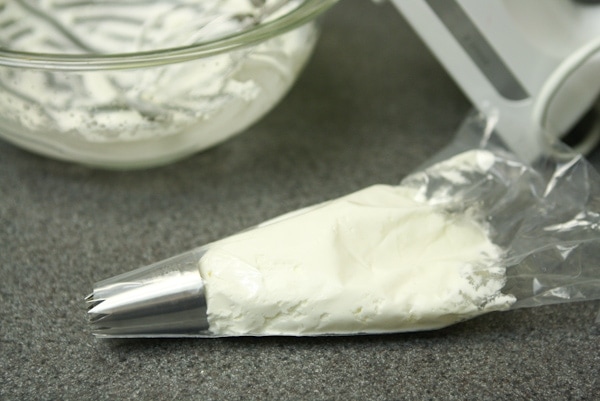 Use a spoon to add the whipped cream to the top of your milkshake or if you want to get a little fancy like me, I used a large star tip and a Wilton decorator bag so I could pipe it all fancy. I kind of like them fancy for the pictures but they also made me feel like I got them at my favorite ice cream shop so I will always do it this way…makes it a little bit special.
I threw the decorator bag into the fridge while I prepared the rest of the shakes.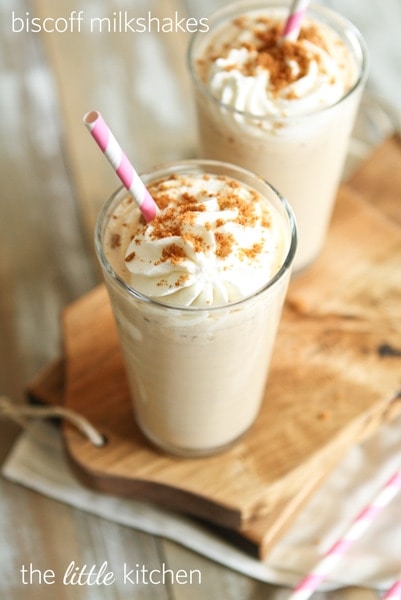 It was great because once I was ready, I just grabbed the decorator/piping bag out and there you have it.
Be sure to check out what Naomi made for our 2nd biscoff week recipe – Chocolate Porter and Biscoff  Coffee Beer Floats. Umm hello, you don't want to miss this.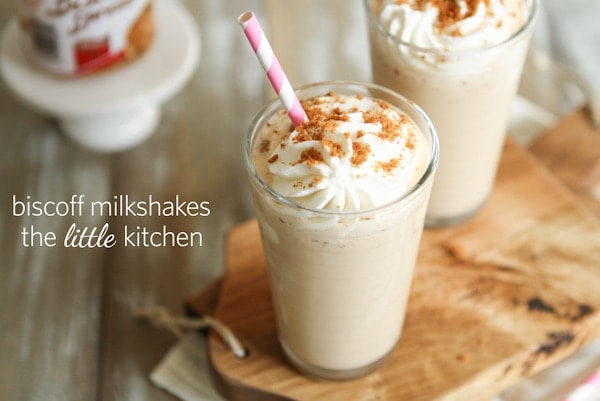 Okay, we're friends right? I drank both of these shakes pretty quickly. I love the addition of the cookies to the inside of the shake…it added texture and the whipped cream made this an extra special milkshake.
Recipe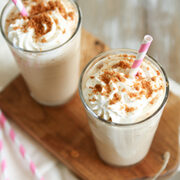 Print
Pin
Biscoff Milkshakes
Ingredients
1/2

cup

heavy whipping cream

pinch

of cinnamon

1

cup

skim milk

1/4

cup

biscoff spread

,

or cookie butter spread

3

big scoops of low-fat vanilla frozen yogurt

2

biscoff cookies

,

crushed & divided
Instructions
Using an electric hand mixer, mix heavy whipping cream in a medium sized bowl until stiff peaks form. Cover bowl with plastic wrap and place in the fridge until ready. (Optional fill an icing bag with large star tip attached, put icing bag into fridge until ready.

Add milk, biscoff spread and frozen yogurt to a blender and blend until mixed thoroughly. Add half of the crushed cookies to the blender and blend for a few seconds.

Divide milkshakes between two 10 oz cups and dollop or pipe the whipped cream on top. Add remaining crushed biscoff cookies to the top.

Makes 2 10 oz. milkshakes.
Other biscoff recipes from this week:
Biscoff and Kahlua Crunch Cupcakes
Dark Chocolate Biscoff Butter Cups
Disclosure: Just wanted to let you know this isn't a sponsored post, I'm just obsessed with biscoff spread. And there's an affiliate link in this post. Thank you!