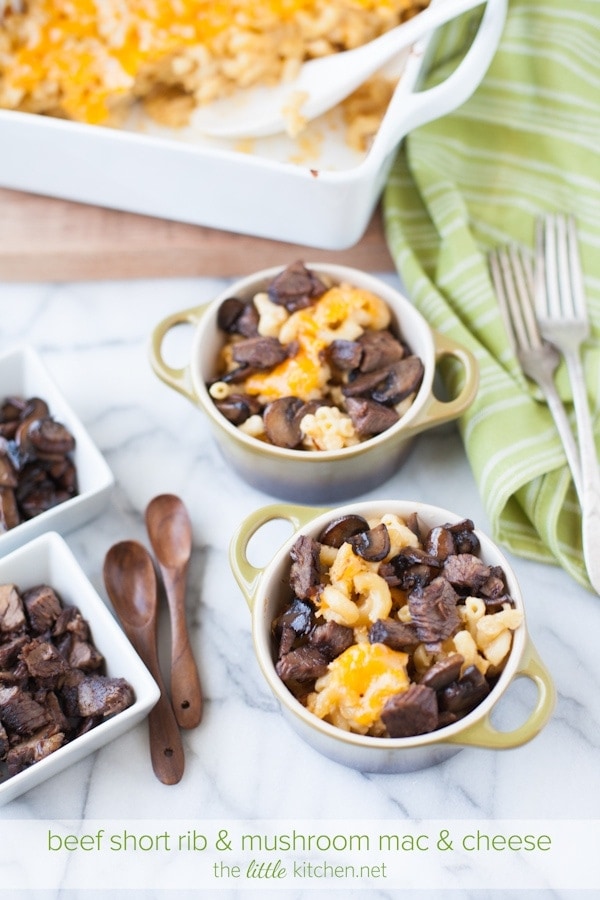 This is my second recipe for Kitchen Conversations by Land O Lakes. The assignment was to modernize a vintage recipe and my first thought was for my love of mac and cheese. Everyone has their tried and true family favorites, but we like to find new ways to keep them fresh and exciting. Growing up, we all loved macaroni and cheese, right? Last year, I had the best macaroni and cheese side dish in Portland, Oregon and when I asked, they told me they used both sharp cheddar and parmesan cheeses.
So when I started to make this recipe, that's where I started. This is my ultimate recipe because it combines my love of mac & cheese, mushrooms and my obsession with beef short ribs.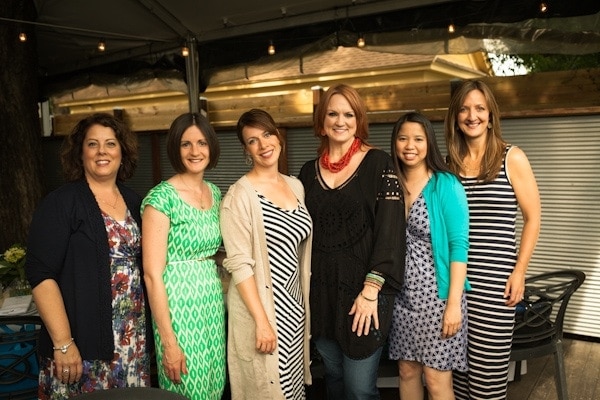 I recently traveled to Austin and participated in a dinner hosted by Land O'Lakes and got to hang out with some pretty awesome bloggers! Pictured left to right are Becky from the Land O'Lakes Test Kitchens, Maria, Sommer, Ree, me and Brenda. We chatted about butter the the vintage recipes we modernized!

First, cook the elbow macaroni (you can use shells if you want to). I undercooked the macaroni and boiled them for only six minutes. Set aside to cool while you're making your roux and cheese sauce.
The beginning of every roux is butter, I used Land O Lakes® Unsalted Butter in Half Sticks, or 4 tablespoons of butter. Love these half sticks because you can just throw them into the pan and don't even have to mess with re-wrapping! It's super convenient! The middle picture is right before I added the two cheeses.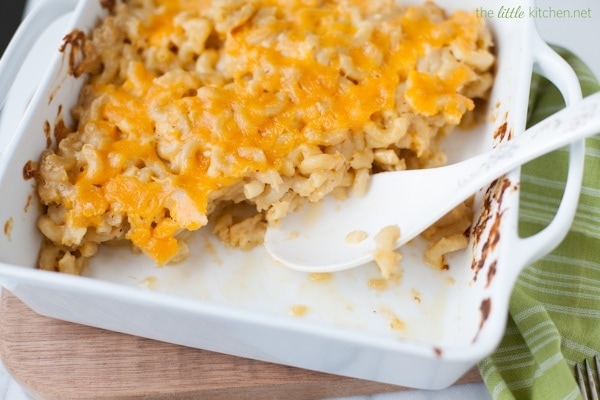 Before baking, I added a layer of cheddar cheese on top. Yummy! (You can bake the mac & cheese separately from the mushrooms and short ribs to give your family and friends a choice. Curtis doesn't like mushrooms but he likes beef, so that's what I did.)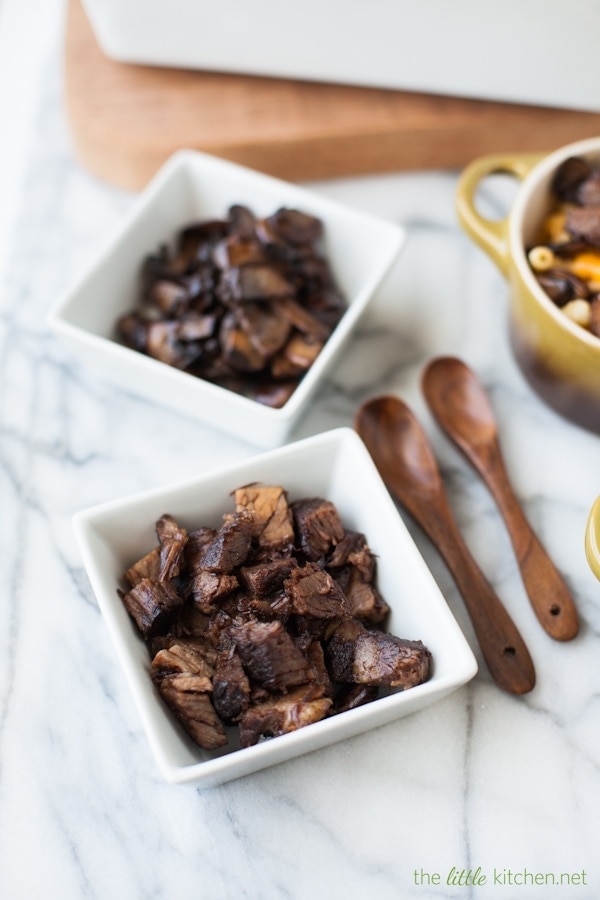 But I didn't stop there. This is about modernizing a vintage recipe, right? Adding beef short ribs and mushrooms adds a lot more time to this recipe, but it's so worth it. To make it vegetarian or shorten the cooking time, you can omit the short ribs.
Before braising the short ribs, I cut the meat off the bones to make it easier to cut up later, but I put the bones in the pot with the ribs in the pot to add flavor. I'll tell you one thing, while the short ribs were braising, it smelled so good. It was hard not to sample them when they came out of the oven!

My favorite way to cook mushrooms is to use both Land O Lakes® Unsalted Butter in Half Sticks and soy sauce. It makes the most flavorful mushrooms! Add these mushrooms to your next homemade burger and you'll thank me!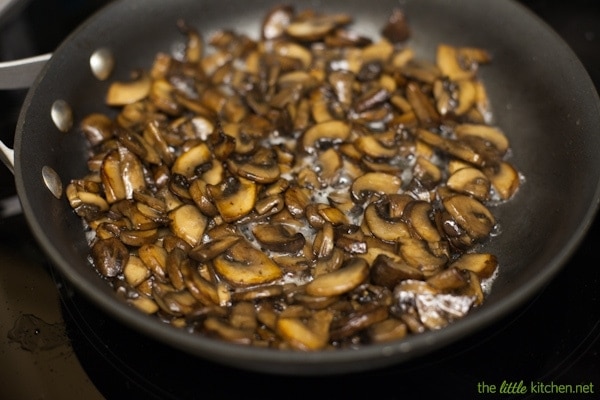 And in less than 15 minutes, the mushrooms are done.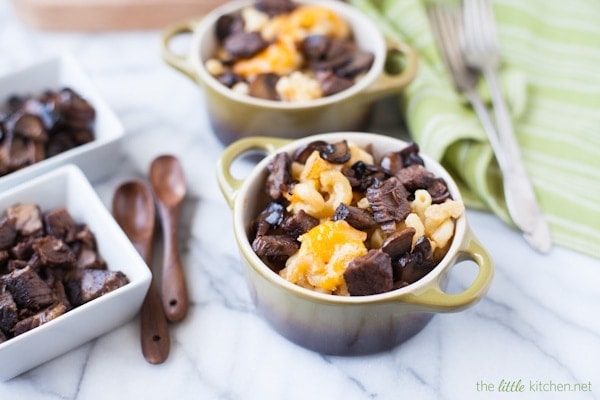 This recipe tasted amazing and I devoured both of the ramekins after I finished photographing them! The extra time is well worth it, but making the mac & cheese straight up without any additions takes less than an hour.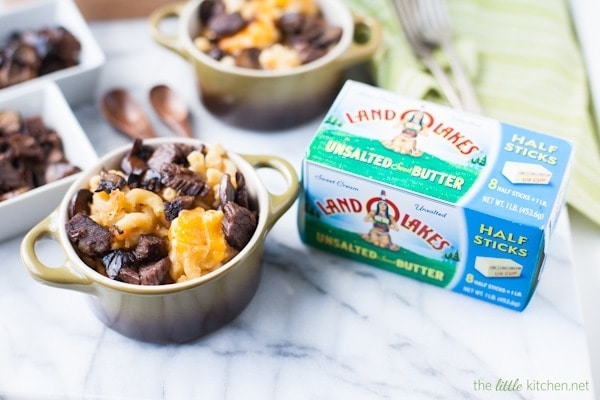 Be sure to check out the Land O'Lakes giveaway!
Recipe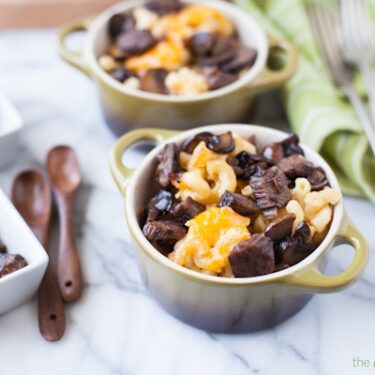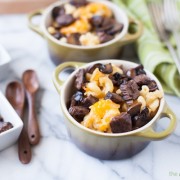 Print
Pin
Beef Short Rib & Mushroom Mac & Cheese Recipe
Ingredients
Braised Beef Short Ribs
1

tablespoon

vegetable oil

2

pounds

beef short ribs

,

bones removed from meat

1

carrot

,

washed and chopped (peeling optional)

1

celery

,

chopped

1/2

onion

,

chopped

2

garlic cloves

,

minced

3/4

cup

red wine

1

dried bay leaf

1/2

teaspoon

dried thyme

1/2

teaspoon

dried oregano

2

cups

low sodium chicken broth

,

or 1 15-ounce can

2

teaspoons

soy sauce
Mac & Cheese
16

ounces

uncooked macaroni pasta

1

half stick

,

4 tablespoons Land O Lakes® Unsalted Butter (and extra butter for greasing the baking dish)

1/4

cup

all-purpose unbleached flour

1

cup

heavy cream

1

cup

2% milk

salt & pepper

1

cup

extra sharp yellow cheddar cheese

,

shredded (plus more for topping)

1/2

cup

parmesan cheese

,

shredded
Mushrooms
2

tablespoons

Land O Lakes® Unsalted Butter

1

tablespoon

soy sauce

16

ounces

baby bella or white button mushrooms

,

washed and sliced
Instructions
Braised Beef Short Ribs
Heat oven to 350 degrees F. Heat a Dutch oven or other heavy, oven-safe pot with a lid over medium-high heat and add oil. Add short ribs and the bones and brown each side for about 3 to 4 minutes. Work in batches to avoid crowding the beef. Remove beef to a plate and set aside.

Add carrots, celery and onions to pot and cook for 3 to 5 minutes or until onions have softened. Mix every so often with a rubber spatula. Add garlic and cook for 60 seconds, being careful not to burn the garlic. Add wine slowly and use rubber spatula to scrape the bottom of the pot. Allow the wine to simmer and reduce for about 1 to 3 minutes.

Add chicken broth and salt and pepper. Add bay leaf, thyme, oregano and soy sauce. Mix together and then add short ribs and the bones back to the pot. Bring broth to a boil for a couple of minutes. Cover the French oven and place on the middle rack of the oven and cook for 2 to 2 1/2 hours (turn the short ribs over halfway through), until the meat shreds easily.

Remove the short ribs and the bones and place on a plate to cool. Slice the beef against the grain and cut into bite-sized pieces.

Note: I find it much easier to slice the beef when it's been refrigerated. Braising the beef short ribs can be done a day or two ahead of time. Just refrigerate the beef after it has cooled and slice and cut the beef when you're ready to make the mac & cheese. To reheat the beef, just add the chopped pieces to a nonstick skillet and cook on medium until heated through.
Mac & Cheese
Heat oven to 375 degrees F.

Bring water to a boil in a large pot. Boil macaroni about 4 to 5 minutes less than the instructions on the packaging calls for. Drain pasta and set aside to cool.

Melt butter in a medium saucepan on medium heat. Make a roux by adding flour and mix thoroughly with a wooden spoon or rubber spatula. Stir constantly and cook the roux for 3 to 4 minutes. Whisk in heavy cream and milk slowly, being sure to break up the roux. Continue whisking and cooking on medium heat for about 3 to 5 minutes until thickened. Add salt and pepper to taste. Remove from heat and add both cheeses. Mix until the cheese is melted all the way through. Add cooked pasta and mix thoroughly to ensure every piece of pasta is evenly coated with the cheese sauce.

Spread pasta in a 3.5-quart buttered baking dish. Add a layer of cheddar cheese on top. Place baking dish on a foil-lined baking sheet and place on the middle rack of the oven and bake for 28 to 30 minutes.
Mushrooms
Melt unsalted butter in a medium nonstick pan and heat on medium. Add soy sauce and mushrooms to pan. Constantly stir mushrooms and cook for 8 to 12 minutes. A lot of water will appear in the pan as the mushrooms cook down; allow that to cook down and then brown the mushrooms.
Assembly
Serve macaroni and cheese in little ramekins or small bowls and allow everyone to choose how much beef and mushrooms they want with their portions.
Disclosure: The Little Kitchen has partnered with Land O'Lakes for an exclusive endorsement of Land O Lakes® Butter for their Kitchen Conversation blogger program. This blog post is sponsored by Land O'Lakes. I always share my own honest opinions and only work with brands that I love.