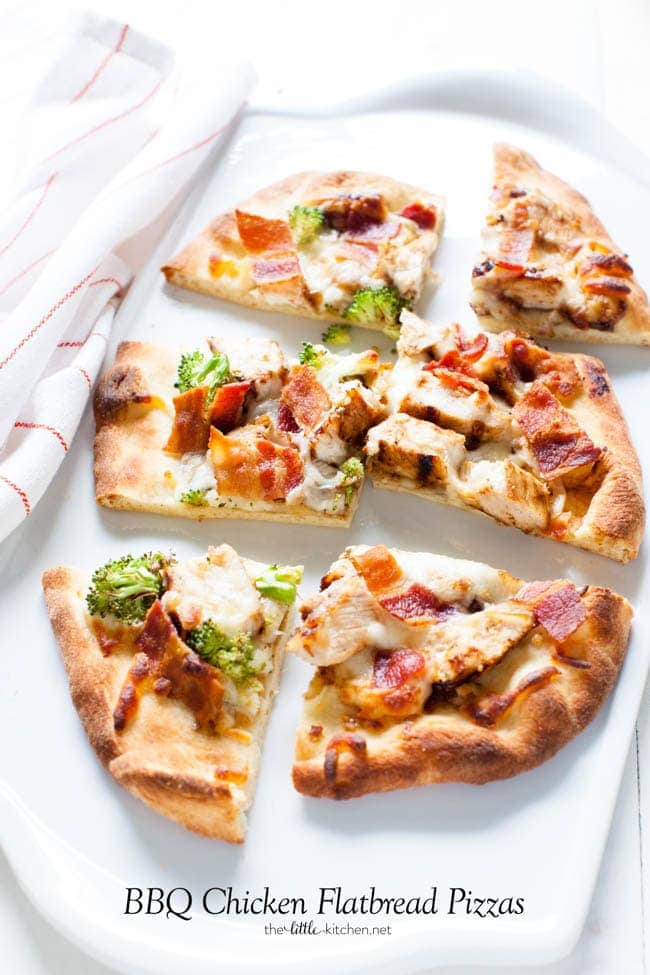 This post is sponsored by KC Masterpiece®.
You guys, I love that it's spring and that it's almost summer. The weather is great, perfect for grilling, perfect for BBQ. This recipe for BBQ Chicken Flatbread Pizzas is perfect for a weeknight meal or perfect for your next get together. It's so easy to put together and I know you'll love it!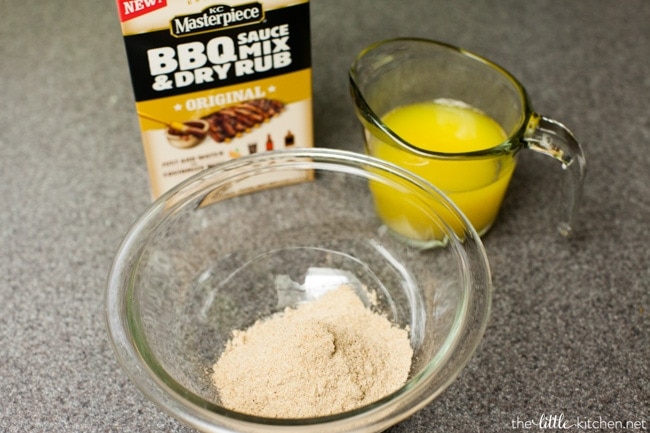 I'm so excited about this new product from KC Masterpiece®, their BBQ Sauce Mix and Dry Rubs. There are three great flavors: Original, Sweet Honey, and Spicy Habanero. For this recipe, I used the Original.
You can customize it to your taste, use cola, water, beer or juice. I opted to use pineapple juice and loved it!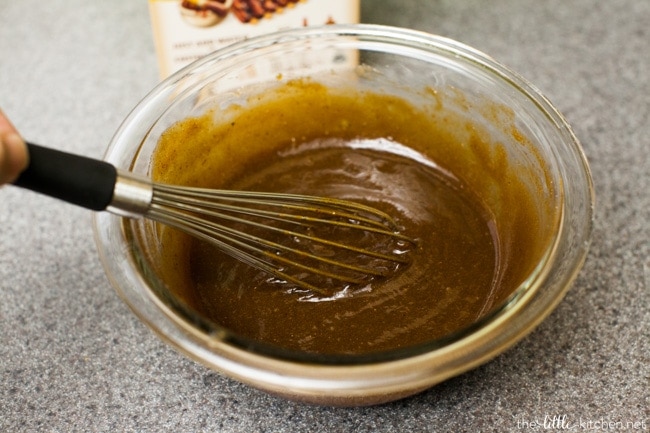 Whisk it together.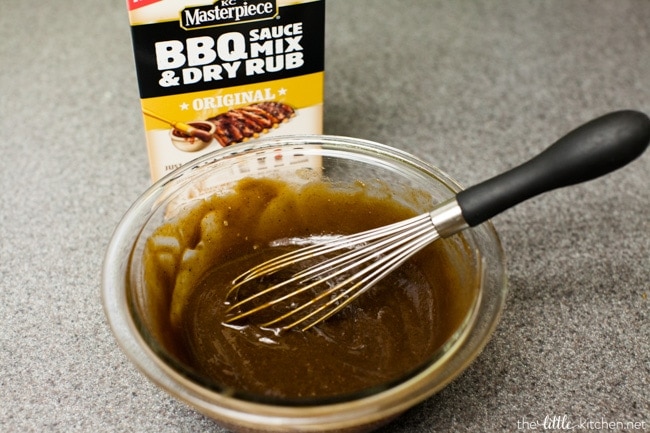 And that's it!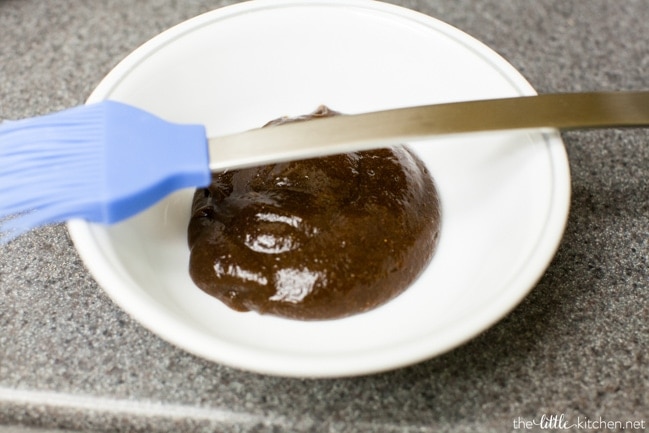 Divide the BBQ sauce in half…two different bowls and then set aside.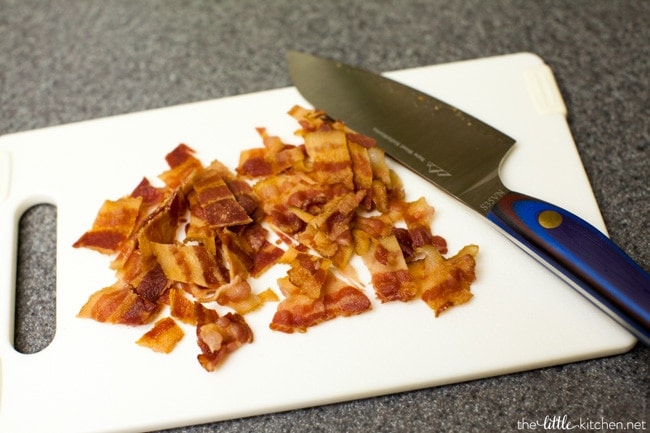 I had leftover bacon in my fridge, just cut it up. But not too small, I like to have big chunks on my pizza.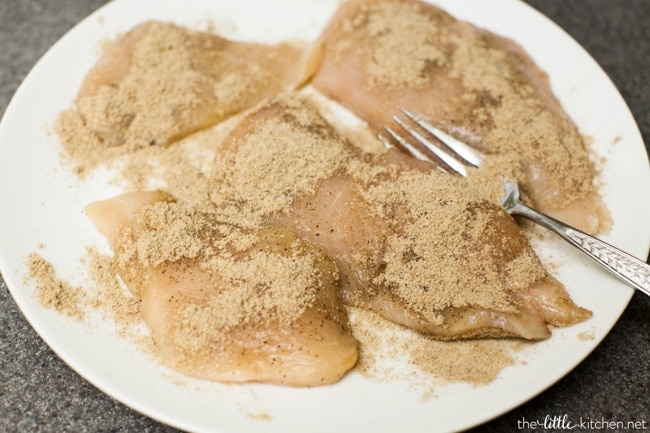 Prep the chicken and cut into cutlets. Salt and pepper each side and then add the dry rub on each side.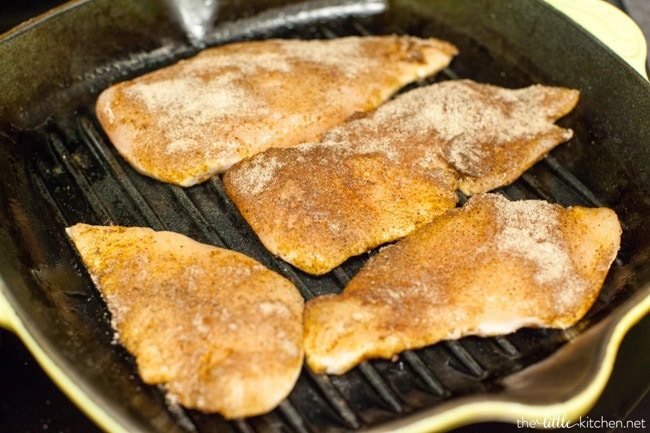 I have a grill pan and love that I can grill outdoors with our grill on our porch or on a grill pan indoors.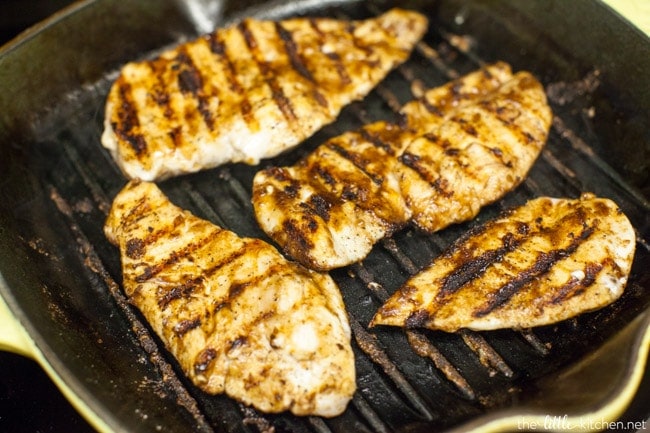 Nice marks, right?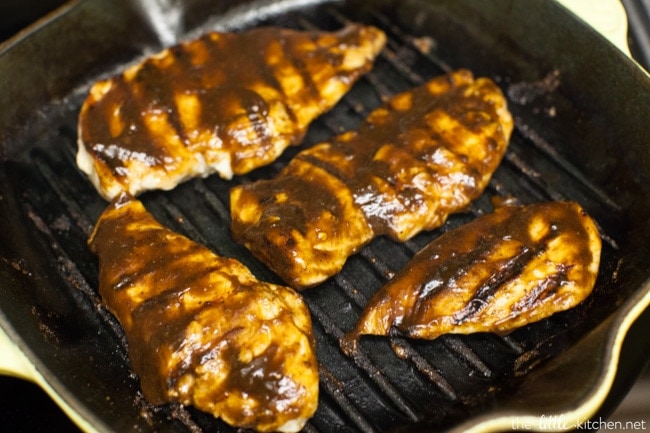 Once you flip the chicken, add some sauce with a grill brush. Cook for another 60 seconds on each side.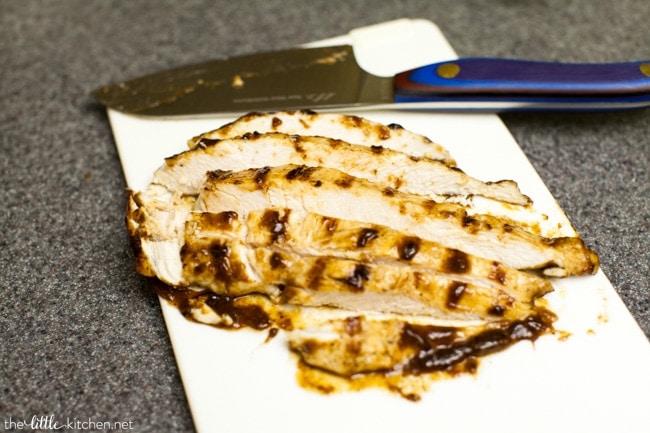 Let your chicken rest at least 4 minutes before cutting it up.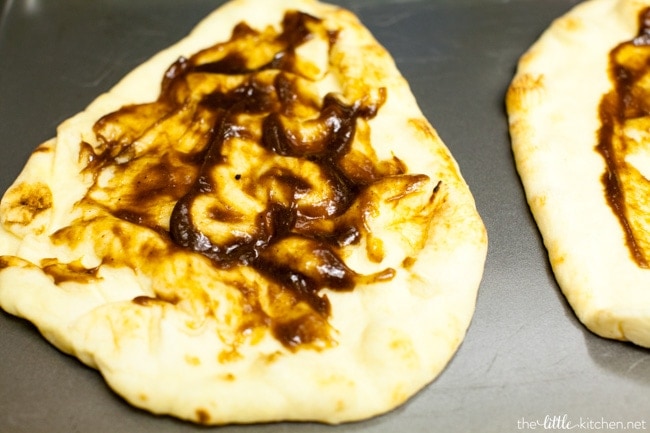 Now prep the pizzas. I brushed some BBQ sauce onto the flatbreads (that's my pizza sauce).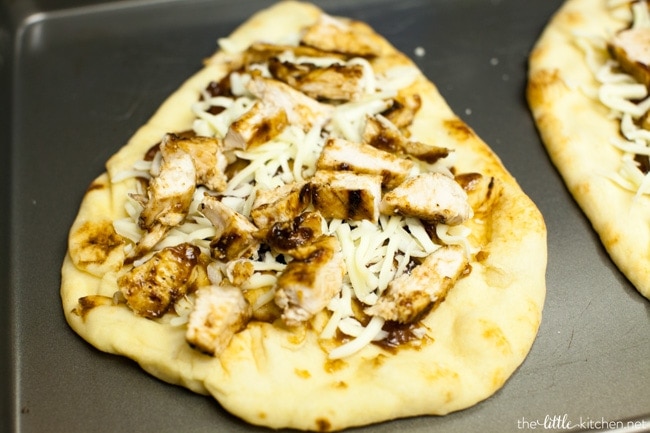 Add cheese and chicken.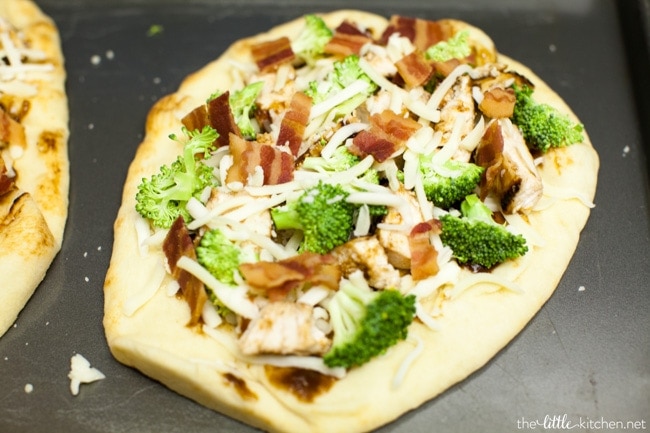 If you're using broccoli, add that and then add the bacon.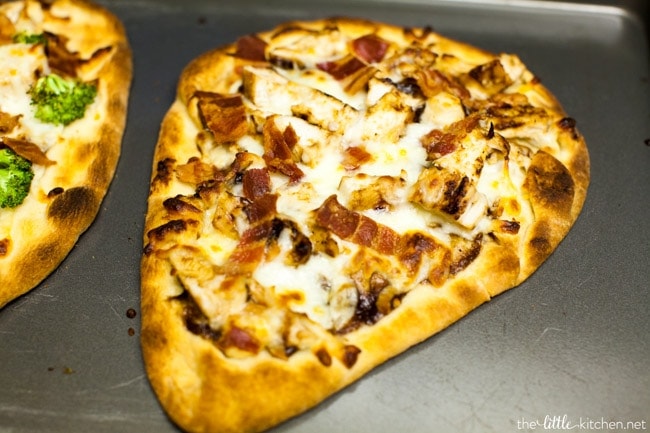 It only takes 10 minutes in the oven.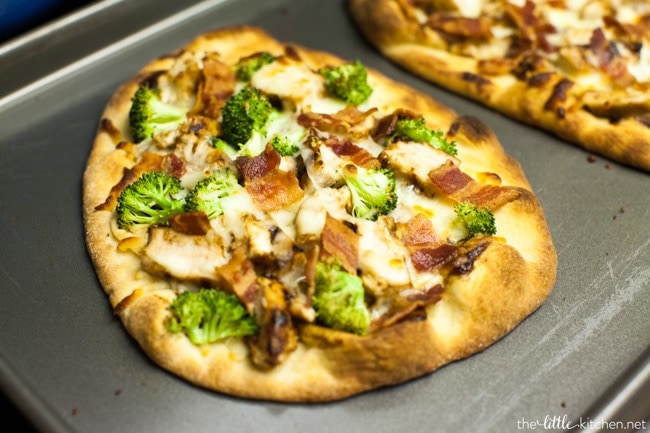 Cut it up and serve 'em hot!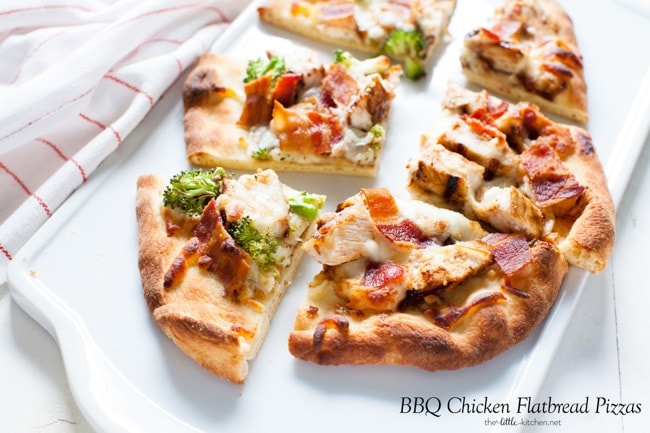 KC Masterpiece® BBQ Sauce Mix and Dry Rubs are available at Walmart. It's so helpful that you can grab everything you need for spring and summer entertaining at Walmart!
We loved loved this pizza…you can add different veggies if you'd like. Next time, we're going to add red onions. And if you like traditional red sauce, you can add some of that too!
Recipe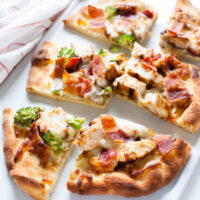 Print
Pin
Save
BBQ Chicken Flatbread Pizza Recipe
Servings
2
to 3 (6 to 8 as an appetizer)
Ingredients
3/4

cup

liquid

can be water, cola, pineapple juice or beer

2 to 3

boneless skinless chicken breasts

cut into cutlets

2

pieces

flatbread

I used Naan flatbread

4

pieces

cooked bacon

chopped

3/4

cup

grated mozzarella cheese

broccoli

cut into florets
Instructions
Heat oven to 425 degrees F.

Make the BBQ sauce. Take one packet from the KC Masterpiece® Original BBQ Sauce Mix and Dry Rub and empty the contents into a small mixing bowl. Add 3/4 cup liquid, I used pineapple juice. Use a whisk to mix. Divide in half, put half in another bowl. Set both bowls aside.

If you're using an outdoor propane grill, turn the grill at high heat. Allow grill to heat up for about 10 minutes. If you're using an indoor grill pan on your range, turn the heat on to medium heat and allow to heat up for about 5 to 6 minutes.

Prep the chicken and cut into cutlets. Salt and pepper each side and then add then add the KC Masterpiece® dry rub on each side. (Place the remaining dry rub into a sealed container for later use.)

If using outdoor grill, turn heat to medium heat. Add chicken and cook for 3 to 4 minutes on each side. Adding BBQ sauce with a grill brush after flipping the chicken. Cooking an additional 60 seconds on each side.

Remove the chicken from the grill and place on a clean plate. Allow the chicken to rest at least 4 to 5 minutes before cutting it up.

Place flatbreads on a baking sheet, add reserved BBQ sauce with a brush or a spoon. Add 1/4 cup mozzarella cheese to each flatbread. Add chicken, broccoli (if using) and bacon. Then, add the remaining cheese about 2 tablespoons on each pizza.

Bake in the oven for about 10 minutes. If you like the cheese crispy on top, turn the oven to broil and broil the pizzas for about 2 to 3 minutes (being careful not to burn them).

Cut into pieces and serve immediately.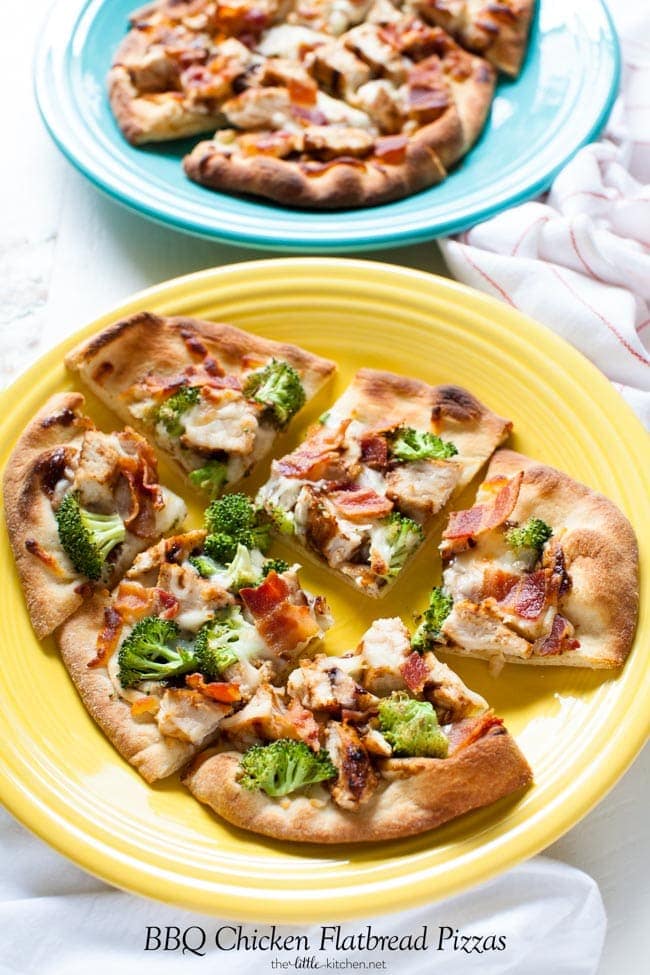 This is a sponsored conversation written by me on behalf of KC Masterpiece®. The opinions and text are all mine.