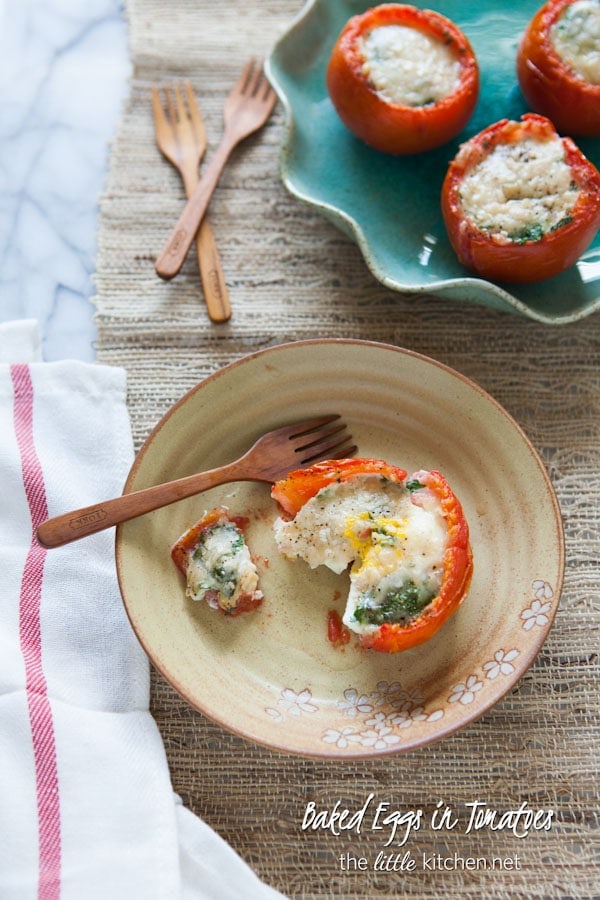 Eggs and tomatoes…I love them both. Especially eggs. I love this combination of eggs baked in tomatoes…brought to you by Todd Porter and Diane Cu of White on Rice Couple. I can go on and on about what dear friends they are to me. Both are amazingly talented photographers and are extremely giving of their time and talents. Last year, when they told me they were working on their first cookbook, I knew I would love it. A stretch? Heck no. I adore it, it exceeded my expectations, and I'm excited to share this recipe with you today and a giveaway!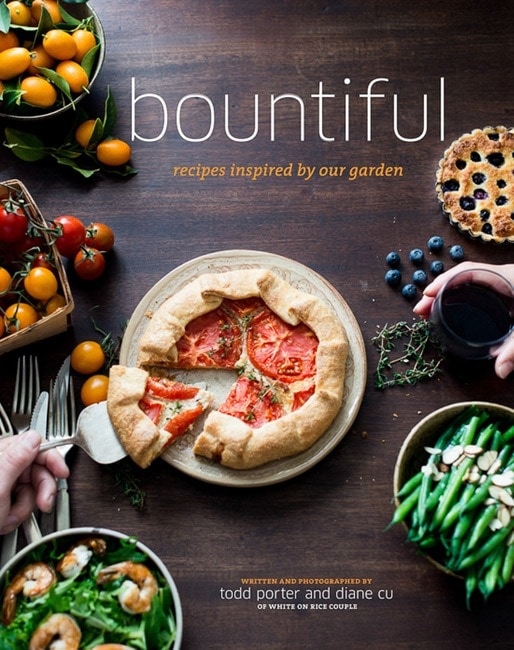 Bountiful: Recipes Inspired by Our Garden is full of gorgeous photographs, stories, tips and recipes…that you will want to make, I guarantee it. I actually helped them test a few including this one for the baked eggs, baked olive oil beet chips and others. I have already bookmarked several other recipes I want to make including: peppermint chocolate chip ice cream, braised brussels sprouts with pancetta and parmesan, blackberry cabernet crisp and OMG fig & gorgonzola pillows. I'm so glad they included their sweet onion dip aka "crack dip". It's amazing.
This book brings you into Todd & Diane's garden, their lives and their homes. They share their personal stories and I love the photos of Miss Sierra and Miss Lexi. I love those dogs.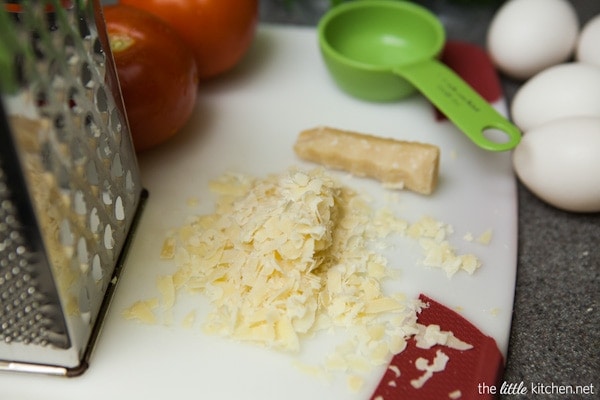 First chop up the flat leaf parsley and grate your parmesan cheese.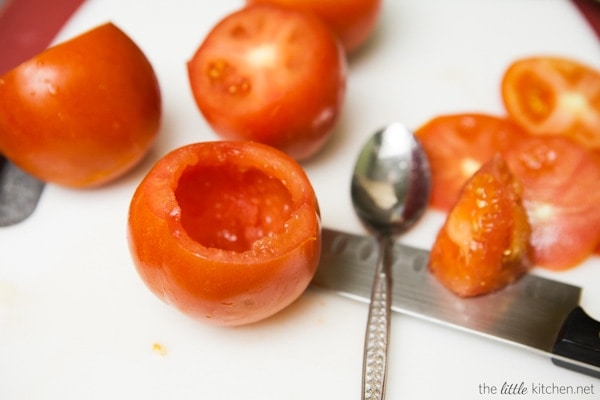 Cut off the tops of the tomatoes and core them with a spoon. I rinse them out and wipe the outsides with a paper towel.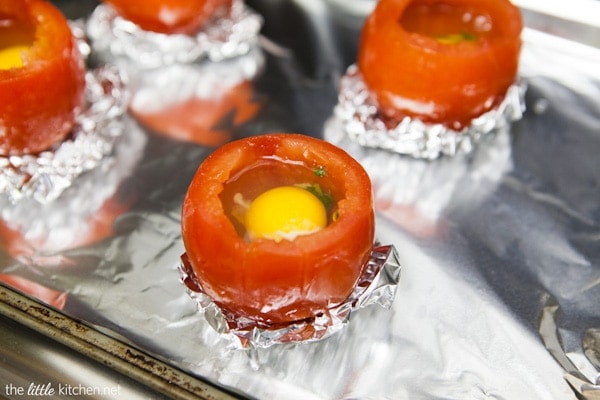 Add the eggs to the tomatoes. But before that set up little seats of foil for your tomatoes.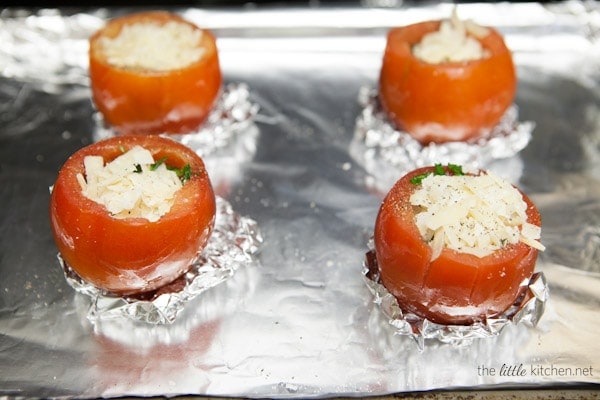 These are ready for the oven!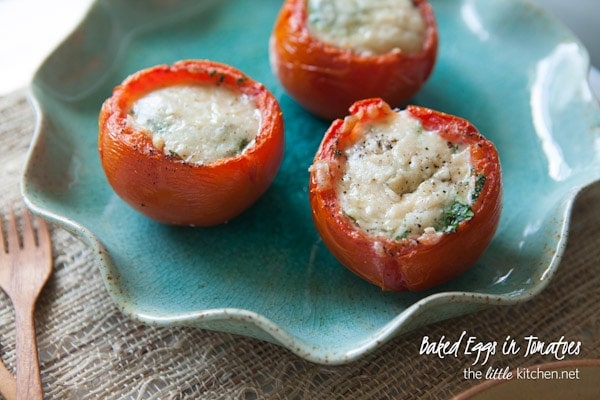 Make this recipe! Lately, at restaurants and recently on my trip to Italy, I have been floored by dishes that taste extraordinary but just use simple ingredients. Simple and fresh ingredients…it makes a huge difference. Anyways, I digress. The simplicity of this dish will make you want to make this recipe over and over again.
PS Hop over, I'm giving away a copy of this wonderful cookbook!
Recipe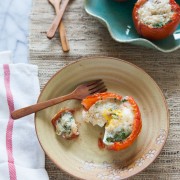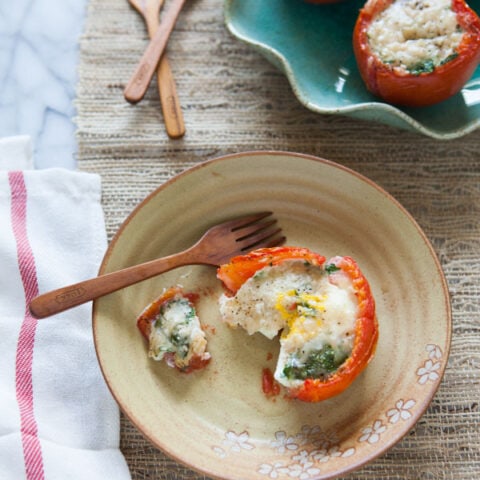 Print
Pin
Baked Eggs in Tomatoes Recipe
Recipe Notes from the cookbook
Breakfast is our favorite meal. It's the meal that fuels our long days, and the quiet morning moments in the kitchen allow us to slowly wake up together. Combining our love of eggs and tomatoes, this dish is a highlight for those cooler mornings when we crave something warm from the oven.
The texture of the cooked egg changes in a matter of minutes; cooking time will vary greatly depending on how soft the tomatoes are. Insert a toothpick into the egg to check for your preferred consistency. You may need to use medium-grade eggs rather than large if your tomatoes are on the small side. You can also take out some of the whites when you're filling the tomatoes if the egg volume is too large.
Ingredients
4

medium tomatoes

,

tops removed and cores cut out

Olive oil

,

for brushing

4

eggs

,

medium or large size, depending on size of tomatoes (see above), at room temperature

¼

cup

15g chopped fresh flat-leaf parsley

¼

cup

25g freshly grated Parmesan

Kosher or sea salt and freshly cracked black pepper
Instructions
Preheat the oven to 350°F (175°C). Line a sheet pan with parchment paper. Make 4 small rings with crumpled foil as seats for the tomatoes and place the rings on the lined sheet pans.

Brush the top edges and outsides of the tomatoes with olive oil. (If the tomatoes are large and thick skinned, pre-bake them for 5 minutes before the next step.)

Crack one egg into each tomato. Sprinkle parsley and Parmesan on top. Season with salt and pepper. Place tomatoes on their foil "seats" on the lined sheet pans.

Bake the tomatoes for 25 to 35 minutes, or until the egg is cooked to the desired texture. Pierce the egg with a fork or toothpick to test its consistency.

Sprinkle with the basil. Serve warm.
Notes
Note:
If the cored tomatoes are watery, place them upside down on a paper towel to drain.
Recipe from Bountiful Cookbook by Todd Porter and Diane Cu, published by Stewart, Tabori & Chang, 2013
Disclosure: I received a review copy and I also preordered a copy! 🙂 Of course, opinions are my own.