Wow, I haven't posted in two weeks! I really thought it was only one week! My sister mentioned to me yesterday that I hadn't posted in two weeks. Even thinking it was only one week, I was already feeling guilty. A lot has been going on in our household, we have two sick pets.
Our dog, Charley, has a medical condition that requires a few medications (one of which he gets anywhere from 15-18 tablets a day) and constant vigilance. I know he will be okay but he has lost a little bit of weight and we're changing things up and adding more medication as well. Our older cat, Roswell, survived mammary cancer 4 years ago (2 operations) but the cancer is back and has showed up in at least one of her lungs (we were told this last month). This past Tuesday, our veterinarian told us that the cancer is spreading and that she has about 6-12 weeks left. It took a little while for that to sink in and as any other pet lover knows, it's devastating to hear that kind of news. We're trying to keep her comfortable as well as give her a lot of love and attention. Thank you to everyone who has lent their support to us. And we're so lucky to have a wonderful veterinarian who also has a great, caring staff.
Onto the baby shower cake. The couple, DJ & Andrea, are our friends and asked us to make a cake for their baby shower. They are expecting a little baby girl and are decorating the room in pink and green. They are painting a huge tree mural with leaves. So they asked for a cake that reflected that theme. For an approximately 40 person baby shower, I decided to do a 10-inch square bottom tier and an 8-inch round top tier. I don't want to give away too much about the cake because they might be reading this but I'm providing some pictures of my progress along the way.
I have been working the cake and it's for tomorrow! It's not done yet! With a full-time job, I had to create a game plan. Here it is and what actually happened:
Sunday – bake and make edible birds' nest
Tuesday – make gumpaste birds, leaves and flowers
Wednesday – bake chocolate cakes
Thursday – ice cakes with buttercream and cover in fondant
Friday – stack cakes and decorate
Here's what actually happened:
Sunday – mission accomplished
Monday – mission accomplished
Tuesday – mission accomplished
Wednesday – mission accomplished
Thursday – iced cakes with buttercream, dyed fondant and redid the birds because I wasn't happy with them
Friday – TBD, but will need to cover cakes in fondant, stack and decorate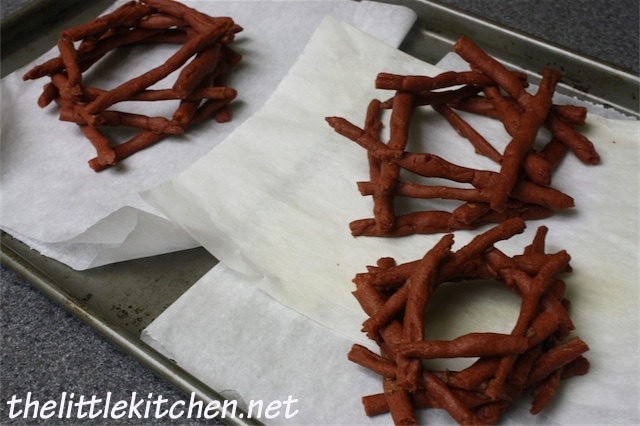 The edible birds' nest was created from this tutorial. Thanks, Amanda!
One of these birds' nests will be part of the cake topper. I did three because you never know what you're going to like and as you can see, one already fell apart. Always make extras and prepare for what you never know might happen.
I created a well thought out plan because I usually wait to the last minute and stress out a lot. I think I will still stress out tonight because there is still a lot to do. I have done marathon cakes where I would do almost everything including baking the cake in the same day! It's a lot of work and can cause a lot of stress. One thing that really helped me out, was mixing the dry ingredients of the cake recipe in advance. I mix them all up and put them into a zippered plastic bag. I had to make three batches of one cake, so it went a lot quicker, only having to add wet ingredients.
What would I change next time? I would dye whatever fondant I need in advance. This in itself is a lot of work.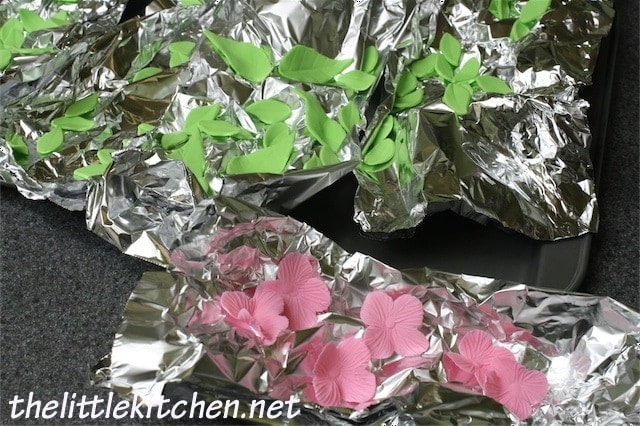 Needless to say, when I'm working on a cake in the little kitchen, there isn't much cooking going on. There is a lot of grilled cheese, cheese quesadillas and other quick meals made for dinner. Did I mention I love cheese? I guess there was a theme there. 🙂
I hope the mother-to-be and the father-to-be love the cake. We'll see. I'll let you know and I'll post pictures of the finished cake early next week.