Congrats to Katie C. who lives in the Tampa area. I hope you enjoy, have some Eggplant Marino for me!
A couple of weeks ago, I was invited to an event for bloggers at Anthony's Coal Fired Pizza in Orlando. Free pizza? I'm there and so is my husband. To say my husband loves pizza is an understatement.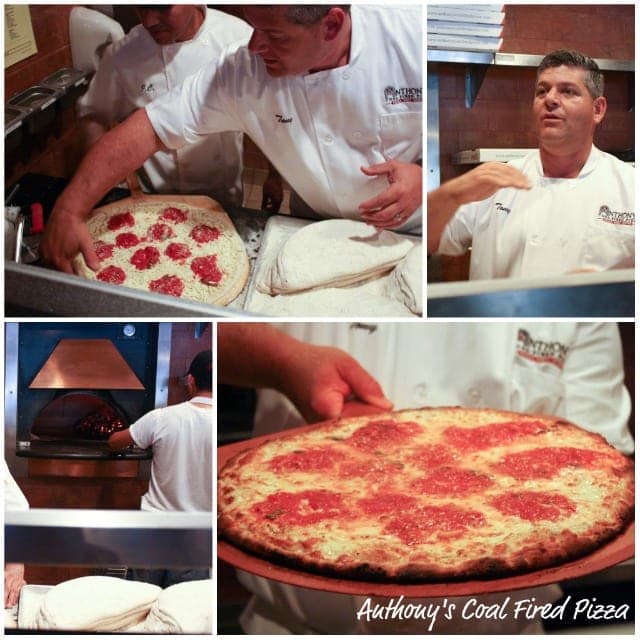 We learned that the coal fired oven produces a pizza that is well done. The crust is well done and there are warning signs all over that state the pizza is well done. The coal fired oven temperature is upwards of 850 degrees F. It only takes 4-5 minutes for a pizza to cook in the coal fired oven but on a busy night, you can imagine how many pizzas are going in and out of that oven!

I'm an easy on the sauce kind of gal, I don't like tons of sauce on my pizza and often order it that way. The tradition way of making Brooklyn-style pizza is putting the cheese on first and dollops of sauce on top of the pizza. This makes it the perfect amount of sauce for me and my husband who likes a "normal" amount of sauce. Look at that beautiful pizza straight out of the coal fired oven.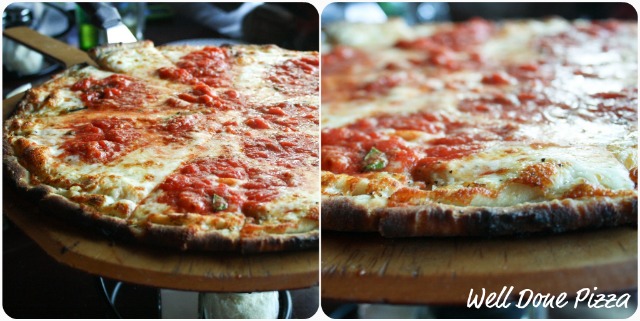 First things first, we photographed the pizza and then we dug in and it got a little quiet at the table. Flavor? We're talking tons of flavor. The sauce is very tasty, full of flavor and you can see the basil from the sauce in the pizza. Hands down, amazing pizza. Enough said.
My husband, he is really quiet at things like this, actually he doesn't like joining me at things like this because he is an introvert (read:  complete opposite of me). Often, I'll ask him do you like it and he'll say yes and later on I get the complete scoop. He was also overwhelmed by the scene, I mean just look at the picture below. All of us bloggers taking pictures of EVERY plate that comes out. We drove separately to the event because he works in the Orlando area. He left before me so he could get home and let the dog out, I called him before I left to ask him what he thought. How did you like the pizza? While this is a family friendly space, I need to share with you what he said in order to illustrate how much he liked it. He answered, "it was f***ing good." I agree with him.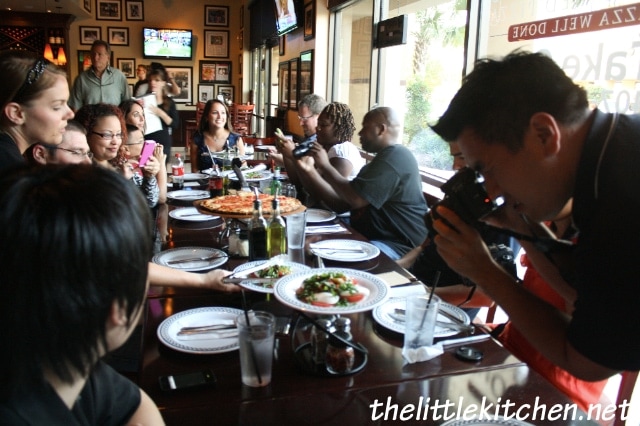 They kept bringing out dish after dish and even more pizzas. I had the Fresh Mozzarella, Sliced Tomato & Basil pizza. Loved the fresh mozzarella on it but the cheese pizza is still hands down our favorite.
Fresh, quality ingredients are the hallmark for Anthony's menu as well as Anthony Bruno's family recipes. We got to meet the founder himself, Anthony Bruno, who told us the story of the eggplant dish called Eggplant Marino, named after Anthony's Coal Fired Pizza partner and football great Dan Marino. The eggplant dish is Marino's favorite. Bruno is no frills and down to earth guy, his passion for the food and the fresh ingredients shined through. It was great to meet him.
My favorites? The cheese pizza and the Eggplant Marino. I would even say that the Eggplant Marino is the best eggplant dish I have ever had! The wings are amazing and I loved the salads too.
So final verdict? Including having the best eggplant dish I have ever had, Anthony's pizza is the best in Central Florida, in my humble opinion. Less than a week later, we knew we were going to be in Orlando again and stopped by for dinner. Cheese pizza and eggplant, heaven! On another note, my husband still talks about Anthony's and we will be back again and again.
I'm excited to offer you a giveaway sponsored by Anthony's Coal Fired Pizza so you can enjoy your own Anthony's favorites! There are 27 locations throughout Florida and the northeast and they are continually looking to expand. I'm crossing my fingers that as Anthony's expands, they will open a location the Space Coast so we can experience amazing pizza where I live (the closest location is an hour away from me). We are literally starving out here for quality pizza and to be honest, I would love to drive less than 20 minutes to get Anthony's well done pizza on a night I'm too busy to cook dinner.
Win It
A $25 gift card good at any Anthony's Coal Fired Pizza location.
Mandatory Entry
Visit Anythony's Coal Fired Pizza's website and leave a comment telling me about the location that's nearest to you. (1 entry)
The mandatory entry must be done otherwise the bonus entries will not count.
Bonus Entries
'Like' the little kitchen on facebook and leave your first name & last initial. (1 entry)
Subscribe to this blog via email and verify the subscription. (2 entries)
Follow me on twitter and leave your twitter handle. (1 entry)
Tweet about this giveaway w/ link and leave a link to your tweet. (1 entry OR tweeps who follow me on twitter can also tweet once per day for extra entries)
Follow Anthony's Coal Fired Pizza on twitter and leave your twitter handle. (1 entry)
'Like' Anthony's Coal Fired Pizza on facebook and leave your first name & last initial. (1 entry)
Leave a comment telling me what your ultimate pizza is, what are your favorite toppings? (1 entry)
This giveaway is open to U.S. residents only (I'm very sorry to my international readers).
Leave a separate comment on this post for EACH entry to make all of your entries count. (If you already like on fb or subscribe via email, just leave a comment saying so.)
All entries will be checked and verified. If your entry cannot be verified, it will not count.
You have until 11:59pm EST on Friday, May 20, 2011 to enter.
One random winner will be chosen via 'And the winner is' plugin. Once the winner is chosen, the winner will be contacted via email and if winner does not respond within 48 hours, winner forfeits prize and another winner will be chosen at random.
Some other notes on entering giveaways on The Little Kitchen:
* Use keyboard shortcuts to paste links, etc. in your comments CTRL + V or on Macs use COMMAND + V to paste your link, the right click menu is disabled on this site.
* How to get the URL of your tweets
Disclosure: I was provided with free food and the gift card for this giveaway was provided by Anthony's Coal Fired Pizza. My opinions are my own and will always be my own.