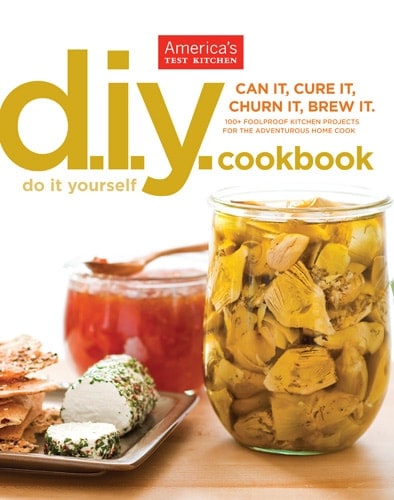 I'm so excited about this giveaway, for America's Test Kitchen DIY Cookbook! This is the 10th day in the 12 days of giveaways and this is an awesome cookbook. The big trend for 2013 will continue to be DIY cooking – making a lot of things like jams, pickling and even making our own cheeses will continue to be popular.
What I love about every America's Test Kitchen cookbook is that everything is thoroughly tested and all of the directions are straightforward.
I wrote this year a post on stuff I'm afraid to make, one of them includes tofu and I LOVE this video on making tofu…I can't wait to try it! This recipe is in the book and now I'm less scared about making it and even more excited. Maybe I can do a tofu making day with my sister…
There is so much more I want to try from this book! Including: whole-grain mustard, refrigerator jams, pickled beets, mozzarella, ricotta cheese, duck prosciutto (I had some in Wisconsin this year and it was amazing!), salted caramels and marshmallows…and more!
This cookbook has over 100 recipes and is almost 400 pages and has 800 color photos – many of them step-by-step photos to get you through your diy cooking adventures.
So excited to share this cookbook with a lucky reader!
The giveaway includes:
Retail Value approx. $26.95
Please use the form below (comments will not count toward entry into the giveaway). Good luck!
This giveaway has ended.
Congratulations to Darlene C. for winning the DIY Cookbook!
Don't forget to enter in my other America's Test Kitchen cookbook giveaway!
Disclosure: I was given a copy of this cookbook for the purpose of review. This giveaway is sponsored by America's Test Kitchen. All opinions expressed are my own.