I know this is a cooking and baking blog and this post is kind of not food related but I wanted to share something about myself, something that I'm passionate about. I share my cooking and baking with my family and friends so naturally I would share the other things I'm passionate about.
In 2006, my maternal grandmother was diagnosed with breast cancer. She is currently in remission but in the early days of her diagnosis, we were all scared. My mother like everyone else in the family was devastated. My grandmother living in Southern California and me in Florida made it hard for me to visit her easily. There is also a language barrier. My grandmother does not speak very much English and I always say that I speak Vietnamese at the level of a third-grader even though it was my first language. It was hard to discuss with her what she was going through but I'm sure having her left breast removed and going through chemotherapy treatment deeply affected her. It's been a few years now but my husband and I did have the opportunity to visit her while she was receiving chemo. And during those treatments, she did have some scares. Today, she is doing fine and we're all thankful for that.
At the time of her diagnosis, I was feeling helpless and wanting to do something about it. I found an organization called the Central Florida Affiliate of Susan G. Komen for the Cure and started volunteering. I started volunteering at the Central Florida Race for the Cure in 2006 and have volunteered at every Race ever since. I even joined the Race committee (to help plan the Race) the past two years.
This organization is near and dear to my heart because 75% of the net proceeds raised by the Central Florida Affiliate stays in the community to help fund breast cancer education, screening and treatment to uninsured and underinsured women and men. The rest of the 25% goes to fund national research to find a cure. They also work hard to promote breast cancer awareness.
Know your risk…the single greatest risk factors for breast cancer are being a woman and growing older. Understand your risk for breast cancer and get screened yearly starting at age 35 for women with no family history and at 40 for women with family history.
As a volunteer for the Central Florida Affiliate, I recently had the wonderful opportunity to travel to Dallas, Texas for the Komen for the Cure Affiliate Leadership Conference. I got to meet men and women from all over country who work or volunteer for other Komen Affiliates. It was very exciting and awe inspiring. I even got to meet Ambassador Nancy G. Brinker, founder of Susan G. Komen for the Cure. Here's a picture of us below. It's sad because I was so in awe, I didn't know what to say to her. The picture was snapped and I was on my way, wanting to kick myself because I didn't say anything to her except for hi.
Well, what would I say to her if I had to do it all over again? I would say thank you. Thank you for your inspiration and thank you for making that special promise to your sister, Susan G. Komen. Thank you for working so hard all these years to try to fulfill that promise and thank you for inspiring millions across the country and across the world. Thank you for being so determined in your mission to end breast cancer forever. And thank you for what you and the Komen for the Cure organization has done and are doing for women suffering with and affected by breast cancer for the last 30 years. Thank you for not stopping and thank you for motivating and inspiring me to join in the fight.
There are many reasons why I volunteer and why I'm passionate about the breast cancer cause. It recently hit home for me once again, I have a friend who was recently diagnosed with breast cancer and she will begin chemo treatment soon. I am constantly thinking of her and her struggle.
Amb. Nancy Brinker wrote a book, did you know that? It comes out this Fall and it's called Promise Me: How a Sister's Love Launched the Global Movement to End Breast Cancer. I read an excerpt of the book and it's very moving. She shares so much about herself and her sister, Susan G. Komen. I can't wait to get my hands on this book and read it. To me, the story of Nancy and her sister, Susan, is so inspiring because it literally launched a movement. When Nancy made that promise to her sister to end breast cancer and not allow one more woman to suffer like she did, she had no idea how she was going to achieve it. She started Komen for the Cure with the first Race for the Cure in 1982. Today, Komen for the Cure is the largest grassroots organization fighting breast cancer and has provided over $1.5 billion to fight the disease.
If you preorder the Promise Me book online between now and September 13, 2010, you can designate a friend, sister, mother or whomever you wish to receive a free copy that is also signed by Amb. Brinker. For more information, click here. You can also read an excerpt of the book at that link. Needless to say, I will be ordering my copy and I'm still deciding on who I want the other copy to go to…I may order multiple copies if I can't decide! 🙂
Now onto the giveaway, I would like to give YOU a copy of Amb. Nancy Brinker's book, Promise Me, and let you pick a person to have the autographed copy sent to. I am also giving away this pink ribbon tea towel, it is a cooking blog after all, to another lucky winner. 🙂 If I get over 150 comments, I will give away a second copy of the book (and that winner will be able to designate the recipient of the autographed copy).
Here's how to enter: Enter a comment below, tell me your name and who you would like the autographed copy to go to and why. Be sure to include your email address or twitter handle in your comment.
Additional entries (for each one, you must return here and leave a comment, each comment is an entry):
Go to the komen.org site and check out the breast cancer facts. Come back here and leave and a comment and share one breast cancer fact that you learned.
Make at least a $5 donation to Komen Central Florida online and come back here and leave a comment here saying that you donated. Obviously, you're on your honor on this one.
Blog about this giveaway on your blog. Be sure to comment below with a link to the post.
"Like" the little kitchen on facebook and share the link to this giveaway on facebook. After you post the link or status, copy the link below the post that says "about xx seconds ago" or "about xx minutes ago" and paste below as a comment.
Follow me and tweet about this giveaway. Tweet the following (without the quotes): "A very special giveaway from @thelittlekitchn, Amb Brinker's book Promise Me (on sale this Fall) http://bit.ly/d97EwI #breastcancer #komen". After you tweet, copy the link below your tweet that says "xx seconds ago" or "xx minutes ago" and paste below as a comment.
Very important! Please be sure to include your email address or twitter handle so I can contact you if you're the winner. For each entry type, you must provide a comment below. Your comment is your entry. Entries must be received by Friday, May 28, 2010 at 11:59 pm Eastern time.
That's a possible of six entries per person.
Winners will be randomly chosen using random.org. All winners will be verified. If I cannot contact you, an alternate winner will be chosen. The winner will be announced on this blog, facebook and on twitter. Once I contact you (the winner), I will need your shipping address along with the name & shipping address of whom you wish to receive the autographed copy. The book(s) will be shipped by the online retailer on September 14, 2010 and the designated recipient(s) should receive them from Komen for the Cure on or around October 15, 2010.
Please note: All comments will be moderated. Invalid entries or spam will be deleted. Don't worry if your entry is verified to be valid, it will appear below within a reasonable amount of time.
Thank you for visiting my blog and entering in this giveaway and spreading the word about it. I want this post to have tons of comments (entries) because the point of this giveaway is to not only spread the word about this book coming out in the Fall but also to spread breast cancer awareness.
I hope you will also be inspired to join in the fight to end breast cancer forever. To find a Susan G. Komen for the Cure Affiliate in your area to volunteer at click here or to find a Race in your community, click here.
Disclosure and Disclaimer: This giveaway is not sponsored by any company or organization. I am paying for the prizes out of my own pocket. The views and opinions expressed in this post are mine alone and may or may not be held by Susan G. Komen for the Cure and the Central Florida Affiliate of Susan G. Komen for the Cure organizations or its Board members.
And because it's about a cooking and baking blog, I'm including a picture of pink ribbon cookies I made earlier this year. 🙂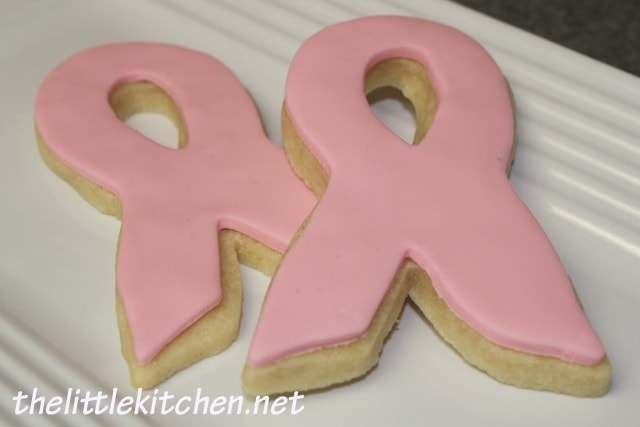 Here's the recipe for these cookies. These cookies are covered in fondant.