Last year, I did a 2012 Favorite Cookbooks giveaway and it was amazingly popular…so back my popular demand is my list of favorite cookbooks that were released this year. This was incredibly hard to come up with this list because I have mentioned and reviewed many cookbooks this year. I love so many cookbooks that have been released this year but had to whittle it down. I was trying to keep it to 10 but then ended up with 13! Since 2013 ends with a 13, I thought it was fitting. Some of these cookbooks are written by food lovers I know personally or am friends with and some I don't know at all. All of these cookbooks would make great gifts for someone in your life that you care about, who loves to cook or bake. Here's my list and don't forget to enter to win a full set of these cookbooks (at the bottom) — all 13! Worth $360 and even better, there will be TWO winners!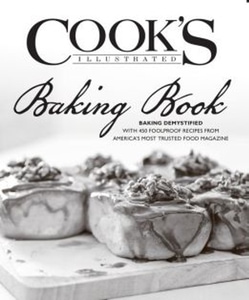 The Cook's Illustrated Baking Book ($40.00) – 520 pages and over 450+ recipes, this book is a beast and a book I'll keep very close to me. There are tons of illustrations and photos and in-depth explanations. Recipes I want to make are Napoleons, New York–Style Thin Crust Pizza, Coconut Layer Cake, Strawberry Cream Cake and Chocolate Pound Cake.
Why I love this cookbook:  I know every recipe works because it's coming from the publishers of Cook's Illustrated and America's Test Kitchen. All of their recipes go through a rigorous process of testing and retesting.
Who this cookbook is for:  Anyone who loves baking or wants to get more into baking. The in-depth explanations will get anyone up and running!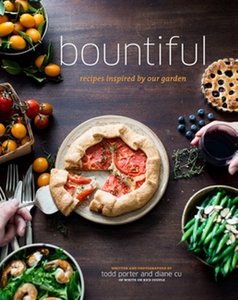 Bountiful ($35.00) – The authors Todd & Diane are dear friends of mine but even if they weren't, I would still love this cookbook. It's filled with gorgeous photos of their garden, their dogs and the recipes. Organized by different vegetables and fruit, this book is not like any other cookbook I have ever seen. Recipes I want to make are herbed garlic knots, mixed berry chocolate slab pie, vanilla rum ice cream and chunky tomato and basil ragu over polenta. I have already made the baked eggs in tomatoes among many others.
Why I love this cookbook:  The fresh ingredients are the inspiration for every dish and are front and center in every recipe. It inspires me to cook!
Who this cookbook is for:  Anyone who wants to cook with more fresh fruits and vegetables or anyone who likes to cook this way.
Breakfast for Dinner ($19.95) – Ahhh, another on the list written by dear friends. Look at that cover. Doesn't it make you want to grab it from a shelf and just buy it? It's a genius concept. All spins on breakfast but hearty enough to make for dinner. We love having breakfast for dinner and this cookbook took it to another level for us! Lindsay and Taylor are extremely talented and the cookbook is filled with extremely creative recipes and gorgeous photography! Recipes I want to make are Loco Moco, Cornmeal Panckaes with Beer-Braised Short Ribs and Bananas Fosters Crepe Cake. I have already made the Chicken & Biscuit Waffles among many others.
Why I love this cookbook:  The photography in this cookbook is amazing but not only that, there are little tips and tricks and additional recipes and instructions, such as how to poach an egg and how to make pita bread.
Who this cookbook is for:  Anyone who loves breakfast foods but to be honest, even if someone doesn't like having breakfast, it doesn't preclude them from liking this book. I know a lot of people who like to make breakfast for dinner…so this book is for them!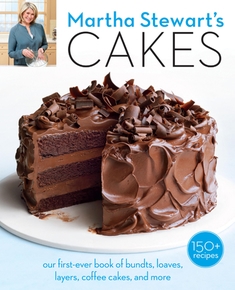 Martha Stewart's Cakes ($24.99) – I have been a big fan of Martha Stewart since I was in middle school. You have to respect her for her business smarts and being able to start her empire from nothing. Since I love cakes, I knew I would love this cookbook. Probably all of the recipes have appeared in her Martha Stewart Living Magazine but it's nice to have them in a compendium and easy to reference. Recipes I want to make are Marble Pound Cake, Meyer Lemon Coffee Cake, Flourless Chocolate Espresso Cake, Red Velvet Cake and Chocolate Truffle Cake.
Why I love this cookbook:  I used to make a lot of cakes and this cookbook is reinvigorating me to make cakes again.
Who this cookbook is for:  Anyone who loves cakes or loves to bake them. It's organized by different types of cakes and there's more than just layered cakes to keep any cake baker going for a long time.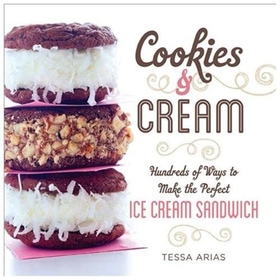 Cookies and Cream ($18.00) – I love the concept of this cookbook. It's all about ice cream sandwiches and who doesn't love ice cream. I'm in love with this cookbook. There are so many creative combinations. Recipes I want to make are Chocolate Orange Ice Cream Sandwich (the "cookies" are fudge brownies!), Chocolate Coconut Ice Cream Sandwich, Red Velvet Ice Cream Sandwich and the Tiramisu Ice Cream Sandwich.
Why I love this cookbook:  Ice cream and cookies – enough said.
Who this cookbook is for:  For the cookie and ice cream lover. There are tons of tips and tricks to get you started and the ice cream sandwiches store for up to a week so they would be perfect to make for a fun summer party or a kid's birthday party!
Flour, Too ($35.00) – This is the 2nd installment to Joanne Chang's first one called Flour. Named after her bakery in Boston…which I have heard so much about but have not been able to eat at yet. The cookbook has 100 recipes that come straight from her cafe. I am digging it!  Recipes I want to make are Mama Chang's Hot and Sour Soup, Roast Beef Sandwich with Horseradish Mayo, Crispy Onions and Tomato, Mushroom and Leek Lasagna, Scallion Pancakes, Best Boston Cream Pie and Triple-Chocolate Mousse Cake.
Why I love this cookbook:  Once I opened this cookbook, I couldn't stop turning the pages. There are stories and great tips and tricks. Some recipes have how to photos which is great. When I turned the page to the Boston Cream Pie recipe, I let out an "oh my God". That says it all.
Who this cookbook is for:  Anyone who loves food. There is so much variety in the recipes.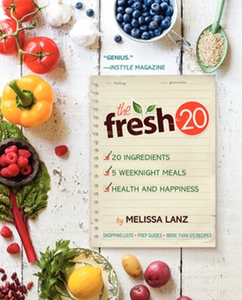 The Fresh 20 ($24.99) – A gorgeously photographed cookbook from my friend, Melissa Lanz. The recipes are separated by seasons and feature menus that include 20 ingredients that make 5 weeknight meals. I love this concept and this book is based Melissa's highly successful meal plan business, The Fresh 20. Recipes I want to make are Korean-Style Short Ribs, Fish Tacos, Salmon Salad Pitas and Braised Beef Skillet Lasagna.
Why I love this cookbook:  There are so many creative ideas for quick and easy and fresh weeknight dinners. It's a great concept to help busy families get dinner on the table during the week, it's no wonder her business is so successful.
Who this cookbook is for:  Anyone who likes to eat in season or wants to do better in this respect and anyone who wants quick weeknight dinner options.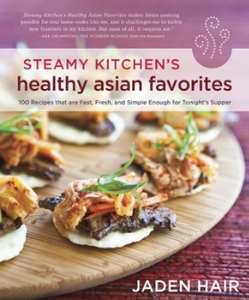 Steamy Kitchen's Healthy Asian Favorites ($24.00) – Beautiful pictures, it's becoming a theme right? Every cookbook I love usually has gorgeous pictures and this cookbook doesn't let me down. I love the stories that go along with the recipes and my friend, Jaden, doesn't disappoint in this amazing collection of Asian recipes that are healthy. Did you think that was possible? Recipes I want to make are thai squid with basil sweet and sour sauce, seafood fried rice and seafood curry noodle soup. I have already made Sake-Steamed Mussels.
Why I love this cookbook:  I love Asian food. It's pretty obvious right? I love that everything in this cookbook is fast and simple and at the same time healthy!
Who this cookbook is for:  Anyone who wants to cook more Asian foods at home and may want it healthy.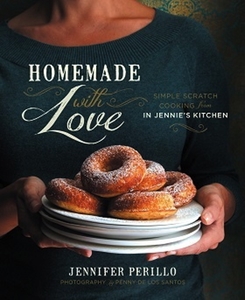 Homemade with Love ($27.50) – I can't say how much I love Jennie Perillo, I was lucky enough to meet her on a brand press trip a few years ago. The easy nature of her blog, how strong she is, funny and candid she is on her blog is exactly how she is in person. Her cookbook is her and when it first arrived from Amazon, I just wanted to cuddle up with a cup of coffee and read it. Her cookbook is comfy and as soon as I opened it, I felt like it was home. It's filled with love and the photography has such a comfortable feeling that goes right along with the recipes. Recipes I want to make are (so many so I'll just list a few) homemade manicotti, secret ingredient french onion soup, deep chocolate cupcakes and sweet cherry pie pockets.
Why I love this cookbook:  The love, you can feel it in every page and when I read the stories, I hear Jennie's voice in my head speaking the words (with her beautiful Brooklyn accent).
Who this cookbook is for:  Anyone who enjoys cooking and baking from scratch and anyone who wants so add some scratch cooking and baking to their repertoire. I'm not a completely from scratch cook or baker but I enjoy it from time to time, Jennie shows you how to make it possible every day.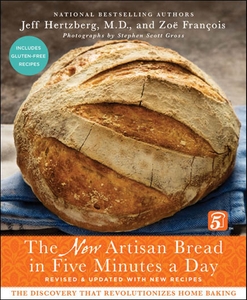 The New Artisan Bread in Five Minutes a Day ($29.99) – I own Jeff and Zoe's other two cookbooks Artisan Bread in Five Minutes a Day and Artisan Pizza in Five Minutes a Day and I adore them. Our favorite pizza recipe is from their pizza cookbook. Their New Artisan Bread book include new recipes and including pretzel buns and crockpot bread! I'm obsessed with bread. Recipes I want to make are Wisconsin Beer-Cheese Bread, Chocolate-Filled Beignets and Soft Pretzels.
Why I love this cookbook:  Jeff and Zoe's recipes are fantastic, easy and no-fail. I love them!
Who this cookbook is for:  Anyone who loves bread and wants to make it at home…especially anyone who is afraid of making bread at home.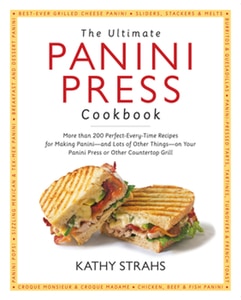 The Ultimate Panini Press Cookbook ($19.95) – This cookbook by Kathy Strahs is impressive, there are over 20o panini recipes…so many creative ideas and so many tips…I love it! Kathy is a sweetheart and her blog is fantastic. This book is a culmination of a lot of heard work and love. Recipes I want to make are Cubano Panini, Strawberry Banana and Nutella Panini and Spinach-Feta Quinoa Cakes with Lemon-Dill Yogurt Sauce.
Why I love this cookbook:  You think it's all about sandwich paninis but it's so much more. There are desserts, quinoa cakes and grilled chicken.
Who this cookbook is for:  Anyone who loves sandwiches and paninis. And anyone who wants to get the most out of their panini maker!
The Pioneer Woman Cooks: A Year of Holidays ($29.99) – Ree, The Pioneer Woman…I adore her, her blog and her TV show. I DVR every episode and usually catch up watching a few at a time. I love her, her kids and her Basset Hounds, Charlie and Walter, who usually make an appearance on the show. What I have always loved about Ree's site is the step by step photos, her cookbooks are the same with many step by step photos. Recipes I want to make are Spreads, Pumpkin Smoothies, Homemade Tortillas, and her Prime Rib (oh my!).
Why I love this cookbook:  It's split up by holidays and includes a wonderful menu for a year of holidays. The step by step photos of course and Ree's wonderful stories. Her fun personality and sense of humor shines through for sure.
Who this cookbook is for:  Anyone who likes to cook during the holidays. Seriously for anyone who likes food. And great for novice cooks too because of the step by step photos.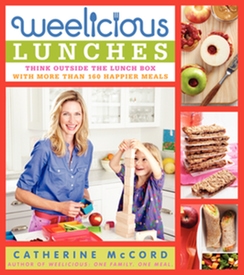 Weelicious Lunches ($29.99) – Another cookbook from Catherine McCord, her first one was on my favorites list last year! I love her ideas for lunches. These are great for kids and adults. I love it to pieces. Recipes I want to make are grilled cheese and pickle panini, pancake sandwich, eggplant burgers, avocado honey dip.
Why I love this cookbook:  Catherine's a great person, her blog Weelicious is all about great, unassuming food an entire family can eat. I love the creative ways she comes up with for lunch, the photos of her kids, the stories and of course the photos!
Who this cookbook is for:  Anyone who has kids or anyone who is looking for new and fun ideas for their lunchbox.
And now for the giveaway…
The giveaway includes:
Retail Value of 13 Cookbooks $360 – there will be two winners!
Please use the form below to enter in the giveaway. Good luck!
This giveaway has ended.
Congrats to Sue H. and Jodi M…hope you two enjoy ALL of these cookbooks!
Disclosure: Some of these cookbooks I received a copy for the purpose of a review, some of them I purchased myself. The giveaway copies are sponsored by the respective publishers! All items for TLK Favorites are chosen by me and me alone. There are affiliate links in this post.
Check out our other giveaways!