This past weekend on March 27, 2011, I attended and volunteered at the Florida ICED Cake Competition in Ocala, Florida. I had a great time, hanging out and having fun with some of my cake decorating friends (members of ICES and CAGO). My friend Melanie of Mel's Cake Walk was one of the organizers of the cake competition and she did a wonderful job! The event was great, well attended, had a high caliber of cakes that were entered and raised some money for a great cause, the Make-A-Wish Foundation.
Look at those raffle prizes! Unfortunately, I didn't win anything but the Make-A-Wish Foundation benefited from my purchase of raffle tickets. 🙂 Pictured on the right is part of the crowd listening as the awards ceremony was going on, this doesn't even show you how full the room was! The sheer amount of cakes and talent displayed this weekend in Ocala couldn't even fit in one picture. In the bottom right, a glimpse of the vendor area, I was so busy volunteering, I didn't get a chance to stop by…but that was good for the pocketbook!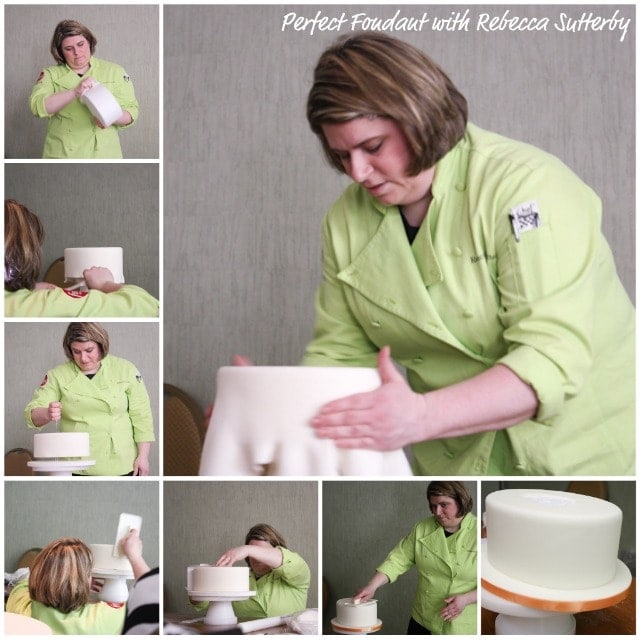 I attended one demo in the morning called Perfect Fondant with the Food Network challenge cake decorator Rebeca Sutterby. She is really nice and honest about her favorite tools and brands. She gave us tons of great advice on how to cover a cake and a cake dummy (foam pieces shaped like cakes that cake decorators use in cake competitions). Below are some highlights of her tips:
She pops air bubbles with a pin while she's rolling out the fondant
When cutting the excess fondant at the bottom, keep your knife straight & don't saw at the fondant
She cuts out the fondant on the tops of cakes that are bottom teirs and uses it as a guide as well as using this part as a handle when handling the cake
Her favorite tool is a non-serrated knife and stabs the cake and uses it to pick up the cake and position it on the cake board and on top of other tiers
She uses roofing nails and puts them through the bottom of her cake board and this keeps the cake from moving around
She uses cardstock taped to her fondant smoother as a last step to smooth out her fondant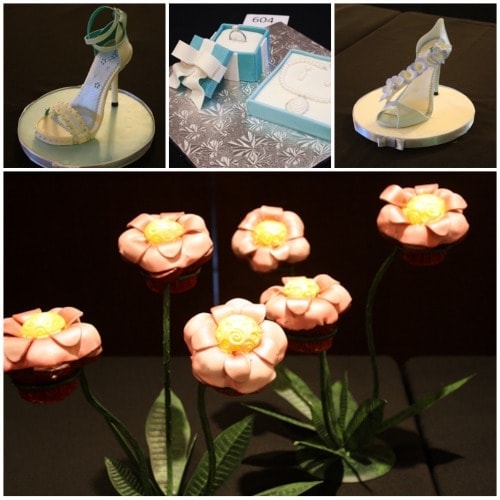 The 2010 ICED Cake Competition theme was romantic wedding cakes. There were categories for wedding accessories as well as cupcakes and cupcake tasting. And those flowers are cupcakes, can you believe that? How clever was that?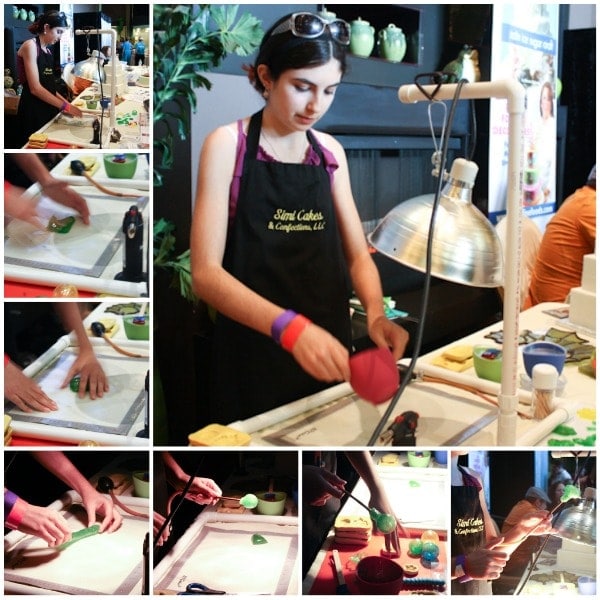 One of the sponsors and vendors was Simi Cakes. Sidney and her mom, Michelle, are awesome! If you haven't heard of Sidney, you need to take notice now…she is very young and very talented at isomalt and pulled sugar techniques!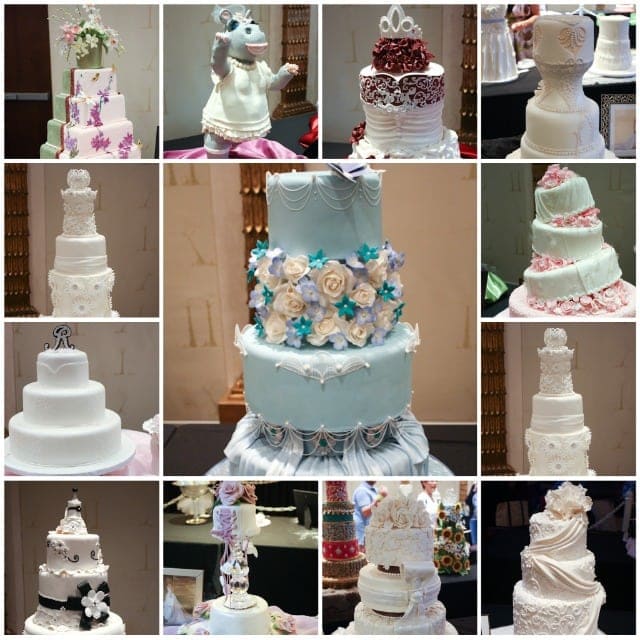 Here are some of my favorites and below, even more! The one with an R topper on it, that's my friend, Merrie Lee's cake!
The center cake (blue) was the 2nd Runner-Up in the Wedding Cakes Professional Division. It was created by Roxanne Moore.
These cakes just scratch the surface of the number of entries. One of my volunteer duties was to tally all of the judging sheets. Boy, it was a lot of work with seven categories and tons of entries!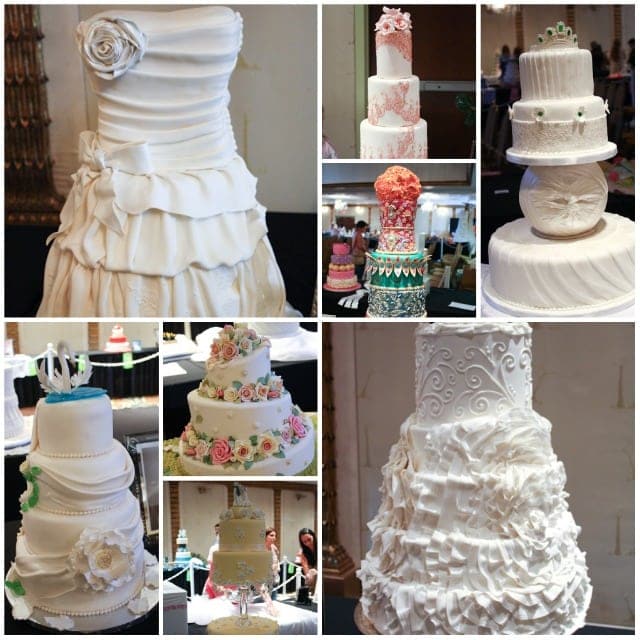 The cake in the top left was in the non-judged category and was one among my top favorites! This is just part of the huge talent that came through this past weekend. Inspires me to practice my cake decorating skills and maybe even encourage me to even enter a contest…maybe. 🙂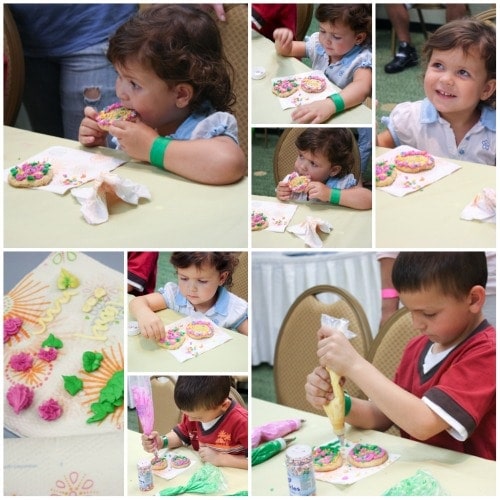 I went into the children's cookie decorating room and the kids were having a lot of fun!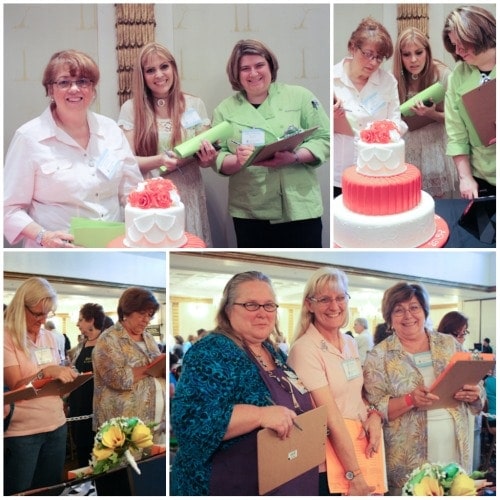 The judges worked so hard! In the top left, that's Mercedes Strachwsky of Bake Me a Cake, Edna De La Cruz of Design Me a Cake and Rebecca Sutterby of Sugar Creations. I kind of gave Edna a hard time because of her Nikon (I'm a Canon fan), hope she knows I was only joking and there's no way I can touch her decorating talent! The judges in the bottom row are Ms. Debbie, Susan Clippinger of Sweet Designs Kitchen and Grace Jones of Frosting on the Cake.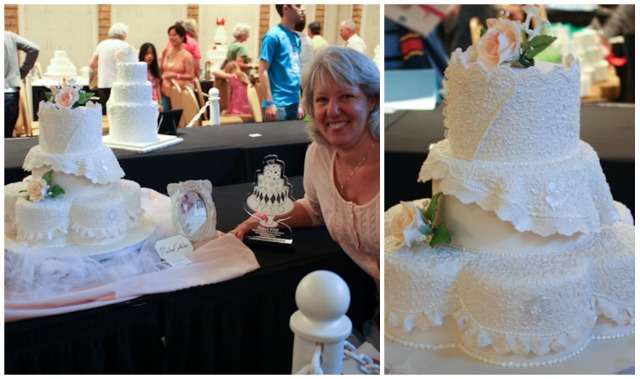 Marlene Callahan won the Grand Prize Novice category for Wedding cakes as well as the Wedding Accessories Novice category. I was working the registration desk when she asked about where her accessory was supposed to go. She was torn between moving her wedding accessory from where her cake was located…I'll bet she is glad she moved her accessories to the correct table!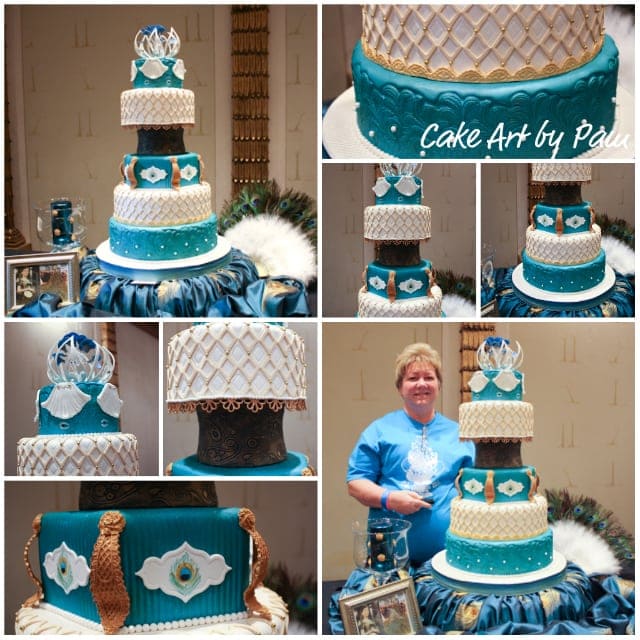 It was great to see the excitement of all of the winners…and one of the winners was my friend, Pam Greenwell of Cake Art by Pam! She won the 1st Runner-up Prize in the Wedding Cakes Professional Division. She was so happy and we were so excited for you! Pam, 2011 is your year! 🙂
Angela Schnellbach won the Grand Prize in the Wedding Cakes Professional Division as well as Decorators' Choice and People's Choice! This was her first ever cake competition, can you believe that?
And the theme voted by on attendees and guests for 2012 is Masquerade Ball. Hope to see you in Ocala in 2012 at the Florida ICED Cake Competition. If you want regular updates on the next competition, I would 'like' them on facebook.
And psst, don't forget the Tanga $25 gift card (there will be two winners) ends tonight!