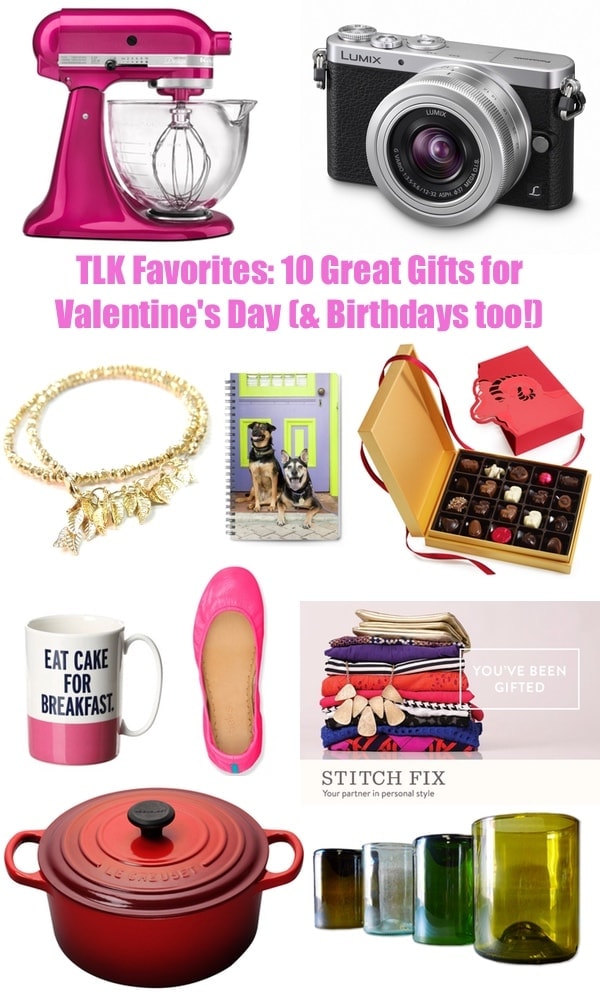 Valentine's Day is in two days…or if you have a family member or friend's birthday coming up, I have some amazing gift ideas for you! So funny story, I told Curtis I was working on this post and he asked me, should I read this post for ideas for gifts for you? Hehe smart man!
Get on it…you can still do next day air shipping…or buy gift cards for these items!
1. KitchenAid Stand Mixer in Raspberry Ice – I'm in love with this color and of course I can't live without my stand mixer. Plus the glass bowl, when I use my 5 Quart, the glass bowl is the way to go. Check out tons of cookie recipes your loved one can make you if you buy this stand mixer for them.
2. Panasonic Lumix GM1 Mirrorless Camera – I love this camera to pieces. It's great for travel and for every day…perfect for a gift for someone who loves to take photographs and loves to travel. I keep this camera in my purse at all time. I even did an extensive review of the GM1 it last month!
3. Gold Pyrite Bracelet from Katie Waltman – This is the only item on this list that I don't own or haven't had experience with. I have a custom necklace from Katie Waltman that I received when I attended Better Blog Retreat last year and adore it. I have been staring at this bracelet for a while. It's so simple yet elegant. I love her jewelry and the quality of it!
4. Custom notebooks from Minted – I got this notebook for Curtis for Christmas and he loves it. Love this photo of our dogs…they have tons of different designs and having a custom notebook is just so fun!
5. GODIVA Limited Edition Lunar New Year Gift Box – It's the year of the goat (which is the year I was born in) and GODIVA has this amazing gift box just for the Lunar New Year. Big disclosure, every year, Curtis gets me a box of GODIVA coconut truffles for Valentine's Day…every year without fail. He's been doing this for at least 5 years now and this year I told him I WANT THIS Year of the Goat box of chocolates. I need it.
6. Eat Cake for Breakfast Mug from Kate Spade – I received this mug from my dear friend Lindsay for my birthday this year. I LOVE it. I like mugs that are 10 to 12 or even 16 ounces, even though I usually only make an 8 ounce tea or coffee, I just like a bigger mug…and it's cute. Just love it. Lindsay knows me so well!
7. Tieks – Ballet flats that are foldable…in super cute colors. I have two pairs and LOVE them! Once I broke them in, they are super comfy to take the dogs on a walk or to wear to Disney. Yep, these have become my go to shoes for wearing while walking in the parks…which can be long days and a lot of walking. I want all the colors!
8. Stitch Fix – I love this clothing/personal styling service. They sell gift cards too by the way! It costs $20 each time and they send you 5 clothing/accessory items and you pay for what you keep (minus the $20) and send back the rest. I love it, once I filled out my style profile correctly and updated my style Pinterest board, I get really fun clothing items I never would have tried on in the stores. It's actually changed my perspective when I shop in stores too. Highly recommend it!
9. Le Creuset 5.5 Quart French Oven – In my kitchen, I can't live without my KitchenAid stand mixer and my Le Creuset French Ovens…so much so that neither get put away. They are usually sitting right on my range. I fry chicken, I make soups, make taco meat and countless other things. They are easy to clean and work really well whether it's a gas cooktop or an electric one.
10. Refresh Glasses – I recently became obsessed with these glasses. One of my favorite restaurants, Prato, uses them for water glasses. I asked them where they purchase them and I proceeded to buy a set when I got home. They take wine bottles and make them into glasses. I love these…they are beautiful, functional and help the environment!
Disclosure: Some of these items have been sent to me for review over the years, some I have bought myself or was it was given as a gift to me. This is NOT a sponsored post nor were any of these items solicited to me for inclusion in this gift guide. I only share with my products and brands that I love. There are some affiliate links in this post.